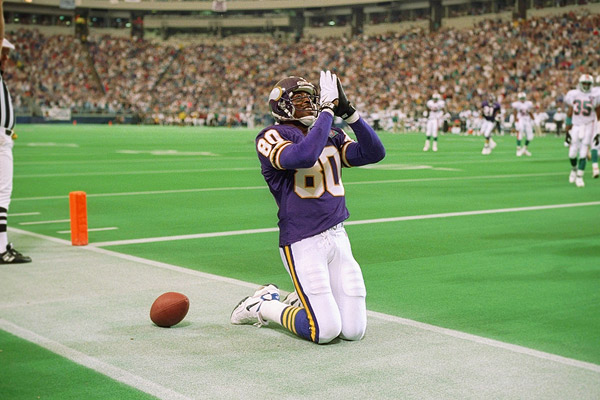 Perhaps, one of the best Minnesota Vikings to ever play the game has reached the pinnacle of his football career. At the age of 47, retired receiver Cris Carter was inducted into the Hall of Fame on Saturday after a wait of six years.
In Cris Carter's passionate Hall of Fame speech he talked about an early time in his career with the Eagles when Buddy Ryan had a conversation with his wife one night about cutting the receiver the next day. Ryan's wife told him not to cut Carter because she believed he was going to do great things one day, but he did anyways. As you would think without the bias of hindsight Carter would fall to the wayside and his career would come to a screeching halt right? Wrong, Carter went on to be the most solid receiver of all-time. In an interview during Sunday's Hall of Fame game in Canton, Ohio, Carter thanked Buddy Ryan for cutting him:
"That was the fork in the road for me and I had to make a decision as a man. What kind of man are you going to be? Are you going to be the man that provides for your family or are you going to be a coward and continue down the same road I was on? So I committed myself to being great on that day."  
Carter went on to have eight straight seasons of 1,000+ receiving yards while reeling in 130 career TD catches leaving him 4th all time. He also holds the single-season record with 122 catches in the 1994 season. A receiver who was as sure handed as sure handed gets. In Minnesota he paired up with the firecracker named Randy Moss to be the best receiver tandem ever. Moss was the home run hitter while Carter made the receptions to keep the drive alive while still seeing the goaline quite a bit.
When they played together Carter always questioned the character and work ethic of Randy Moss. They became the proverbial old married couple over there time together. Both would still go on to have amazing careers despite being the total opposite of each other. Moss stayed around and outwore his welcome in the league while Carter knew when to hang it up. Moss and Carter always had their issues around the football field but when they were in between the lines the things between them didn't matter they just lit it up, together.
Cris was the type guy you wanted to lead your football team not just on the field. He is the type of guy who leaders learn from and a guy the youth should aspire to be. In the time since his playing days he hasn't changed a bit. Whether he is on ESPN or a father he leads with class and character.
Cris we thank you for the impact you have had on the game so many of us love. The game of football will always respect you for your motivation and character that inspired so many. Even when your on TV you instill passion for what you do. The Hall of Fame welcomes you with open arms.