Baseball is a wonderful game full of subtleties, knacks, and nuances throughout a lengthy season, but many times the champion is determined by who catches fire at the right time.
With the arrival of the playoffs, now is that time.  The immense pressure of every at-bat makes the scoring opportunities much harder to come by, so having a power hitter who can add to the run total with one swing of the bat is a very valuable commodity.  The 2013 St. Louis Cardinals have a number of players who are liable to get on a hot streak and carry the team to some postseason wins.
Cardinals fans need to look no further than 2011 for proof that one player can make a world of a difference in the playoffs.  Postseason hero David Freese already had four home runs in the 2011 playoffs before his iconic blast in Game 6 of the World Series and the Redbirds will be looking for a player to emulate his unforgettable October.  Freese has had a terribly disappointing season this year, but his postseason numbers are so good that there may still be hope that he can tap into that magic again.  Freese's status with the team after this season is in limbo as he is arbitration eligible, so if he wants to stay in St. Louis, or even secure a nice contract with another major league team, he will need to show up big time over the next month.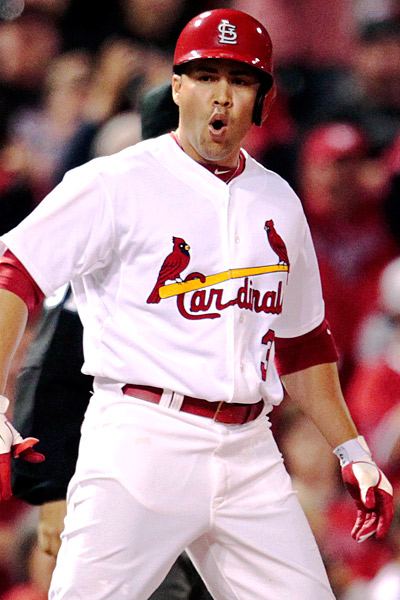 Another player who has a financial interest in this postseason is veteran Carlos Beltran.  Like Freese, Beltran's contract is off the books after this year, and also like Freese, Beltran has a history of postseason success.  The difference is Beltran's playoff brilliance is over a much bigger sample size, though he is still chasing his elusive first World Series ring.  Beltran tore up the Cardinals in two National League Championship Series in 2004 and 2006, but he could not quite muster up the same production in last year's edition of the NLCS.  Still, Beltran has hit .363 with an absurd 14 homers in 34 playoff games according to baseball-reference.com.  If the 36-year-old can conjure up another prime October, it would likely earn him a final eight-figure contract and possibly his first ultimate prize.
The Cardinals' other veteran outfielder, Matt Holliday, has struggled in recent playoff appearances.  Aside from the inaugural wild card game last year, Holliday's October performances in a Redbird uniform have been disappointing.  But, in his only playoff appearance with Colorado in 2007 he hit five home runs and led the Rockies to the NL pennant.  Holliday can be very streaky, and perhaps his two homers in the final regular season series is an indicator that he is heating up.  If Holliday can put the Cardinals on his back and take them to the promised land, then he will finally earn his own chapter in the franchise's rich history.
Before Yadier Molina was a household name, he had already come up with the biggest hit of his life in Game 7 of the 2006 NLCS.  Molina has earned a reputation for having clutch at-bats, and he had nine RBIs in the 2011 World Series.  The Cardinals are Yadi's team, a responsibility he relishes, and with that comes the expectation that he will bail them out of a crucial situation once again.  The 2013 playoffs are a perfect opportunity for Yadi to add to his legend.
The two unknowns for the Cardinals heading into the postseason are the two first basemen, Allen Craig and Matt Adams.  Both have had fantastic 2013 campaigns, but Craig is currently sidelined with an injury, and it is unclear if he will return this year.  Be assured that if Craig comes back healthy that will be a huge boost for the Cards, just as it was in 2011.  Adams is the only significant Cardinals hitter who has not had a taste of the playoffs.  But his power is obvious and his play in Craig's absence has been huge.  If his extra-inning performance this year is any indicator, Adams has a clutch bat ready to be unleashed.
The Major League Baseball playoffs are always pressure-packed, high stakes situations, but with all the added incentive for the best Cardinal hitters it will be interesting to see who steps up.  The answer may determine if there will be a 12th banner flying in Busch Stadium next March.