(Follow me on Twitter @jim_krug; opening image credit of the fine blog fromforbestofederal)
1.  Regardless of what transpires in the early Missouri evening this Wednesday, Pittsburgh Pirates' fans have to be incredibly proud of their franchise.  A playoff run that has so far spanned only 5 games has still vanquished a seeming eternity of frustration for a fiercely loyal fanbase.  If the 2013 Pittsburgh Pirates' season does come to an end in the National League Division Series, it's still been one hell of a run.
2.  If the Pirates do win, the Los Angeles Dodgers took a tad of the luster off of a potential Pirates-Braves' 1992 full-circle throwdown by vanquishing Atlanta in only 4 games in the other NLDS pairing.  From reading fan reaction online, the consensus believes the Pirates would struggle greater with the top 3 arms in the Dodgers' rotation- Clayton Kershaw, Zach Greinke, and Hyun-Jin Ryu– than they would have against Atlanta's starting pitching staff.
3.  Justin Morneau.  C'mon man!  Entering the postseason, I awaited both Morneau and Pedro Alvarez catching fire, and to Alvarez's credit, he's more than come through.  Tied with Dodgers' OF Carl Crawford for the NL playoff HR lead with 3- to go along with an outstanding 1.306 OPS and 6 RBI (also tied for the NL lead)- Alvarez has been a run production powerhouse.  But Pirates' fans are still waiting for former AL MVP Morneau to connect on a single home run in the National League!  Despite starting every playoff game and hitting cleanup, Morneau has only a .586 OPS through 5 playoff games.  The lefty slugger absolutely has to come through if the Pirates want this magical postseason run to continue.
Ironically, the Pirates' firstbasemen HAS hit safely in 4 of the 5 games, but has only 1 extra base hit, and 0 RBI.  That's fine production out of a #2 or #7 hitter, but being buried in the middle of a solid lineup, the Pirates need more from the former Twin.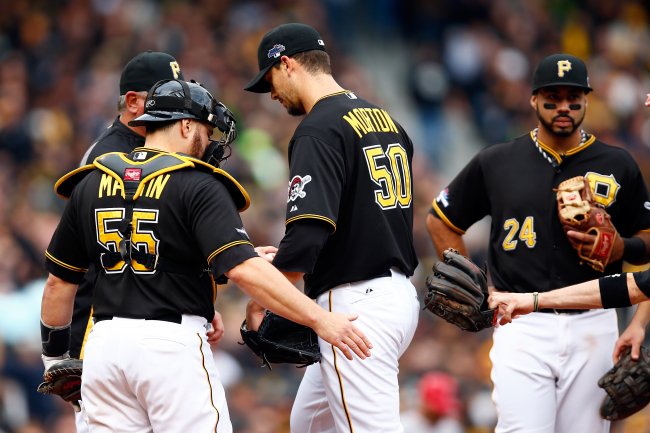 4.  Charlie Morton.  Damn did he give it his all in Monday evening's 2-1 loss to the Cardinals!  His sinker was on point, he kept nearly every ball down in the zone, and were it not for another outstanding 1-hit start from Cardinals' rookie Michael Wacha, Morton would already have one of the most significant playoff wins in Pirates' history on his resume.  You simply can't expect more from a #4 starter in the playoffs!
5.  While Pirates' fans have every right to be excited about the club's future, it is disconcerting to realize how utterly stacked the Cardinals could still be for years to come.  St. Louis had an insane 36 wins contributed by rookie pitchers in 2013, and their young staple of rotation arms includes:
Shelby Miller (age 22)  15-9
Wacha (age 21) 4-1, 131 ERA+
Lance Lynn (age 26)  15-10
Joe Kelly (age 25)  10-5, 135 ERA+
And that's in addition to some dude named Adam Wainright, who I've read is their staff ace.  That's one young and loaded rotation.
6.  Generally, franchises like the Tampa Bay Rays and Oakland A's are the sexy picks by the media when profiling the best-run organizations in baseball, but I don't see how you could put anyone else but the Cardinals at #1.  I wish it wasn't so.  Being a Pirates' fan, I loathe St. Louis.  But the results speak for themselves, and to lose a player of the caliber of Albert Pujols and not miss a beat speaks volumes of the Cardinals' ability to continually manufacture a steady stream of Major League talent.
7.  There's been a lot of talk regarding manager Clint Hurdle's strategies over the course of the playoffs, in particular the surprising hit-and-run attempt at a critical moment of Game 4.  Normally a significant Hurdle critic, I think the manager has fared well overall during the 2013 playoffs.  He's resisted the urge to "insert himself into games" as Hurdle often does, and some decisions- like that to pinch run Josh Harrison in the 8th inning of Game 3- ended up being huge.
I do think Hurdle left A.J. Burnett in waaaay too long in Game 1 of the NLDS, effectively negating any chance whatsoever the Pirates had of winning the opener.  At one point, St. Louis was winning 3-0, Burnett had walked the bases loaded, there were no outs, and only then did the Buccos' manager make the call to start warming up the bullpen.
8.  I've been very on the fence with Hurdle's decision to continually start SS Clint Barmes (4 starts) over SS Jordy Mercer (1 start).  On one hand, starting Mercer (118 OPS+) over Barmes (58 OPS+) should be a no-brainer, especially considering Barmes's recent defensive lapses which have made him nearly as much of a liability in the field as Mercer.  At the same time, Barmes made 2 very good plays early in the Wild Card game against the Cincinnati Reds which I'm not sure Mercer would've made.  Had he not, the outcome of the 1-game elimination contest could've been entirely different.
Ideally, Mercer should be starting however many playoff games remain, with Barmes brought in as a defensive replacement as early as the 7th inning in any games that the Pirates are winning.
9.  It goes without saying that, if he can pull out another high-stakes victory tomorrow, SP Gerrit Cole should be named the NLDS MVP.  Here are some eye-popping stats showcasing Cole's dominance, courtesy of my friend Mike, compiler of awesome stats:
If Cole pitches like he did in what were both pretty much must-win road games against Texas (vs Yu Darvish, coming off sweep by Cardinals) and St. Louis (Game 2), the Pirates will be playing in Los Angeles this weekend.
At Texas – 7ip, 3h, 0r, 2bb, 9k
Game 2 – 6ip, 2h, 1r, 1bb, 5k
Since September 1st, Cole has made 6 starts – 5-0, 38ip, 26h, 7r, 11bb, 44k, 10.4 K/9, 0.97 WHIP, 1.66 ERA.  I don't think enough is being made by how good he has been.
Mike also notes that Cole will be the first rookie SP in the brief history of the Division Series games to start a game 5 on the road.  And yet so far, the 23-year old has performed well beyond his years, and seemed completely unaffected by the apparent pressure around him.  Just give us one more, Gerrit!
10.  Finally, I have to say that being in attendance at the Wild Card game against the Reds was the most surreal, electrifying sporting experience of my lifetime.  Given the history up to that point, the atmosphere, and the eventual outcome, I'm not sure that the Pirates' 6-2 victory over the Reds in front of a packed PNC Park could ever be beaten.
Seeing fans lining the Clemente Bridge after the game- standing up on both sides and serenading the gushing crowd that passed between them with shouts of joy and sweeps of countless Jolly Roger flags- is an experience I'll always remember, as will everyone else that was there that night.
So are there more memories to be made?  Are we as fans still in the early stages of a postseason euphoria that will run the length of October?  We're about to find out!  Either one, it's been one helluva' ride.  Thanks for reading.