When I began thinking about writing this piece my first thought was to simply start and end it with, "Well there goes the season." Then I thought, where's the fun in that? I should begin by saying as a lifelong Minnesota Vikings fan, that was the worst game I have ever seen. The "savior" Josh Freeman couldn't save himself from a group of girl scouts selling cookies. What a joke of a performance. That was literally the worst Monday Night Football game in history by a quarterback. ESPN Stats & Info tweeted last night that in the eight years for which they have data on overthrown passes Josh Freeman's 16 in last night's game is the most by any quarterback in that span. There were points where he would wind up to throw a deep ball and I would consider changing the channel mid throw because I didn't want to see the rest of his travesty of a throw.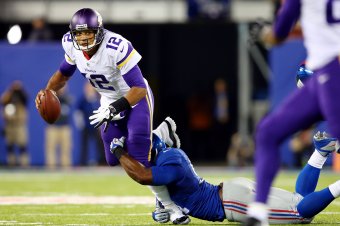 In Freeman's defense he hasn't had much time to learn the offense. He had a few days of practice before last week's Carolina game and this past week of practice. Vikings offensive coordinator Bill Musgrave had perhaps the smallest call sheet in NFL history to help simplify the offense for Freeman. That's as far as my defense goes in Freeman's favor. That does not take into account throws that were sailing over wide open receiver's heads by miles. There were some times where he would move nicely in the pocket then wind up and shoot for the stars. No, I mean it literally looked like he was trying to shoot for the stars. Freeman's final stat line was 20-53 for 190 yards and an INT in the 23-7 loss. Freeman is now 11-24 as a starter in the last 3 seasons. This is the 2nd-worst win percentage in the NFL. That doesn't sound like savior material to me.
The defense looked great for a majority of the game. Jared Allen had perhaps the coolest sack in the history of Monday Night Football. He sacked Eli Manning with one arm while wrapping himself around Giants offensive tackle Will Beatty without even having sight of Manning. Another great play was Marcus Sherels' electric punt-return for a touchdown. The pure speed of Sherels torched a Giants punt coverage team that now has allowed three so far this season. Unfortunately, Sherels blew his chance of being Monday's hero by fumbling the ball deep in Giant's territory giving them an easy chance at points. The game would fall apart after that.
Can someone explain to me why Sharrif Floyd tried to return a kickoff? There's a reason the big fellas never touch the ball, Floyd learned that lesson in embarrassing fashion on nation television when he fumbled a return in the second half. Smooth move rookie.
In my opinion the most surprising stats of the night were Adrian Petersons. In the first half Peterson had 9 yards rushing, his 4th-worst first half total in any game he's played. He ended up with only 28 yards. That's a scary thought that became a reality last night.
It's so irritating as a fan to watch. Especially against a team that was on the verge of losing seven straight on national television. I don't want to jump to conclusions and start declaring coaches start packing up their office, but this disaster of a season is brought to you by W.B Mason.