It all started on September 24 when Cardinals rookie Michael Wacha took the hill against the Nationals for his last regular season start of 2013.  No one could have expected the lanky 22 year-old from Texas to make history that night, but he nearly did by taking a no-hitter into the ninth.
That spectacular start probably secured his spot on the Cardinals' postseason rotation, although he did not start again for almost two weeks when the Cardinals asked him to shutdown the Pirates on the road in a must-win NLDS Game 4.  Despite the layoff, Wacha was equally as brilliant that night when he took a no-hitter into the seventh and kept the Cardinals alive.  Wacha has only made four starts in the last month, but he is on what amounts to a pitching hot streak, and considering the high stakes it is one for the ages.
In his last 29.2 innings Michael Wacha has allowed only one run, a solo homer from Cardinals terrorist Pedro Alvarez in PNC Park.  In his last four starts, including that last one from the regular season, Wacha has allowed a total of 15 hitters to reach base and has struck out 31.  He won the NLCS MVP because he did not allow a single run in either of his two starts.  The amazing thing is that some of those stats might not do justice to how well he has played lately.  The Dodgers' Clayton Kershaw was the opposing pitcher in each of Wacha's last two starts, and the Cardinals were able to win each because Wacha matched zeroes with Kershaw until the Dodgers' ace blinked first.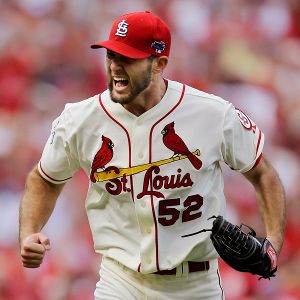 As a rookie, some of Wacha's success must be due to opposing teams being unfamiliar with him.  But the Pirates had seen Wacha twice (once in a relief appearance) before the playoff game and the Dodgers obviously got a second chance against him in the NLCS and still could not find a way to score.  That is a scary thought for the Red Sox who obviously have never faced Wacha, scheduled to start Game 2 of the World Series Thursday.
Wacha has shown incredible poise during this postseason run, perhaps best exemplified by the sixth inning of Game 2 against the Dodgers.  Nursing a 1-0 lead, Wacha made one of his few mistakes by allowing Kershaw to single to lead off the inning.  Then the speedy Carl Crawford reached on an infield single when Matt Carpenter made a throwing error, allowing the runners to advance to second and third.  With still no outs, Wacha got Mark Ellis to pop up and then intentionally walked Adrian Gonzalez to load the bases.  Wacha got out of the jam by striking out Yasiel Puig and Juan Uribe back to back, preserving the lead in a pressure packed situation.
According to baseball-reference.com, Wacha's .571 WHIP (Walks and Hits per Inning Pitched) this postseason is the sixth lowest of any pitcher's single postseason in history.  Some of the names ahead of him on that list are Justin Verlander, Christy Mathewson, and Mariano Rivera.  Wacha is the first rookie to win a League Championship Series MVP since Marlins pitcher Livan Hernandez in 1997.  Wacha has reached rarified air, and now the question is how long he can keep it rolling as the pressure continues to mount.  This streak of his has been unbelievable and without him the Cardinals would not be still standing.