(Opening image credit pennlive)
I think fans truly want to believe that when the moment is right, owner Bob Nutting will finally invest significant dollars into the Major League payroll of the Pittsburgh Pirates.  Despite years of gifted revenue sharing dollars and lucrative MLB television contracts- and despite promises of "competitive payrolls" after largely taxpayer-financed PNC Park opened in the early 2000's- fans of the franchise have yet to see this commitment carried out.  On one hand, the 2013 season marked the highest that the franchise's payroll has ever been.  But the $79,562,000 figure becomes more sobering when its MLB payroll rank (19th) is attached to it.  Major League Baseball has become a spender's game, and the Pirates' ownership simply isn't staying at the table.
There certainly have been glimpses that payroll relevance *could* happen.  In 2011, Nutting and the Pirates spent an MLB-record $17,000,000 on draft bonuses for their June selections alone.  And this past August, Nutting gave GM Neal Huntington the go-ahead to add millions of dollars to the MLB payroll with the acquisitions of Marlon Byrd and Justin Morneau, during a time in which the majority of teams in baseball were dumping salary, and even the few contenders were hesitant to pick it up.
But the start of the first offseason following a Pittsburgh Pirates' playoff appearance in 20 years has disheartened fans hoping that THIS would be the time when Bob Nutting's deep pockets finally emptied: hot off postseason success, with a potential young core in place, and with highly-productive veteran free agents available to boost Pittsburgh into "legit contender" status from Opening Day on.
So far?  Nada.
…In fact, we must hesitate to even say "nada", because the Spanish term for "nothing" somewhat implies neutral position.  And if anything, the Pirates have lost ground.
1.  Pirates fail to extend a qualifying offer to A.J. Burnett, potentially losing the veteran right-hander to free agency.
Here is the situation in a nutshell: Because Burnett was so very good in 2013 (3.30 ERA, 209 K, league-leading 9.8 K/9), had the Pirates extended the SP a one-year "qualifying" offer valued at $14.1MM, Burnett could have either re-signed, orrrrrr had he negotiated a contract elsewhere, the Pirates would've received a precious 1st round draft pick from the signing team in return.
(Surprisingly, even if Burnett retired and later chose to return to baseball, whatever MLB club eventually signed him would owe the Pirates the pick.)
Yet the Pirates gave no qualifying offer to one of the best stories of their 2012 and 2013 teams, and one of the best pitchers in the National League in 2013!  (Had the offense given Burnett any semblance of consistent run support to avoid saddling the veteran with an eventual 10-11 record, it wouldn't have been unreasonable to consider him an NL Cy Young contender.)  And any fans that assumed the silence from the Pirates was due to concerns over A.J.'s age- or even the few negative clubhouse stories that surfaced with Burnett in 2013- were quickly given a dose of reality by Huntington:
"This decision is not a reflection of our valuation of A.J. It's more a  reflection of our desire to build a championship roster. A $14.1 million (offer)  is a significant chunk of our estimated budget for next year."
So the decision to potentially lose Burnett- and especially the compensatory 1st round pick that would've softened the blow of him signing elsewhere- came down to MONEY alone.  And for fans still hoping that the Pirates are simply negotiating some savvy long-term, payroll-saving deal?  Don't get too excited.  The MLB Players' Union prevents veterans in Burnett's position from taking significant pay cuts on new deals.  One estimate said that the lowest Burnett could sign for in 2014 was around $12,000,000.
So even in the rare event that the Pirates were trying to re-negotiate with Burnett…it's a heckuva' gamble risking losing the ace to a competitor to only save $2,100,000.
2.  Pirates allow Marlon Byrd to sign with the Philadelphia Phillies without making a contract offer.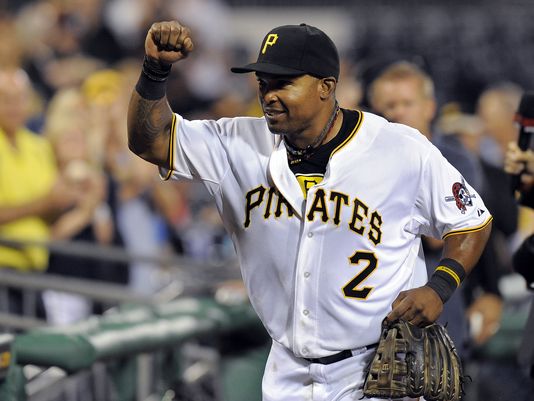 In fairness, Marlon Byrd will turn 36 in the waning months of the 2014 season.  And in fairness, Phillies' GM Reuben Amaro Jr. surprised many (outside of Phillies' fans themselves, who have grown to loathe the GM) by offering Byrd a potential third year of contract that could vest if a handful of realistic performance incentives are met.
While the $8MM/year deal the former Pirate signed on November 12th was in line with early dollar estimates of national writers, few thought Byrd could milk a 3rd year out of any team, due in part to injury-shortened 2011 and 2012 campaigns (not to mention a career 102 OPS+) that make Byrd's 138 OPS+ of 2013 look like an extreme outlier.
But on the other side of the Pirates' (apparently limited) coin…
A.  Byrd is a rare Major Leaguer that has improved with age.  All of his best seasons took place from age 29 and on.
B.  Byrd finished with an .800+ OPS in 4 of the past 7 seasons.  And if you subtract his injury-shortened 2011 and 2012 campaigns, it's 4 out of the past 5 full seasons.
C.  Unlike relative disappointment Justin Morneau (.681 OPS as a Pirate), the well-traveled Byrd served as an excellent late-season reinforcement for the Pirates, posting an .843 OPS from August 29th through the conclusion of the regular season, followed by an outstanding .982 OPS through 6 post-season games against the Reds and Cardinals.
D.  Without an established veteran to man RF in 2014, the Pirates will defend their postseason position in 2014 with only question marks at one of the most important power positions on the field.  Can Jose Tabata's strong but smaller sample size (119 OPS+ in 106 games) manifest itself over a full season?  Is Travis Snider (75 OPS+) finally healthy, and ready to showcase the power that made him an exciting acquisition from Toronto?  Could Andrew Lambo's 32 minor league homeruns in 2013 translate to Big League power in 2014?
Any of these scenarios are possibilities, but it sure would be nice to have a veteran fallback option if they don't work out.  Even if the Pirates were understandably unwilling to match the potential 3-year pact of the Phillies, offering Byrd a 2-year, $14MM deal would've been a strong gesture to fans that Nutting and the Pirates were willing to retain one of their best October performers.
Overall, despite the silence of the Pirates, the offseason still is quite young.  And there is at least a *chance* that the Pirates felt they had the depth in the rotation to lose Burnett, affording them more money to pursue a marquee RF upgrade like Carlos Beltran or Shin-Soo Choo.
But so far, every public indication from Huntington is that,
*despite the excellent fan commitment in 2013
*and despite additional money from MLB through revenue sharing and the MLB television contract
*and despite additional postseason revenue from an exciting 2013 playoff run
…the 2014 Pittsburgh Pirates will be operating on a budget significantly limited by owner Bob Nutting.  To GM Huntington's credit, he worked miracles last offseason, bringing in surprising contributors like Russell Martin and eventual NL Comeback Player of the Year Francisco Liriano.  But we also have to realize that the strategy of signing bargain-basement veteran free agents- and then hoping for production comebacks- has failed the Pirates in 20 of the past 21 seasons, so if this is the strategy Nutting and Huntington choose to pursue this offseason, the odds are still not in their favor.
When you Google search "Bob Nutting", the auto-complete function suggests "net worth" as the 3rd most popular choice.  ("Bob Nutting Pirates" doesn't even make the top 4, possibly bumped out by the ski resorts that he owns.)  Hopefully that will eventually change, and the Pirates' owner will consider using a significant portion of his wealth to seriously upgrade what could now be a perennial NL Central contender.  Perhaps "Bob Nutting championships" will autocomplete someday, but it will only happen if the man makes a serious financial commitment to the long-promised-and-still-elusive "competitive payrolls" for the Pittsburgh Pirates.
Thanks for reading.