The first significant trade of the young season took place on Monday night. The Sacramento Kings acquired forward Derrick Williams from the Minnesota Timberwolves in exchange for Luc Mbah a Moute. Williams, the former number 2 overall pick in the 2011 draft, still has plenty of upside and did not get his fair share of opportunities to prove himself during his stint in Minnesota.
With the first trade going down, you can expect the trade market to pick up quite a bit within the next four to five weeks. There are plenty of rumors floating around with the unfortunate season-ending injury to Bulls guard Derrick Rose. There is also a chance a team like Cleveland, Brooklyn or New York could blow it up due to injuries and disappointing results at this point of the season.
There is still a lot of time before the trade deadline, but it is always fun to look ahead to potential trade partners and targets. Here are 5 trades that could make sense for the Phoenix Suns.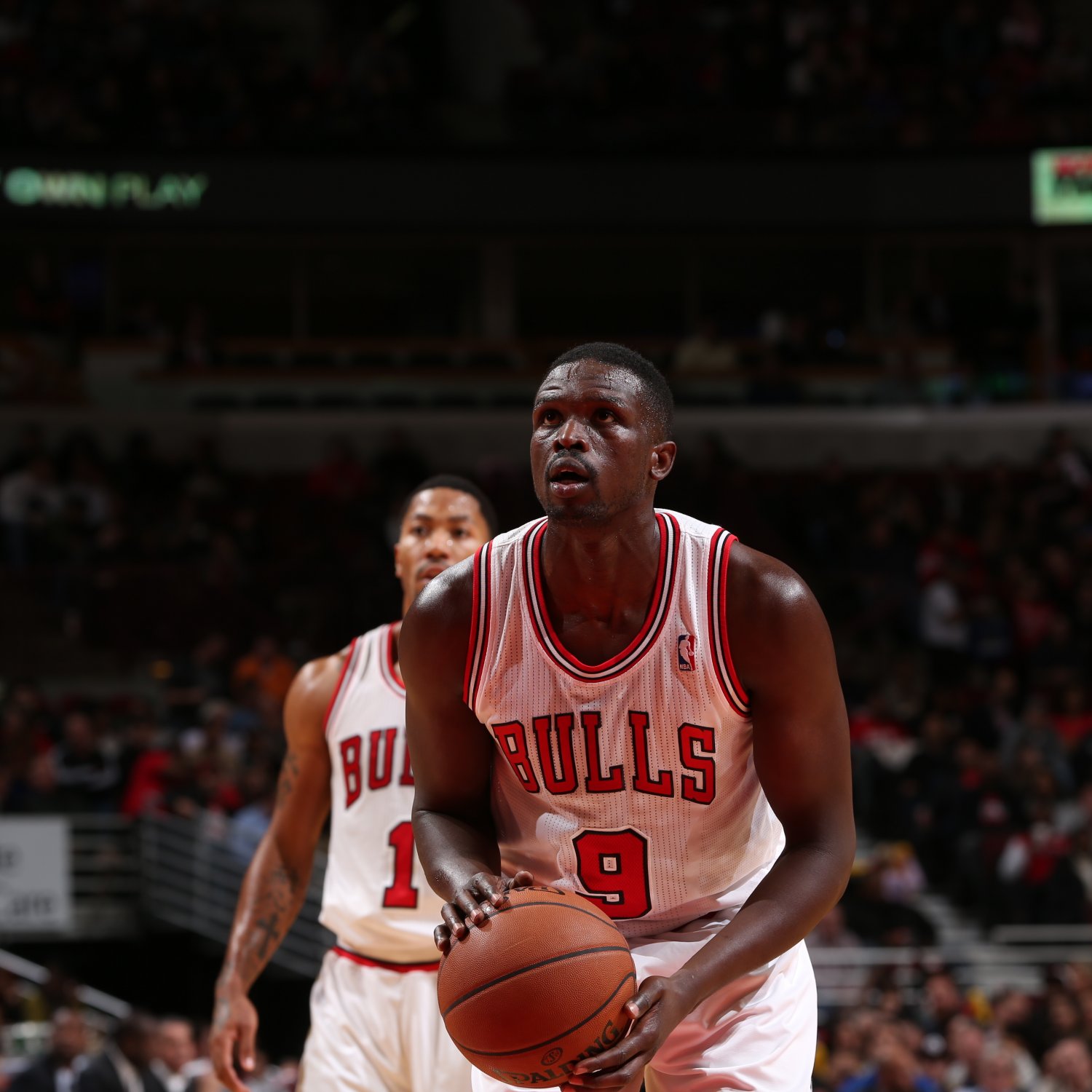 1. Luol Deng for Goran Dragic and Channing Frye
Why the Suns do it: Getting rid of Dragic's and Frye's contracts would free up some serious cap space for them this summer and adding Deng to a core of Bledsoe, Green, Goodwin, Len, Morris and Plumlee would give the Suns a very formidable unit. Deng is a free agent at season's end so the Suns could either opt to resign him or use the money elsewhere. The Dragic-Bledsoe backcourt definitely needs to be evaluated more before making this type of trade since they haven't played together much with each of them missing some time this year, but if Phoenix is looking to clear cap space then this could make sense.
Why the Bulls do it: The Rose injury changes everything for them. They went from title contenders to a boarder-line playoff team in the East. Dragic makes sense as insurance in case Rose never fully recovers, and gives them a very underrated PG that they can rely on for the time being and the future. Frye would essentially be a throw-in to make salaries work, but they could then flip him for something else if they desired. Deng is a free agent at the end of the year and getting value for him now before he bolts would be a good idea.
2. Kevin Love for Markieff Morris, Marcus Morris, Emeka Okafor, the Suns 2014 1st round pick (unprotected), and a future 1st round pick
Why the Suns do it: This would be one heck of a blockbuster trade. It would be a franchise changer for Phoenix. Adding Love alongside Bledsoe, Dragic, Green, Plumlee, Len, and Goodwin would give the Suns a nice combination of youth and experience. Phoenix is just above .500 right now and adding Love to this group would certainly push them over the top and into the playoffs.
Why the Wolves do it: The Wolves are still very much alive in the playoff race in the West this year, so if they are to trade Love I doubt it happens during the regular season unless they really start to collapse before the deadline and want to completely rebuild for the future. I would not rule out this type of trade during the offseason, though. Love has expressed multiple times that he wants out of Minnesota if they don't make the playoffs, so if he is unhappy then they may look to move on and stack on two 1st round picks along with a couple solid twins. Okafor is solely in there to help match the salaries, and give the Wolves an expiring contract.
3. Jeremy Lamb and Kendrick Perkins for Channing Frye and PJ Tucker
Why the Suns do it: Jeremy Lamb has shown tremendous upside this year and he could end up being a nice piece for the future. Frye and Tucker are both solid players, but don't offer much for a young, rebuilding team like the Suns.
Why the Thunder do it: Steven Adams has shown flashes of potential and he could be ready to take over the starting center position. OKC has grown tired of Perkins play as of late and they could look to ship him out and create more time for the rookie Adams and open up some cap space. Frye is also capable of playing center so he could fill in and help Adams man down that position. Adding Tucker and Frye would give the Thunder two perfect role players to bring off the bench, which is important for contenders especially come playoff time.
4. CJ McCollum for Channing Frye and cash
Why the Suns do it: McCollum, like Lamb, has some upside and would be a great combo guard to bring off the bench for some quick offense. If they could land someone like him for Frye then it's a no brainer for Phoenix.
Why the Blazers do it: Portland has gotten off to a very strong start and they need to add some depth on their bench with how inconsistent their second unit has been this year. Adding an experienced veteran like Frye would be the perfect addition to a playoff team looking to add some depth.
5. Gordon Hayward for Archie Goodwin and the Suns 2014 1st round pick (via Minnesota) 
Why the Suns do it: Adding a young stud like Gordon Hayward would be a very solid move for now and for the future. Hayward has improved each year since being drafted and has a great relationship with former Utah assistant coach Jeff Hornacek. Insert Hayward into a lineup featuring Bledsoe, Dragic, Morris and Plumlee and you got yourself a very nice young core to work with. The Suns also have enough cap space to resign (and most likely overpay) Hayward who is in the mist of a breakout season. The Wolves pick is somewhat expendable with all of their other 1st rounders this year.
Why the Jazz do it: Hayward enters restricted free agency this summer and you can count on someone overpaying for him. If Utah doesn't want to give him a big contract then it would be wise for them to get some value for him now. Goodwin has lots of upside and is still only 19 years old. Adding a potential 1st round draft pick in this year's loaded draft would be a nice sweetener to pair up with Archie.
Other potential trade targets: Anthony Bennett, Dion Waiters, Ed Davis and Iman Shumpert.
If you have any trade ideas or thoughts, then feel free to comment below and share them!