Could the Eastern Conference be any worse right now?  I don't think so…
Only two teams have winning records….
Yes, you read that correctly. Two teams!
The opposing Conference has just about everyone scrambling for a playoff spot.
This year's NBA playoff picture is what we call lopsided at its finest.
30. Utah Jazz (3-15, Even): I'm aware the Jazz have stepped up in the past few games.  Let me explain my reasoning behind this ranking: teams in the East who are, perhaps, performing at a worse level can turn it around due to the weakness of the conference.  Utah is almost guaranteed to be one of the bottom two spots in the West.
29. Milwaukee Bucks (3-13, Even): Since starting the season 2-2, Milwaukee has won just one of its 12 affairs.  The Bucks give up the highest two-point field goal percentage to opponents.  Larry Sanders' name rings an alarm after hearing that statistic.  The Bucks need him back.
28. Sacramento Kings (4-11, Down 4): DeMarcus Cousins' name comes up in just about all of my weekly rankings.  Beside Kevin Love, Cousins is the only player averaging over 20 points and 10 rebounds.  How much should team success be taken into account when selecting All-Stars?
27. Cleveland Cavaliers (5-12, Even): The start of this year has brought up a lot of doubt after what most viewed as a positive offseason.  Kyrie Irving is shooting only 40 percent.  However, there's no question he needs more help from teammates on offense.
26. New York Knicks (3-13, Down 3): Nine straight losses?  I'd like to think this streak ends in the next few days.  Carmelo seems to hold team meetings after every loss.  What exactly are those meetings accomplishing?
25. Philadelphia 76ers (6-12, Down 3): Philly has lost eight of its last nine after going 5-4 in its first nine games.  Now the Vegas oddsmakers don't look completely idiotic.  Regardless of standing, the Sixers are certainly building positive momentum this season.
24. Orlando Magic (6-10, Up 4): Arron Afflalo is having a career season: 21.4 points and 2.4 threes per game on 47.5 percent shooting.  He's improved a lot over the course of his career.  He started mainly as a lockdown defender and a knockdown shooter in the corner.
23. Boston Celtics (7-12, Up 3): Boston's plan is definitely to get a high lottery pick.  However, it's not easy being the worst of multiple subpar teams in the East.  Sometimes Avery Bradley and Jeff Green are just too good.  Bringing back Rondo could honestly make them a playoff contender.
22. Toronto Raptors (6-10, Down 6): The Raptors dropped the furthest in this week's rankings after losing three straight home games.  That's just something you can't do as a team that's serious about being in the playoffs.
21. Brooklyn Nets (5-12, Up 4): The Nets managed to get two wins on the road in the past week.  Jason Kidd's trickery, though.  That was something else.  Hey, he made a unique story for his first headline as an NBA coach.
20. Charlotte Bobcats (8-10, Even): Although the team isn't as bad as a whole, Charlotte's offense remains among the worst in the league.  I'm looking forward to seeing Kemba Walker and Al Jefferson get that chemistry going.
19. New Orleans Pelicans (8-8, Down 1): Sometime in the future, the Pelicans have to figure out how to be in full throttle.  What I mean by that: there's often a few sparks to the plug (Anthony Davis, Ryan Anderson, etc.)  However, the whole team needs to be clicking together in order to eventually live up to its talent.
18. Detroit Pistons (7-10, Up 1): Andre Drummond was the first player since Hakeem Olajuwon in 1990 to record 31 points, 19 rebounds, and six steals.  Piston fans are patiently waiting for Andre Drummond to, one day, be considered the best center in the NBA.
17. Phoenix Suns (9-8, Even): I just attended Phoenix's two latest home games, Portland and Utah.  Goran Dragic and Channing Frye led the Suns in a second half surge to upset the Blazers.  However, the Suns dropped the second of a back-to-back against Utah.  Phoenix doesn't have much talent, but they play with a lot of passion.
16. Atlanta Hawks (9-9, Down 5): The Hawks should definitely be better than .500.  Teague and company are capable of hanging around fourth in the East.  They just need to cut out the bad losses (Boston, Orlando).
15. Washington Wizards (8-9, Up 6): The injury to leading scorer Bradley Beal hasn't slowed the Wizards down much.  John Wall has shown a great ability to score the ball lately, aggressively attacking the basket and pulling up when the defense gives him space.  Wall is averaging 21 points and nine assists in the last week.
14. Minnesota Timberwolves (9-10, Down 2): Don't let losses convince you this is just an average team.  They're still a young and improving team.  Love is having another fantastic year, but he may need to show a bit more patience with this squad.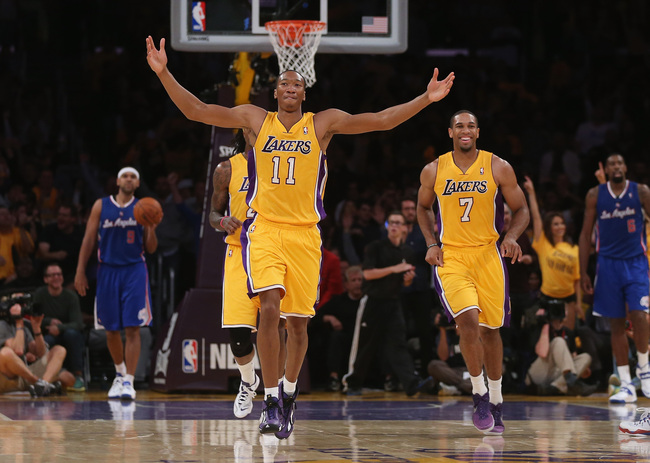 13. Chicago Bulls (7-8, Even): The loss of Derrick Rose has most definitely taken a toll on Chicago in its last few games.  However, it is what it is and the shorthanded squad must deal with it.  They still have three All-Star caliber players in Deng, Boozer, and Noah.
12. L.A. Lakers (9-9, Up 3): D'Antoni has his squad playing solid basketball without Kobe Bryant and Steve Nash.  Nash appears to be cooked but Bryant should return to the court in the next month or so.  Swingmen such as Wes Johnson, Xavier Henry, and Nick Young have been playing with a lot of confidence.
11. Memphis Grizzlies (8-8, Down 1): Luckily for the Grizz, Marc Gasol won't need surgery and might only miss up to four weeks.  That would be a huge sigh of relief for them as their playoff chances may depend on his presence in the paint.
10. Dallas Mavericks (10-8, Down 2): Monta Ellis' scoring is up from the last two years and he's also shooting a career best 47.6 percent. The Western Conference-style of play definitely suits Ellis best as he excels from running in the full court.
9. Golden State Warriors (10-8, Even): The "Splash Brothers" were at their best last game, shooting 13-of-19 from long range while dialing in 64 points in a close one in Sacramento.  However, I wouldn't be surprised if the duo topped that, with another extraordinary shooting performance, sometime this season.
8. Denver Nuggets (10-6, Up 6): Denver, along with Washington, made the biggest jump in this week's power rankings.  In case you didn't catch it, I generously included Ty Lawson in my latest MVP race and explained why he deserves it.
7. Los Angeles Clippers (12-6, Down 1): The Clippers are playing like a well-oiled machine right now.  Their offense hasn't looked better in the last 15 years: Chris Paul's squad is first in assists and and fourth in offensive efficiency, among other impressive stats.
6. Houston Rockets (13-5, Up 1): Houston has won eight of its last nine contests, including victories over DEN, MIN, DAL, MEM, and SAN.  Dwight Howard is finally playing ball without any drama on the side.  Make no mistake: this is James Harden's team and he's doing a fantastic job running it, thus far.
5. Portland Trail Blazers (14-3, Even): Portland's 11-game streak was too good to be true…or maybe not.  On paper, this starting lineup can compete with the best.  Aldridge is playing at an MVP level and Lillard is on his way to becoming a superstar.
4. San Antonio Spurs (14-3, Down 3): That streak-snapping loss against OKC reminded the Spurs of the team that bounced them from the 2012 playoffs.  Therefore, there will be not just one team, but a few teams, in San Antonio's way this year.
3. Oklahoma City Thunder (12-3, Even): Everyone in the world credits Kevin Durant for being the ultimate fourth quarter player…but don't forget about Russell Westbrook.  He's also capable of making tough shots at the buzzer.
2. Miami Heat (14-3, Up 1): I'll continue to bring this point up throughout the year:  Whether they're at their best or not, Miami is messing around with all these subpar teams in the fourth quarter (last game vs. Charlotte).  That brings me to the number one team in my Week 5 Power Rankings.
1. Indiana Pacers (16-1, Even): Just win; that's the theme for Frank Vogel's Pacers this season.  Indiana is consistently wiping away teams that aren't on their level.  Don't discount Paul George, David West, and Roy Hibbert as, possibly, the strongest "big three" in the NBA.
Follow me on Twitter @ZTennen11