Follow me on Twitter @jim_krug; opening image credit guardianlv.com
If Gregory Polanco's 5-for-7 night at the plate– capped off by a go-ahead 2-run home run in the 13th inning of the Pittsburgh Pirates' eventual 8-6 victory over the Miami Marlins– is any indication of what is to come, Pittsburgh should have called up the star prospect much, much sooner.
But Pirates' fans- in fact, all of Major League Baseball- knew that already.  Everyone did.  Baseball America's 24th-ranked prospect heading into 2014 so, so destroyed AAA pitching (.347 BA, .945 OPS) that it became blatantly obvious Pittsburgh's tight-fisted ownership was exiling him in the minors for the sole purpose of saving money.  By waiting until the unofficial "Super Two" deadline passed, the Pirates sacrificed team wins in the present for the promise of saving yet more money in the future.
And so, Polanco continued to mash everything thrown at him in AAA, while the MLB club suffered through Jose Tabata (.674 OPS) and Travis Snider (.660 OPS) manning one of the premiere power positions on the diamond, before finally receiving a temporary reprieve from surprising utilityman Josh Harrison (.805 OPS).
But neither ownership nor the media told us this.  They weren't honest.  They never simply admitted that keeping Polanco bound to AAA was about money, and money alone.  They knew that would reflect poorly on them.  And so, Pirates' management came up with a litany of excuses for Gregory Polanco's continued AAA sentence, and received nearly universal support from the Pirates' media in promoting this façade.
*During a recent game broadcast, Steve Blass went so far as to say he was "tired of hearing about Polanco."  Really Steve?  With as offensively barren as this sub-.500 team is, you don't want to talk more about one of the best offensive prospects in baseball?  Like the rest of the (2) Pittsburgh broadcast teams, Blass is technically employed by ROOT Sports, yet the Pirates exert significant pull on what the pairs can discuss on air, and the positive spin that must accompany it.  I guess Blass needed more time to discuss how important the continued presence of 35-year old utilityman Clint Barmes (.594 OPS) is to the club's success.
*Pittsburgh Tribune Review sportswriter Dejan Kovacevic- waging an active counter-Polanco crusade to deflect heat from ownership– pined that not only was he "Polanco'd out", but threatened readers that "Every. Single. Ticket." in PNC Park better sell out for the rookie's debut, slandering fans for their apparent unnecessary excitement.
The counter-Polanco cabal's main problem was that Polanco's minor league dominance made every excuse weak, and yet they persisted.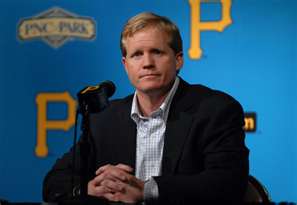 *GM Neal Huntington, obviously front and center in deflecting attention from Gregory Polanco, made a variety of easily disproven claims about why the 22-year old was being held at AAA, and yet the Pittsburgh sports media made no serious attempt to discredit those remarks, nor follow up with Huntington about them.  I outlined such a specious guise in a recent article:
"…according to GM Neal Huntington, the Pirates are a 'statistically-driven' organization, and Polanco still has to 'work on some things.'  He still needs to 'compete and thrive' (1.097 OPS as a 22-year old, mind you).  Huntington refused to elaborate upon what those 'things' are, because he claimed that when he made the 'mistake' of doing so for Andrew McCutchen years ago, opposing managers and scouts listened to what he said, and took advantage of McCutchen's weaknesses in the early going.
"This is obviously a complete lie.  Reviewing McCutchen's month-by-month splits from his rookie debut in 2009, McCutchen posted a promising .775 OPS in his first month of Major League experience in June, a .781 OPS in July, a monster 1.004 OPS in August (due more to his growing MLB experience than Huntington somehow 'seasoning' him at AAA), and a .794 OPS in September.  As a rookie, McCutchen finished with a dynamite .836 OPS (121 OPS+).  Further, outside of some errant comments about his 'bunting' and 'base stealing', frustrated fans can't even find the comments to which Huntington claims he's referring."
Interestingly- or perhaps sadly- some elements of the Pirates' media and fanbase exhibited similar behavior in April of 2012, prior to superstar MVP McCutchen signing a very team-friendly 6 year, $51.5MM extension, which absolutely has to be the best value contract in baseball right now.  In the leadup to the extension, there was a general (unfounded) fear that McCutchen would forego any team extension to instead test the lucrative free agent market at his earliest opportunity.
And so, a vigorous anti-McCutchen campaign began to emerge, first seen on exclusively pro-ownership and potentially team-sponsored message boards, eventually working its tentacles into the media.  Despite McCutchen being an absolute class act both on and off the field, individuals began to openly criticize his "long term value" to the organization: not because they truly believed the tripe they were shoveling, but instead as an early form of damage control if the Pirates' cheaply-operating ownership refused to spend the money needed to retain the former 1st round pick's services for years to come.
It sounds insane, and it absolutely was.  It's logically impossible to criticize a then 24-year old who had averaged an .823 OPS, 124 OPS+, 26 SB, and fantastic defense in CF over his first 3 seasons.  And yet, the pro-management base still tried their very best, up until news broke of McCutchen's bargain-basement extension.  Praise for ownership's financial savviness quickly followed, McCutchen was once again lauded a hero, and all of the asinine damage control criticism was soon forgotten.
This is a truly unique psychological phenomenon. We are witness to a group of fans and media members that are no longer pro-Pirates, but simply pro-ownership.  This tendency has been moldering in some form since the mid-1990's, but over the past 3 years, it has evolved into outright hostility towards one of the best players to ever wear a Pirates' uniform (McCutchen), and an exciting rookie (Polanco) that some enthusiastic fans are already comparing to a young Dave Parker.  Instead of rejoicing in high impact players being a part of the Pirates, their instinct is to view their potential as a threat if they are not resigned.  And all of this is done to insulate and protect a Nutting ownership group that has yet to follow up on ANY of their promises to fans for competitive payrolls.
This breakaway faction is willing to look the other way while the Pirates Major League club loses games they don't have to lose.  They are willing to explain away obvious baseball decisions, and not follow up on highly questionable, dismissive comments from the Pirates, all in attempt to curry favor with management and ownership.
*While members of the media are protected by rules governing their access to MLB clubhouses over negative press, the Pirates have every right to withhold individual interviews and other privileges for those that cross the company line.  I personally believe this threat is ever-present to the local members of the media that cover the team.
*Fans on message boards have always been allured by idea of the social media-aware Pirates seeing their "dedication" to ownership, especially on those boards where moderators have personal ties and privileges to the club.
And so, we're left with basement bloggers like me.  But unfortunately, we're a dime a dozen.  Anyone can write opinions on the internet, and even if they're well-researched articles, they still don't carry the weight of print sources from reputable newspapers.  And until the respected, mainstream Pittsburgh media begins to worry more about journalistic integrity and less about sucking up to the Pirates, nothing will change.
To save money, the Pittsburgh Pirates held back Gregory Polanco long enough that when he finally did make his debut, the club was 7.5 games back of the Milwaukee Brewers in the NL Central.  If the 2014 club ends up missing the playoffs by 1 or 2 games, will that really be worth the few million dollars it's going to save billionaire owner Bob Nutting a few years from now?
Thanks for reading.