Speak to any tennis fan and they'll all have their own ideas on who the best players are and of course, who the best players have been in the past. However, there will be names that come up time and time against those that are considered great – and one of those names will without a doubt be Andre Agassi. In fact, many people consider Agassi not only a fantastic tennis player but a player that helped to make tennis popular with more mainstream audiences; it was as though Agassi made tennis cool once again.
A Love For Andre Agassi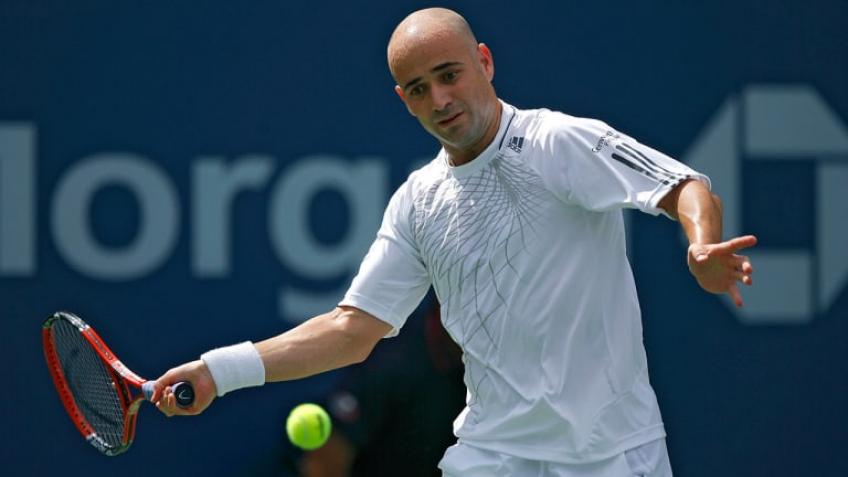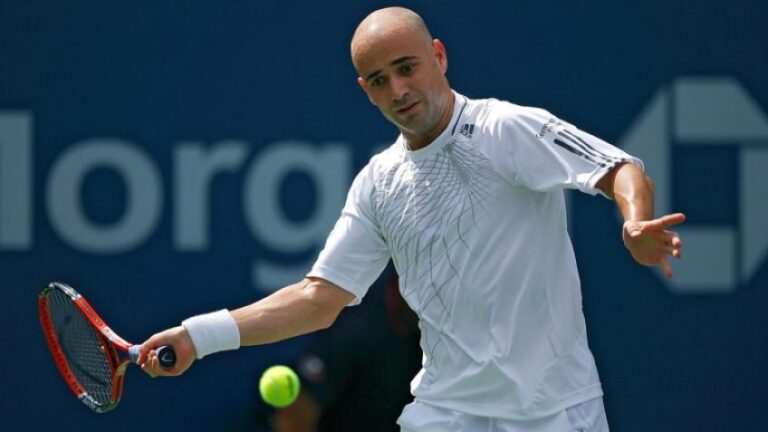 As professional tennis goes, Agassi is definitely someone that is considered a player that has made a name for themselves both on and off the court. At the top of his career, Agassi was considered one to watch and many people who weren't traditionally invested in the outcome of tennis matches tuned in to see how he was faring. The fact that he was good looking certainly helped him in the popularity stakes too – however, it was his skills that really earned him a name as an amazing tennis player and any match he played in worth watching.
Andre Agassi Career Highlights
As you imagine, with such a long and successful career under his belt it is hard to pick out any top career highlights – as he had so many! However, the fact that he won 60 career titles on the Association of Tennis Professionals tour will most likely be one of the things that he has remembered for – after all, any win on the ATP is considered a career highlight for many so having60 career titles is pretty phenomenal. He took part in a number of big-name tournaments including:
The French Open – He won it once
Wimbledon – He won it once
The US Open – He won it twice
The Australian Open – He won it four times
By anyone's standards that's a pretty busy and successful career, it is really no wonder that Agassi is considered one of the tennis greats and will likely be for a good number of years to come. He also has an Olympic Gold medal which he won in 1996.
What Made Agassi So Good?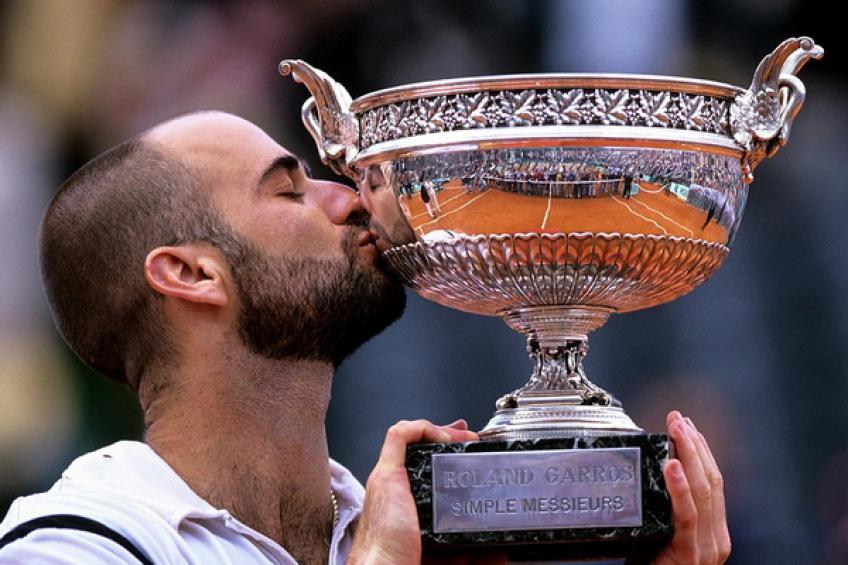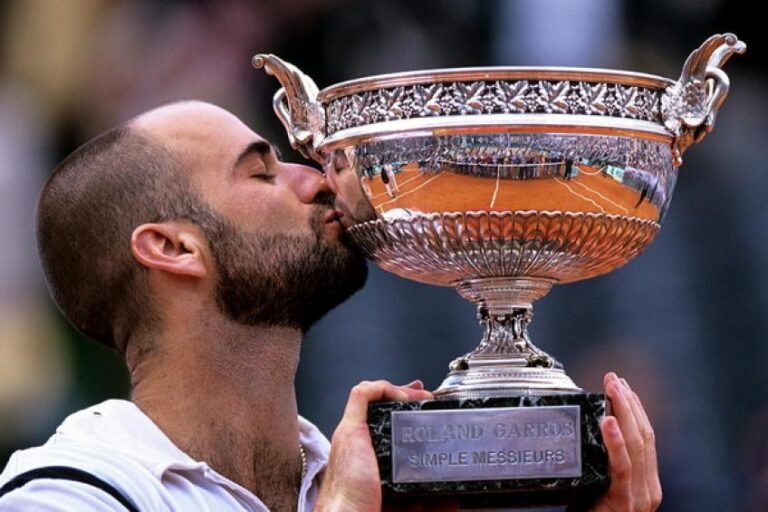 There are many theories for what helped to make Agassi such an amazing player, however, many people say that he had amazing eyesight which put him ahead of many players as he was able to see with such incredible clarity. Agassi was a great server but it is probably his ability to return a serve that helped him carve out such a successful tennis career. One thing that Agassi did well was know when to put his energy into attempting to win a shot. Professional tennis tournaments can have long matches and if you don't pace yourself then you can end up tired before the end of the match. Agassi tended to know when he could just defend a few shots while the opponent tired themselves out and then he could go for point-scoring.
There is no denying that Agassi had some amazing tennis skills and no doubt spent hours on the court practising these and making sure they were as perfect as possible. However, it was his gameplay that really made him such an amazing player – returning serves and knowing when to play hard are both techniques that helped him earn the name he has today.
Agassi Compared To Other Players
One thing that Agassi can say that others can't is that he is the only man to have achieved a singles tournament career super slam – and that is a pretty decent accolade to have to your name. A career super slam is considered the winning of five specific tennis tournaments. So, even though Roger Federer has won more than double the number of grand slam titles than Agassi, they weren't ones that would be considered the career super slam, and that is why Agassi is so far the only man to have that accolade under his belt.
Agassi has 60 ATP titles to his name, which is a pretty decent achievement however there are players that have overtaken him in the titles stake – for example, Jimmy Connors with 109 singles titles in the Open Era.
The truth is that when compared statistically to other tennis professionals, Agassi doesn't always come out on top. There are different things that make someone an amazing player and in many ways, Agassi doesn't have as many medals and titles as others. However, there was something about the way he played on the court, the way he dressed and even the way he conducted himself off of the court that helped him build up such popularity and for many people, it is this that makes him one of the most amazing tennis players the world of professional tennis has ever seen.
What Do Other Plays Say About Agassi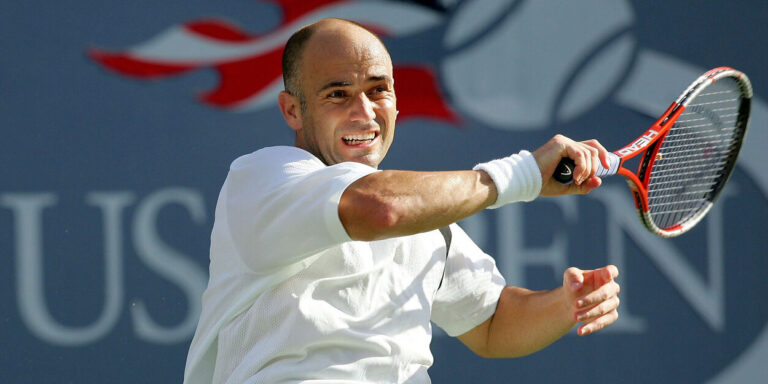 Betway spoke to Joachim Johansson about his Australian Open match with Agassi, in which they both walked away winners. Although Agassi won the match, Johansson scored himself a World Record for the most number of aces served in any match. The serving of aces is a tactic that many tennis players try for – especially when they are tired or feel as though they may have a long game ahead of them. In his interview with Betway, Johansson talked about not feeling his best, having suffered from cramp due to the exceptional heat of Australia. If you speak to any tennis players that have made the journey to play in the Australian sunshine many of them will tell you that it is the heat that makes their matches hard – not used to playing in such warm temperatures. As Johansson knew that he wasn't at the top of his game for that match he went for serving aces in an attempt to creep ahead with the most points – he knew that Agassi would be a tough component to beat – and as it turns out, he wasn't wrong.