Though it may be a niche sport, Lacrosse is gaining popularity across the country and with that increase in popularity comes a need to know which is the best lacrosse sticks.
Editor's Pick
Good Choice
Don't Miss
Also Consider
STX Lacrosse Stallion 200 Boys Complete Stick with Mesh Pocket, Attack/Midfielder
Mini Power Carolina Lacrosse Ministicks
STX Lacrosse Fortress 300 Girls Complete Stick
STX Lacrosse Stallion 50 Youth Lacrosse Complete Stick, Platinum/White, 39"
Editor's Pick
STX Lacrosse Stallion 200 Boys Complete Stick with Mesh Pocket, Attack/Midfielder
Good Choice
Mini Power Carolina Lacrosse Ministicks
Don't Miss
STX Lacrosse Fortress 300 Girls Complete Stick
Also Consider
STX Lacrosse Stallion 50 Youth Lacrosse Complete Stick, Platinum/White, 39"
Of course, this is not a question that can so easily be silenced with a single answer considering the different needs of players.
The age and sex of the player play a vital role in helping determine which lacrosse stick is the best one for them. On top of that, players of different positions will also need to consider different qualities when selecting the right stick. All of this can get confusing.
Best Lacrosse Sticks in 2023
That is why we have put together a list of the best lacrosse sticks and identified what each of them is best at. Then we provide a helpful buyer's guide, so you can find the right lacrosse stick for you.
1.

STX Lacrosse Stallion 200 U

– Best Lacrosse Sticks for Intermediate Players (Editor's Choice)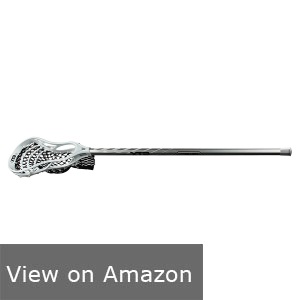 While not strictly the best performing lacrosse stick on our list, the Stallion 200 U is easily one of the best all-around values that we found. While it is one of the more expensive products that we reviewed, that is mostly because we focused on practice and beginner sticks.
However, when you look at the sticks we reviewed which meet NFHS and NCAA standards, this is nearly half the cost of the other sticks in that category though, it should be noted that this stick does not meet the international FIL standards for professional play.
Still, the Stallion 200 U provides a nice mix of features that, while not always at the top-tier of innovation, are ideal for intermediate players who have already learned the fundamentals and are now ready to move on to a more refined skill set.
That said, this ultimately requires balancing the design features of the Stallion 200 U to allow a greater expression of ability while still providing plenty of giving for potential mistakes made along the way.
Advantages
One of the biggest ways that the Stallion 200 U accomplishes this is through the design of the head. This head features an extra wide pinch so that the player can better catch and secure the ball. Granted, this also means that the head is not ideally suited for shooting, though a couple design features have been made in that area as well.
For example, the Stallion 200 U head is made out of a more flexible material that is commonly used. This allows the player to develop more of a whip-like action when shooting the ball or passing quickly.
That said, there are some issues with the stick that will prevent this feature from being fully exploited for blistering shots.
Balance between Weight & Length
Specifically, the Stallion 200 U uses the Stallion 6000 shaft. This shaft is made out of an aluminum alloy that rather skirts the line between top-tier and mid-tier. Essentially, the shaft's composition alloys the Stallion 200 U to maintain a lower weight, but it also is a much stiffer shaft than you would generally prefer for an attacking position.
Regardless, the use of the Stallion 6000 aluminum alloy is meant more to provide the appropriate balance between the weight and the length of the Stallion 200 U. In this regard, it performs wonderfully.
The pocket of the Stallion 200 U is also well made taking a cue from the Stallion U 500. The head's design allows the pocket to be strung in an extra-deep position to provide additional support when cradling and a more forgiving point of the catch. That said, you would want to replace the bad mesh that the Stallion 200 U comes pre-strung with immediately.
Pros
Provides a wide head and deep pocket
Meets the appropriate NCAA and NFHS specifications
Provides a good balance between weight and length
Cons
Is an attack and midfield stick exclusively
One of the more expensive sticks we reviewed
The mesh is not good
2.

A&R Sports

– Youth Lax Goal Set (People's Choice)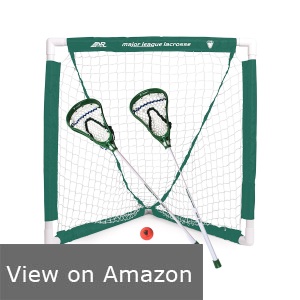 A&R Sports is definitely not like any of the other lacrosse sticks on our list.
Aside from the fact that most of the other sticks on our list are made from a single brand, the other sticks on our list are at least designed with the intended purpose of either being used for competitive play or as a legitimate introduction into the sport of lacrosse to foster a genuine interest in the sport so that the player may one day engage in competitive play.
A&R Sports, is primarily a manufacturer of sports accessories. Rather than manufacturing the most important equipment of various sports like balls, bats, sticks, and clubs, A&R Sports specializes more in protective gear and a litany of smaller components for various sporting equipment. In this regard, A&R Sports provides a solid level of quality.
Size
That being said, A&R Sports does not offer legitimately competitive gear for the primary equipment of any sport outside of hockey pucks. That makes this product a bit difficult to gauge considering it is sold as a full set.
Of course, this is definitively marketed as a Mini set, so you should understand that this product is definitely more of a casually styled lacrosse stick.
Still, for casual play, this is a reasonably good product, which has garnered plenty of positive reviews based purely on the fact that it includes pretty much everything you need to begin playing at once. First, this is the only lacrosse sticks product we reviewed that came with not only a ball but a net too. The inclusion of a net allows the players to actually score without either having to designate an ill-defined "scoring area" or chasing down stray balls after scoring a point.
Beyond the net, this product also provides the standard necessary components one would expect to come in a mini lacrosse set. The A&R Sports set comes with two mini lacrosse sticks and a rubber ball which a bit surprising and definite step up from the more common foam balls used in most other mini lacrosse sets. That said, it is important to remember what this product is not designed for as much as how it is intended to be used.
Disadvantages
But, these sticks are not at all intended to be used in competitive play. None of their measurements meets the required standard of any league including youth leagues though that is to be expected with a mini lacrosse set. On top of that, these sticks are made out of plastic, which is not durable enough to handle the constant abuse of cross-checking, poking, or blocking.
Even adolescents are liable to break these sticks if they use them in any highly competitive manner. That said, these are the only mini lacrosse sticks we saw that does provide an octagonal shape, making them easier to grip and control and presumably serving as a better introduction than concave sticks.

Pros
Comes with a mini net and mini ball
Comes with two sticks and scoops
Is a reasonable price for a complete set
Cons
Not designed to be used in competitive play
Smaller than regulation size equipment
Made out of plastic materials
3.

STX FiddleSTX

– Two Pack Mini Super Power with Plastic Handle and One Ball (Best Price)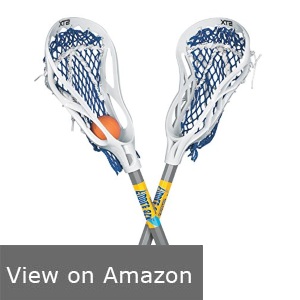 Nobody begins their lacrosse career ready to compete at the highest levels. Instead, most people generally begin by learning how to play in pick-up games with friends in their neighborhood. In this case, it does not make a whole lot of sense to go out and make a hefty investment for a game that you are not sure you will like let alone ever compete in at a high level of competition.
For this purpose, it is a better idea to get a stick that it includes some of the appropriate design specifications to give you an idea of what a higher end stick would be like without investing the cash to actually get one. That is where the STX FiddleSTX mini lacrosse set comes into play.
This product is a solid entry for younger players to get an idea of how a more advanced stick would play in their hands without having to invest the considerable cash into a more advanced stick and other assorted equipment.
Advantages
One of the best things about the STX FiddleSTX is that it actually comes with two lacrosse sticks and a ball. While you will need to either find a net or designate a scoring area if you actually want to try to play with them, that is not really what they are designed to do. These are better sticks for learning how to handle the ball, catch, cradle, pass, and shoot.
In a competitive situation, you are likely to try to poke or check with the stick. The STX FiddleSTX is not at all designed for that kind of play. The shaft is made out of plastic, so it will not be able to stand up to repeated abuse from younger players.
In an older youth or adolescent player's hands, the STX FiddleSTX's shaft is liable to snap if they attempt to check with force. In fact, even trying to block a shot with the stick is liable to cause one or both of these sticks to break.
Still, this stick offers some unique qualities that are a bit surprising to find on a casual or beginner product. It is important to remember that these sticks do not meet the standard requirements for competitive play even in little leagues. That said, they still provide a 30" shaft, which, while not long enough for league play, does provide a solid starter length.

Pros
Comes with two sticks and scoops
Is long enough for attack and midfield
The least expensive product reviewed
Cons
Not designed to be used in competitive play
Smaller than regulation size equipment
The shaft is made out of plastic
4.

STX Lacrosse Women's Fortress 300

– Stiff Design for Defensive Players (Women's Choice)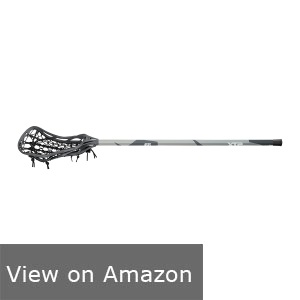 As one of the few contact sports that commonly feature as many or more female players and leagues than men's, the market for women's lacrosse sticks is arguably more competitive and more technologically advanced than in many other sports where women are far less prominent.
As such, when judging a woman's lacrosse stick, you probably want to keep in mind some minor differences based on average player size and few additional rules and regulations. Otherwise, you should judge a woman's lacrosse stick just as harshly as you would a man's.
When looking at the Fortress 300, it should become immediately apparent that STX takes the business of women's lacrosse sticks seriously. This stick is well-made and manufactured to specifications required for highly competitive play including both NFHS and NCAA standards.
That being the case, it should not come as much of a surprise that this is the most expensive lacrosse stick that we reviewed. Of course, it is also one of the more widely used lacrosse sticks among professional women lacrosse players, so that should tell you something as well. In fact, this is the only lacrosse stick on our list that also meets the FIL standards for international competition.
Materials
In terms of performance, there are so many features and qualities that make this an amazing lacrosse stick, it is difficult to find out where to begin. For starters, the shaft of the Fortress 300 is by far the best that we reviewed. Made out of an alloy of titanium and scandium, this shaft presents the ideal balance between strength, weight, and stiffness.
In fact, a titanium and scandium alloy composition is the bleeding edge of innovation for lacrosse stick materials.
Moving up the shaft to the head, you will find just as advanced features here to provide a truly professional level of play.
First, the patented Runway Pocket uses a unique string design to help aid in the capture and cradling of the ball. This feature uses two overlapping center runners to flex out which more securely holds the ball while still allowing you to quickly flick it with a snap of the wrist.
Advantages
This quick release function is further enhanced by the use of an aggressive incline called Forward Cant. This design inherently pushes the ball to the sweet spot, allowing it to maintain a shooting position even as you run and dodge through the opposing team.
Finally, the Spring Lock design allows you to customize your pocket's give, providing additional control. Though, the Spring Lock's customization can actually allow it to work the other way, favoring capture and security over quick release if desired.

Pros
The Runway pocket secures the ball
String Lock stabilizes the pocket
Alloy shaft is strong and light
Cons
Designed primarily for a defender
Most expensive stick we reviewed
The mesh is substandard
5.

STX Lacrosse Stallion 50

– Youth Lacrosse Complete Stick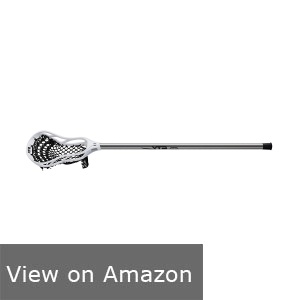 Though a mini lacrosse set may not meet the required equipment specifications nor be able to stand up to the abuse of highly competitive youth league play, there is still a wide berth between lacrosse sticks that are appropriate for youth players and those that are designed for older adolescent and young adult players.
In this case, you may want to find a lacrosse stick that shares many of the same advanced features and designs of a lacrosse stick intended for use by an older player but with a sizing that is more suitable for a youth player.
When making that transition from backyard play to youth leagues, the Stallion 50 provides an excellent entry, ready to get your youth player accustomed to top-tier quality and design specifications without requiring them to use lacrosse sticks too big and heavy for them to wield competitively.
In fact, this lacrosse stick as actually modeled off the elite Stallion 500 which is used at some of the highest levels of play.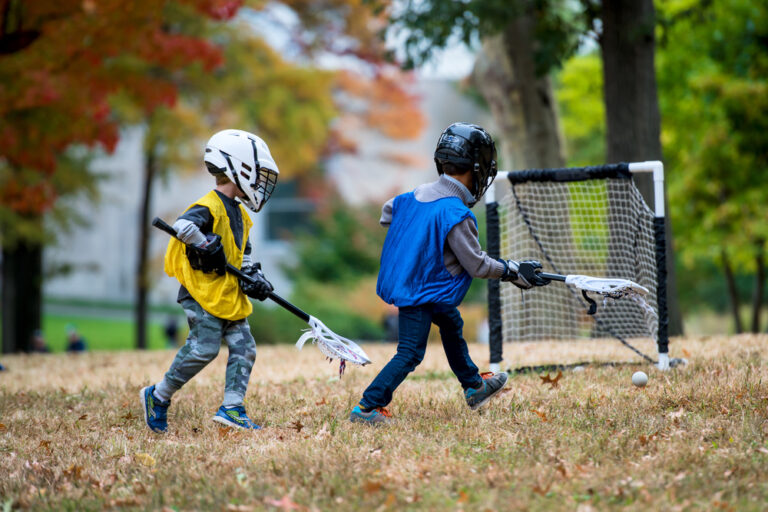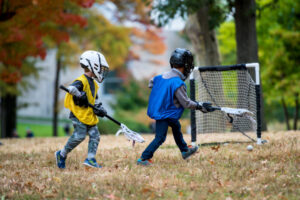 That said, the Stallion 50 still makes it a point to ensure that this stick is made with a youth player in mind. This is accomplished in a couple ways with both the shaft and the head.
For the shaft, this stick is a bit lighter than many of the other sticks on our list rate for competitive play. This will help prevent player fatigue throughout the game and give the youth player a chance to learn the fundamental techniques without having to struggle with their stick.
Advantages
Another quality about the Stallion 50's shaft that is more in line with a youth is its length. This stick is actually a couple inches shorter than most other youth sticks, though its total length is still in line with regulation youth league standards. In order to further provide a better grip and control of the Stallion 50, this stick is ⅞' of an inch in diameter as opposed to the more common 1" diameter thickness.
As for the head, this lacrosse stick also makes an attempt at providing an easier time for youths here as well. The Stallion 50 features a U-scoop head design, which is helpful when youth players are learning how to shoot the ball.
To ensure that the player is also still able to pass the ball, this head is more flexible than a lacrosse stick designed for older players. That said, you would definitely want to restring this lacrosse stick because the pre-stringed pocket definitely hinders shooting in order to favor passing to the extreme.

Pros
A less expensive lacrosse stick
A good weight and size for juniors
The U-scoop head is good for attacking
Cons
Cannot be used in older youth leagues
Unsuitable for advanced players
Pocket is too deep for shooting
Best Lacrosse Sticks – Buyer's Guide
Shaft Material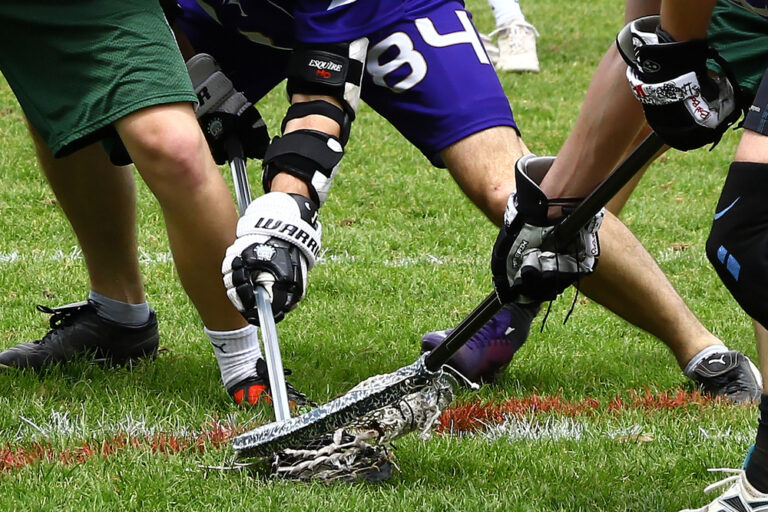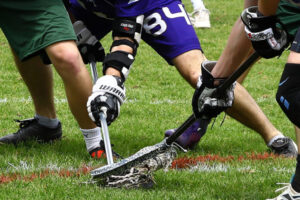 With the shaft, there is no material that is necessarily universally better than the others. Depending on the position you play, one material may be better suited for your position or style of play than another may. That said, there are a number of materials that are most commonly used at the highest levels of competitive play in lacrosse.
Aluminum
Aluminum is the most common material used when making lacrosse shafts, but it is also the lowest grade material used.
While it is fairly light and durable, aluminum is not nearly as light or durable as other materials used. In fact, aluminum is more like a jack of all trades that serves adequately in many respects but is not great in any. Instead, aluminum is a much better lacrosse shaft material when alloyed with superior metals.
Titanium
Titanium is one of the most ideal metals to use when making a lacrosse stick, though the specific use of titanium will go a long way in determining what position a given stick is best used for.
For example, a non-alloyed titanium stick will be both lightweight and incredibly rigid. This combination is ideal for defenders but less so for attackers and midfielders.
Instead, those positions will want to look for a titanium stick that has been alloyed with scandium or aluminum to provide a bit more give.
Composite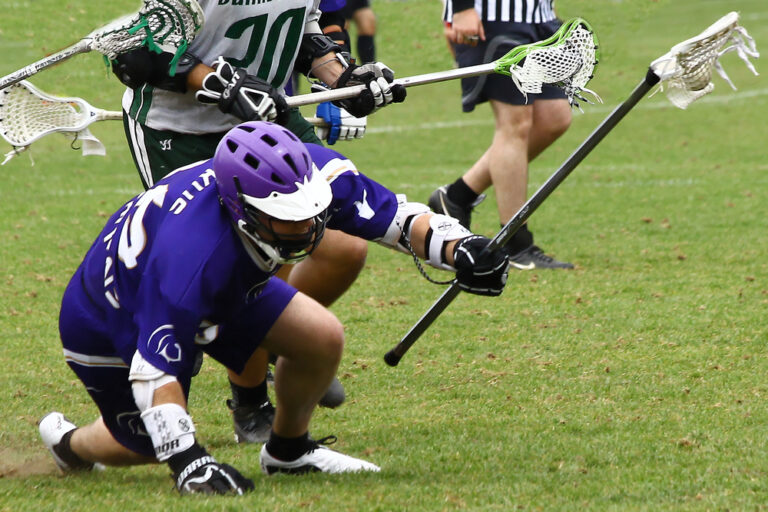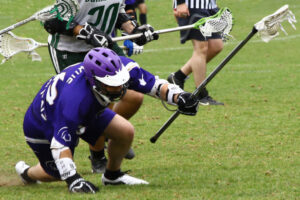 Carbon graphite has found its way throughout equipment across a wide variety of sports. Wherever there is a need for a piece of equipment that is both durable and flexible, carbon graphite will generally be used at high levels of competitive play.
In this regard, composite sticks are more often than not attacking and midfield sticks due to the need for additional flexibility by those positions. That said, extremely cold conditions can make carbon graphite brittle which can be a problem for certain regions during outdoor play.
Scandium
Scandium is actually an exceedingly rare element and is never used exclusively to make lacrosse sticks. Instead, this element is alloyed with other metals.
The primary reason for doing this is that scandium alloys the molecules of metal to bind more tightly providing additional durability and rigidity. This is seen as one of the premier materials used for lacrosse sticks.
Head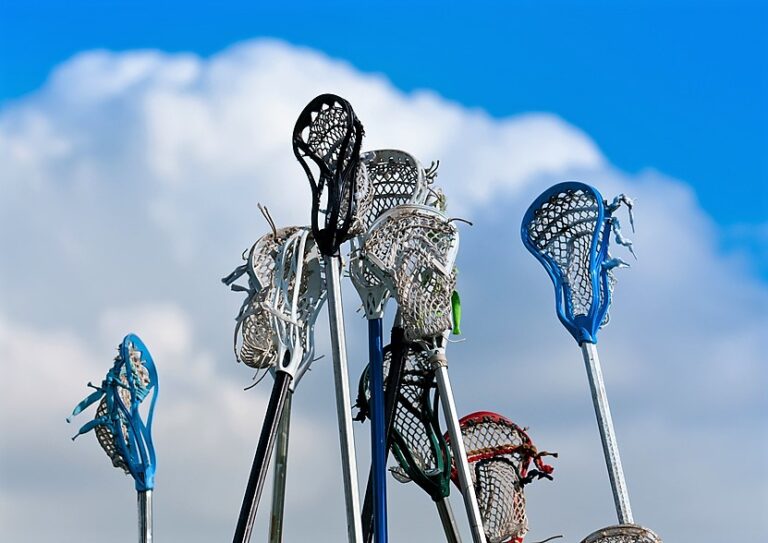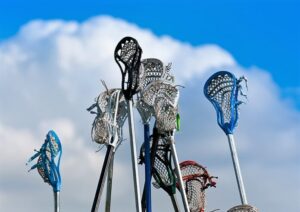 The head is the other major part of a lacrosse stick and can come in a surprisingly varied number of configurations. One thing to keep in mind is that most leagues have relatively strict requirements on the head of a lacrosse stick often requiring half a dozen different points meet sizing specifications.
Offset
This quality determines how straight the head is with the shaft. While there are some player preferences in regard to this quality, generally it will be heavily dependent on the position you play.
An attacking player will want a stick with more offset, as this provide better ball retention when they are checked while charging a fast break.
Pinch
The pinch relates to the width of the head. This is another situation where the position have more impact as to what pinch you will prefer.
A wider pinch is ideal for defensive players who can use that additional breadth to block shots or scoop up the ball. Conversely, a narrow pinch makes controlling the ball easier while increasing shot and pass accuracy.
Conclusion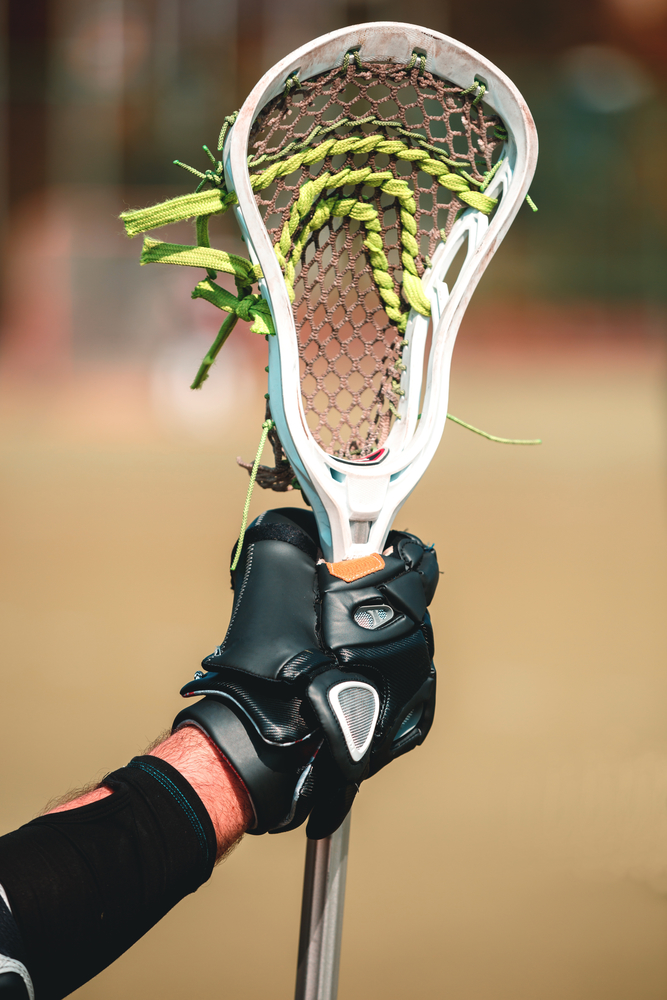 Ultimately, the best lacrosse sticks will be different depending on the age, gender, and level of competitiveness from the player, and there is no single stick which is the best for everyone.
That said, there are a number of solid options for every level of play.
If you are a pure beginner who is simply looking to test the waters, the STX FiddleSTX or the A&R Sports mini lacrosse set are good options to save some cash while you figure out the basics and even determine whether or not you want to pursue the game more seriously.
For players who are already serious, the STX Stallion 200 U and Fortress 300 are both solid options. The Stallion 200 U is a bit more well-suited for intermediate male players while the Fortress 300 is a top-tier lacrosse stick for women at the top of their game.
Warrior Evo Warp Next Lacrosse Stick
The new Warrior Evo Warp Next lacrosse stick is designed to teach new players how to catch and throw better with amazing consistency.
The Warp Next stick has an innovative Kevlar pocket that stays the same regardless of weather or use.
The Warp Next also has a lightweight handle and wide angle scoop that is perfect for the little guys as they begin their journey in lacrosse.
This stick can be used up through high school but is really designed for those first and second year players that are starting to develop their skills.
True Temper Prowess with Ignite Mesh Pocket On Comp 4 Composite Women's Lacrosse Stick
The Prowess Head comes strung with a women's specific Ignite Mesh pocket that has larger holes at the top of the mesh to create more hold at the top of the stick when cradling for better ball control.
The Comp 4.0 handle is lighter and stronger then most traditional composites giving you better all-around overall performance on-field
The 7/8" smaller diameter handle fits perfectly in your hand for better stick control when dodging, shooting, and passing.
Ideal stick for any offensive (attack, midfield) women's lacrosse players
Warrior Evo Warp Pro Lacrosse Stick
Complete 34" stick that's perfect for 6U play or recreational use.
Wider face shape makes it easier to catch and throw.
Flared bottom rail enhances ball control and accuracy
Integrated Warp pocket design boasts immediate, maintenance free play that doesn't need broken in
Includes a Warrior tennis ball
StringKing Complete Junior Boy's Youth Lacrosse Stick with Head and Shaft
Great pocket. – The pocket is the most important part of the lacrosse stick and critical to learning proper fundamentals. The Complete Jr. lacrosse stick comes ready to play right off the shelf with a perfect pocket—no adjustments needed.
Lighter shaft. – Little guys have little hands. We made our A7150 Jr. lacrosse shaft narrower and lighter than our standard A7150, so young players can grip the lacrosse shaft correctly before they are developed enough to use a full-sized lacrosse shaft.
Wider head. – Lacrosse isn't fun if you can't catch the ball. We made our Mark Jr. lacrosse head slightly wider than our Mark 1 lacrosse head, giving it an increased catching area so your child can enjoy the game from the start.
Properly balanced. – No more cut-down lacrosse sticks that are overly top-heavy and hard to use. The weight of the Complete Jr. lacrosse stick is evenly distributed to maintain the balance and proportions of a full-sized lacrosse stick.