While roller skates, or quad skates as they are technically known today, may seem like a thing of the past or for children, they have actually made a surprising comeback thanks to new and innovative ways of using them for competitive purposes.
Best Choice
Good Choice
Premium Pick
Don't Miss
Also Consider
Riedell Skates - Dart - Quad Roller Speed Skates, Aqua, Size 1
Trac Star Youth Girl's Adjustable Roller Skate White/Pink Size Medium (12-2)
Chicago Skates Boys Rink Roller Skate - Black Youth Quad Skates - Size 1 (CRS190501)
Trac Star Youth Boy's Adjustable Roller Skate Grey/Black/Red Size Medium (12-2)
Mach5 GTX 500 Roller Skate - Black - Size 1
Good Choice
Trac Star Youth Girl's Adjustable Roller Skate White/Pink Size Medium (12-2)
Also Consider
Mach5 GTX 500 Roller Skate - Black - Size 1
Of course, most skates are still designed and marketed for younger consumers.
In a Hurry? The test winner after 5 hrs of research
Regardless of who is using the skates, what separates the best roller skates from a bad pair remains fairly the same. That said, there are a number of qualities about skates that determine how the ride will feel and control that is not so simple as "better" or "worse".
Best Roller Skates in 2023
Figuring out what skates are good and for whom can be difficult. That is why we have put together a list of the top 5 best roller skates and highlighted what each one is best for. Then we provide a helpful buyer's guide, so you can find the pair of roller skates that are right for you.
1.

Riedell Skates Dart

– Best Speed Roller Skate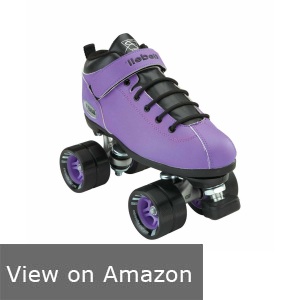 At some point in time, many skaters outgrow the equipment they use to effortlessly glide across the rink and seek to upgrade their roller skates to a product that could conceivably compete in either professional or competitive arenas.
While Riedell may not have as storied a history as some of the other brands on our list, their founding in 1945, as well as their numerous patented components, still gives them plenty of prestige to enter the speed skating market.
Pros
Comes with decent quality bearings
Fastest skates we reviewed
Great for sticky floor or outdoors
Dual 62mm wheels provide good balance
PowerDyne Thrust nylon plate is professional quality
Can support any kind of toe stop
Included Midi Gripper toe stops good for advanced skaters
Vinyl provides durable, water-resistant outer
Cons
Most expensive skates on our list
Provides the least amount of ankle support
Not ideal for slicker surfaces
Wheels
If you want a pair of skates that can fly down the rink, one of the most important factors is the wheels. The Riedell Darts are able to generate their blistering speed in part due to the size of their wheels.
At 62mm, these are the largest wheels out of any other pair of skates we reviewed and the largest regulation sized wheels for most competitive leagues. That being said, you will want to make sure that you are already competent if not excellent skater before using the Riedell Darts since the size of the wheel will not only make control more difficult, the fact that they are also rated at 93A hardness means they are not ideal for slicker surfaces.
Plate
The Riedell is the only set of roller skates on our list to use nylon as the material for their base plates. This is important because nylon is the primary material used for professional roller skates with magnesium and aluminum alloy a close second. The use of nylon allows the PowerDyne Thrust plate to remain durable, flexible, and lighter than almost any other material used for a base plate.
Still, it is actually the alignment of the kingpin trucks that make this plate ideal for generating speed. As the plate's name suggests, the PowerDyne Thrust enhances the skater's ability to transfer power from boot to wheel with a 15-degree kingpin angle.
Toe Stops
Just as important to speed skates, the ability to skate fast needs to be complemented by the ability to stop on a dime without throwing the skater to the ground. The Riedell Darts have considered this as well and alleviate those concerns by providing Midi Gripper toe stops.
These toe stops are adjustable which can allow them to suit whatever skating style you prefer. Moreover, the devoted design acts as a suction to assist you is stopping quicker. That said, they are not advised of suicide stops.
Customer Reports
Melissa
These are a great skate for Beginner/Intermediate skaters. Bought them for my son after he showed some interest. I would compare them to the Carerra that was out in the mid and early 2000's. Very comfortable, wheels are actually decent for what your paying. Only thing you may wanna consider down the road after some time in them are the bearings. Other than that great skates.
Mrsdwb
I use these skates every few weeks at the local skating ring and have enjoyed them very much. I bought them because of their low price, high quality and did not want to rent the old broken skates the skating ring offers. These are very comfortable and smooth. I would recommend adjusting the break and putting a little thread lock on the threads before final tightening. I am a beginner and am just starting to learn about skating. After more than 20 hours of skating they still look new and none of the components have broken or bent. I would recommend these skates.
2.

Roller Derby Firestar

– Best Roller Skates for Beginners
Roller Derby is a well-known and respected brand in the roller skate market. Having been founded in 1936, the company was making roller skates before the modern form of roller derby sport was even a thing. Through that time, the company has expanded to produce roller skates for every age and skill level with most of their lineup extending well beyond the professional or competitive play.
Pros
A reasonably priced pair of skates
Plate features patented torsion design
Provides lacing and Velcro closure
Provides reasonable ankle support
Vinyl provides durable, water-resistant outer
Sport shoe boot design for stable footing
More breathable than some
Smaller wheels provide excellent control
Cons
The bearings are the lowest class
Will not skate as fast as others
Wheel and brake placement is poor
Stability
In fact, these roller skates are actually designed for young children who are beginning to learn how to skate and have not yet developed consistent gross motor control. One of the primary ways that the Firestar skates accomplish this is with the use of small wheels.
Where the normal minimum for roller skate wheels is 59mm, these wheels are 54mm. This not only provides the skates a better sense of balance and control, it also limits the maximum speed that your child can skate.
Control
That being said, the ability to control these skates is not merely benefited by a smaller than normal wheel size. The Firestar skates also use Roller Derby's patented torsion design plate. While the plate may only be made out of plastic, the torsion design will allow the skater to shift their weight, bend and flex with them.
This means that when your child is skating, even if they are not applying proper balance across the skate, the plate will flex with them to help them remain upright.
Alignment
This is further cemented by a wheel and toe stop design that almost forces the skater to maintain a proper form with the weight evenly distributed across the skates. Though, this can actually be both a good and a bad thing.
The good quality about this alignment is that the child will be inherently encouraged by the design to remain centrally balanced over the skates. On the downside, this means that if the child does not remain in the proper position, then they are more at risk of falling down.
Thankfully, this design does preclude that the child is more likely to fall backward onto the relative safety of their rump than forwards where they could do more damage.
Outer
The outer of the Firestar also offers a number of benefits, both to help train your child to skate properly, and in general.
For one, the outer is made from vinyl, which is a durable, yet supple form of plastic. This will mostly prevent water from getting into the skates. Still, there are two mesh strips on either side of both skates that serve to provide some breathability, so that the skates are more comfortable in warm weather.
In terms of stability, the sports shoe boot design keeps the feet flat while the child is skating to further facilitate proper form.
Customer Reports
Kindle Customer
My daughter loves these! I'm very impressed and will buy a second pair for my youngest. I will also note that you can tighten the wheels so that they don't spin as easily making it easier for new learners. They are easily adjusted to fit the size of my daughter's foot. The inside comes out and you can wash it. You can use these inside and outside.
Ignacio Reyes
Got these for my daughter's 8. birthday. She loves them and wants to practice every afternoon when I return from work. She has no experience skating so I thought these skates would be a good starting point for her age, and I was very pleased with them. They support her foot well, they come with the wheels adjusted tighter so she can get accustomed to them and then later the wheels can be adjusted for smoother operation. My daughter is a size 1. The medium skate (12-2) fit perfectly. My older daughter is a size 2 – they were too tight.
3.

Chicago Skates

– Best Roller Skates for Adults
While roller skates may be seen more in the purview of children, plenty of adults still take enjoyment from making laps around a roller rink. That is where the Chicago Skates' Classic roller skates come into play.
Having been founded in 1905 by the Ware Brothers in, you guessed it, Chicago, these are the same style and design of skates that have proven for more than a century to provide an excellent skating experience.
Pros
Plate is made of durable aluminum
Will skate really quickly
Provides the most ankle support
60 mm wheels balance control and speed
Adjustable toe stop offers customization
Heeled boot provides smooth ride
Vinyl provides durable, water-resistant outer
Leather is waterproof and durable
Adjustable truck for custom control
Cons
The bearings are the lowest class
One of the more expensive pairs of skates
Can feel a bit restrictive
Durability
One of the best things about the Chicago Classics is that they were made to last. Like most products made in the early 1900s, people did not simply have money to throw away and constantly replace old products every time a new one was made.
In that vein, the Chicago Classics are made stronger primarily by the use of an aluminum alloy base plate. While this type of base plate may not be ideal for professional or competitive skating, it is capable of bearing the weight of skaters well over 200 pounds and will not suffer from corrosion by water.
Another material used in the manufacture of these skates which will stand the test of time is the leather outers though, this may require a bit more of an extended breaking in period than other skates made with vinyl outers.
Outer
Aside from the durability leather provides, the Chicago Classic is also made of vinyl if you prefer a lighter material that is waterproof and molds much quicker to the shape of your foot. Just keep in mind, leather is also waterproof and will last longer. Another benefit of the Chicago Classic outer is its high-top boot design.
In fact, this is the only pair of skates on our list to feature the high-top boot design. This style of boot provides the most secure fit while also offering the most ankle support to help prevent injuries if you do happen to fall.
Customization
For those of you who are already familiar with skating and roller skate features, the Chicago Classic offers a couple of ways to tailor your experience to suit your style of skating.
For instance, the trucks at the base of the plate where the wheel axle sit are adjustable by up to ⅝".
This may not seem like much, but it means that you can determine whether you want these skates to provide additional control albeit at the expense of turning speed or if you enjoy the rush of sharp turns. Other custom options include the use of an adjustable toe stop that can be switched out for different sizes or materials depending on your braking preferences or needs.
Customer Reports
Crystal H.
Excellent. My grandson, age 7, just loves them. He was wearing a 13 at the rink, but a 1 in shoes so I bought a 2 hoping they will last him a little while. He uses super thick socks, they're still a little big so he can wear them a while. He skates better in these than he did in rink skates. He loves them.
Ruby Ruth
This was a birthday gift for my little boy. He has spent many fun hours rolling around the patio since his birthday. The quality is good, the wheels turn freely, and the fit was exactly what I expected. Now my daughter is asking for a pair for her birthday and I'm checking out the same product in girly colors. I certainly recommend this product.
4.

Roller Derby Trac Star

– Best Roller Skates for Kids
If you have children who are already familiar with the basics of how to skate and are looking to progress their skills, the Roller Derby Trac Stars are a step in the right direction.
One of the best qualities about the Trac Stars, aside from the fact that they are one of the less expensive pairs of skates that we saw, is that they are designed to grow with your child eliminating the need to constantly have to buy new skates every year or so once, they outgrow their old ones.
Pros
A less expensive pair of skates
Plate features patented torsion design
Provides a dual buckle closer
Smaller wheels provide excellent control
Shell can adjust in size
Liner is comfortable, breathable, and washable
Provides decent ankle support
Cons
The bearings are the lowest class
Will not skate as fast as others
Difficult to put on or change size
Boot
By far the most revolutionary quality about the Trac Star skates is their boot, which is not a single piece like with every other type of roller skate. Instead, the Trac Stars use a hard outer shell into which fits a softer, pliable liner. The shell itself is made out of molded plastic but features a couple of pieces that actually snap and buckle in place.
This allows the shell to actually adjust its frame and size to accommodate your child's foot and ultimately grow with your child. The liner is made from a soft material that allows your child's foot to breathe and is also machine washable.
Stability
Much like other Roller Derby brand skates designed for use by children, the Trac Stars features exceptionally small wheels. The 54mm wheels will provide a better sense of stability than taller wheels and will also ensure that they cannot reach quite as a fast of speeds that could prove more dangerous if they were to fall down while skating.
Adding to the stability, the Trac Stars use the same-patented torsion design plate as their other skates for kids, except the Trac Stars roller skates feature a slightly different wheel alignment.
With the rear wheels placed at a sharper angle than others, children can skate harder without having to remain upright or else risk falling down.
Read also: Best Roller Skates for Kids
Control
Aside from the additional stability that the patented torsion plate provides the Trac Star skates, it also offers your child more control in general. As an intermediate child's skate, the Trac Star needs to balance allowing your child to skate with more proficiency while still preventing them from going overboard and hurting their self.
The torsion plate combined with rear wheel angle alignment will provide your child the freedom to turn and shift, developing the skills necessary for adult skates. The fact that the wheels are only 54mm in diameter further provide more control on top of the additional stability.
Customer Reports
Kindle Customer
My daughter loves these! I'm very impressed and will buy a second pair for my youngest. I will also note that you can tighten the wheels so that they don't spin as easily making it easier for new learners. They are easily adjusted to fit the size of my daughter's foot. The inside comes out and you can wash it. You can use these inside and outside.
M Goldy
Good fit and easy to put on and take off! Happy with these skates so far. My 8 year old is pretty cautious so she is still struggling to get the hang of it, but they really roll great and fit well.
5.

Razor Jetts Heel

– Best Heely Roller Skates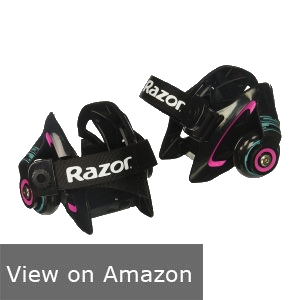 Razor is by far a company that is more well-known for its scooters than for its roller skates. In fact, since the massive success of the Razor scooter, the brand has put out a wide array of unique products that continuously change the game and challenge competitors to keep up with their innovative designs. With the Razor Jetts, that trend only looks to continue, as these are not at all traditional roller skates.
Pros
Least expensive product we reviewed
Can adjust to almost any shoe size
Comes with a spark strip
Easy to put on
50mm wheels offer plenty of control
Easy to transport
Can still walk while worn
Cons
The slowest skates reviewed
Sealed bearings limit lifespan
Offers little ankle support
Requires better than average coordination
Convenience
Instead of an entirely different product that you have to use in lieu of shoes, the Razor Jetts are actually designed to strap directly onto your shoes. This presents a couple of advantages, but clearly one of the most convenient is that there is no need to take your shoes off.
Much like with the Heely brand of shoes which feature wheels in the heel of the shoe itself, this means that you can walk normally while wearing the Razor Jetts and simply lean back a bit to engage the rolling action.
Control
The fact that the Razor Jett requires the user to engage the rolling action by leaning back a bit can be tricky. In fact, this product is not recommended for younger children or people who do not have a reasonable amount of gross motor coordination.
Even for those that do balance well, this type of skate can take a bit of getting used to. That said, the inclusion of 50mm wheels, the smallest on our list, combined with the ability to step down with your toe, do help prevent any awkward falls when mastering the technique.
Limitations
One thing to keep in mind with the Razor Jetts is that they are not meant to truly serve as a replacement for roller skates. If you or your child regularly skate at a skating rink, Razor Jetts are not suitable for that environment.
For one, the small wheels combined with the unique riding technique will inherently limit your speed which can be dangerous in a skating rink. On top of that, these skates are the only ones to use sealed bearings, which means you cannot lubricate them and will limit their lifespan though you can replace them if desired.
Customer Reports
1DoctorGenius
These are simply awesome heel wheels. They came with two set of spark pads and one set of break pads. Wheels are not too fast and neither too slow. My kids use these in malls and they glide for about 10 feet with every push. Best part is that they will grow with you…i.e. these are not shoes which won't fit the growing kids next year.
Ogawa
SO MUCH FUN. Purchased for a production of The Little Mermaid to give that flowing, underwater look. They work best on smooth flooring like a cafeteria or gym, although the spark attachments are best used on concrete. You will lose momentum very rapidly on harder outdoor surfaces. Very minimal learning curve with these guys, also, so although it's pretty scary to start off, you'll be zipping around like a pro in no time.
6.

Pacer

– Mach5 GTX500 Quad Roller Skates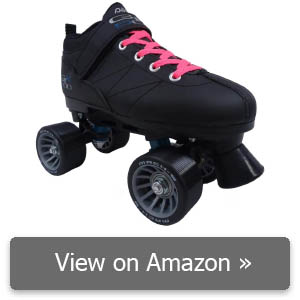 Skating Made Easier
The Pacer Mach-5 are roller skates that look like the ones you may have seen in old movies. Or maybe you were once young and would like to relearn how to skate again.
It's not going to be an easy task (always use caution when skating), but once you get the hang of it, rolling around in the park will not only feel wonderful and keep you out of the automobile but generate lots of leg strength and weight loss.
Pros
The wide wheel dimensions make it a good roller skate for beginners
Bearings will keep their strength for years, even if skated with daily
Sold in a wide range of sizes for both men, women, and children
Cons
Sizes tend to have a .5 margin differential (either one size larger or smaller than what one would normally purchase)
Durable Ball Bearings
The wheel dimensions are what's key here: they are built to accommodate anyone of any particular experience with skating.
The bearings, or the little interior parts inside the wheels that keep them rolling smoothly, should stay in good shape for a long time without needing replacement parts. Just keep the blade out of deep water to prevent rusting.
Furthermore, you may need to go up or down on size, so use the sizing chart in the link to find out which length is best for you. Once you know that, you'll be set to start skating all over town.
Customer Reports
Katt
I did not realize that these came with both black and pink shoe laces. The pink ones are like super hot pink. They look and feel great they're not super bulky weird looking. I did change the wheels though. The wheels they come with didn't really feel like ones i could use outdoors so i got gummy ones. These do come with washers, i know some don't have that they just have the nuts but these have washers that go on the front and back of the nut. I was not aware of that so i was surprised when I saw that.
Tania
I purchased these for my teenage son, during Covid 19 quarantine so we could have a fun reason to skate outside (while still social distancing). I dusted off my own skates that hadn't been used in years, and while I proceeded to sprain my wrist, my son was dancing on his skates on the second day. He got compliments on the look and style. And now I am pretty sure I have created a monster, or atleast the next generation of Venice Beach dance skaters.
Find out which are the best rollers skates under $100 in our article.
Frequently Asked Questions
You've got questions; we've got answers. Read along to find comprehensive answers to the most commonly asked questions about roller skates.
Who Invented Roller Skates?
Roller skates date back to the early 1700s. In fact, the first recorded use of roller skates was in 1743 in London, England. While the inventor of this one-time early stage prop is unknown, a man by the name of John Joseph Merlin is known to have created the first inline skate in 1760.
John Joseph Merlin was a clockmaker, musical instrument builder, and a productive inventor. He was born in Liège, Belgium, in 1735. After moving to London in 1760, Merlin opened a self-named mechanical museum. His clever mechanical inventions, including the inline roller skate, soon lead his peers to refer to him as "The Ingenious Mechanic."
According to Thomas Busby's Concert Hall and Orchestra Anecdotes, Merlin once made an attempt to display his violins and roller skates to a crowd at a local entertainment venue known as the Carlisle House. The report suggests that Merlin, with no control over his speed, collided with and shattered a mirror, crushed his violin, and injured himself.
With that said, it was a man by the name of Monsieur Petitbled who patented the first roller skate. He did so in 1819 in Paris, France. The roller skate that Petitbled patented was reminiscent of modern-day inline skates. It had a wooden sole, leather foot straps, and three wheels. The wheels were made from wood, metal, and ivory. Despite its clunky build, this early skate was known for its smooth maneuverability.
Of course, roller skates have come a long way since their early start. While the first roller skate was no more than a modified ice roller skate with wheels, today's roller skates consist of four wheels arranged underneath a foot platform or fitted shoe. This four-wheeled creation is inspired by James Plimpton, a Massachusetts inventor who created a rolling apparatus called the rocking skate.
Plimpton's rocking skates enabled skaters to steer by leaning their foot to the left or right. As such, these skates were far safer and easier to maneuver than Merlin's earlier creation. In addition to creating the quintessential modern roller skate, Plimpton went on to open some of the first-known roller skating rinks in the United States. In many ways, he paved the way for roller skating's metamorphosis from a recreational activity to a competitive sport.
Plimpton was also responsible for starting the New York Roller Skating Association. What's more, he developed a roller skate teaching method and awarded medals for students who achieved precise goals.
Today, there is even a National Museum of Roller Skating. It is located in Lincoln, Nebraska. The museum pays homage to all sorts of roller skating activities, including artistic skating, inline skating, roller hockey, speed skating, and roller derby. It also has a large collection of roller skating memorabilia, including ninetieth-century roller skating patents and early roller skate models. If anything, the museum demonstrates that roller skating holds a special place in the heart of many individuals.
Today, the world of roller skating has evolved to include activities such as speed skating, aggressive inline skating, roller hockey, and roller derby. Once just a fad, it is now one of the dominant sporting activities for people of all ages. It's also an extremely accessible activity that promotes healthy physical movement. While its transition from entertainment to roller discos and competitive sporting arenas has been a rocky one, roller skating has steadily risen in popularity in recent years.
How do you stop on roller skates?
There are three different ways that you can stop your roller skates. Since stopping is a pivotal piece of roller skating safety, it's important that you understand the basics before hitting the rink. The five most common roller skate stops include the T-stop, knee stop, tow stop, plough stop, and spinout. Read along for step-by-step instructions in how to perform each of these stops.
T-Stop
T-stops are a popular roller skate stop. However, repeated T-stops will wear away at the outside wheels of your roller skate. As such, you should avoid using T-stops as your primary stopping method.
Reach your dominant leg forward whiling bending your knees. Meanwhile, keep your non-dominant leg straight. Push down on the outer edge of your back two wheels. Keep your body straight and face forward as you perform the T-stop.
To perform a T-stop, turn the skate on your dominant leg horizontally while allowing the outer two wheels to drag across the ground at a slight angle.
Meanwhile, keep your second skate in the vertical position. It should be a few centimeters directly in front of the horizontal skate.
Knee Stop
Newbie roller skaters often resort to taking a knee. With a solid pair of knee pads to buffer the impact, this is actually a perfect way to engage in a safe and effective stop before you are able to master more advanced moves.
To engage in a knee stop, slowly bend one of your knees, allowing it to touch the ground.
Gently arch your shoulders and arms to create a solid center of gravity around your lowered knee.
Clench your fingers together and lift them off the ground. Rise back into a standing position to avoid becoming a hazard to other skaters.
Toe Stop
Toe stops, or plugs, are round rubber stoppers that are attached to the front of roller skates. Alternatively, inline skates have rubber stoppers located in the back. Both stoppers are designed to be used as brakes.
Tilt your roller skate forward, allowing the toe stop to rub up against the floor.
Keep your toe stop in this position until you lose momentum and come to a complete stop.
Plough Stop
Plough stops are one of the fastest roller skate stops. They require more advanced skating skills but can be mastered with a little practice.
Widen your legs until they are in a V-shaped position. Then, point the toes of your skates inward.
Engage your thigh and leg muscles. You'll need enough power to abruptly cease your forward momentum.
Spinout Stop
Spinout stops are just as cool as they sound. However, they do take a bit of skill to master.
Plant your dominant foot in a horizontal position. Make an effort to keep it firmly placed on the ground.
Allow your other foot to circle around your body.
A 360-degree turn will quickly take you from steady motion to a complete stop.
What Size Roller Skates Should You Purchase?
Adult Sizes
It's important to find properly fitted roller skates. Ill-fitted skates can stand in the way of your skating progress, cause sore ankles, and even lead to painful foot injuries. Read along to learn about basic roller skate sizing considerations.
It may come as a surprise, but roller skates are usually sized in the same way as regular shoes. Of course, like regular shoes, some brands run a little large or a little small. When in doubt, it's always a good idea to try on skates before purchasing them.
Like trying on a new pair of shoes, there are a few tips and tricks you can use to ensure that your roller skates fit correctly. First, pay close attention to the position of your toes as well as your heels. Your toes should have a few millimeters of space, A.K.A.. wiggle room.
Don't just stand in a stationary position. Bend your legs and mimic common roller skating movements. There's, quite literally, a fine line between too tight and too loose roller skates. Keep in mind that the upper material of roller skates takes a bit of time to break in. This part is typically made from leather, which stretches and softens over time.
Kid Sizes
Roller skating is great for people of all ages. If you're purchasing roller skates for a child, follow the same rules that you would if you were purchasing them for an adult. For example, if your child wears a size-five shoe, purchase them a size-five roller skate.
Keep in mind that many roller skate manufacturers make adjustable skate sizes for children. Adjustable roller skates grow with your little one's foot. Most adjustable roller skates can be adjusted between two or more correlating sizes. For example, a medium-sized adjustable youth roller skate maybe suited for sizes 12 through two. Meanwhile, a large adjustable youth roller skate will fit sizes three through six.
Adjustable roller skates are great for growing children who are likely to change shoe sizes at a rapid rate. When purchasing this sort of skate, be sure to purchase a pair that your child can grow into.
Children may complain that their skates are uncomfortable. Remind them that it takes time to break in skates. Wear a thick pair of socks and give the skates a go. Over time, the materials will mold around your child's foot, and the materials will soften up.
How Do You Roller Skate?
Start by acquiring basic skating equipment. To start, you'll need a pair of properly fitted skates, a helmet, knee pads, and wrist guards. Visit a local skating store to get sized before purchasing a pair of skates. As stated above, be sure to try them on before swiping your credit card. While some skaters consider safety equipment to be optional, a few pads go a long way to buffer falls and prevent your bones from shattering.
Assume the position. Really, roller skating is a lot like walking, but you'll need to make a few minor posture adjustments before you get started. First, separate your legs. Next, bend your knees slightly and lean forward. Roller skating requires you to push your legs back behind your body. By shifting your center of gravity, you can boost your aerodynamics while staying comfortably rooted to the floor.
Wheels have a tendency to roll, hence you'll need to fight back against the natural motion of your rollerblades in order to remain standing. Shift your weight back and forth, making opposite motions with each foot. This action will enable you to steady yourself. Most people balance themselves unconsciously. Even if this isn't the case, it shouldn't take long before you feel comfortable steadying yourself.
Take baby steps. Place your heels close together with your toes pointing outward. Take small steps with each skate, consciously resuming the proper posture. When you're comfortable, increase the distance of your strides. Don't be afraid to engage your leg muscles. You're likely to fall quite a few times, but that's alright. It's important to learn the right way to fall too.
Once you've mastered walking in skates, it's time to get down and dirty. Practice gliding across the surface of a rink while maintaining a steady speed. Most rinks are rounded and, therefore, require a considerable number of twists and turns. Lean your body in the direction of a turn, using your momentum to complete each movement. Meanwhile, center your upper body and lean forward when traveling in a straight line.
Practice stops. It's all good if you can travel around a rink at high speeds, but not so much if you don't know how to stop yourself. Stops will keep you from colliding with stubborn walls, incurring avoidable injuries, and angering other skaters. Refer to the section above for step-by-step instructions in how to perform a number of popular roller skating stops.
Diversify your routine. Once you've mastered your stride, stops, and turns, it's time to spice up your skating. Give the following skating tricks a go.
Skating tricks
Jumps
There are all sorts of complicated jumps you can perform on roller skates, but it's best to stick to the basics when you're just getting started. Start by bending your legs and lowering your body into a squat.
Then, raise your legs up in an attempt to raise your feet off the ground. While you are doing this, keep your hands out by your sides to steady your balance. At first, you'll probably only manage to hop around. However, with a bit of practice, you'll be leaping over cones and curbs.
Heel Toes
Heel toes are a fun way of mixing up standard skating strides. The goal of this trick is to glide along effortlessly while balancing on just the heel of one skate and the toe of the other. Start by leaning back on the heel of your dominant foot. Lift your toes so that only the back wheels are resting on the ground. Then, lean forward on the toe of your non-dominant foot. Allow your rear wheels to lift completely off the ground.
Spread Eagles
A spread eagle is when you spread your legs apart, face your feet the side, and balance on the heels of your skates. Start in the standard roller skating position, with your knees bent slightly. Face your legs out to the sides. Push your toes up and grind your heels into the ground. Then, pull your legs and feet back into the standing position.
Heel Skating
If you mastered the spread eagle, heel skating will come naturally to you. To skate on your heels, lift your front wheels off the ground. Then, use small circular motion to produce enough momentum to move yourself forward. Remember, you can always lean your toes back onto the ground to regain your center of balance.
Grapevines
Grapevines involve crossing your feet over one another to create a zigzagging motion. First, take your right foot and place it in front of your left foot. Then, pull your left foot to the side of your right foot, making sure to face both toes outward. Next, pull your right foot behind your left foot. Finally, pivot your left toe so that both your feet rotate 90 degrees to the left. Continue repeating these motions to create a fluid grapevine stride.
How do You Roller Skate in Reverse?
Wondering if it's possible to skate in reverse? Read along for step-by-step instructions for skating backward.
If you've reached the point where you're ready to skate backward, you probably already mastered the roller skating basics. Keep in mind that backward skating is the inverse of forwarding skating. Point your toes together with your heels facing outward. Your skates should form a V" shape.
Bend your knees ever so slightly. Then, push your heels apart to broaden the gap between your legs. Like forward strides, the wider you spread your legs apart, the bigger your backward stride will be.
Bring your legs back together in yet another "V." Continue for as long as you like. What's more, try rotating between forward and backward strides. Backward skating is a great way to highlight your skating skills, but it can be very exhausting. Like any exercise, it takes time to build up your muscle memory and strength.
How Do you Spin on Roller Skates?
Spinning is yet another fun way to embellish your roller skating routine. Start by practicing the two-foot spin.
Two-Foot Spin
Position yourself in a basic roller skating posture. Place your legs side-by-side at shoulder's width. Bend your knees and lower your body so that you are in a partial squat.
Rotate your left foot forward and to the left, while you pull your right leg back and to the right. Mimic that motion with your upper body, turning your hands in the direction you wish to turn.
Outstretch your hands, placing them in an L-shaped position. Your left arm should be facing out toward your side, while your right arm should be pointed straight ahead.
One-Foot Spin
Once you nail the two-foot spin, you can give the one-foot spin a try.
Start by assuming the starting roller skating posture. Face forward with your legs side-by-side at shoulder's width. Push your left foot backwards while lifting your right knee up. Carefully lift your right foot off the ground.
Meanwhile, position your arms in an L-shape. Outstretch your left arm so that it extends past your side.
You may need to do more than one rotation before you lift up your foot. What's more, if you notice yourself wobbling, take a minute to regain your posture.
Camel Spin
The camel spin is a figure skating-inspired spin in which one leg is stretched out in the air, while the other leg supports the body and pivots around in circles.
Start by doing a few backward turns using both skates. This will help you build up enough momentum to enable a few full-circle rotations.
Use your dominant foot to push off of the floor. Meanwhile, lift your non-dominant foot off of the ground. Slowly and steadily bring it into the air until it is nearly parallel with the floor.
Level your shoulders and lean your upper body forward, using your head as an anchor.
Reach your hands behind you and rest them along your sides. This will help to evenly distribute your weight and provide you with a more reliable center of balance.
The amount of power you push off with will determine the speed at which you spin. With good momentum, you can commit to four or five full revolutions.
As your momentum slows, lower your non-dominant leg to the floor. Finish with a side stretch. This is a difficult move to master. However, you can easily master it with some basic skating skills and a little bit of practice.
Best Roller Skates – Buyer's Guide
Wheels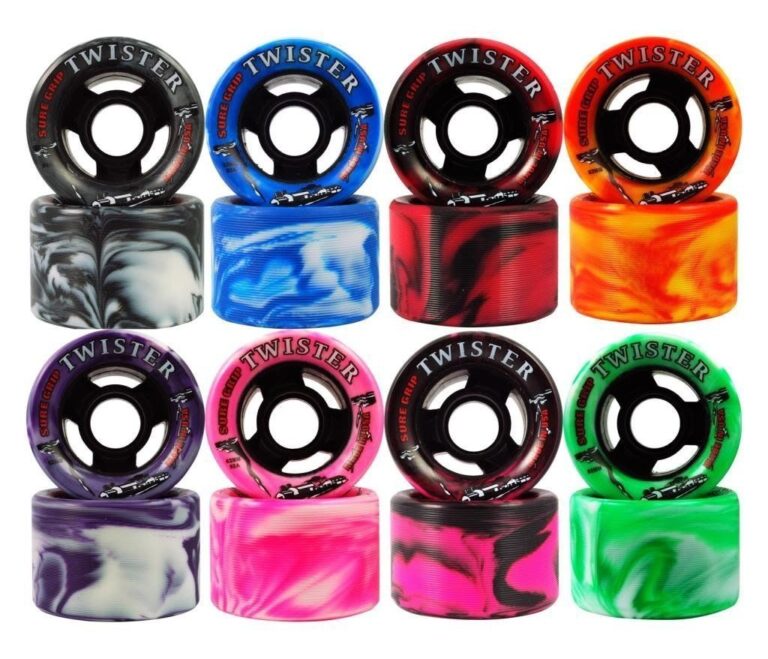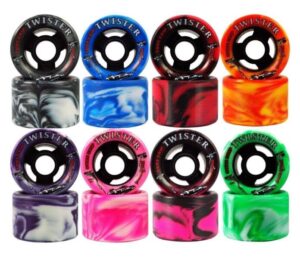 The wheels of roller skates will play an important role in how they feel while skating. However, this is not a one-size-fits-all consideration as the differences in the wheel lend themselves more to one aspect of the ride as opposed to the other. At its base, this dichotomy can be broken down into control vs. speed. As the wheels get larger, they allow the skater to skate faster, but they also reduce the amount of control a skater can exert.
Less than 59mm
Any wheel under 59mm will heavily reduce the maximum speed of the skater.
These sized wheels are generally reserved for children's skates since they are not yet developed enough to handle top speeds without the risk of falling down.
This can also allow smaller wheels to be a good choice for senior skaters who may have lost some mobility but still want to relive the glory days of their youth spent in a skating rink.
59mm-62mm
This is the most common size range for skate wheels and provides a solid balance between speed and control.
Once you hit 62mm, though, you will start to notice that the control becomes trickier while the speed may be too much to handle.
62mm wheels are also one of the more common sized wheels for professional skaters or for roller derby competitors.
More than 62mm
There are not too terribly many pairs of skates that come stock with wheels larger than 62mm. Any wheel that is larger than 62mm is strictly for speed skating and should only be used by advanced skaters.
Often, skates with wheels this size will feature a dual wheel design, which is wider than the average skate wheel to help accommodate some of the lost control the additional height imposes.
Plate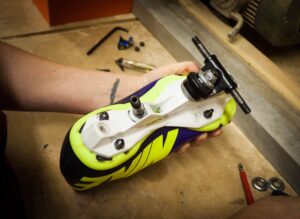 The plate of a roller skate is the hard surface on which both the wheels and the boot attached. This component is important for stability as well as control.
The different materials used for the plate will generally correspond to the skater's skill level while the truck will either provide a static control or offer some custom flexibility.
Aluminum
This is the classic material used for skate plates and is still seen as one of the better options. This is because aluminum alloys offer an excellent balance between strength and weight.
That said, competitive skates have started using a variety of materials beyond aluminum mostly to reduce the skate's weight even further as well as provide more flexibility.
Still, for trick skates that involve grinding rails, you will want the strength and durability of aluminum.
Nylon
Nylon is one of the primary materials that professional and competitive skates have begun to use with their plates. This is primarily for two reasons: first, nylon is significantly lighter than aluminum that provides that additional bit of speed for competition purposes. Second, while nylon may not be as durable as aluminum, it is far more flexible, which provides the kind of durability skaters often need. That said, nylon plates are not meant for grinding.
Plastic
If a skate's plate is made of plastic, a consumer grade skate should not be used for competition purposes.
While a plastic plate may be more than hard and durable enough to withstand years of skating, it will not be able to handle the abuse of speed skating, trick skating, or roller derby.
In fact, most of the skates that use plastic plates are designed for children who are simply incapable of pushing the plastic beyond its thresholds.
Truck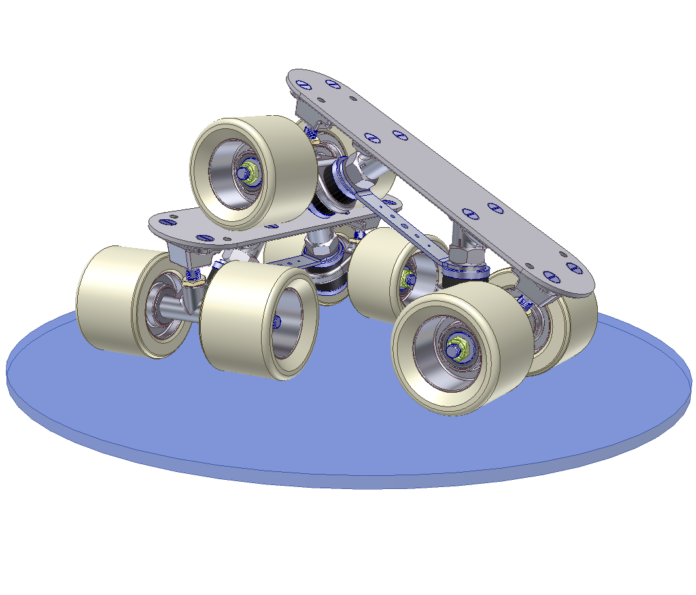 On the base of the plater sits a component known as the truck. The truck is where the axle for the wheel connects to the plate of the skate. Most of the time the truck is fairly standard and unimportant. Still, professiona
l or competitive skates will often use trucks that allow adjustment to either tighten or loosen control. Tightening the control will allow you to turn faster but increase the minimum turn angle. Conversely, loosening the truck will allow you to turn at a sharper angle but slow you down a bit while doing so.
Bearings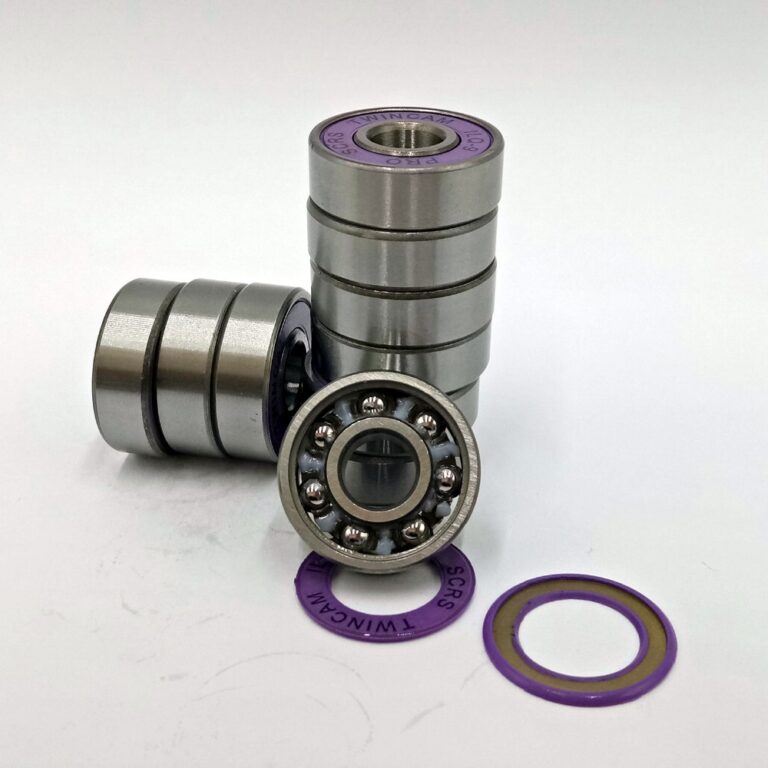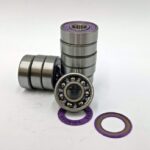 Just a quick word on bearings: unless you plan to use your skates for highly competitive purposes, the different types and grades of bearings are more or less the same.
In fact, even highly competitive skaters are only getting such a minimal boost to performance that it can best be understood as a placebo effect. The ratings of bearings are meant to indicate the quality of the bearing for industrial purposes that involve thousands of revolutions a second not skating.
Conclusion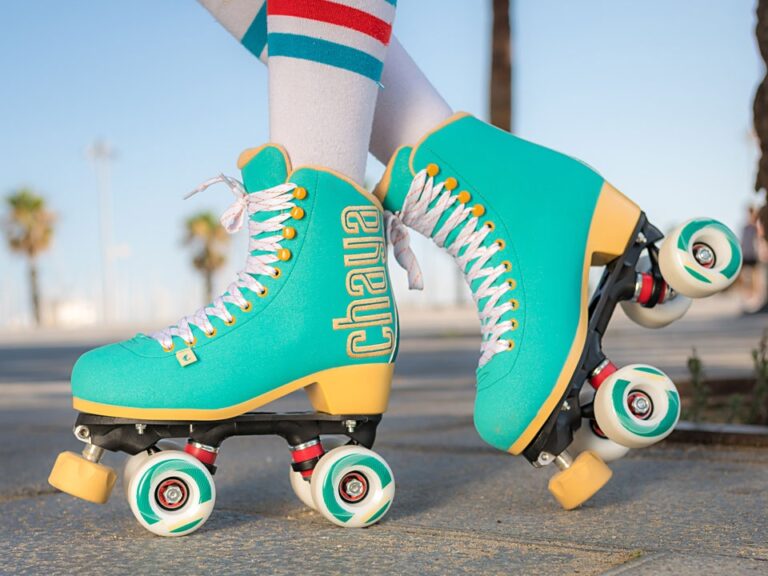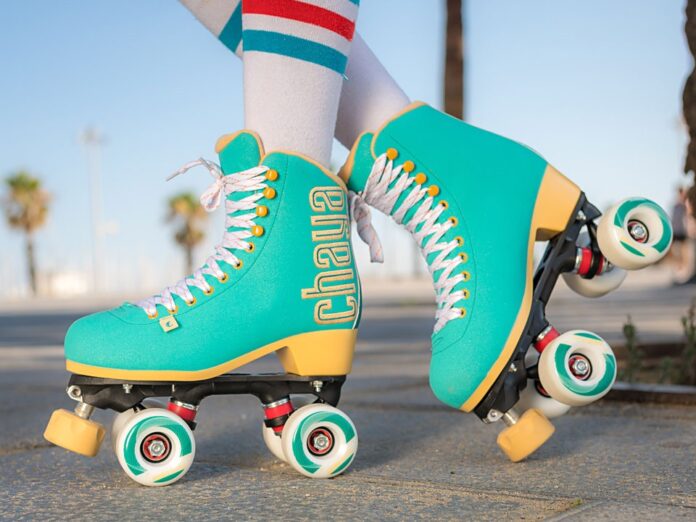 When it comes right down to it, the best roller skates will mean different things to different people. The roller skates that work best for adults will not be the same roller skates that are best suited for children. Likewise, professional or competitive skaters have altogether different standards.
For the average skaters, the Roller Derby Firestars are best for children while the classic Chicago Skates are best for adults.
The Firestars completely sell out on control to ensure that your child can learn how to skate with a minimal risk of falling down while the Chicago Skates provide a smooth and custom experience for capable adults.
If you are looking for a pair of skates to take you to the next level the Riedell Dart is an excellent quality skate that is built for speed in a skating rink. With the largest wheels on our list combined with a low-top boot and nylon plate, these skates will have you flying past your opponents.
Check out these interesting models also:
Sale
Pacer Scout ZTX Children's Quad Indoor-Outdoor Roller Skates (Black 1)
BOOTS: Pacer canvas boots with a classic look to them. Designed for roller rinks
CHASSIS: Polymer nylon plates are lightweight yet very durable, and feature trucks with cushions for controlled turns and a smooth ride
WHEELS: 54mm sized urethane wheels for a lower profile and better balance
BEARINGS: Sealed to keep the dirt out. Provides a consistent, smooth roll without going too fast
VARIETY: Four great looking colors let you choose a great look for any style
C SEVEN C7skates Cute Roller Skates for Girls and Adults (Aquamarine, Women's 10 / Men's 9)
RETRO SKATES — Cute quad roller skates feature a 1-inch heel for a fun, vintage feel.
ANKLE SUPPORT — Structured PVC boot gives plenty of ankle support for beginners learning to skate.
INDOOR/OUTDOOR USE — 83A urethane gives plenty of grip on both indoor and outdoor surfaces.
SPEEDY WHEELS — The 58mm diameter gives more speed with every move.
BRIGHT DESIGNS — Featuring bright colors and patterns, you'll be the envy of everyone at the rink.
Sale
Gonex Roller Skates for Girls Kids Boys Women with Light up Wheels and Adjustable Sizes for Indoor...
【4 Different Sizes for Adjustment】Design with easy-adjustable push button, our roller skates can be adjusted to 4 different sizes to fit different foot lengths. 3 sizes (S/M/L ) are available, the perfect choice for your kid's growing feet. Gonex roller skates grow with you!
【8 Flashing Wheels for Fun】Put on our light up quad roller skates, your kids will always be thrilled when they shine at night. Coolest flashing light is self-generated without any battery required.
【Design for Smooth and Comforable Ride】The main body of the roller skates is comprised of premium PP material, sandwich mesh, PVC leather & EPE foam that offer great comfort to ride. Solid PP frame, 82A PU wheels with trendy LED lights & high performance ABEC-7 bearings provide a safe, smooth and comfortable ride.
【Triple Prection for Your Safety】Designed with 3 protective layers. Skate-specialized, untra-durable and tear-resistant fixing buckle provides the first protection. With strong ashesion, our long lasting hook & loop strap makes sure your feet are placed in the right place. Stable shoelaces ensure moderate tightness, soft and smooth touch.
【Perfect Gift for Kids】A surprising gift for birthdays, holidays, special events and milestones for kids or friends that will make them screaming in excitement and joyfulness! Your kids will enjoy this everlasting pleasantest moment when they ride on our Gonex roller quad skates.
Sale
Hikole Adjustable Roller Skates for Girls Boys Kids Triple Lock Mesh Breathable Rollerskates...
❤【Adjustable Roller Skates】Two sizes are adjustable: S(12-2) and M(2-5)US, Hikole roller skates for boys girls, perfect for growing kids to have fun with their skating skills.
❤【Fashion Quad Skates】The kids skates is classic style roller roller skates, PVC wheels and easy rolling, it effectively decrease shock and improve stable performance.
❤【Comfortable Skating Experience】It is ABEC-7 bearing, will promise smoothly&fastly skates, and 4 wheels roller skates perfect than inline skates for beginner to learn the roller skates.
❤【Triple Protection System】Designed with standard lace, velcro strap, high-strength buckle, it will effectively protect your kids when they are playing with the toddler skates.
❤【Polyester Mesh surface】The roller skates mesh is breathable, you will feel cool when you are skating, it makes your feet free, and enjoy it with no obstacle.
XUDREZ Cowhide Roller Skates for Women and Men High-Top Shoes Double-Row Design,Adjustable Classic...
Design: This Roller skates is equipped with 54x32mm/85A four wheels. PU high bounce wheel, which is very suitable for various environment.You can skate indoors and outdoors stable and safe.
Applicable people: This roller skates is unisex. The fashon colors and retro high-top design can attract more attention on the sports ground.
Safety: Equipped with ABEC 5 bearings, safer, more stable and more comfortable for you and your . The classic double row and four wheels are very friendly for beginners. Intermediate roller skaters can play better performance through these two pairs of roller skates.
Comfortable wearing: The shoe body is made of cowhide, with a high-top design and a Specially designed buckle closure, safety buckle, hook-and-loop fastener strong belt and shoelace to ensure a secure fit.
Ideal gift: it is a gift for friends and sports lovers. Make your friends and family have fun in sports
Sale
Epic Allure Twilight Rainbow LED Light Up High-Top Quad Roller Skate 3 Piece Bundle (Adult 8)
Bundle Includes Light Up Allure Skates, 2 Pair of laces, Epic Rainbow Limited Edition Skate Bag & Rainbow Pom Poms with Jingle Bell
Epic Allure Boots - White - Comfort cut 3/4 cut white boot -- padded upper lining -- upper lace hooks for a comfortable fit & ankle support
Epic Lightweight Nylon Plates with PU casted high rebound cushions to help with better control & maneuverability while skating
Epic LED Twilight Wheels - White with Red, Green, Blue, & Orange LED Lights (One color per wheel)
Epic ABEC-5 8mm Precision Speed Bearings