When you're cruising down a mountain at high speed or flexing your talents during a park session, the last thing you want to be forced to think about is your ski bibs.
After all, it should be a given that your outdoor gear keeps you warm, dry, and comfortable in the snow. Nevertheless, if you've ever experienced the trappings of inferior outerwear, you already know that this isn't always the case.
Best Ski Bibs in 2023
To help ensure that not a single snow session is wasted on wet ankles or frostbit thighs, we've compiled a list of best ski bibs. On top of that, we'll give you the rundown to consider when prepping for the inevitable winter wonderland that's headed our way.
1.

Columbia

– Best Ski Bibs (Editor's Choice)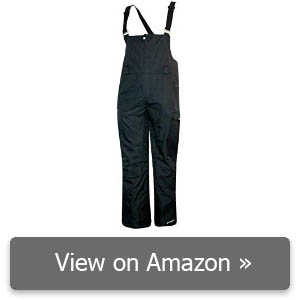 The Columbia Men's Haskill Mountain Ski/Snowboard Bib's boasts an impervious waterproof barrier. Nevertheless, it is also incredibly breathable, ensuring that water and sweat do not build up while you are fairing the elements.
Whether you are skiing, snowboarding, or just hanging out in the snow, this bib locks in warmth for long periods of time. While there is certainly a steep price to pay for Columbia products, you'll feel cozy, dry, and reinforced in these bibs.
Heat Technology
One of our favorite features of the Haskill snow pants is the Omni heat technology. This system retains and reflects body heat to develop a defense against frigid wintertime temperatures.
This same technology is used in Columbia's boots, jackets, and gloves. The Omni heat system boasts a GORE-TEX membrane with a water-repelling exterior fabric and a thin yet resilient layer of internal insulation. The high-tech heat retention system ensures that the Haskill pants are geared toward athletic performers, as they are free from thick, motion-limiting insulation.
Fits Like a Glove
We also love that the Columbia Haskill pants are extraordinarily secure. They boast both front and rear pockets with secure closures. This ensures that you can carry personal items, such as your phone, keys, and wallet while boarding on the mountain.
What's more, the adjustable straps ensure that they fit both short and tall individuals. Overall, these bibs fit in a standard way and come in sizes small to XXL.
Pros:
Omni heat protection
Moisture barrier
Breathable
Black-colored fabric
Front and rear pockets with secure closures
Breathable zipper panels
Cons:
Series not currently being manufactured
Expensive
2.

White Sierra 

– Women's Choice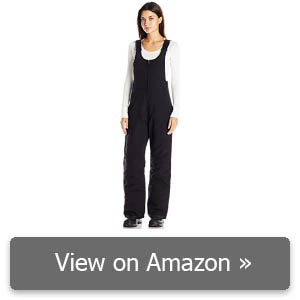 The White Sierra Women's Toboggan Insulated Bib is our number one pick for women. These pants are made from a combination of waterproof fabrics, including a 100-percent nylon shell and 100-percent polyester lining.
Integrally, the bib boasts 120 grams of poly-fill insulation. The White Sierra brand has been producing outdoor apparel since 1979, with the Toboggan bib being just one of many fabulous products.
Designed for the Slopes
We cannot get enough of the subtle yet sophisticated details on the Toboggan bib. For example, these pants boast a D-ring on the waist for keys and/or a resort pass. What's more, they have articulated knees for landing those super tricks.
They also have gaiters, or internal low leg sleeves, with elastic grippers. This facet ensures that snow doesn't travel up the legs. There are also secure zipper-enforced back pockets for storing important articles, such as your cell phone or wallet.
A Feminine Fit
If you're sick of boxy snow pants that have you feeling like you're wearing your boyfriend's close, the Toboggan bibs are worth a look. These bibs boast a 31-inch inseam and adjustable elastic straps. Meanwhile, they come in small to extra-large.
The scoop neck, which is in both the front and back, provides ample circulation and breathing room when you work up a sweat on the slopes. What's more, the pants have metal snap openings for on the spot ventilation. Beyond that, there is a front fly closure for easy dressing.
Pros:
Waterproof fabric
M120 grams of poly-fill insulation
Articulated knees
Scuff guard
Waist high D-ring
Midrange price
Cons:
Somewhat baggy
Zipper unzips occasionally
3.

Boulder Gear 

– Best Price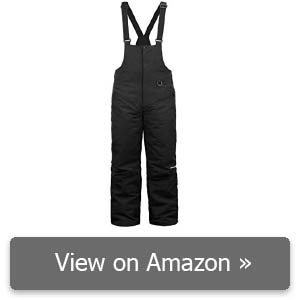 The Men's Boulder Gear Pinnacle Bib is a waterproof masterpiece designed for both skiers and snowboarders. Its affordable price even makes it suitable for household tasks, such as shoveling and snowman building.
One of our favorite features of the Boulder bibs is the zippered hand pockets and right-side rear pocket. With ample secure storage, these pants are suitable to hold a wide range of personal objects. What's more, they are ultra comfortable.
A Suitable Snow Seal
We love that the Boulder Bibs are manufactured from a superior waterproof material, but we would expect no less from winter gear. What really allows these bibs to stand out from the pack are the multiple strategically placed water and snow seals.
For example, all critical seams possess extra seals to ensure that no moisture enters into the pants. The Boulders also boast elastic-enforced boot gaiters for protection down below. Even the pockets are made from waterproof materials.
Pants for Everyone
Don't let anyone tell you all snow bibs are the same. Pants like the Boulders boast ergonomically designed adjustable shoulder straps to guarantee a comfortable fit and prevent them from riding up during physically intense outdoor sessions.
Elastic reinforcements further reinforce this concept while giving the pants the next level of flexibility. What's great is the bib comes in sizes small to XXXX-large. Beyond that, these bibs are incredibly easy to get off and on.
If you have childlike patience when it comes to removing your snow gear, the Boulder bibs are definitely worth a gander.
Pros:
Front and rear zip-close pockets
Come in sizes small to XXXX-large
Waterproof seals
Adjustable shoulder straps for a custom fit
Cons:
Tight crotch
On the large size
4.

Castle X 

– Best Bibs for Snowmobiling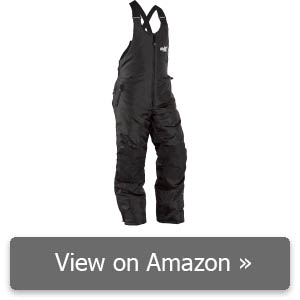 The Castle X Platform Snowmobile Bibs are specially designed for long snowmobile excursions through the woods. In fact, the Castle X Platform bibs boast 150 grams of Coldshield proprietary quilted insulation.
This is encased in a 600-denier high-tenacity nylon shell, but that's not all. The shell is reinforced with a water-resistant polyurethane and durable water resistant (DWR) coatings.
All this helps to ensure that you can go the extra mile in this weather and wind-resistant snow bib.
360-degree Adjustable Length
We love that the length of these bibs can be adjusted 360-degrees. Meanwhile, these snow pants have a relatively high scoop neck in the front paired with a waist-high suspender-style back.
A long zipper closure in the front makes it easy to slip these pants on and off. Meanwhile, it can also serve as a momentary ventilation panel when snow-based activities having you working up a sweat.
Top to Bottom Convenience
The Castle X Platform Bib has zippered hand pockets. Not only to ensure that you have a snow-free pocket to warm your digits, but they also offer a secure spot to store your minutes and personal possessions.
The Platform bibs also have pre-curved seats and kneepads. These offer greater flexibility for boarders, skier, and other snow enthusiasts. They come in black for easy coordination with jackets and accessories. Customers can select from small to XX-large.
Pros:
Castle's proprietary Coldshield quilted insulation
Three sizes
360 degrees of adjustable height
High scoop neck
Easy-to-coordinate solid black colorway
Holds in heat
Waterproof
Cons:
Expensive
Big lower leg flair
5.

HJC Helmets 

– Most Breathable Snow Bibs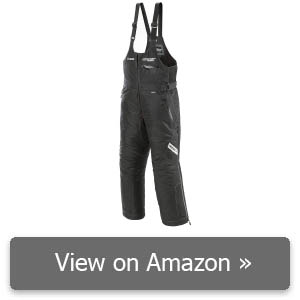 HJC'S Men's Extreme Snowboard, Snowmobile, Ski Bib is ultra durable, warm, waterproof product designed for long periods of exposure.
It boasts proprietary Thermolite padded insulation that seals in heat and uses it as a defense against below-freezing temperatures.
What's more, it possesses a breathable nylon outer shell that helps circulate air in and reduce the amount of sweat that builds up on account of physical endurance. The bibs feature a solid black colorway and come in six sizes.
Solid Tops and Bottoms – Most Breathable Snow Bibs
If you're someone that wants suspender-like support but cannot stand feeling like you're wearing a bulletproof vest, this super low boxy scoop neck is worth consideration. The adjustable straps run parallel to one another, offering a wide range of height options.
What's more, these bibs boast parallel, or non-crisscrossing, straps that make dressing and undressing all the easier. These bibs wouldn't be complete without their elastic-reinforced boot gaiters either.
Meanwhile, they even boast an adjustable waist strap that keeps them in place and prevents them from riding up. From top to bottom, these snow pants offer comprehensive coverage in sub-zero temperatures.
Designed with Athletes in Mind
The HJC snow bibs were clearly designed with motion in mind. They possess waterproof cargo pockets as well as a breast pocket. This ensures that you can keep everything from your slope pass to your keys on your person without having to worry about them getting lost.
Beyond that, fabric reinforcements on the knees and seat ensure that minor abrasions don't have you heading for the seamstress. All to often, inferior snow bibs prematurely tear, leaving their owners with a point of entry for water and cold air.
Pros:
Waterproof nylon outer shell
Thin yet heat-enhancing Thermolite insulation
Adjustable shoulder and waist straps
Waterproof cargo and breast pockets
Cons:
High end
Seams are reportedly weak in some spots
Best Ski Bibs – Buying Guide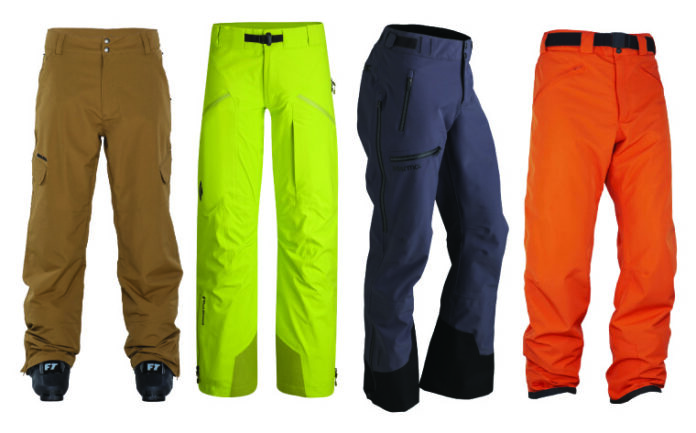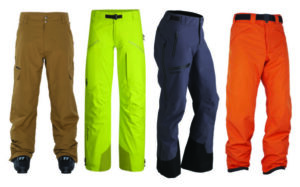 At first look, it may seem like all snow bibs are the same. While we admit that most manufacturers follow a basic guideline when designing these high-rise snow pants, there is a lot to be said about the details.
To help you better identify the best ski bib for yourself, we've compiled an easy-to-follow buying guide. Here, we'll break down the potential designs, materials, and functionalities of snow bibs.
What to Look for When Purchasing a Ski or Snowboard Bib
Fabric: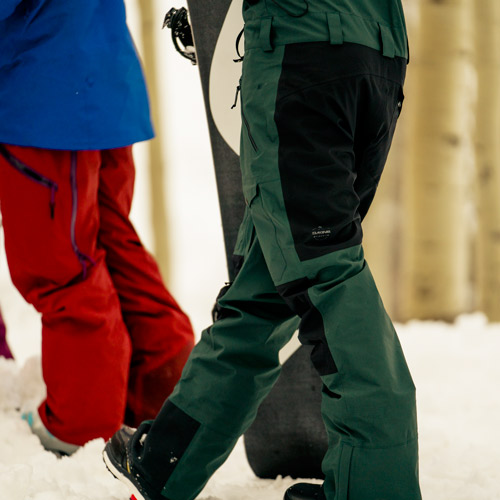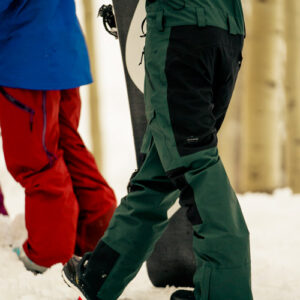 It may seem like a no-brainer, but you definitely want your ski bib to be made of a 100-percent waterproof fabric. To achieve this, most manufacturers use fabrics such as nylon or polyester.
Many use waterproof sealants, such as DWR (durable water repellent) or polyurethane to make the surface of the pants even more impenetrable to liquid.
Since we typically measure a fabric's density in denier, it is important to look out for strong fabrics with high denier ratings. One thing to keep in mind is that nylon is stronger than polyester.
What's more, 600-denier is a common suitable measurement for waterproof fabrics as it has the potential to have a strong water-resistant barrier in addition to being somewhat breathable.
The breathability of waterproof fabrics is incredibly important in performance outdoor wear. Even the slightest level of breathability ensures that a fabric has the potential to eventually leak and become saturated with water.
However, it is important that water vapor especially that from sweat, is able to escape from the inside. When looking for a suitable fabric for skiing or snowboarding, you want it to be more breathable than, say, a rain jacket and less breathable than something like running shorts, which are often made from nylon.
Of course, many outdoor apparel companies have proprietary fabrics with unique names. This is mainly a marketing strategy. However, many consumers develop allegiance and appreciation for brand-name fabrics. Likewise, many companies compete to develop new and improved performance fabrics. Therefore, it is always a good idea to keep an eye out for innovations on the horizon.
Insulation:
Insulation is arguably one of the most important aspects of winter wear. When it comes to snow bibs, most people prefer insulation that is thin, flexible, and durable. This sort of insulation is typically made from materials such as polyester.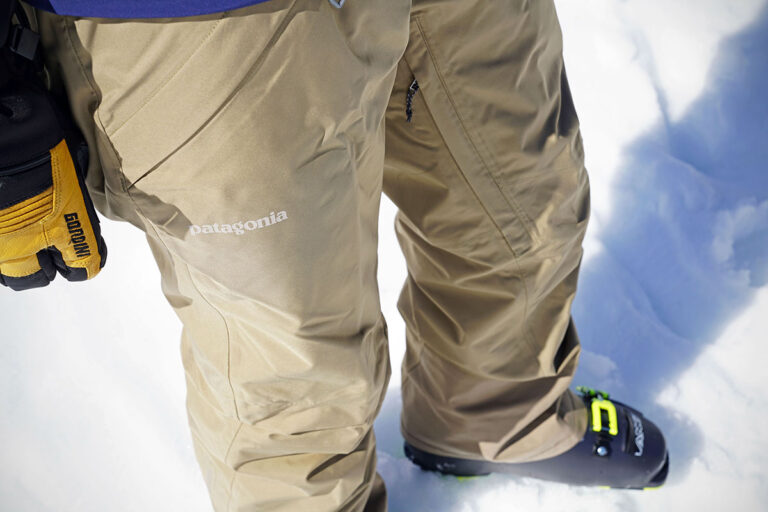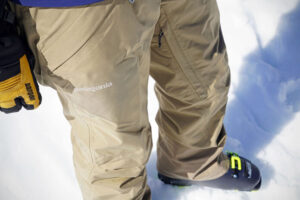 Again, many manufacturers have developed a proprietary blend of insulation. Insulation provides thermal comfort for individuals spending long periods of time in low-temperature environments.
As an added bonus, some of these materials are moisture-resistant and, therefore, add a bonus layer of water resistance. As the outer shell of snow bibs, the insulation should not be completely impenetrable. In fact, it should aid in the release of moisture from the inside.
Gaiters:
Gaiters are the all-important garments that are worn over the lower legs to prevent snow from entering into the legs of a bib. Oftentimes, these sleeves are integrated into snow pants.
They should have a stretchy elastic closure on the bottom and span from below the knee to the top of the foot. Of course, they should also be made from a reliable water-resistant fabric.
Adjustability: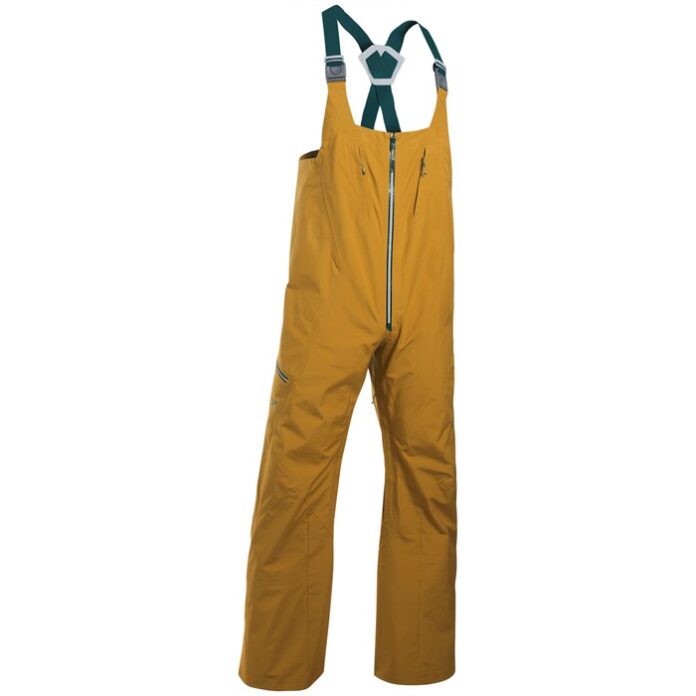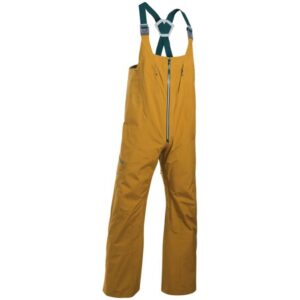 Bibs are all about adjustability.
Simply adjustable shoulder straps ensure that you can alter the height and tightness of your bib.
In fact, adjustable straps give generic snow pants a seemingly customized fit. Some manufacturers also include adjustable waist straps.
This allows people to secure their pants along the waist and loosen up the slack from there on up.
This is super important if you want to avoid having your pants ride up while hustling up and down the mountain.
Storage: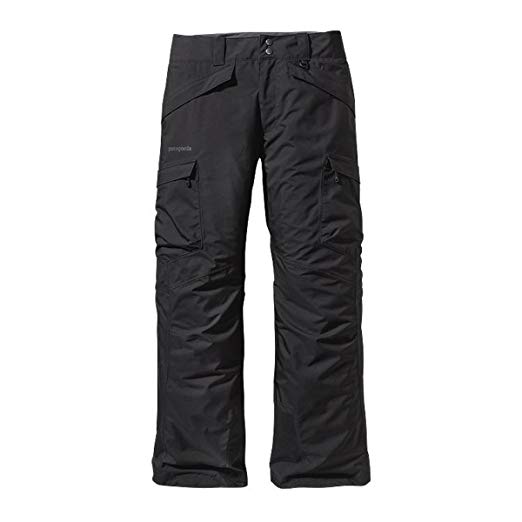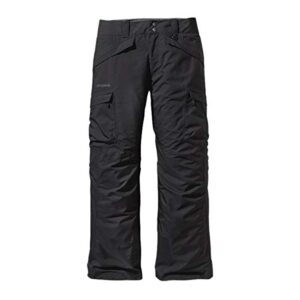 We love seeing manufacturers go have focused on providing sufficient waterproof storage solutions on their bibs.
First off, we'd have to be blown out of the water to even consider a pair of snow pants without some sort of pocket. Therefore, those that boast secure closures and ample space automatically rise to the surface.
Keep in mind that metal zipper closures are super secure, but they can be difficult to manage with near frozen hands.
Oftentimes, hook and look strips are enough to ensure your cell phone and lift pass don't get buried in an avalanche of God's dandruff. Beyond that, we like to see a multitude of strategically placed storage solutions.
At a minimum, rear and front pockets will do. However, the addition of cargo and bib pockets is preferred.
We also like to see the addition of a D-hook. While some people prefer to attach their keys and lift pass to their jackets, it's nice to have a second option for warmer days.
Vents: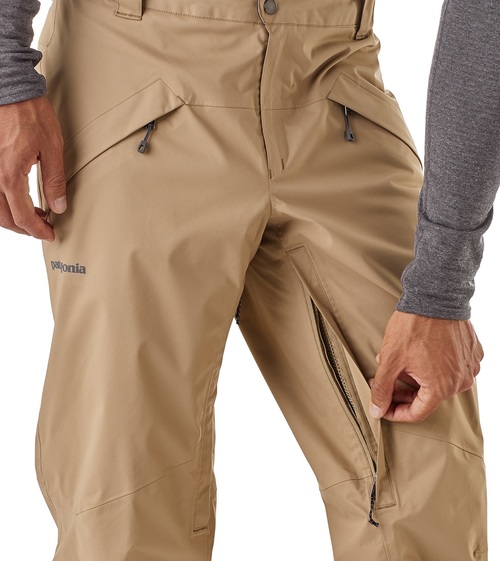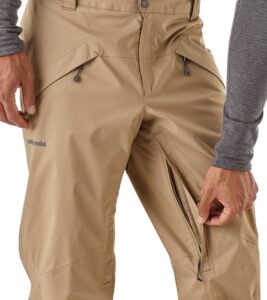 While we talked about the importance of breathable fabric, we don't want to complete our guide without discussing the benefits of vented bibs.
Zippered vents may seem hypocritical.
After all, they let cold air and water in but allows users to control the air circulation in their pants.
Think of it like you would an on-off switch for heating the lower half of your body.
On occasion, it is nice to have the option to cool down without having to completely strip off a layer.
Style and Fit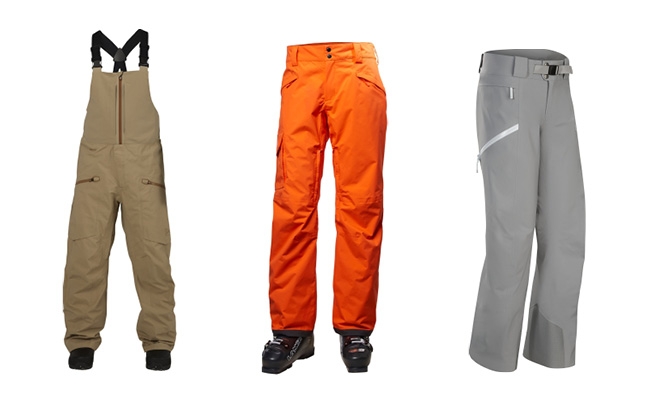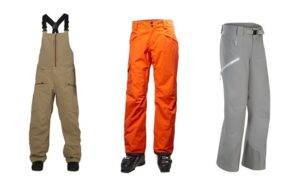 We've done our best to provide you with both men and women's versions of ski bibs.
What's more, we ensured that our selections came in a wide range of sizes. When it comes to style, we understand that some people prefer loose bibs while others prefer tight and tailored bibs.
When selecting a snow bib, you can choose between different types of straps, panels, and necklines. What's more, bibs come in a wide variety of colors and designs.
Final Thoughts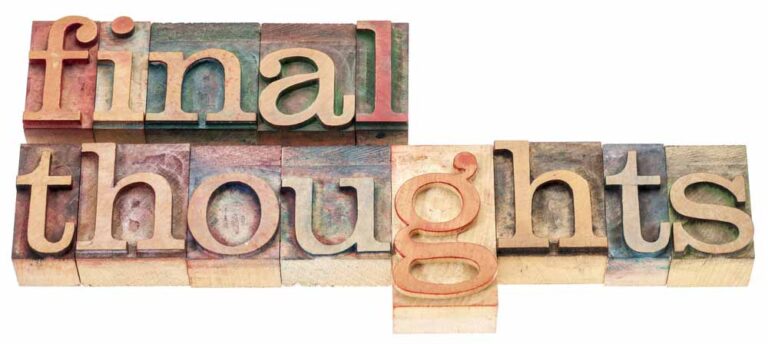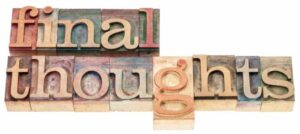 It's easy to feel overwhelmed by the abundance of ski bibs available. We hope we made your shopping experience a little easier by sharing our tips for selecting a quality pair of over-the-shoulder snow pants.
We are confident that the five products we shared are some of the most reliable options currently available. Of course, once you finally choose a bib, you'll have to move on to scouting out the best mountain excursions in your area.