Due to the bright glare and the harmful ultraviolet radiation, many people decide to protect themselves by getting a pair of sunglasses. Of course, depending on what you are doing and what you need the sunglasses for, one pair will suit your needs better than others.
Top Pick
Good Choice
Don't Miss
Also Consider
Oakley Men's Oo9154 Half Jacket 2.0 XL Rectangular Sunglasses
Duduma Polarized Designer Fashion Sports Sunglasses for Baseball Cycling Fishing Golf Tr62...
Torege Polarized Sports Sunglasses With 3 Interchangeable Lenes for Men Women Cycling Running...
J+S Ultra Lightweight Men's Rimless Sports Sunglasses, Polarized, 100% UV protection
Top Pick
Oakley Men's Oo9154 Half Jacket 2.0 XL Rectangular Sunglasses
Good Choice
Duduma Polarized Designer Fashion Sports Sunglasses for Baseball Cycling Fishing Golf Tr62...
Don't Miss
Torege Polarized Sports Sunglasses With 3 Interchangeable Lenes for Men Women Cycling Running...
Also Consider
J+S Ultra Lightweight Men's Rimless Sports Sunglasses, Polarized, 100% UV protection
For example, if you need to be able to use your sunglasses at night, you might want to make sure they have yellow lenses, which will lighten your entire view. Conversely, if bright glare is a problem for you, then you would do well getting a pair of sunglasses that are polarized. The same applies when looking for the Best Sunglasses for Running.
Best Sunglasses for Running in 2023
Figuring out which pair of sunglasses best suit your needs can be confusing. That is why we have put together a list of the 7 best sunglasses for running, highlighting what each does better than the others. Then we provide a helpful buyer's guide, so you can find the best sunglasses for running to suit your needs.
1.

Oakley

 – Best Sunglasses for Running Oakley (Editor's Choice)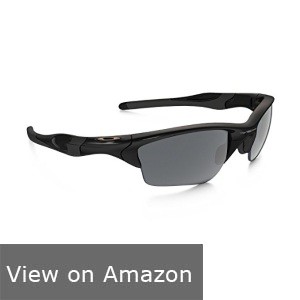 Oakley is one of the most well-known and well-respected brands of sunglasses manufacturers on the planet. Founded over four decades ago in 1975, Oakley has positioned itself as a brand that manufactures premier sunglasses specifically for sporting and outdoor purposes. These days, Oakley is actually owned by the glasses super conglomerate Luxottica.
Their products are known for being a premium grade, but they are also known for coming at a premium price. In this case, only one of those statements are true, and it is not the statement that you would prefer. That said, these are not a poor quality pair of sunglasses, but neither do they necessarily live up to the lofty standards that the Oakley brand has set out for itself.
Frames
The Oakley frames are a bit hit-or-miss in that they offer a number of features that are not found on too many other sunglasses on our list, but they also come with some significant drawbacks. Possibly, the worst part about the Oakley frames is their material. Made out of their patented O-Matter plastic, these frames are similar to TR-62 nylon in almost every way except they are not as good. O-Matter is not as flexible or light as TR-62 nylon, but neither it provide a significant boost to durability either.
Also, some of Oakley's design choices with their frames might make them the only brand you would choose.
For instance, this is one of the few pairs of sunglasses on our list that can be fitted with prescription lenses. On top of that, this is the only pair that can fit prescription lenses, which will not need a special plastic insert.
Another advantage of the Oakley frames is their use of hydrophobic rubber around the nose and earpieces. This type of rubber repel water, like sweat, and help keep the sunglasses on your face where they belong.
Lenses
Much like the frames, the lenses Oakley uses in these sunglasses offer some unique advantages, but they come at the cost of legitimate disadvantages as well. To get the bad out of the way, these lenses are not made out of the highest quality material. While they are unlikely to break, they have been known to scratch easy.
Instead, these are likely the truest lenses out of any pair of sunglasses on our list. What we mean by that is that these sunglasses do not distort your vision nearly as much as some of the others we saw. As a bonus, Oakley sells a number of different types of lenses for these sunglasses, and those lenses can easily be swapped out though they will need to be purchased separately.
Like the other sunglasses on out list, the lenses provide 100 percent UV protection. Some of the lenses are polarized but not all of them, so you will have to make sure you select the polarized models if you want that features. Unfortunately, all of the lenses come in some shade of black either matte or iridium black.
Pros
Can fit prescriptions lenses
Nose and earpiece are hydrophobic
Lenses are interchangeable
Lenses are optically true
Some of the lenses are polarized
Offers 100 percent UV protection
Cons
Most expensive sunglasses for running we reviewed
Plastic frames are not the best
Plastic lenses are not the best
Only come in black lenses
2.

BLUPOND

 – Sleek and Stylish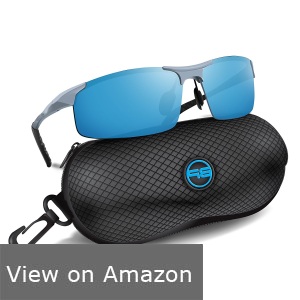 While all of the manufacturers on our list specialize in sunglasses, BLUPOND is one of the few that makes it a point to produce sunglasses that are designed for specific scenarios. The brand offers a wide variety of nighttime sunglasses, driving sunglasses, and sports sunglasses. While most sunglasses can be used during these tasks, BLUPOND sunglasses are designed especially for them.
This pair of sunglasses actually blends two of those categories together into a seamless whole. The BLUPOND Titans are designed both for use during sports activities as well as for driving. That said, not every pain of Titan sunglasses is designed to accomplish each task, but both tasks are covered.
Frames
The BLUPOND Titans are unique on our list in that they are the only pair of sunglasses whose frames are not made out of some kind of synthetic material.
Instead, the Titan frames are made out of an alloy of aluminum and magnesium. Combined, these metals provide a durable, rigid frame that is also surprisingly lightweight.
Of course, even lightweight metals can be only so light which ultimately leaves these as some of the heavier sunglasses for running that we reviewed. Still, if durability is a primary concern, it is hard to go wrong with these frames.
Aside from their material, the hinges are also reinforced and made using a heavy-duty design. If they do happen to break, BLUPOND offers a lifetime warranty on them.
Lenses
The BLUPOND Titans actually offer some of the best lenses that we saw. Made out of shatterproof polycarbonates, these lenses provide 100 percent protection from every type of UV radiation as well as harmful blue light. Even better, the Titans provide some of the best polarization out of any pair of sunglasses that we reviewed.
The reason that the polarization of these sunglasses is better than the others is that the polarized substance is actually injected directly into the polycarbonate during the layering process rather than stretched across or sandwiched in between as a film.
This allows the polarization to generally be more uniform and not wear away like other types of polarization has a tendency to.
Quibbles
The frames and lenses taken into account, there are a number of qualities about the BLUPOND Titans that are far from ideal. For one, these sunglasses are a bit more expensive than many others we saw, though not exorbitantly so. However, it is some of the design choices that create the biggest issues. Also, the nosepiece on these sunglasses is reflective.
This can allow light to reflect off the nosepiece and into your eyes, completely bypassing the high-quality lenses and their various forms of protection. On top of that, the lens and frame design itself does not sit flush against your face, which further allows more light to reach your eyes before passing through the protective lenses.
Pros
The aluminum and magnesium frames are durable
Provides an injected polarization
Offers 100 percent UV protection
Comes with a complete kit
Hinges are reinforced
Frames have a lifetime warranty
Cons
A somewhat expensive pair of sunglasses for running
Will not completely block out sun
Reflective nose piece creates a glare
The fit is a bit tight
3.

Duduma

 – Good Look, Superlight, Stylish, Durable and Clear (People's Choice)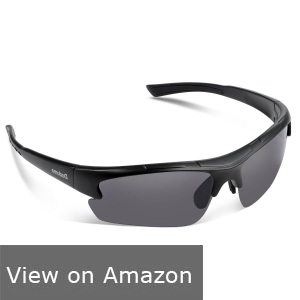 The Duduma sports sunglasses checks so many boxes, it is not difficult to see why these are the most popular sunglasses based on consumer reviews. Easily one of the best qualities of this pair of sunglasses is that they run on the less expensive side. Considering how often people accidentally break or lose their sunglasses, this becomes more important than for other, more sedentary products.
The frames of these glasses are a bit of a mixed bag. While they offer some distinct advantages to many of the other frames on our list, they are not the best in all categories. As such, you have to decide which qualities in your frames are the most important. For example, if durability is an issue, these may not be the best pair of sunglasses for running.
Frames
Specifically, these frames are made out of TR-62, a type of molded nylon that is incredibly flexible and lightweight. In fact, these frames can be twisted a complete 180 degrees without snapping. Another advantage of TR-62 is that it is the lightest material used to make frames out of any pair of sunglasses on our list.
That said, the flexibility of TR-62 nylon does not translate into universal durability. In fact, these sunglasses are noted specifically for breaking along the hinge where the small size does not afford any advantage to the material's durability. Duduma does at least offer a lifetime warranty on all of their frames and will send you a new pair of sunglasses in under two weeks if your frames break.
Lenses
Much like the frames, the lenses of this pair of sunglasses carry with it both good and bad qualities, though the lenses are far more definitively a positive rather than a mixed bag. In fact, the only negative thing about these frames in how they are shaped and sit on your face.
Essentially, the lenses are noted for trapping sweat and other perspiration as it rolls down your face. Though, this will be heavily dependent on the shape of your face.
On the plus side, these lenses are made from 7 different layers. The most important part is that these lenses provide both 100 percent UV protection as well as a polarization that will help to cut down glare during sunny runs.
It should be noted that the polarization of these lenses is a film and may either wear out over time or be applied to the lenses unevenly.
Style
Depending on what you need to use these sunglasses for and where you will be wearing them, style may be a larger concern, or it may not matter at all. If you are more style conscious, the Duduma's come in 9 different combinations of frame and lens color. Keep in mind, the color of the lens will also affect under what conditions it is most appropriate.
Pros
A less expensive pair of sunglasses for running
Exceptionally lightweight sunglasses for running
The frames will bend and flex
Frames have a lifetime warranty
Comes in 9 different styles
Offers 100 percent UV protection
Cons
The polarization is a film
The lens design can trap sweat
TR-62 nylon is not the strongest
The fit runs a bit tight
4.

Torege

 – Soft Rubber Nosepad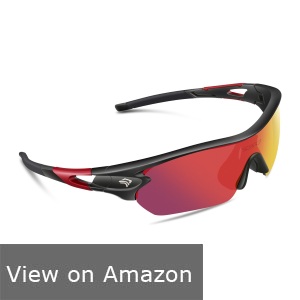 Torege is an online exclusive company which generally allows a business to sell their goods for less money. In this case, Torege decided to charge a similar amount as their competitors but provide far more product for the same amount of investment. In fact, buying a pair of the Torege sunglasses is essentially like buying 5 pairs in one.
Lenses
This is main value of the Torege sunglasses. This product comes with 5 different types of lenses that can be switched out depending on your setting and needs at the time. You will receive a pair of dark, clear, red or rainbow, nighttime, and polarized lenses. The only potential downside to this setup is that none of the lenses provides all of the features in one.
As such, you will be forced to switch the lenses out depending on which feature you need at the time. Still, these lenses are all-hydrophobic and will repel water. Besides, the darkest lenses are the darkest on our list, permitting only 8 percent light transmission.
Frames
The frames are the definite weak point of the Toreges. They are made out of the same O-Matter that Oakley uses. This means that they are a bit flexible, but not as much as TR-62 nylon. They are somewhat durable, but not as much as TR-90 nylon and better. Ultimately, they sit in a Goldilocks position when that is not the ideal place to be.
Pros
Comes with 5 different interchangeable lenses
Frames have a lifetime warranty
Comes in 7 different styles
Some lenses are polarized
Some lenses offer the least light transmission
Some frames can fit prescription lenses
The frames are exceptionally flexible
Frames have a lifetime warranty
Offers 100 percent UV protection
Lenses are hydrophobic
Cons
A bit heavier than some other sunglasses
Frames are not the most durable
The nose piece is uncomfortable
The fit runs a bit large
Lenses may pop out
Lenses will scratch easier than others
5.

J+S

 – Cycling Outdoor Sports Athlete's Sunglasses (Best Price)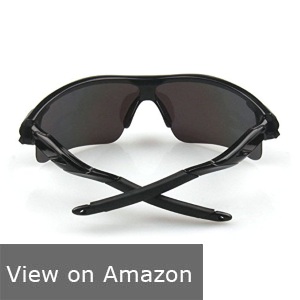 J+S sunglasses are not the best on our list. There really is no getting around that fact. Though in fairness, this is likely in part due to the fact that J+S actually does not hinge their business model on sunglasses. Instead, J+S makes it a point to sell glasses designed to ease your eyes if you look at a computer screen all day. Their sunglasses are more because they may as well.
Frames
Their material makeup is all polycarbonate. While this has the advantage of making them more durable than most of the other sunglasses on our list, it also makes them less flexible. One glaring flaw with these sunglasses is that the nose piece does not feature a rubberized surface and digs into the skin.
Lenses
In terms of quality, these are as basic as it gets. They provide 100 percent protection from all types of UV radiation. The lenses are not polarized at all; making this one of the few pairs of sunglasses we reviewed which does not even offer a polarized film. Easily the best thing about these sunglasses is that they are the least expensive we reviewed.
Pros
Least expensive sunglasses for running we reviewed
Offers 100 percent UV protection
Polycarbonate frames are more durable than some
Cons
Frames are not flexible
Lenses are not polarized
Nosepiece is not rubberized
6.

Tifosi

 – Slip Shield Polarized Sunglasses for Running Womens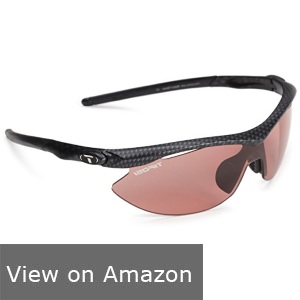 Tifosi is one of the few brands on our list that, like Oakley, specializes in sports sunglasses. Founded in 2003, Tifosi made it a point to manufacture sunglasses that would serve especially well for bikers, golfers, and runners. In that regard, these sunglasses work wonderfully while also providing a diverse sense of style.
Lenses
As is more or less the standard at this point, the Tifosi lenses provide 100 percent protection from all forms of UV radiation. But, these lenses go a step above and beyond and also offer models that are photochromic. This means, when exposed to sunlight, the lenses will darken, and they will lighten once the sun is no longer shining on them.
On the downside, these lenses are not polarized and they are known to scratch easily. Also, while the ventilation will help prevent these sunglasses from fogging up, the vents will also allow stray rays of sunlight to reach your eye before they can be cleared of UV radiation.
Frames
These sunglasses use frames made out of TR-90 nylon. TR-90 nylon is similar to TR-62 except that it trades a bit of flexibility for a bit more durability. Though considering neither TR-90 nor TR-62 is all that durability, this may not be such a great trade.
One of the best qualities about the Tifosi sunglasses that is unique on our list is the ability to alter the position of the nose and earpieces. While these frames have a tendency to run a bit large, they are still fit more people's heads than any other we reviewed.
Pros
Lenses are easily interchangeable
Frames are somewhat flexible
Lenses are vented
Comes in 15 different styles
Exceptionally lightweight sunglasses for running
Hydrophobic rubber prevents slippage
Some lenses are photochromic
Bridge and earpieces can be adjusted
Offers 100 percent UV protection
Cons
Non-Flush lenses can let light in
Fairly expensive sunglasses for running
TR-90 nylon frames are not the most durable
Lenses are not polarized
Lenses scratch easily
The fit runs large
7.

RIVBOS

 – TAC Polarized and Mirror Coating Lens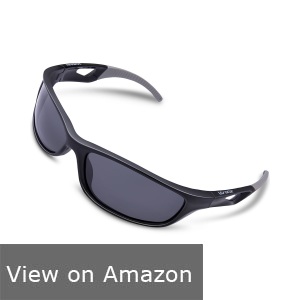 RIVBOS is another brand that focuses exclusively as an online brand. In this case, the business model pays off for the consumer as these are one of the less expensive pairs of sunglasses that we reviewed. Of course, unlike the other exclusively online brand on our list, this one does not offer quite as many extras. Still, it is a solid value.
Frames
Easily the most distinctive quality about these sunglasses is that frames are not rimless. Every other pair of sunglasses for running we looked at favored the lighter rimless frame design. The main advantage that this has it that it allows these sunglasses to block more light from around the edges of the lenses.
The biggest issue that this design presents is that it is a tad heavier. Though, the frames are made out of TR-90 nylon, so the weight is not significant. This material is important because it provides the RIVBOS sunglasses some flexibility but also offers a bit more durability than TR-62 nylon. That said, the frames are not especially durable, though they do come with a lifetime warranty.
Lenses
The polycarbonate lenses of the RIVBOS sunglasses provide the requisite 100 percent protection from all forms of UV radiation.
As a plus, they also provide polarization. The polarization comes in the form of a film though, so it will wear away over time and may not be consistent across the lens.
Pros
A less expensive pair of sunglasses for running
Frames are somewhat flexible
Offers a lifetime warranty
Offers 100 percent UV protection
Blocks out more light than other sunglasses for running
Comes with a decent kit
Cons
TR-90 nylon frames are not the most durable
Polarization is a lens coating
A bit heavier than some other sunglasses for running
Fit runs a bit large
8.

PAERDE

 – Mens Sports Polarized Sunglasses for Men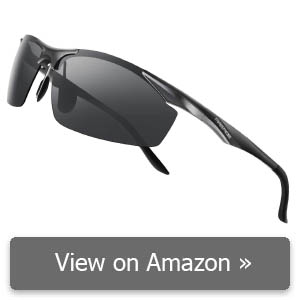 Polarization is Key
The Paerde Mens Sunglasses are popular and show that high-quality glasses can be found online just as easily as they come displayed at high-end brick and mortar stores.
What this means is that the same technologies behind its competitors (which could be much more expensive) are available here.
Polarization is one of them. Polarized lenses is what shields the wearer from harmful ultraviolet rays that come from the sun's light.
Be Sure To get the Right Size
With these on, the eyes, remain protected and guarded, no matter how high the star's up in the sky during the day. You should use can with picking the right size, however.
If not, the fit could be a little awkward. In this case, a poor fit would make them protrude along the bridge of the nose, pushing the back forward while the legs rest too high above the ears.
As such, know your size and check the measurements before purchasing so that sunlight won't hit your eyelids. If you do, these might end up being your favorite eyewear to don whenever you're outdoors.
Pros
The lenses are polarized and blocks out harmful UV rays
Sold in eight different colors
The package contains full accessories for storing and cleaning the glasses
Cons
The fit looks slightly off, with the front protruding too close to the bridge of the nose and rear not going completely behind the ears
Let's in some sunlight (again, due to the odd placement on the face)
Lenses are fragile and may pop off if care is not taken
Best Sunglasses for Running – Buyer's Guide
UV Protection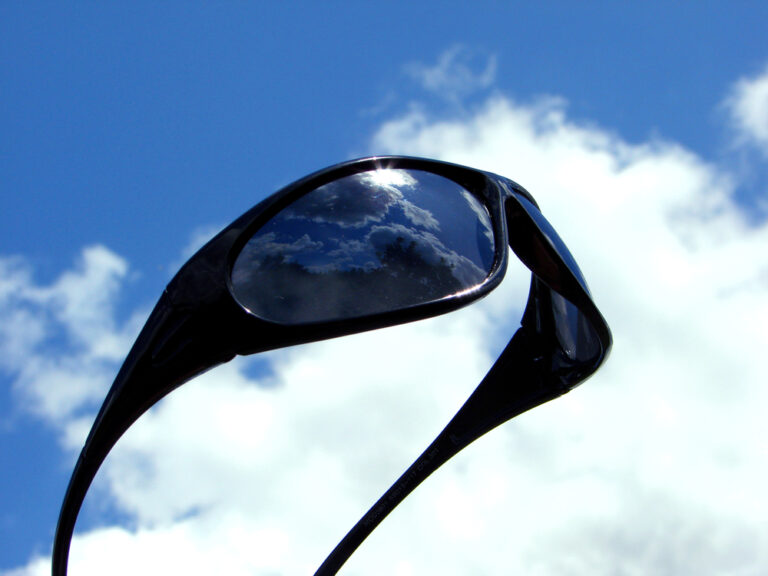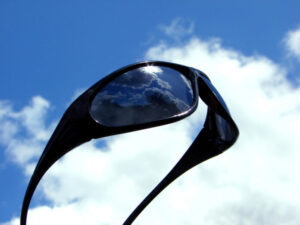 The main point of sunglasses is that they protect your eyes from the sun. To be more precise, sunglasses actually protect your eyes from ultraviolet radiation. While sunglasses that protect your eyes from both UV alpha and UV beta rays are more expensive, it is an investment worth making.
Polarization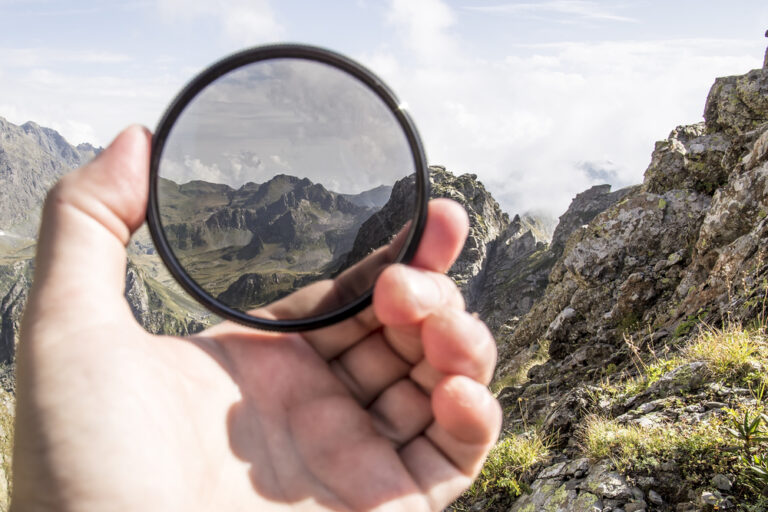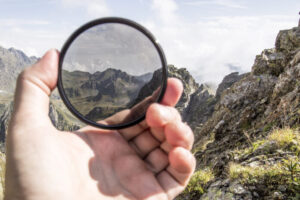 Polarized sunglasses effective reduce or altogether eliminate glare coming from sun rays reflected off of other surfaces. Polarized lenses can either use a film, an injection method, or a polarized material. The film is the least expensive, but it is also temporary and will wear away. The injection method is permanent, but it is not also homogenous. A polarized material is the best type of polarized lens.
Frame Material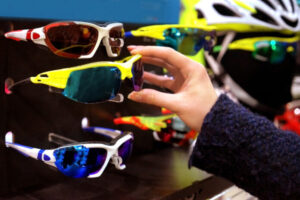 This factor often determines the overall durability of your sunglasses. Metals are the strongest materials used for sunglasses, but they are not flexible. As such, you may break them if you accidentally sit on them. Polycarbonate is not as strong as metal nor is it especially flexible. For running glasses, a form of molded nylon either TR-62 or TR-90 is the most common material used for frames. These materials are exceptionally flexible and lightweight.
Nose and Ear Pieces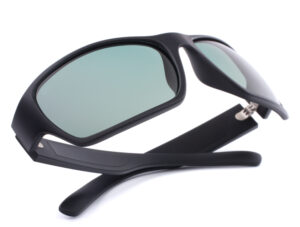 When it comes to sunglasses for running, the nose and ear pieces are more important than sunglasses for other purposes. The main thing to look for is rubberized nose and earpieces. If the nose and earpiece rubber are also hydrophobic, meaning it repels water, this will help prevent the sunglasses from sliding down or off of your face.
Conclusion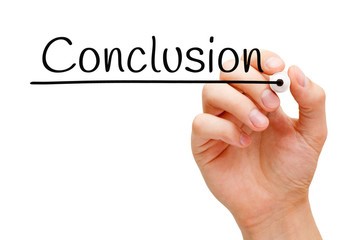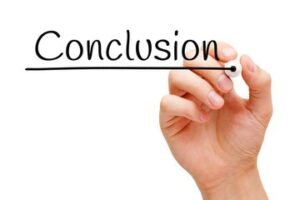 When looking for the best sunglasses for running, it is important to consider whether you intend to use the sunglasses for running and nothing else or if they double as a general pair of sunglasses. If it is the former, then the best performing pair of sunglasses for running and nothing else is either the Duduma or BLUPOND. The Duduma are more flexible while the BLUPOND are more durable.
The Oakleys are also a great choice, especially if you need a pair of running sunglasses that can easily accept prescription lenses. The Torege offer arguably the best all-around value due to the inclusion of multiple, specialized lenses, while the Tifosi are the best non-polarized sunglasses for running.
Polarized Sports Sunglasses for Men Flexible Frame Sunglasses for Cycling Running Driving Fishing...
1、【sports Sunglasses】 Sunglasses with fashionable design, rich combination of frame and lens color. Our sports sunglasses are lightweight and ideal for motorcycles and bicycles, driving, running, fishing, racing, skiing, rock climbing, hiking, skateboarding, surfing, canoeing or other outdoor activities.
2、【Polarized and Mirror Coating Lens】 Offer 100% UVA&UVB Protection against the sunlight filtering 100% of all UVA/UVB/UVC and Harmful Blue Light Up to 400nm.Restore true color, eliminate reflected light and scattered light and protect eyes perfectly
3、【design and structure】 our sports glasses are designed with lightweight materials and ergonomics, and the sports sunglasses frame is made of skin friendly PC materials with the style of classic fashion trend, which is fashionable, lightweight and durable. The structure is designed according to the amount of data to ensure the comfort and adaptability of wearing.
4、【TR90 Material Frame】Super Lightweight,Stylish and Durable;High quality frame materials provide the ultimate in performance and comfort.
5、【after sales service】 if you have any problems, please contact us directly at Amazon. If you receive defective products, we will refund or replace them until your problems are solved. Your trust, support and encouragement will be our greatest motivation. Thank you for your patronage.
SOJOS Polarized Sports TR90 Sunglasses for Running Cycling Fishing Golf Driving ARENA SJ2101
HIGH-DEFINITION UV400 TAC POLARIZED LENSES – The UV400 mirror coated polarized lenses can filter out sunlight reflected glare, and protect your eyes from long-term damage by blocking 100% of harmful UVA and UVB rays.
UNBREAKABLE & ULTRALIGHT TR90 FRAMES – TR90 is the most popular unbreakable ultralight material, which also can be called plastic titanium. This kind of material is super toughness, wear-resistance, stress-resistance, and thus the frame is not easily deformed or damaged. These sunglasses are made of environmental protection TR90 frames, UV400 lenses, European style nose pads, solid metal hinges. All the quality details will ensure you a perfect wearing experience.
PERFECT ALL ROUNDER – These classic sports sunglasses are available for both men and women and suitable for any climate and weather conditions. They are also a perfect choice for all kinds of outdoor sports, such as cycling, driving, climbing, running, fishing, golfing, etc.
PRODUCT DIMENSION – Lens Width: 52mm(2.05inches) | Lens Height: 42mm(1.65inches) | Temple Length: 142mm(5.59inches) | Nose Bridge: 16mm(0.63inches).
GIFT IDEAS PACKAGE – Sunglasses*1, microfiber glasses cleaning cloth*1, glasses zipper case*1, glasses box*1. It is also a gift packaged ready, making it a wonderful yet practical gift idea for friends and family!
Polarized Sunglasses for Men and Women Matte Finish Sun glasses Color Mirror Lens 100% UV Blocking...
★ PROTECT YOUR EYES WITH STYLE ▶ We created our polarized sunglasses to PROTECT your eyes while you are out under the harmful sun UV rays and to make you look IRRESISTIBLE at the same time, because we know that Health and Style are both important. Whether you are driving, walking or working, whether you are a man or a woman, prepare yourself for all the prime ATTENTION you can get and the envy of all of those who can't figure out YOUR LITTLE SECRET: Your KALIYADI Sunglasses.
★ BE MORE RELAXED EVERY DAY ▶ Those sunglasses come with top rated POLARIZED LENSES that we tested over time. Polarization reduces glare reflected by mirrors, shiny or polished materials or any other kind of sun rays reflection. You will feel your eyes permanently relaxed because you will not squint anymore! Whether you are driving to work, walking in the park or you are having a nice sunbath on the beach, you will be LESS TIRED at the end of the day because your eyes are MORE RELAXED.
★ SEE THE WORLD IN ITS TRUE COLORS ▶ The HD polarized lenses of our sun glasses offer TRUE COLOR PERCEPTION because of the neutral color coating and CLEAR VISION by eliminating reflected and scattered light. Therefore you will be able to enjoy the sunglasses during all your outdoor activities, driving, fishing or any water sport as well. JUST IMAGINE HOW GOOD YOU WILL FEEL not having to worry about your eyes health while being able to enjoy and admire the world in every beautiful detail.
★ MOVE FREE AND FEEL FREE ▶ We know how uncomfortable frames can be and how this affects every wearer. We care about your vision and want to help you keep your sunglasses on for as long as you need them. Therefore we picked ultra-light materials for glasses frame, shatterproof polarized lenses and we took care so that every edge is smoothed and polished so YOU'LL EVEN FORGET THAT YOU WEAR THEM out in the sun. Wearing sunglasses has never been more relaxing, secure and comfortable than NOW!
★ 30 DAYS MONEY BACK GUARANTEE ▶ All KALIYADI customers enjoy 30 Days Money Back Guarantee for our Polarized Sunglasses. The integrity of every box and the quality of the lenses are double checked by third-party companies. And that goes with a lifetime support! All you need to do is just to send us a message. It is RISK FREE! So why not give it a try?
RIVBOS Sunglasses for Men Women Polarized UV Protection Sports Fishing Driving Shades Cycling RB833
Superior&Light Frame-RIVBOS frame made from durable TR90 material, these polarized sunglasses feature a flexible, stress resistant frame that is able to withstand pressure, without breaking. What is more, they're ultralight making you feel they're barely there!
TAC Polarized and Mirror Coating Lens-RIVBOS lenses are made of Triacetate cellulose(TAC) material.TAC has excellent optical properties can prevent the shrinkage of the PVA polarizing film, and the high-strength surface has scratch resistance.Restore true color, eliminate reflected light and scattered light and protect eyes perfectly.
Make A Strong Fashion Statement-Who says you have to sacrifice glamour for the sake of sport? These sunglasses are designed to make a fashion statement of their own. Whether it is sports or daily leisure, it can always show your unique style.
Package&Accessories-Each RIVBOS Sunglasses are Packed in A Hard case with buckle, strap, cleaning cloth, small pouch, a polarized test card and an instruction book.
Risk-Free Purchase - RIVBOS provides lifetime breakage warranty and 30 day money back guarantee for all RIVBOS products. If there is any problem with the product, the rivbos after-sales team is always ready to solve the problem for you until you satisfaction.You have no risk to try.
Bevi Polarized Sports Sunglasses for Men Women Baseball Running Cycling Golf Tr90 Durable and...
⭐Product Dimension– Lens Width: 2.6 inch, Lens height: 1.81 inch, Temple Length: 5.19 inch, Nose Bridge: 0.71 inch ( Please be sure that size is fit your face )
⭐New material -TR90 was produced through Swiss technology as a thermoplastic material that is incredibly durable, flexible, and lightweight. Glasses made with TR90 are extremely comfortable because they have a flexible quality. Since they are flexible, they can bend under pressure and contour your face comfortably.
⭐OUTSTANDING LENSES – Bevi polarized lenses are comparable to the thickness you would find on much higher priced sports eyewear. TAC (Triacetate) lenses pass a double decentering test to ensure there is no optical distortion which can cause eye strain and headaches. Bevi Polarized sunglasses help reduce glare caused by reflected light to improve vision and comfort.
⭐SOFT NOSEPAD, Let Your Nose Feel Comfortalbe While Wearing Bevi Sports sunglasses for Cycling Running Fishing Golf .
⭐️Please do not Place the sunglasses next to the flame to avoid melting. Please do not Prolonged exposure in the salt water or cleaning water with chemical. Please do not wipe the lenses with finger directly. A cleaning cloth is the best choice for cleaning lenses.
Sports Sunglasses for Men,Polarized Sunglasses for Women,Sports Sunglasses for Cycling Hiking...
[TORISX HD REVO Lenses] TORISX HD REVO Lens is 100% proprietary high-definition lens technology that ramps up contrast, amps up colors and enhances detail so you miss nothing.TORISX HD REVO cylindrical lenses create a curved shape that provides better impact protection and higher quality optics.Light conditions can change at a moment's notice, and our color range of lens and lens change options allow you to quickly adapt, letting you focus on your run instead of the sun.
Cylindrical Lenses]Cylindrical lenses are built on a base curve only in the X axis,TOREGE's 6.0-base cylindrical shield lens for increased peripheral view and protection,100%UV protect, blocks blue light, restore true color, eliminate glare to make the scenery more clear and real.
[Three Interchangeable Lenses]ONLY The Pro Sets have 3 interchangeable lenses,The main one is Torisx HD Lenses,one is Polarized lens, one is yellow lens for the night.QUICK CHANGE SYSTEM lens system ever, lets you swap lenses without hassle. Simple Pull the leg from bottom to top,then the temple off the lens. It's that easy.The TR90 Frame  is very lightweight can meet up whatever you dish out to it and more.
[Frameless Design]TOREGE Sports Sunglasses TR71 ICEMAN is a full rimless design Sporty sunglasses for all sports on land, seaside, such as hiking,running,baseball,softball,cycling,sunbathing, boating, fishing, beach vollyball etc. Ideal polarized cycling sunglasses. 
【LIFETIME WARRANTY & 30 DAYS MONEY BACK GUARANTEE】- Frames and lenses are unbreakable for no risk purchasing. If something wrong with our cycling sunglasses, contact TOREGE eyewear experts without hesitation to solve the problem until satisfaction. TOREGE provides lifetime warranty after sale for all TOREGE sports polarized sunglasses. Meanwhile the glasses enjoy 30 DAYS MONEY BACK GUARANTEE.