Most people want to do something to ensure that they stay in decent shape. One of the best ways to accomplish this is by running. Though, running outdoors is not always an option, especially at night or during inclement weather.
As an alternative, many people turn to a gym where they can use professional treadmills. Still, it is far more convenient if you can use a treadmill in the comfort of your own home. The only problem is treadmills are often expensive, and some the budget options may not provide as good of a performance.
Best Treadmill under 1000 in 2023
That is why we have put together a list of the 5 best treadmills under 1000 dollars, highlighting what each does best. Then we provide a helpful buyer's guide, so you can figure out which treadmill is right for you.
1.

Goplus

 – Best Home Treadmill under 1000 (Editor's Choice)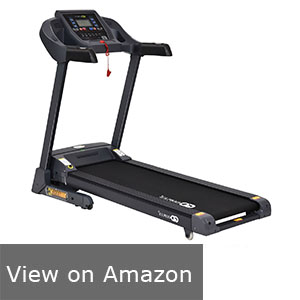 Goplus does not actually specialize in treadmills or even exercise equipment. Generally, this can spell disaster for a product since specialization often allows for the manufacturing of a more refined product. That being said, Goplus surprisingly offers one of the best products we saw. It has some of the best features including many that are a bit uncommon without too many faults.
Motor
This treadmill is arguably the best all-around we reviewed and it all starts with the motor. With 2.5 HP, you do not have to worry about the Goplus not being able to keep up with you.
When you combine this with a decent top speed of 9 mph, you have an excellent treadmill that can accommodate most consumer. Of course, 9 mph is not nearly fast enough for people who engage in highly competitive athletics, but it is more than enough for most people.
Obviously, the running aspect of this treadmill is rather hampered by its relatively narrow running surface. At 16.5" wide, not all users feel comfortable running on this track.
Thankfully, this is also one of the better treadmills when it comes to getting a good cardio workout. The Goplus achieves this by offering the highest incline out of any product we reviewed. With up to fifteen degrees total, you can push yourself to the limit running uphill.
Smartphone and treadmill
In terms of non-essential features, the Goplus is a refreshing entry here as well. One of the best qualities about this treadmill is its connectivity. Using Bluetooth signals, the Goplus will connect to your smartphone. From your smartphone, you can use the G-Fit app.
This app is actually impressive and can serve as a virtual assistant. Aside from being able to setup your custom training regimen, the G-Fit app will actually record your height, weight, and heart rate, then develop a training program ideally suited for you.
Programming
When it comes to actually programming the Goplus, this treadmill offers even more benefits. The control panel features a large 5" LCD screen, so you do not have to strain to change settings or check your progress. The control panel also features a straightforward user interface, so you do not need to worry about dealing with a host of different buttons like with other treadmills.
In terms of the running deck, Goplus comes through with advantages that put it on par with far more well-known and established brands. First, this is a surprisingly quiet treadmill, which is even more surprising considering how heavy it is. Usually, heavy, powerful treadmills have a tendency to make a bit more noise than others do. On top of that, the cushioning for the Goplus is better than average though it is not the best.
Pros:
Provides solid horsepower
Has a decent top speed
Offers the best incline range
Offers an excellent display
Can connect to your smartphone
Easy to assemble
One of the quieter treadmills
Reasonably easy to use
Cons:
A somewhat expensive treadmill
A bit heavier than others
Running surface is narrow
2.

Weslo

 – Space Saver Design and Comfortable Cushioning (People's Choice)
History
Weslo is actually one of a few brands under the Icon Health and Fitness umbrella started in 1977. Two college students from Utah had connections in the import business and decided to capitalize on exercise equipment.
In fact, the company also owns other major exercise equipment brands like NordicTrack. Icon also developed the fold-up treadmill design, allowing people in smaller spaces to enjoy the benefits of a treadmill from the comfort of their own home.
Motor
In terms of the Weslo Cadence G 5.9, the treadmill offers a nice range of features with a few downsides that are generally less relevant to its overall functioning. Perhaps, the best quality of the Weslo is its motor. Coming from the NordicTrack family line, it should not be very surprising that this treadmill has a solid motor. That said, as this is a reasonably inexpensive treadmill, it is still a nice addition.
The motor itself is rated at 2.5 continuous HP. This is great for running, though it will not be ideal if you are a highly competitive athlete.
Still, for the overwhelming majority of people, 2.5 HP is more than enough. The motor's strength is also responsible for driving the belt and top speed of 10 MPH. That is the second highest top speed we saw and it is fast enough for most people.
Weight
In terms of weight, this treadmill checks two boxes with definite pluses. First, it provides a weight capacity of 275 pounds. This is significantly higher than most of the other treadmills we reviewed and good enough to be on our list. As such, those looking to lose weight and save some cash would do well to consider the Weslo.
The other weight consideration that swings in favor of the Weslo is that it only weighs 119 pounds. While this does not make it light by any measure of the word, it is still much lighter than many of the other treadmills we saw.
Design
All of those great things aside, this is not really a treadmill designed for running despite the excellent top speed and powerful motor.
A little part of this has to do with the running surface. While the running surface is long enough to run on, 16" is a bit narrow. The Weslo also has substandard cushioning, so you may not want to engage in high impact running for long periods especially if you have joints that get sore.
Finally, the Weslo only provides a maximum incline of five degrees, making it less than ideal for the highest levels of cardio workout.
Pros:
Provides solid horsepower
One of the less expensive treadmills
A light treadmill
A fairly high weight capacity
Has a good top speed of 10 mph
Folds up smaller than others
Cons:
Does not provide great incline
Running surface is narrow
Display is a bit underwhelming
Cushioning is substandard
Is a bit noisy
3.

NordicTrack

 – CardioGrip Heart Rate Sensor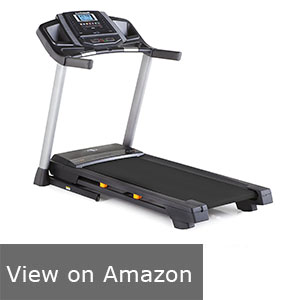 NordicTrack is a giant in the exercise equipment industry with a well-earned reputation carefully crafted over twenty-five years of continued innovation and excellence. The brand actually got its start with the iconic NordicTrack skiers, which provided a way for people looking to save their knees of the impact of traditional treadmills.
It was not until the late 1990s that NordicTrack expanded their catalog and was eventually acquired by the major exercise equipment manufacturer Icon Health and Fitness.
Price
The T 6.5 2 is arguably our top performing treadmill that is one of the few designed for highly competitive athletes.
Of course, with the numerous features that often rank at the top of our list, you can expect that this is also the most expensive treadmill we reviewed as well.
Though you get what you pay for, and if you are willing to pony up the extra cash for the NordicTrack, you will not be disappointed.
Benefits
In terms of the actual treadmill function, the NordicTrack offers the best performance in the two most important categories: horsepower and speed. At 2.6 hp, the NordicTrack just edges out the next highest competitor on our list.
More importantly though, this treadmill is the only one we saw that is so confident in its motor's quality that it offers a twenty-five-year warranty. Chances are, you will give out long before the motor does. Possibly, you will give out long before the motor does.
The top speed of the NordicTrack is also a fast 12 mph.
While professional athletes can sprint at 20 mph or more, rarely do they even workout at those levels. As such, a 12 mph top speed is excellent for even highly competitive training.
Still, this treadmill offers a number of other qualities that make it solid for running as opposed to some of the other treadmills we reviewed which are only suitable for walking or jogging.
Length
For one, this treadmill has the largest running surface out of any we reviewed. While the 50" length is on par for many of the other treadmills on our list, the 18" width is a welcome surprise.
This places the NordicTrack within inches of professional equipment found in gyms that equipment, by the way, requires 220v outlets, not the 110v outlets found in most homes.
Cushions
This treadmill also provides the best cushions out of any product we saw. Unlike many of the other cushions, which rely on an indirect hydraulic function, the NordicTrack uses four cushions placed directly under the running surface to absorb your foot's impact. This makes running less stressful on the hips and knees and is far less likely to fail than hydraulic cushions while also providing more responsive cushioning.
Even better, this cushioning, powerful motor, and large running surface feature the highest weight capacity. At 300 pounds, this treadmill is rated for more than twenty-five percent more weight than most other treadmills and still offers twenty-five pounds more weight clearance.
Pros:
Provides solid horsepower
Offers an excellent display
Top speed of 12 mph is great
Can connect to your smartphone
Offers the largest running surface
Excellent running cushions
Has the best weight capacity reviewed
Provides a solid incline range
Cons:
A bit more complicated to use
An expensive treadmill
Assembly is more complicated
One of the noisier treadmills
A heavier treadmill
4.

Sunny Health & Fitness

– Easy-to-Read LCD Display Console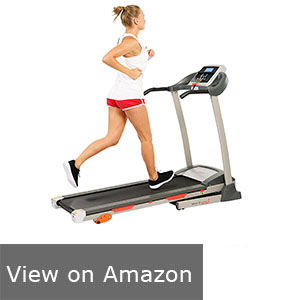 Company and its philosophy
While not necessarily the most storied company, Sunny Health & Fitness has still been around for over fifteen years and specializes in manufacturing exercise equipment. Based out of Los Angeles, CA, the brand makes it a point to focus more on the mid-tier and budget market.
This focus is even furthered by the fact that Sunny Health & Fitness will sell direct to the customer without going through a distributor to help ensure that the products are as inexpensive as possible.
That philosophy is on full display with this treadmill as it is significantly less expensive than some of the more robust treadmills we reviewed. That said, this treadmill definitely has some limitations when compared to its more hearty competitors as well. As such, this treadmill is not well suited for all purposes and is better understood as a walking treadmill.
Motor
One of the major reasons for this is that the motor is not as powerful as some of the other treadmills on our list. While the advertised horsepower is 2.2, it should be noted that this is peak horsepower. Since the treadmill does not continuously run at peak power, that is not an accurate reflection of the motor's true function.
Unfortunately, Sunny Health & Fitness does not publish the continuous horsepower of the treadmill, but it can be safe to assume that it is likely under 2 hp.
Still, even without an exceptionally powerful motor, the Sunny Health & Fitness does get up to a surprisingly high top speed of 10 mph. Of course, you will likely not want to engage this product at that speed since the running surface is narrow at 16" and a tad shorter than most others at 49". Either way, the less powerful motor does have an advantage. Most notably, this is an exceptionally quiet treadmill.
Weakness
In terms of use, the Sunny Health & Fitness does not offer connectivity with a smartphone like more expensive models, but it does still provide a worry-free use.
For one, the controls are intuitive and straightforward with few buttons that are easily navigable. The screen is not exceptionally large, but it is a lighted LCD that displays plenty of relevant information.
One major thing to consider is that this product is not designed with general homeowners in mind. Specifically, the power cord and electronics are not rated for GFCI outlets the standard outlets in residential homes. As such, if you want to use this treadmill, you will need to have specialized outlets wired or risk shorting out the outlet's fuse.
If you cannot do this yourself and have to pay a professional to do it for you, this will decrease the savings a bit.
Pros:
One of the less expensive treadmills
One of the quieter treadmills
Has a decent top speed
Fairly easy to use
Provides a solid display
Offers adequate shock absorption
Easy to assemble
Cons:
Only offers subpar horsepower
Does not provide great incline
Running surface is narrow
Is not GFCI certified
A heavier treadmill
5.

Merax

– Multilayer Running Belt (Best Price)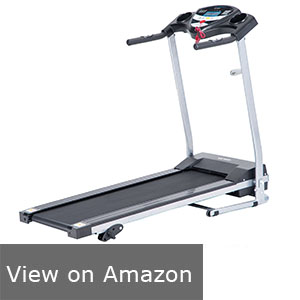 About company
Having been founded in 1995, Merax is another company on our list that does not specialize in the manufacturing of exercise equipment. Unlike some other bright spots fitting this bill, which does not truly serve Merax as well. Still, this brand seeks to provide inexpensive products for homeowners at a consumer grade level.
Motor
In that regard, the Merax treadmill does even a little bit more than it is designed for. When compared to other treadmills on the primary functional level, the Merax is a bit underwhelming. For one, this treadmill has the least powerful motor we saw. At 1.5 hp, the Merax just barely qualifies for the lowest acceptable limit for a decent treadmill that is by no means rated for heavy running use.
Speed
Of course, that cannot be much of an issue as the Merax also provides the lowest top speed out of all the treadmills we saw. At just over 6 mph, you will not be able to get more than a brisk jog out of this treadmill.
Unfortunately, your ability to push your cardio is further limited by the fact that this treadmill also has the lowest incline range. Ultimately, this is not a product meant to push you to your limit.
Additional features
That said, this is still a solid treadmill for the casual consumer who is not looking for high-end performance or fancy additional features. For example, while the display is not large or impressive, it is still easy to see. That factor pairs nicely with a control panel that does not feature many buttons, and the buttons it uses are easy enough to figure out without having to read a manual.
This product also checks the casual boxes in terms of storage and movement. When folded, this is one of the smaller treadmills at only two feet by two feet, not counting height. Once folded, this treadmill will also be far easier to move into a corner since it only weighs seventy pounds making it by far the lightest treadmill we saw.
Pros:
One of the less expensive treadmills
Fairly easy to use
Simple display is easy to read
Folds up into a small profile
One of the quieter treadmills
An exceptionally lightweight treadmill
Easy to assemble
Cons:
Only offers subpar horsepower
Does not provide great incline
Running surface is small
Does not provide a fast top speed
Best Treadmill under $1000 – Buyer's Guide
Horsepower
This is one of the most important qualities when it comes to a treadmill. While this will not absolutely determine the treadmill's top speed, it will still play an important role in doing so. Still, one of the biggest reasons that horsepower is important involves durability.
Chances are you will not be using your treadmill at top speed all the time or even most of the time. As such, a treadmill with a powerful motor at a lower speed will often be able to stay in good working order for longer than a less powerful motor at a similarly lower speed.
When looking at motor horsepower, there are a few standard benchmarks to keep an eye on. For example, the absolute lowest horsepower you should accept for a treadmill is 1.5 hp. Any lower and you risk the treadmill's motor giving out in a significantly shorter amount of time.
That being said, the bare minimum is not exactly the goal to shoot for. Instead, you are better served to get a treadmill with a motor that produces at least 2.5 hp. This will ensure that the treadmill can reach a decent top speed while lengthening its lifespan when used at lower speeds.
Incline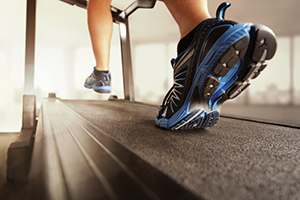 Not everyone will care a lot about incline, but it still serves a particular purpose. Specifically, the incline feature of a treadmill will allow you to get the most out of your workout. In fact, you can often get just as intense of a cardio workout walking on an incline as you can jog. This effect is cumulative meaning that the faster you run at an incline or the higher the incline, the more pronounced the benefit to your cardio workout.
This is where things can get a bit tricky. When looking for a more budget-friendly treadmill, the incline is generally one of the areas that are sacrificed to cut manufacturing costs. On the other hand, a good incline range should at least reach ten degrees.
This means you will either have to deal with a substandard incline or you will have to pay a little bit more than the strictly budget options.
Display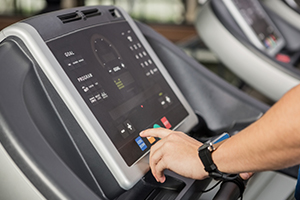 While it is not vital to the strict functioning of a treadmill, a solid display can make using it much easier. The best displays will be large around 5" and backlit. They will also use LCD so the information is clear. Speaking of information, a good display will provide plenty of information including your heart rate, running speed, and calories burnt.
Size
This factor will heavily impact what you can use the treadmill for, but it is not a universal quality. For example, shorter people have shorter legs. Consequently, they also take shorter steps. As such, they do not need quite as long of a running surface as taller people who take longer steps.
Generally, 50" is a solid length for running.
Another consideration involves the width of the running space. Because running involves a side-to-side swaying motion, the running surface needs to be wide enough to accommodate this. Of course, the user's proportions also affect this factor. People with a wider frame will need a wider running surface. Ideally, 20" is a good width, though this can be a bit difficult to find in the budget market. 18" is often sufficient for all but the broadest of users.
Conclusion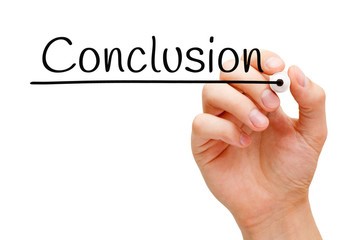 In the end, the best treadmill under 1000 will depend more on what you need from treadmill. If you are looking to save money, there are some barebones treadmills that will perform adequately, but they may not be suitable for all types of workouts.
If you want to get a serious workout, your best bet is the GoPlus or the NordicTrack. While the GoPlus provides a decent number of features for most consumers, the NordicTrack is truly the only one suited for serious runners.
With the most powerful motor, top speed, widest running surface, and best cushions, the NordicTrack is clearly the best performing treadmill.
For more casual consumers looking to get the best bang for their buck, the Weslo and Merax are decent options. While the Merax might be the least expensive, the Weslo is the best all-around value. With solid horsepower and a decent top speed, only the narrow running surface and low incline range hold it back.