Adidas is a world-renowned German sportswear company that has been producing tennis shoes since the early 1960s. The company has come a long way since its landmark white leather tennis shoe, the Adidas Robert Haillet. Though, much of its success can be traced back to this perennial favorite.
Of course, today's Adidas tennis shoes are far more lightweight and anatomical in design. Most boast breathable synthetic uppers and expertly engineered outsoles. They feature striking designs and flashy colorways. Still, underneath the pleasing aesthetics lies a framework of stabilizers, shock-absorbers, and abrasion-resistant panels.
Best Adidas Tennis Shoes in 2023
There's no doubt that Adidas's smart designs have landed them a place amongst tennis shoe favorites. Are you wondering what the best Adidas tennis shoe is?
Read along to discover three of our favorite Adidas tennis shoes and find out what makes them so fabulous!
1. Adidas Men's Barricade Club – Best Adidas Tennis Shoes (Editor's Choice)
Adidas's Barricade Club tennis shoes are engineered to endure aggressive movement on and off the tennis court. The Barricade's blended uppers consist of panels of breathable synthetic fabric paired with a moisture-wicking mesh liner.
Meanwhile, the shoes' cushioned midsoles are made up of a combination of Adidas's exclusive padding systems, Adiprene and Adiprene+.
What's more, these bouncy athletic shoes feature wear-resistant ADIWEAR 6 outsoles for added traction and stability on unpredictable clay courts.
The Barricade Club shoes are extremely lightweight, breathable, and strong.
Their Adituff toe and heel patches provide exemplary protection against friction-inducing drags and hard landings. Meanwhile, their 360-degree TPU foil serves as an additional barrier against exterior abrasions.
Few shoes can maintain their structural and aesthetic integrity as well as the Barricade Clubs. In fact, we pushed these kicks through a series of intense rallies and were impressed by how little wear they showed.
Pros:
Breathable mesh and synthetic uppers
Proprietary midsole cushioning
Stabilizers
Lightweight 360-degree TPU foil for added abrasion resistance
Toe and heel cap
2. Adidas Women's Adizero Ubersonic 3 – Best Price Adidas Tennis Shoes (People's Choice)
Adidas's Adzero Ubersonic 3 tennis shoes are yet another amazing athletic footwear option. Like the barricades, these shoes are engineered to handle repeated exposure to earthen tennis courts. What's more, their breathable mesh uppers serve to keep athletes' feet snug and secure while controlling moisture buildup and reducing drag.
Few shoes have a softer more-pliable feel straight out of the box. Meanwhile, strategically placed forefront cushions enable athletes to make out-of-this-world take-offs and landings.
Of course, this expertly crafted athletic shoe would be nothing without its durable rubber outsoles. In fact, the Ubersonics offer incredible traction, smooth transitions, and tasteful toe-offs.
With so many quick and forceful lateral moves, most tennis matches put Ubersonic's abrasion-resistant Adituff wraps to the test.
Of course, the lightweight construction and innovative design of these sneakers make them feel more like socks than armor.
On top of that, their female-specific form, geometric ornamentation, and high-definition colors give them a revolutionary on-court appearance. Let's just say that these are definitely not your mother's tennis shoes!
Pros:
Breathable mesh uppers
Sock-like fit
Adiprene+ forefoot cushioning
Modern high-resolution colorway
Lightweight
EVA sock liner
3. Adidas men's Ubersonic 3.0 Clay Shoes – Most Comfortable Adidas Tennis Shoes
The Adidas men's Ubersonic 3.0 Clay Shoes are some of the most cushioned and supportive sneakers we've had the pleasure of wearing. In fact, they have a sock-like fit that provides a stabilizing lockdown that can push through the most intensive rallies.
What's more, these shoes feature a sprint frame construction that's similar to that of running shoes. The combination makes for an ultra lightweight and responsive foundation. It turns out that there is no need to sacrifice comfort for performance!
On top of that, the men's Ubersonics boast a proprietary cushion system that improves a player's stability and shock resistance. Meanwhile, their Adiwear 6 outsoles provide an unmatched layer of protection between a player's greatest asset and the unforgiving surface of a clay court.
Furthermore, a 360-degree Adituff wrap provides protection against side sweeps and other common surface abrasions. Finally, a modified herringbone tread serves as a solid and grippy foundation for these impressive tennis shoes.
Pros:
Cushiony shock-resistant midsoles
Breathable mesh uppers
Proprietary rubber soles
Engineered for clay courts
Lightweight (13 ounces)
Molded sock liner
Enhanced flexibility
How to Choose Best Adidas Tennis Shoes – Buying Guide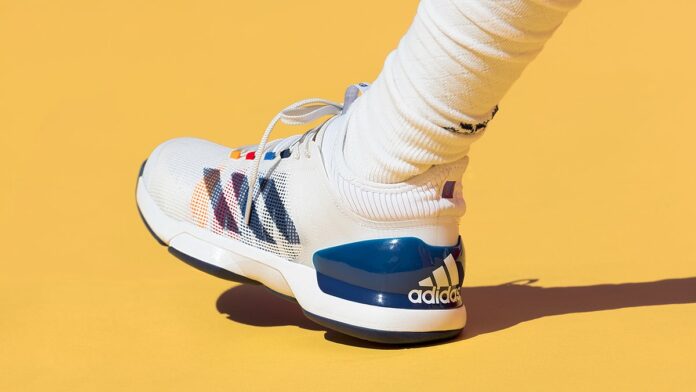 After several decades of perfecting their tennis shoes, Adidas has managed to craft an extensive line of performance footwear.
Of course, with sneakers catered to specific court surfaces and playing styles, it can be difficult for customers to hone in the perfect one.
Read along to discover helpful tips and tricks for picking out the best Adidas tennis shoes.
Comfort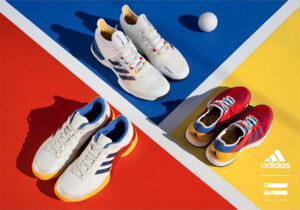 Adidas provides exemplary support and comfort with their men and women's tennis shoes. In fact, most of their tennis shoes offer a slim sock-like fit that's good to wear right out of the box.
Adidas typically utilizes a blend of synthetic solid and mesh fabrics to create a breathable yet supportive upper. They follow this up with a toe-to-heel Adituff wrap. Andituff is Adidas's very own abrasion-resistant material. As such, it protects the softer upper materials from succumbing to surface abrasions.
What's more, Adidas incorporates a generous amount of midfoot support into their shoes with their high-performance cushion systems. Adidas uses their proprietary heel cushions, Adiprene, to dampen the shock of impact. Meanwhile, they use Adiprene+ cushions to pad the forefoot.
It's worth noting that Adituff, Adiprene, and Adiprene+ are all extremely lightweight and stretchy. As such, they limit strain and resistance while increasing durability and comfort.
Durability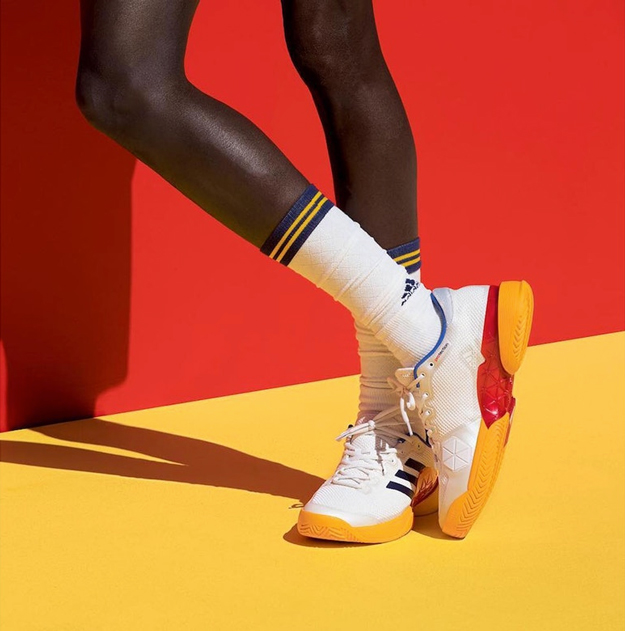 As we mentioned, Adidas incorporates abrasion-resistant patchwork into their tennis shoe uppers.
This helps guarantee the durability and longevity of their shoes during repeated rallies. With that said, they also put a lot of emphasis on their outsoles.
For one, all of their tennis shoe outsoles are made from grippy textured rubber. But there's more to the shoe than the material.
For one, many of the Adidas tennis shoe outsoles feature dynamic designs that are intended to improve a player's on-court agility. Some of the outsoles even wrap around the sides of the uppers to protect the feet at all angles.
Keep in mind that Adidas tread patterns are tailored to embrace nuances of different court types. For example, their
hard court tennis shoes
feature dense herringbone tread, whereas their grass court tennis shoes feature more pliable cleat-like patterns.
Responsiveness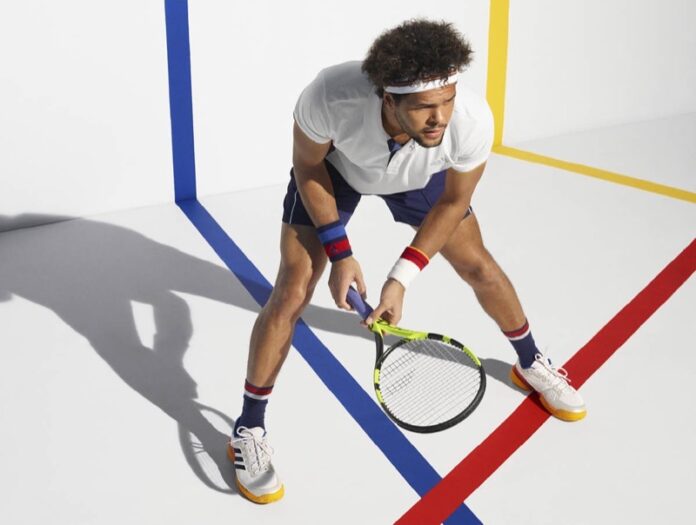 While a shoe should reduce some of a player's fatigue, it shouldn't completely eliminate the energy being transferred to the court.
Look for an Adidas tennis shoe that is designed to dampen the shock of a landing while still giving you a springy foot feel.
Keep in mind that Adidas's proprietary boost system is known to do just this.
After all, it is made from pliable TPU, which does a great job of recouping some of the energy transferred during landings.
Value
A single pair of Adidas tennis shoes could easily set you back more than $100. However, it's a fair price to pay for a shoe that will surely outlast your typical gym sneaker. The rough surface of tennis courts and repeated lateral movements demanded of tennis players make for a shoe-shredding environment. Quality materials and sustainable designs help to ensure that a shoe lasts longer than a few months.
Final Thoughts
Adidas is one of the oldest and most revered tennis shoe manufacturers in the world. We hope you enjoyed our review of our top three Adidas tennis shoes.