We are heading towards a new NFL season at lightning speed, and with the NFL Draft 2023 just around the corner, we are starting to look at the prospects for the next year and how they may influence things to come with the help of FanDuel.com.
If we tried to say that the NFL Draft running back class this year was loaded with talent, it would still be an understatement. There are so many we cannot even name them all, but many of them have talent enough that they would have been top picks last year!
Many of the running backs we prospect for this year are underclassmen with very daunting draft decisions, we are certain that the running back class of the 2023 era is going to be a draft class for the ages!
Who To Pay Attention To In The 2023 Draft
If Robinson could have declared after his sophomore season ended, he would have been the highest-graded running back in the Draft last year. While there is no slam-drunk first-round running back behind him this year, there are some other hopefuls.
Let's take a look at who you should have your eyes on for the NFL Draft this year!
#1. Bijan Robinson (Texas)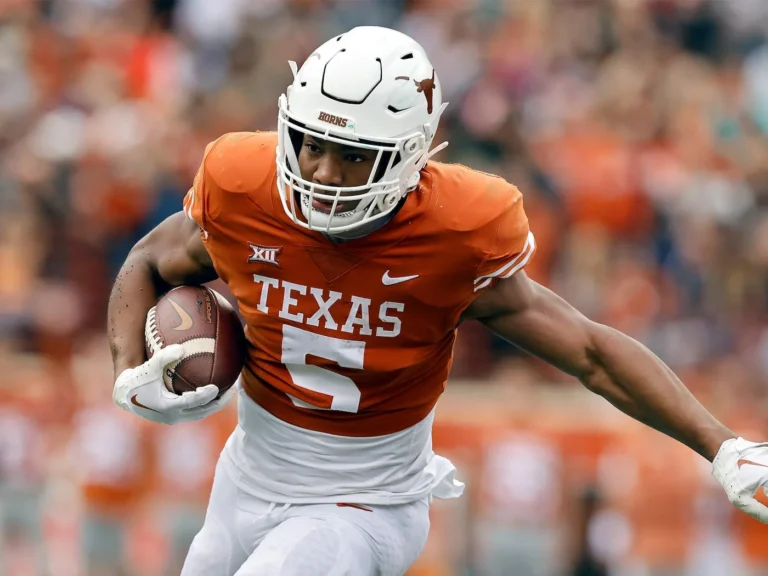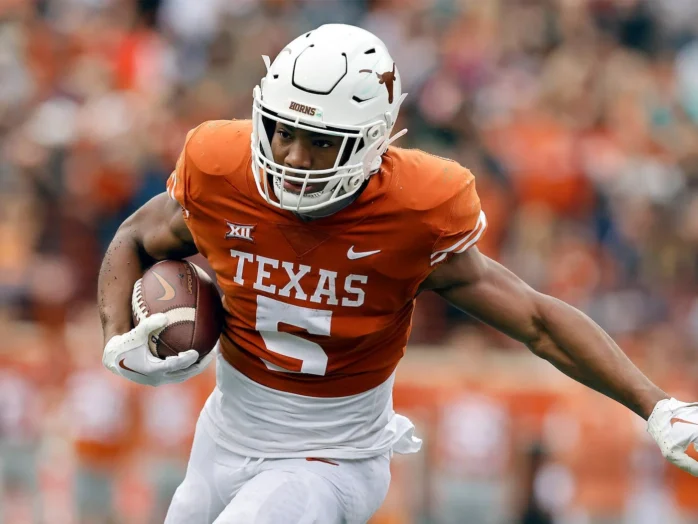 Bijan Robinson is a special running back for a series of reasons, mostly due to how he is able to force missed tackles thanks to his very unique power and elusiveness.
He is something of a one-cut maestro with twitchy reflexes in his lower body so that he can start and stop in the blink of an eye and have broken tackles laid all across the field.
Robinson also has a burst which allows him to rapidly accelerate, running with the skill to maintain balance even in contact. It is said he had a 40.5 percent broken-tackle rate last season, which heads collect football.
He does his best in zone-stretch and outside runs, where his field vision and cutback bursts help him to create.
#2. Blake Corum (Michigan)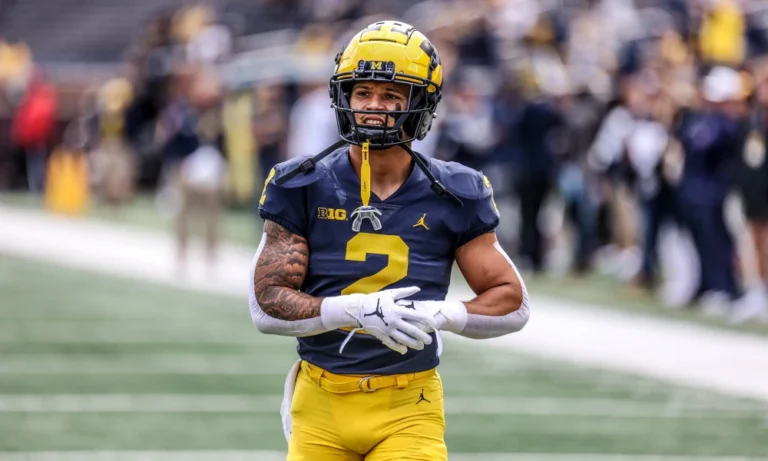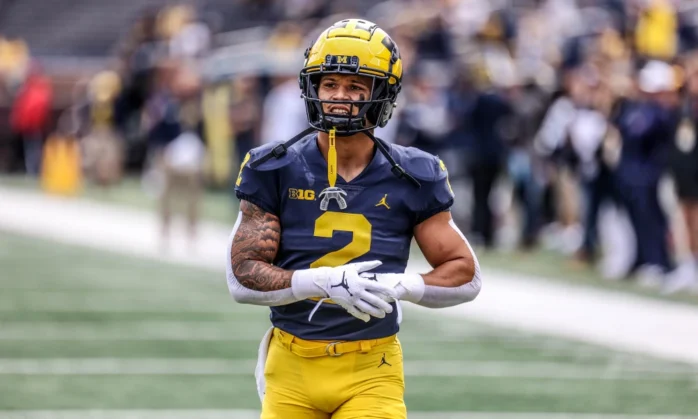 While we could give you the full scout report on Blake Corum, his skill set is better summed up with a player composition than any of the other running backs in his class. He is also a dead-ringer for Maurice Jones-Drew.
Corum is 5ft8 and weighed in at 210. He is much like Maurice, as both of them are near impossible to bring down on their own as they both have a low center of gravity, in combination with defensive tackle-type thighs.
He finished with the 3rd highest single-season rushing yards seen in a college running back. He managed to break 73 tackles on 248 carries for 1,461 yards in the previous season while punching in 18 scores.
Sure, his height could limit the routes he runs, but his profile has very few weaknesses in it, which we love to see!
#3. Zach Charbonnet (UCLA)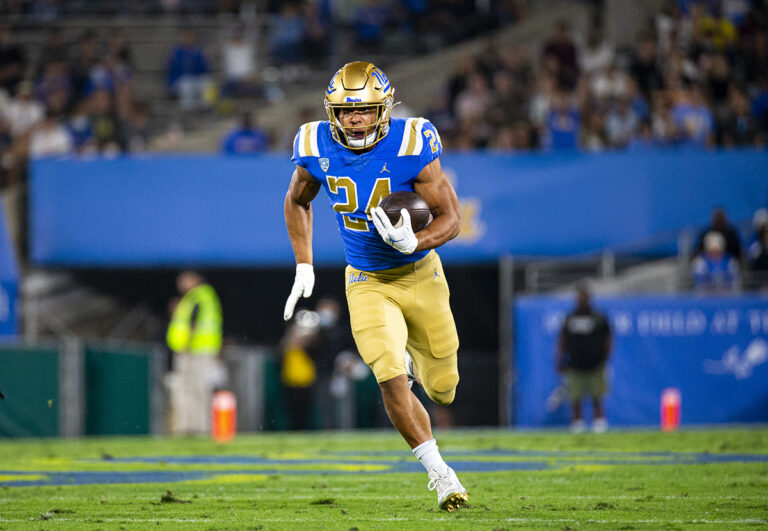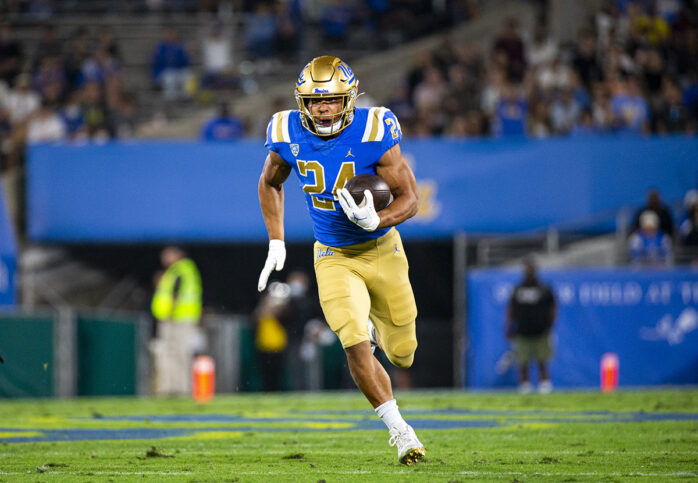 Zach Charbonnet from UCLA is the third prospect. He has no special skill or physical trait to be raving about, instead, there is just very little he cannot do as a running back. He is the ideal size and has all the athletic skills needed, as well is unwilling to go down.
He averaged 4.15 yards after contact in the latest season, all while making 194 carries for 1,358 yards.
Charbonnet also showed very well in his passing game, making 37 catches for 320 yards and 15 broken tackles in the latest season. He is one to watch!
#4. Jahmyr Gibbs (Alabama)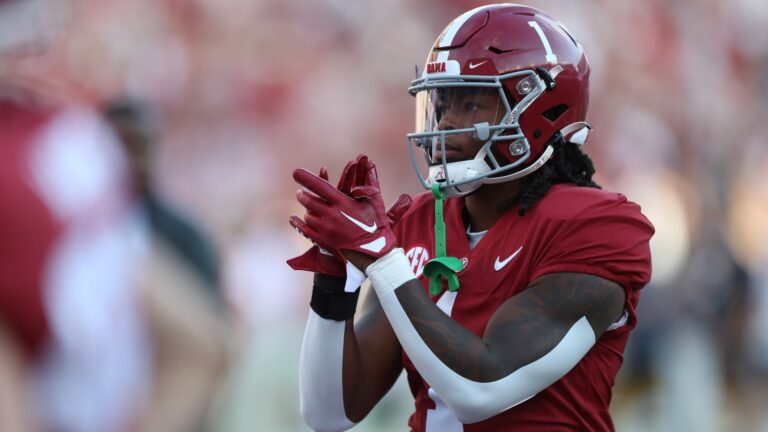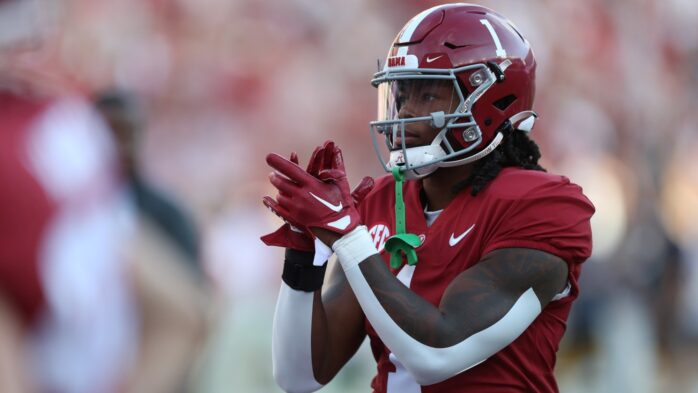 Another potential for the NFL draft picks is Gibbs, who is also a running back on the smaller side. He is not too different from Dalvin Cook in terms of his size, it is quite far from a death knell from being a great pick.
His best role is in a timeshare, much to how he was seen at Alabama, as in Alabama he took most of the passing game reps. This is an area in which Gibbs shines the most.
During the previous two seasons, he has managed to haul in 78 out of 93 targets for an impressive 848 yards and five scores, making 28 broken tackles after a catch.
It is important due to his dynamism with the ball which is a big part of what makes him such a reliable player. And, in his career so far, he has only ended up dropping two passes over 103 catchable ones, very impressive!
#5. Sean Tucker (Syracuse)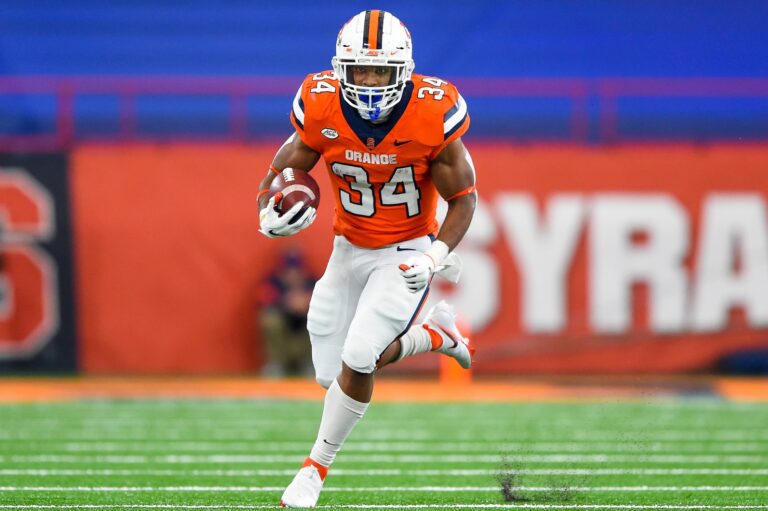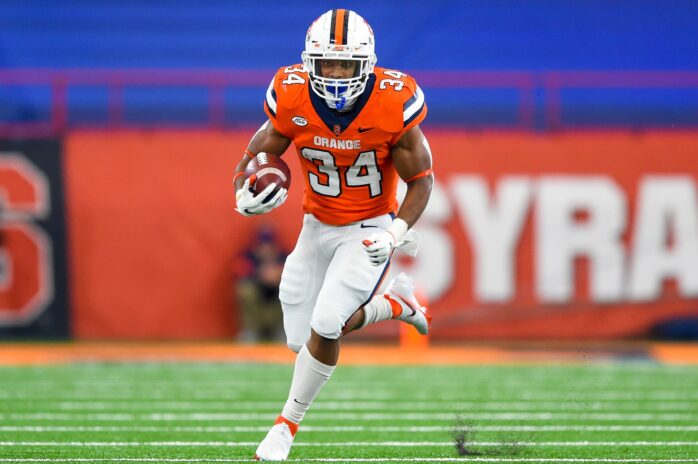 Sean Tucker from Syracuse is another draft pick we are looking at as a prospect. Few players are as fit as 205 lbs as Sean Tucker. Incredibly he seems to eat arm tackles for his breakfast for his size.
Of course, his insane explosiveness in the lower half of his body may have something to do with this. He has run in the low 4.3 seconds, however, his standstill burst makes it easier to believe.
Although his size-to-speed combo is one of the most impressive in the upcoming draft class, he lacks many strengths outside of this. He runs in a linear fashion, often without the creativity to improvise when the attacking point is all jammed up.
He can handle a heavy workload though, with 506 touches in 2 seasons, teams will only want him to feature him on the ground.
Out of 73 of his catchable passes, he has dropped 10.
Overall
These are the 5 top running back prospects for this year, things could be very different when the draft hits, but we believe that all of these running backs have a chance. Our focus on running backs is simply because the competition for this position is just so hot in 2023.
Every year has different positions that take the limelight, and in some previous years it has either been defenders or quarterbacks, but this year the hot content is coming from running backs.
This has promise for many low-performing franchises to take on some serious new talent, and change their game next season.