The recumbent bike is one of the most common cardio machines in the home. It is ideal for resuming or maintaining physical activity.
It is one of the easiest fitness equipment to use due to its price, ease of use and small footprint. Cycling requires very few joints, provides cardiovascular activity and is great for burning fat while working your lower extremities (thighs, calves, and glutes). It also acts to strengthen the abdominal girdle and is involved in improving blood circulation in the legs. Cycling at home is especially recommended if you want to lose weight, lose weight or stay in shape.
How to choose an exercise bike?
1.Upright exercise bike or recumbent exercise bike?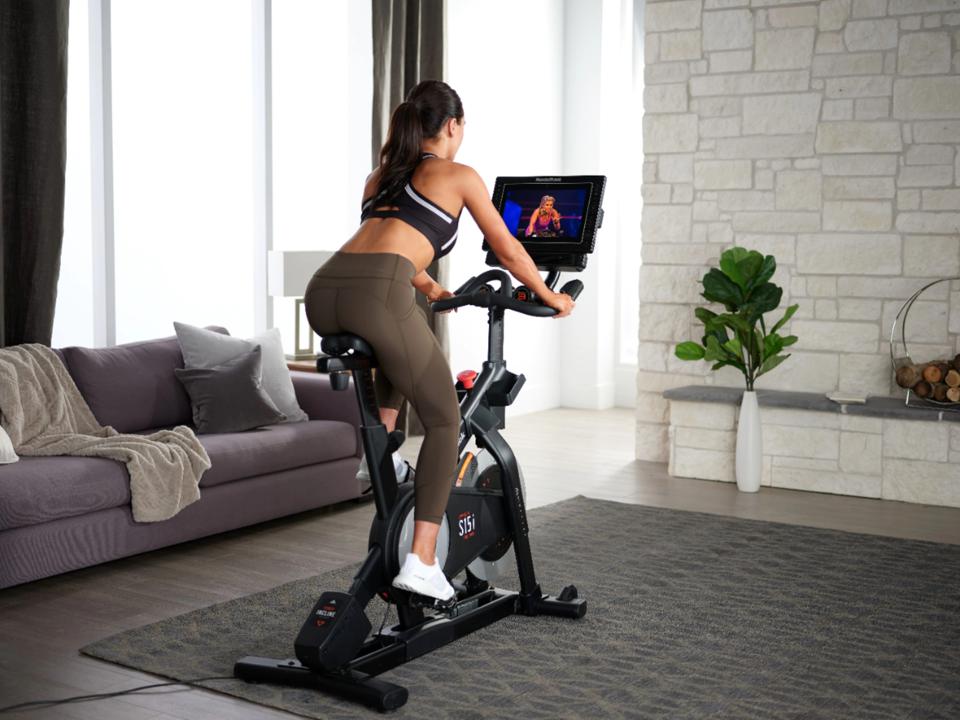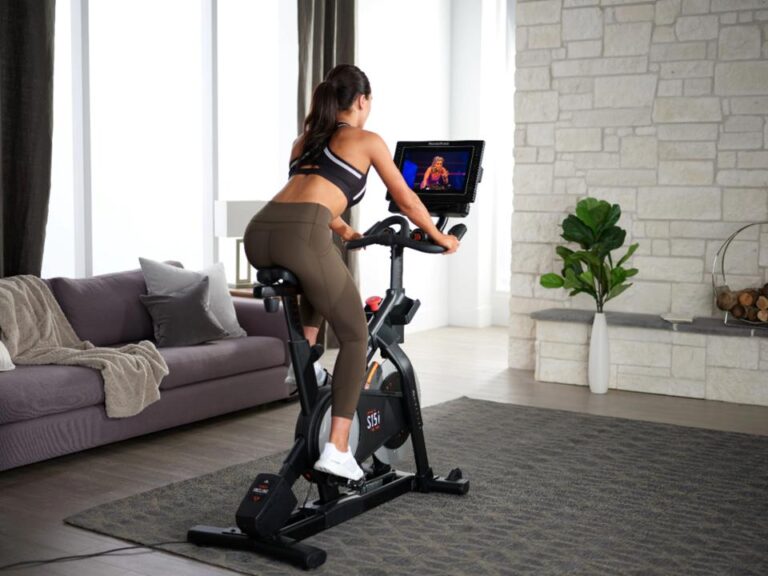 The choice of the type of exercise bike must be well thought out and must depend on what you are going to use it with. There are 3 types of bicycles, each with a specific purpose, as stated by Relifesports.com:
Upright or classic bike: With an upright bike, there is more freedom of movement, it can be used like a real bike, i.e. sitting and standing. Unlike semi-recumbent bikes, it doesn't require you to remain seated throughout your training session, allowing you to vary your workouts. Practical, upright bikes don't take up much space and are less expensive than semi-recumbent bikes. To save even more space, we recommend buying a bike that is obviously foldable.
Semi-recumbent or seated bike: Comfortable and gentle on the joints, semi-recumbent bikes have the particularity of a seat with a backrest, ideal for those who like to keep their backs in good shape. These models are more readily available and ideal in a rehabilitation setting for the elderly or those with limited mobility, obese people and even all low back pain sufferers.
Indoor Bike: This is an exercise bike with more athletic lines and is designed for more intensive and dynamic training. Bike usage is very specific, which indoor bike to choose is discussed in the guide?
2. How often?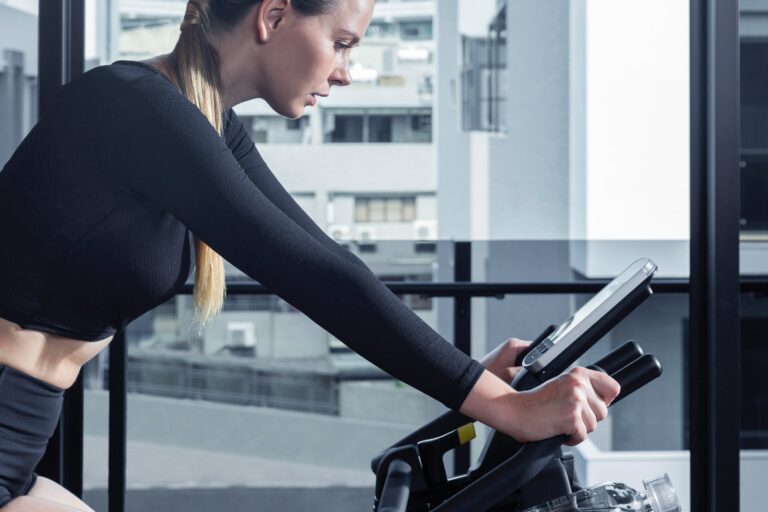 Choose your bike model based on your goals and type of use:
For 3 to 6 hours of training time per week, choose a model for occasional use.
For 7 to 10 hours of training per week, it's best to use a bike that you use regularly.
For workouts over 10 hours, turn more to a bike that's better suited for high-intensity use.
3. Exercise bike flywheel and braking system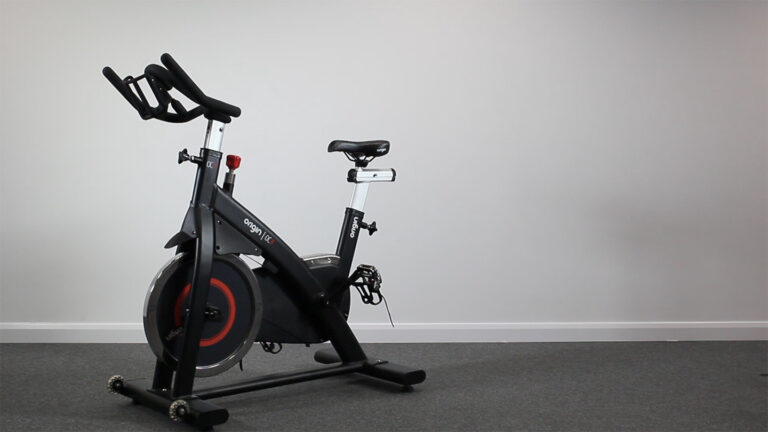 A flywheel or flywheel is a more or less heavy disc driven by the rotational motion of the pedal. This is one of the most important criteria for choosing a model. The heavier the wheel, the more regular, comfortable and smooth the pedaling.
A 4 to 6 kg wheel is sufficient for occasional use.
Wheels between 7 and 10 kg are recommended for regular training.
Wheels heavier than 10kg will provide excellent pedaling quality and are necessary for intensive use.
But ideally buy an exercise bike with at least 7kg wheels, no matter your level.
There are 3 braking systems on the exercise bike:
Manual brakes with pads: This type of braking is only suitable for indoor bikes.
Magnetic Brake: Resistance adjustment can be controlled manually directly from the console or through the wheels. It allows for smooth and silent braking. To take advantage of the console with training programs, select a bike with resistance adjustment via the console. Models with manual resistance have no program.
Electromagnetic Brakes: Found on so called dynamo-meter bikes. These bikes have more precise resistance adjustment than others. They allow for watt-based training, the amount of power the user releases during training. They are mainly used for rehab (so-called "Class A" bikes) or top athletes.
4. . Gear ratio (measures pedaling quality)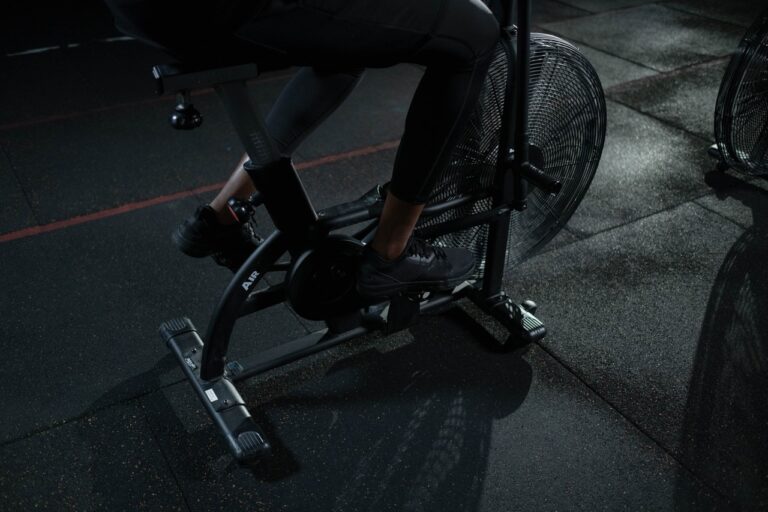 The gear ratio is the number of revolutions of the wheel in one revolution of the pedal. The lower the ratio, the better the pedaling quality (a ratio of 1/8 would be more interesting than a ratio of 1/7). So it's important to not just look at the weight of the flywheel when buying an exercise bike. The ideal is a reduction ratio below 1/8. It is necessary to know that a 7-8kg flywheel with a reduction ratio of 1/8 is enough to have a good pedaling effect.
Structure and comfort of the exercise bike
Frame: We recommend that you choose your bike based on its weight. Therefore, the heavier the structure of the bike, the more stable and long-lasting it will be. Some models are equipped with front and rear stabilizers with leveling feet.
Handlebars and Saddle: When choosing an exercise bike, the saddle is a very important element of your comfort. The more we turn to the top of the range, the more padded it is and therefore the more comfortable it is. There are 3 possible adjustments: height (on all models), depth and inclination. Some handlebars are fixed, but on most bikes, the handlebars can be tilted. Only indoor bikes allow adjustment of handlebar height and depth.
Maximum weight supported: Before purchasing an exercise bike, you need to check that the user's weight is below the device's maximum authorized weight. If you are close to the maximum weight, choose a bike with a higher maximum weight. The fact that the maximum specified user weight is respected guarantees the longevity and good function of your exercise bike, even if the manufacturer considers a safety margin.
Accessibility: The more open the frame, the easier your exercise bike is to use. Cycling is important for people with reduced mobility, where the threshold for crossing is low (the elderly, people who are significantly overweight, pregnant women, the sick, people with joint trauma, etc.).
Strap Pedals: Straps provide better support for your feet during workouts and are integrated with your indoor bike
Number of consoles and programs on the exercise bike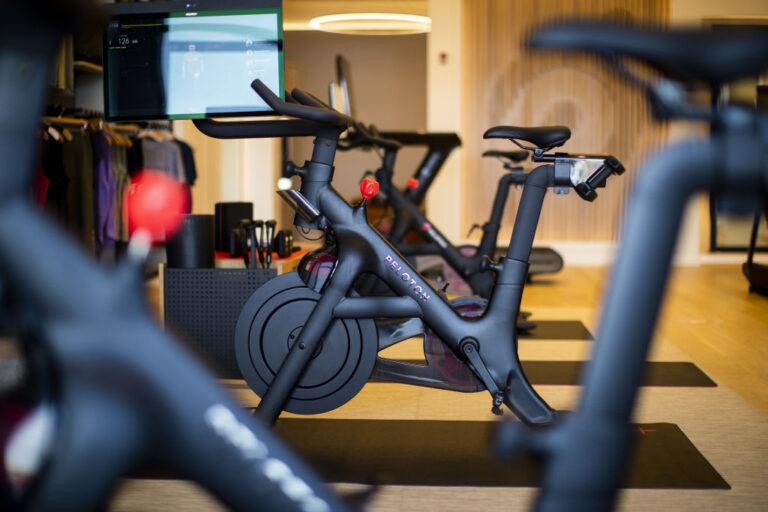 Your exercise bike console will show you a wealth of data related to your training in order to monitor your performance in real-time and optimize your training. These data include:
how long you exercise
distance traveled
calories burned
heart rate
On more advanced consoles, also:
pedaling rhythm (RPM)
Watts
The console placed on the exercise bike offers 5 main types of training programs:
Different types of programs on the exercise bike: Most exercise bikes have training programs. The most common of these procedures are:
Inspirational or pre-recorded shows: You choose the show that corresponds to your desired difficulty level. The pedaling resistance changes automatically as the program progresses.
Manual program: Users can freely adjust the resistance according to their needs.
On higher-end models, there are heart rate-based HRC programs (resistance varies according to a defined target zone), or constant watt programs, which vary resistance based on the power produced by the user.
Most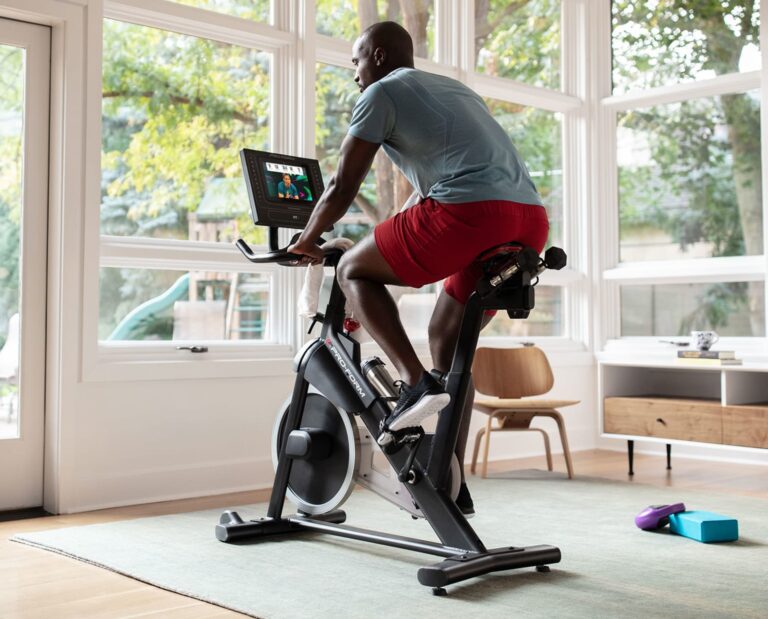 Get Heartbeat: This can be done in 3 ways: via touch sensors located on both sides of the handlebar, via Bluetooth via chest strap or via radio frequency meter strap.
Collapsible Construction: Exercise bikes with collapsible construction have many advantages. : They allow you to work in a seated or upright position. Compact, they fit into small spaces.
Fan: Great for cooling off during training.
Water Bottle Holder: To stay hydrated during your workout, your water bottle is close at hand.
Connectivity: Some models have a more refined and connected console and are equipped with a Bluetooth module that allows access to many applications and interactive functions (i.Concept, Touch&Fun, iFit, etc.). Some even have MP3 connectors and speakers. With this technology, it is now possible to run and surf the web, watch your favorite series, and even use a smartphone or tablet in place of a console.