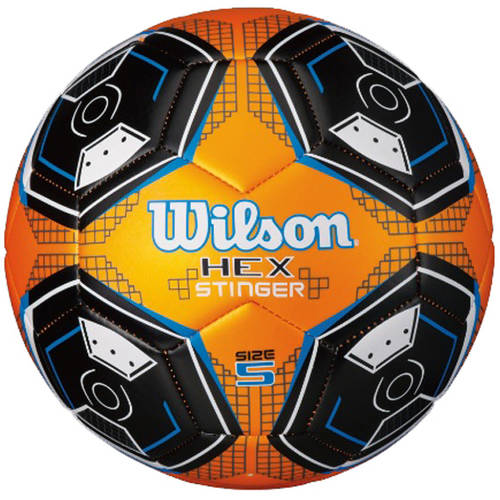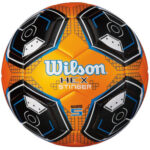 Wilson is a sports goods company that produces some of the highest-quality soccer balls.
Whether you are looking for a decent trainer or a premium match ball, Wilson has you covered.
Check out our top 7 best soccer balls reviewed to see where the Wilson balls placed.
History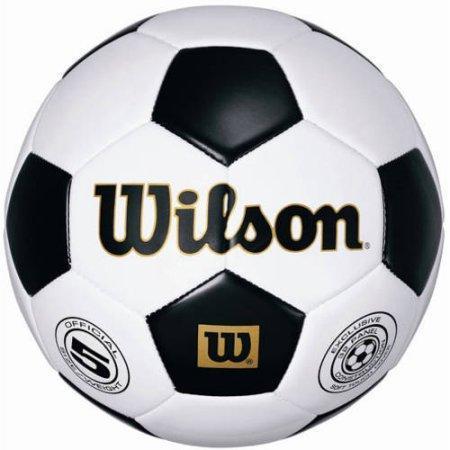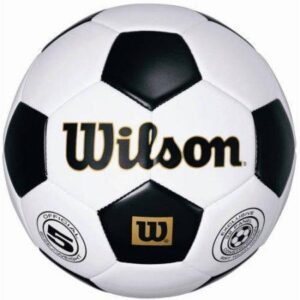 Wilson is an American sports equipment manufacturer. They were founded in 1913 and were originally called the Ashland Manufacturing Company of Chicago, Illinois.
They were renamed in 1931, when they officially became the Wilson Sports Goods Company. Today, they are the official ball of the NCAA and the Guarani soccer club.
The company came into its own with the creations of the first double-lined football and valve football. They went on to produce some of the first official football attire, including athletic uniforms and bags.
Today, they produce everything from golf clubs to catchers' mitts. Soccer balls are among their top sellerse.
Quality
Wilson manufacturers a variety of soccer balls. Many of their balls are endorsed by the NCAA (National College Athlete Association) and the NFHS. They are available in a variety of colors and designs. They even produce a number of compatible training and match balls for better match transitions.
Their competitive-use soccer balls are high in quality and affordably priced. They boast FIFA-style 32-panels. They have great air retention and minimal water absorption. Wilson's match-quality balls are extremely easy to track thanks to their vibrant colored graphics. They also have a superior boot to ball touch and are easy to control. They are also coated in PU for enhanced durability.
Materials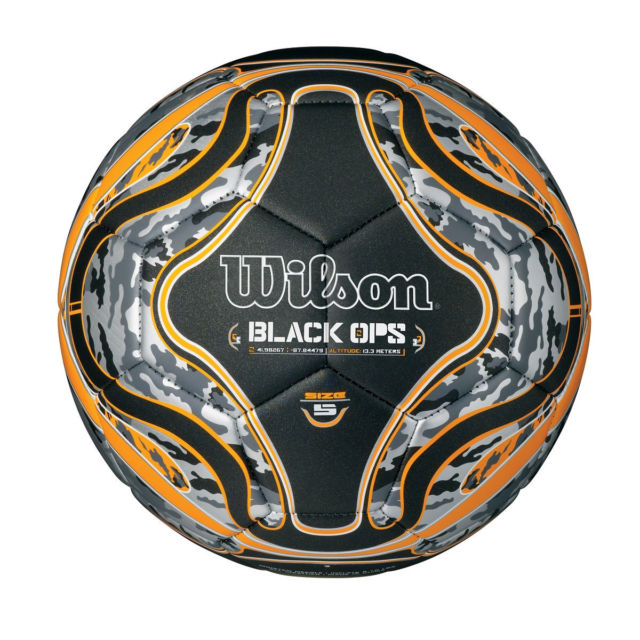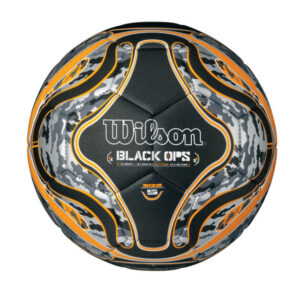 Wilson balls feature 20 to 32-panel casings with optimized strike zone performance and in-flight accuracy. Many of their balls feature textured covers for enhanced durability.
They utilize a variety of materials in their outer casings, including synthetic composites and top-grade leather. Balls are lined with everything from cloth to super-elastic spandex. As such, Wilson balls have tend to have a soft touch and incredible rebound power.
While Wilson's leather balls are extremely popular, it is important to note that leagues such as FIFA utilize polyurethane casings. Polyurethane is extremely durable and holds up well on outdoor grass fields as well as indoor AstroTurf.
Wilson balls utilize rubber, latex, and butyl bladders. Bladder materials are usually consistent with a ball's intended use. For example, match balls tend to feature hex wing latex because it is softer and more responsive. We recommend opting for a rubber or butyl bladder for training balls. Otherwise, you'll find yourself frequently re-inflated your Wilson ball.
Wilson utilizes a variety of techniques to seal their panels. Most notably, they have balls with hand-sewn panels. For example, the Avanti Soccer Ball features hand-sewn pearlized premium PU leather. Other balls, such as the Veza, feature fused synthetic composite panels.
Wilson utilizes sleek geometric designs for enhanced in-flight visibility. Many of the balls feature interlocking circles and reoccurring shapes. Some balls even have textured covers for better durability and enhanced performance stats.
Wilson balls are available in a variety of high-contrast colors and designs. These are designed to increase visibility during play. Wilson also produces several commemorative balls, including one with a Star Wars graphic.
Responsiveness and Durability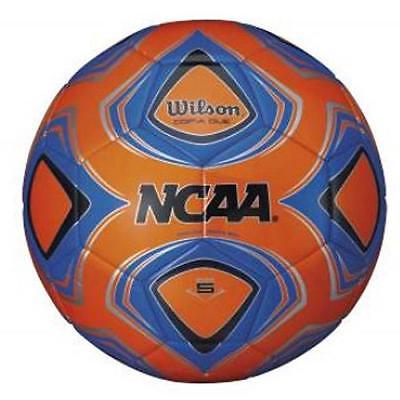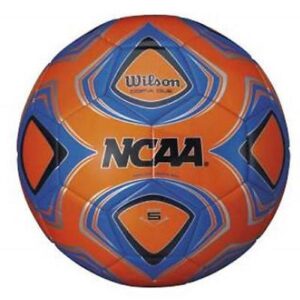 Wilson balls can be used in both indoor and outdoor settings. There NCCAA Forte Fybrid features a combination of padding, casing, and bladder that give it a feel that is similar to the Adidas Telstar. Its geometric 20-panel design provides optimized strike stones. Meanwhile, its textured casing provides a solid boot to ball connection.
Overall, Wilson balls are durable and maintain their spherical shape during vigorous kick sessions. They also have solid air retention and absorb a minimal amount of moisture thanks to their Fybrid Fused seams. We also found that the Wilson ball accelerated quickly during both long and short kicks.
Most athletes find it easy to control the trajectory of Wilson balls. The brand is also heralded for its soft touch yet rugged exterior.
Wilson training balls can handles months or even years of use before needing to be replaced. While the same cannot be said of their match balls, this is the case among all the major soccer ball manufacturers.
Price
Wilson balls range in price from $10 to $100. The price rises depending on the size, materials, and the construction of the ball. Wilson's most expensive ball is the NCAA Forte Fybrid II, which is a FIFA-approved match ball.
Top Products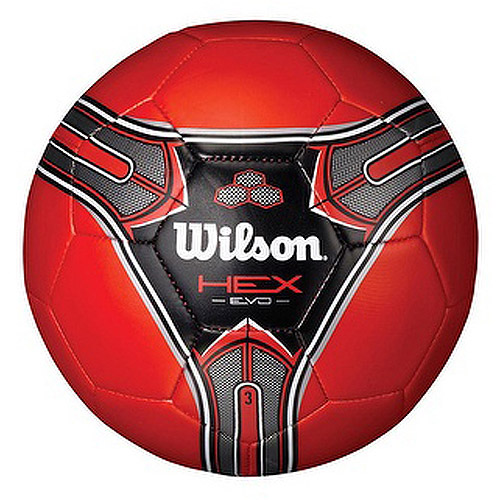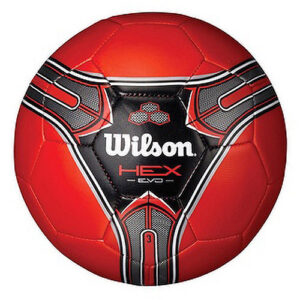 Wilson's NCAA Forte Fybrid II Soccer Cup Game Ball is extraordinarily popular among fans of both men and women's NCCA teams.
Wilson utilized their signature Fybrid Fuse technology to seal all 20 panels for enhanced durability and minimized moisture absorption.
This ball also features a micro-texture casing that improves its foot touch.
Since it was used in the NCAA College Cup, it has passed strict quality-control tests and meets all match ball guidelines. It also comes in three different colors, including orange, yellow, and white.
Final Thoughts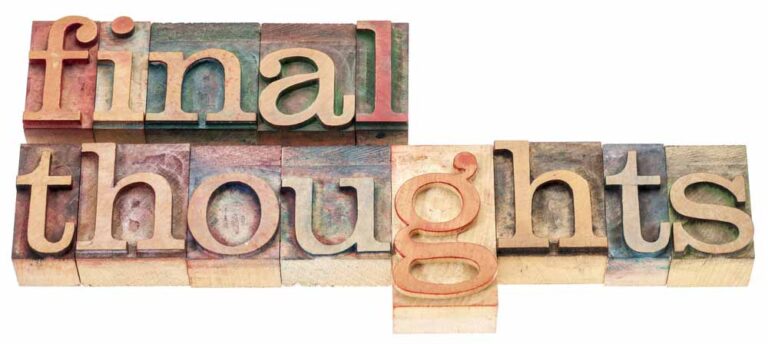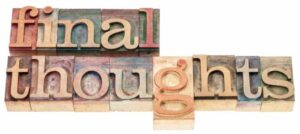 As you can see, Wilson produces some of the most impressive soccer balls on the market.
Whether you're looking for a quality training or match ball, be sure to check out our review.