Tennis shoes are popular athletic footwear on and off the court. These shoes feature grippy outsoles, supportive uppers, and cushiony midsoles designed to combat the bouncy and swift movements of tennis players. They also feature a sporty yet casual look that compliments almost any outfit.
Fun fact: Rubber-soled athletic shoes first rose to popularity in the 1800s, but were called Plimsolls at the time. While the styles and colorways of tennis shoes have changed over time, today's models are not all that different from the originals.
Want to learn more about what to look for in a tennis shoe? Need help caring for your favorite footwear? Read along for an in-depth look at these popular shoes!
Best Tennis Shoes for Different Types of Courts
Tennis is played on a variety of surfaces, including grass, clay, and concrete. The type of court you play on should influence the design of your tennis shoes. Read along to determine what tennis shoe features are best suited for each type of tennis court.
Grass Court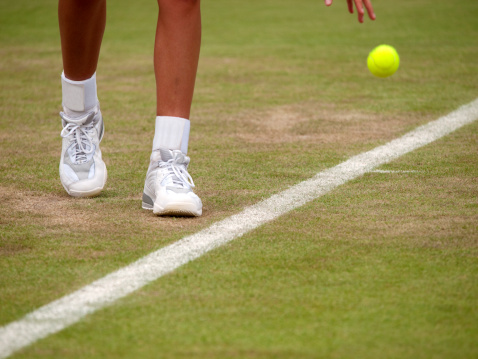 Tennis played on a grass court, which is sometimes known as lawn tennis, features a playing style that is all its own. Tennis balls tend to bounce low and fast on grass courts, requiring players to be faster and more powerful than they would be on hard courts. In fact, most grass court players utilize a serve-and-volley style, which places emphasis on strong serves and high-impact returns.
As such, the tennis shoes used on grass courts need to be engineered for speed and precision. First and foremost, they should feature grippy textured soles that provide great traction. After all, grass courts are regularly exposed to precipitation, which can make them quite slippery during game time. With that said, the outsole should be smooth enough that it will not damage the soft court. On top of that, the sides should be very soft.
Grass court tennis shoes should also feature soft, flexible uppers that are balanced by supportive ankles and heels. The upper material should move naturally with the foot while allowing air to circulate in and moisture to circulate out.
Serve-and-volley players should also look for tennis shoes with durable toecaps. This is because these players have a tendency to drag their foot across the surface of the court, increasing the impact on the toe box.
Keep in mind that regardless of the playing surface, you want a shoe's insole to be made from durable yet lightweight material, such as EVA. A shoe's insole should provide e generous amount of cushioning without weighing you down. It should also be moisture-resistant to prevent the accumulation of water and/or sweat.
Сlay Court
Clay courts are made of a thin layer of crushed stone or mineral. The ball tends to be low and slow on clay courts. As such, most clay court players use baseliner strategies to master the game. Of course, winning on a clay court is barely possible without a solid pair of tennis shoes.
When it comes to clay court tennis shoes, the soles should be extremely grippy and textured. This will enable players to gain traction where they would otherwise struggle to come to a full stop. What's more, a shoe's outsole should feature tight tread so that it does not hold on to clumps of clay. After all, you don't want to spend an entire game tapping out your shoes.
One way in which clay court shoes differ from grass court shoes is that the uppers are far tighter and more supportive. The materials used in clay court shoes also tend to be stronger, as they are designed to hold up to harsh slides and frequent lateral variations. For the most part, clay court tennis shoes boast leather or thick canvas uppers buffered by a thin layer of foam. The materials should provide ample, support, ventilation, and flexibility without easily succumbing to wear and tear.
Hard Court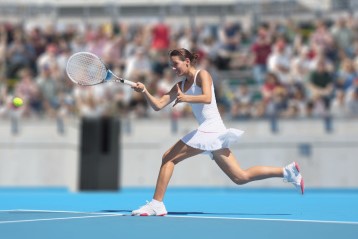 Yet again, hard, or cement, courts, require completely different characteristics in shoes. Balls tend to travel at moderate speeds on hard courts, requiring a shoe without moderate stopping power. Of course, each stop inflicts a large blow to the soles. As such, shoes designed for hard courts should have extremely durable outsoles that won't shred under repeated high-friction impacts.
It's worth noting that hard court tennis shoes should also have extremely cushiony insoles. After all, you'll want to protect yourself from the shock of repeated hard surface impacts. On top of that, the uppers should be made of a durable, somewhat constricting material, which provides optimal toe to heel support.
Like clay court shoes, hard court shoes should boast durable leather or canvas uppers. Not to mention, they should boast thick EVA foam insoles for shock relief. Reinforced heel and toe cups are yet another worthwhile consideration. Meanwhile, integrated ventilation holes are a must.
Top Brands of Tennis Shoes
Several tennis shoe brands dominate the market, setting the standard for athletic footwear on and off the court. In this section, we will explore the top four tennis shoe manufacturers. Read along to learn more about each of these domineering footwear brands and see the roles they play in the tennis world.
Adidas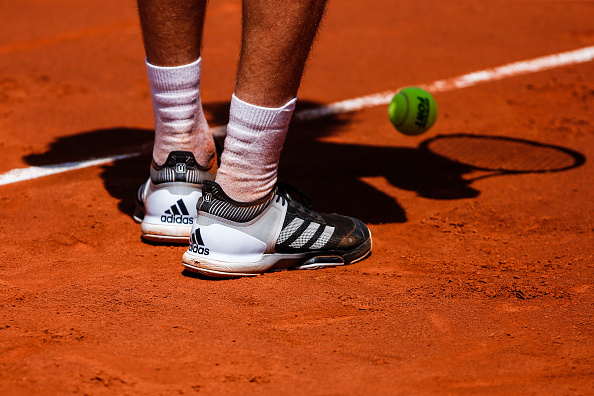 Adidas is an extremely popular German sportswear manufacturer. They produce clothing and shoes designed for a wide variety of sports, ranging from football to skateboarding. Their extensive line of tennis equipment, clothing, and shoes came into fruition in the mid-1960s. Since then, the company has gone on to sponsor many of the world's top-ranking professional tennis players, including Ivan Lendl and Steffi Graf.
The first Adidas tennis shoes were produced in 1963. These also happened to be the first official leather tennis shoes to hit the market. Their white leather uppers set the standard for popular tennis shoes for decades to come. The company soon developed the idea to name their tennis shoes after world-renowned players, eventually creating models named for Robert Haillet and Stan Smith. These keenly marketed shoes went on to break world records for their over-the-top sales.
While most modern Adidas tennis shoes are marked by the company's iconic triple stripe, the brand has a wide range of colorways and designs to choose from. They also boast a number of proprietary innovations designed to give player's some serious on-court advantages. Markedly, Adidas was one of the leading pioneers of breathable woven uppers. What's more, in 2013, the company began utilizing Boost technology, which is designed to increase shock absorption and energy return, in many of their athletic shoes.
Nike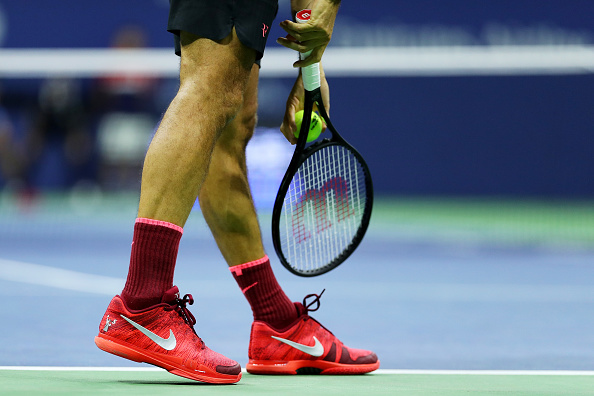 Nike is yet another world-renowned sporting equipment manufacturer. They are an American company with impressive stakes in athletic equipment, footwear, and apparel. While it comes as no surprise, they are one of the most popular tennis shoe manufacturers in the world. While the company has endorsed a wide variety of athletes, their first official endorsement was for the world-famous tennis player, Ilie Năstase. In addition, the company has gone on to support a number of top-ranking professional tennis players, including Roger Federer, Maria Sharapova, and Serena Williams.
Over the years, Nike has made a name for itself in the tennis world by endorsing successful yet untraditional players. They've developed unique and even edgy designs that seem to stray away from tennis's seemingly posh exterior. Nike's commitment to bold yet functional athletic shoes and apparel has made them a popular choice for athletes of all levels.
One of Nike's greatest claims to fame is its revolutionary midsole technologies. Lunarlite, which is one of Nike's popular tennis shoe lines, is made from extremely lightweight Phylon foam. This makes the shoe extremely light yet shock-absorbing. Nike also makes shoes designed for varying tennis courts and playing styles, making them a preferred choice of experienced athletes.
Asics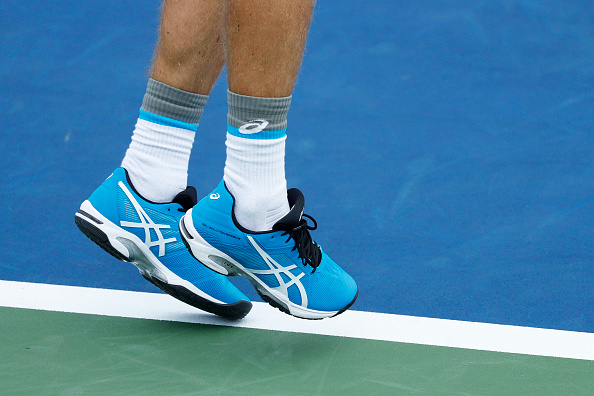 Asics is a Japanese athletic supply and footwear manufacturer. Founded in 1949, the company has risen to stardom in a 70-year span. In fact, it's hard to believe that this global leader in sportswear began with the founder's living room-based basketball shoe production facility. Today, the company makes a wide variety of athletic shoes, including running, tennis, wrestling shoes, and more.
The company's first tennis shoes came on the market in the 1950s, with new designs and developments throughout the 1960s. They went on to endorse several world-renowned tennis stars, including Coco Vandeweghe, Steve Johnson, and Vasek Pospisil.
Popular models on the market include Solution Speeds, Resolutions, Challengers, and Court Speeds. Today's aesthetics are marked by the company's signature gridded swish marks and sleek designs. Several modern Asics tennis shoes feature gel-packed midsoles for extreme shock-resistance and support.
New Balance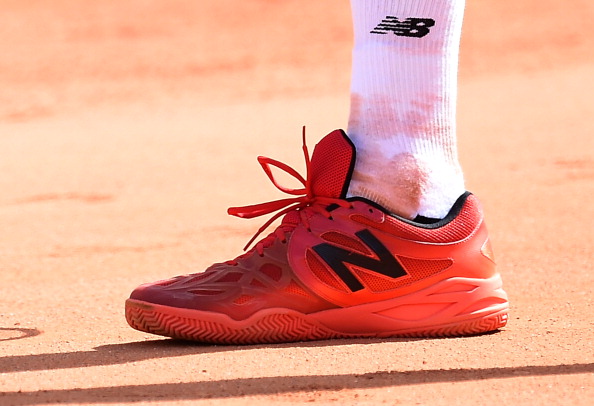 Last but not least, New Balance is a popular American sportswear and sporting equipment company. Founded in 1906, this Massachusetts's company has risen to global prominence with athletic shoes at the forefront of their expansion. On top of that, the company has sponsored a long list of professional tennis players, including Paulo Sevilla, Jordan Thomas, and Milos Raonic.
The company's first athletic shoes were produced in the 1930s. Before that, they strictly sold arch supports and other superficial orthotic shoe accessories. With shoes on the horizon, their main focus was athletic footwear. Their first major success was a shoe called the Trackster. It had uniquely rippled outsoles and was available in varying widths. Today, the company produces a wide range of tennis shoes designed for varying playing styles and courts of varying compositions.
New Balance tennis shoes feature a wide variety of footwear technologies. For example, the premium 996v3 Tournament is a tennis shoe with a knit upper (New Balances first of the type) and REVlite midsole. Many of their other tennis shoes boast C-Cap compression-molded EVA midsoles which offer premium shock-absorption, flexibility, and support.
Tennis Shoes for Different Genders and Ages
There are some noticeable differences in shoes designed for tennis players of varying genders and ages. Read along to learn more about the distinct elements of tennis shoes for men, women, children, and toddlers. Keep in mind that some brands target and/or are preferred by specific demographics.
Men's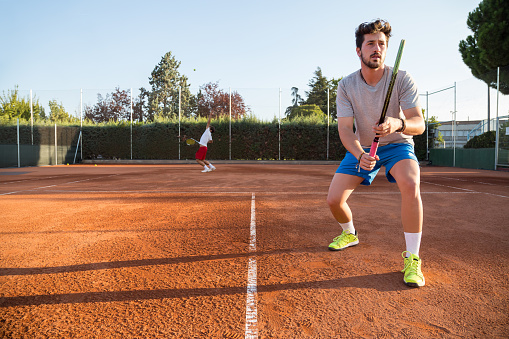 The most apparent difference between men and women tennis shoes is size. In particular, men's tennis shoes tend to be wider than women's. An increase in width is noticeable all the way from the toe to the heel. Of course, most manufacturers have shoes available in a variety of widths, ranging from narrow to extra-wide. Men's tennis shoes also tend to be longer, with sizes (according to Nike) ranging from 6 (9.375 inches) to 15 (12.375 inches).
Men's shoes tend to also have wider heels and toes, with fewer width discrepancies along the sole of the shoe. As such, they tend to have a boxy, if not more uniform, shape than women's shoes.
On top of that, men's shoes are often made from heavier or even more supportive materials than women's shoes. This is because men's overall build is more muscular and heavy and, therefore, puts more stress on the feet.
Finally, men's shoes also have a tendency to boast neutral, primary, or cool colorways with geometric patterns or solid-color panels. While this is not always the case, it is definitely an overarching trend in men's footwear.
Women's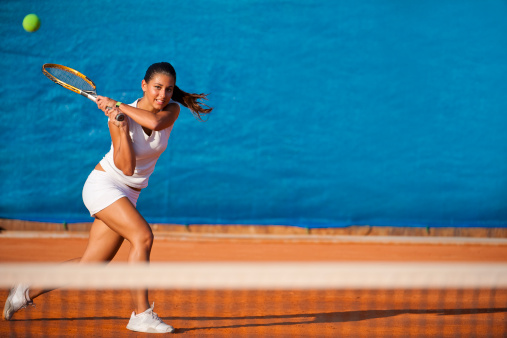 As we already mentioned, women's shoes vary from men's shoes in terms of size and shape. Women's shoes are typically available in sizes 5 (8 9/16 inches) to 12 (10 7/8 inches). Like men's shoes, most manufacturers offer shoes that offer everything from narrow to extra wide widths. With that said, there are several common men and women shoe sizes that overlap each other. However, the numbers used to represent the sizes of women's shoes do not usually coincide with those used to represent men's shoes.
Keep in mind that women's shoes are also generally more pointed in the toe area, with the shoes typically boasting a distinct slanted hourglass shape. Women's shoes also tend to have more flexible or cushioned insoles, as their body mass is typically smaller than men's. On top of that, many women's shoe feature warm and/or pastel colors. While athletic shoe manufacturers are ever surpassing gender norms, these colors are not as commonly seen in men's footwear.
Kids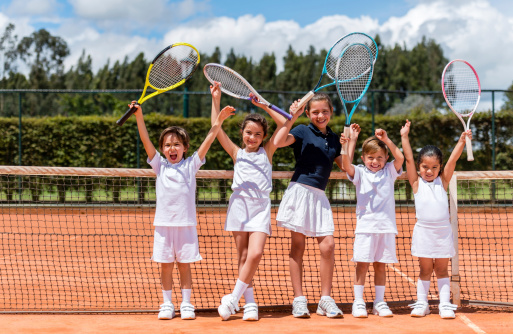 While the same design elements are seen in children's and adults' tennis shoes, children's shoes are typically smaller and more lightweight than adults. With that said, it is important to remember that children play tennis hard and fast. As such, their shoes should be extremely cushiony and padded. What's more, the soles of their tennis shoes should be extremely grippy and resilient.
Of course, it is still important to consider the characteristics of the court your child will be playing on before settling on a specific pair of tennis shoes. For example, children playing on grass courts will need softer, more flexible soles than those playing on concrete.
Keep in mind that the aesthetics of children's tennis shoes tend to be more playful and lighthearted than adults. They may also feature learning aids, such as Velcro or pull-string closures. These improve the overall safety of a young player when they are on the court. After all, there's nothing more discouraging than a skinned knee, which is a common injury experienced by young players tripping over loose laces.
It's important to remember that children's shoe sizes are divided by age. Younger children, including those between the ages of 4 and 8 years, usually wear shoes that are size 12.5 (7 1/4 inch) to 3 (8 1/4 inch). Meanwhile, older children, who are between the ages of 8 and 12 years, usually wear sizes 3.5 (8 5/8 inches) to 7 (9 1/2 inches). Keep in mind that large child shoe sizes and small adult shoe sizes overlap each other. As such, some older children may choose to purchase adult shoes if they are looking for a more mature look.
Toddlers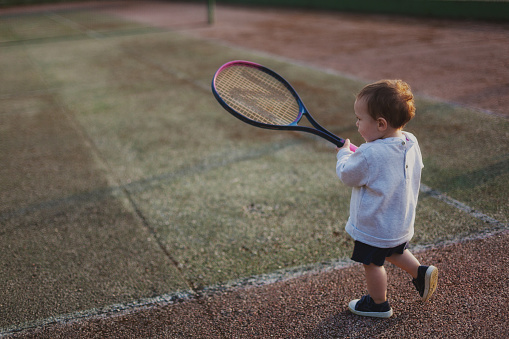 Believe it or not, tennis shoes are even available in toddler sizes too. Get your young player off to a brilliant start by fitting them with the perfect tennis shoe. Toddler tennis shoes range in size from 7.5 (5 5/8 inches) to 12 (6 3/4 inches).
Keep in mind that toddlers can be a bit wobbly on their feet. So deep, grippy treads are essential. After all, these will help your toddler to stay standing for long periods, boosting their confidence every step of the way. Make sure that your toddler's shoe also has easy-to-secure closures. Laces are cute, but they can be a major nuisance and source of frustration for young tennis players. Stick to Velcro closures or slip-on styles until your child is old enough to learn to tie their laces on their own.
Many parents are tempted to by roomy shoes for their toddlers in order to save themselves from having to quickly buy a new pair. This is a terrible idea, as roomy shoes can slip and slide easily. As such, they can cause blisters and discomfort, leading your young tennis player to reject their footwear or inquire an otherwise avoidable injury.
Keep in mind that toddlers are known to exercise stubbornness and free will when making footwear selections. Don't be surprised if they opt for a hideous colorway or graphic print. Just remember that they have plenty of years to acquire fashion know-how. When choosing a pair of tennis shoes for your young ones, proper sizing and comfort should always trump less-than-satisfactory aesthetics.
Tennis Shoes for Different Types of Feet
If you really want to shine on the court, it is important to choose a tennis shoe that works well with your specific foot type. Whether you have flat, high, or wide arches, there is sure to be a midsole with a design that meets your needs. Read along to familiarize yourself with different midsole characteristics and learn more about how supporting your specific foot anatomy can boost your on and off-court performance.
Flat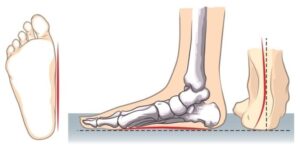 No matter the cause of your flat feet, it is important to find shoes that provide an appropriate level of arch-boosting support. This is because feet that lack a properly pronounced heel are more vulnerable to shock. Without arch support, your body is forced to overwork your knees and ankles. In most cases, this translates to more frequent injuries, uncomfortable recovery periods, and, as a result, less time on the tennis court.
When looking for a good tennis shoe for flat feet, be sure to keep an eye out for reliable stability enhancers. Many tennis shoe manufacturers have developed proprietary cushion systems that provide enhanced midfoot support. These cushion systems are typically made from thick foam, such as EVA, gel, or pocked air. No matter their composition, these systems are designed to absorb the shock of repeated impacts, leaving your feet to do their job without any added ouch-factors.
With an extra buffer, flat-footed tennis players can propel off of the ground and land without feeling pain shoot up and down their leg. Keep in mind that without any added arch and heel support, flat-footed athletes may continuously roll their feet inward, potentially creating or worsening injuries.
If you already use custom orthotics or arch-supports, you may want to keep your eyes peeled for a tennis shoe with a removable insole. This will enable you to easily pop in your preferred support without stripping down your shoes.
High Arch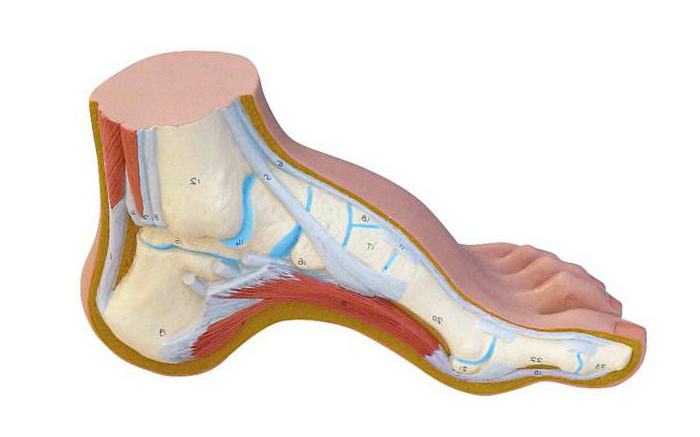 High arches, often referred to as cavus feet, are yet another common and detrimental foot abnormality. High arches tend to put a disproportionate amount of pressure and weight on the bones and muscles that run to your heels and toes. By forcing the leg and ankle to absorb shock, high arches can cause discomfort, pain, and a number of lower body injuries.
As such, tennis shoes designed for high arches tend to feature supportive ankle and heel panels. What's more, they often boast extremely dense midsoles with cushioned arches and added side supports. If this doesn't work, you might want to consider insoles for hindfoot alignment that go beyond arch support like the ones at Protalus.
If you aren't sure if you have high arches, you may want to consider doing a wet set test. To do this simply dip your foot into water and press it onto a piece of paper or cardboard to observe your footprint. If the imprint has a deep inward curve and looks like a "P", you may have high arches.
Wide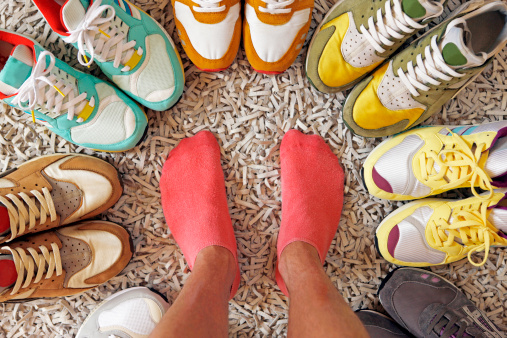 Many tennis shoe manufacturers have also begun producing shoes specifically designed for wide feet. If you have wide feet and have ever tried squeezing into standard sneakers, you already know the discomfort and pain that can be caused by too narrow shoes. Read allow for guidance on how to choose tennis shoes for wide feet.
Manufacturers tend to use indicators to describe the width of a shoe. These vary between men's and women's footwear. For example, men's Nike shoes are labeled D to 4E, or medium to extra wide. Meanwhile, women's Nike shoes are simply labeled medium to extra wide. Men's extra wide shoes (4E) are 3 11/16 to 4 3/4 inches wide. Meanwhile, a women's extra wide shoe is 3 15/16 to 4 13/16 inches wide, depending on the sizes. It's important to note that the widths of shoes tend to vary between manufacturers. As such, if you have wide feet, you should always try on a shoe before purchasing it. Always ensure that the sides of your feet are aligned with the surface of the midsole. They should not be unnaturally forced up against the sides.
Shoes that are too narrow can cause a number of adverse conditions. For example, a narrow toe box could cause ingrown toenails. What's more, constricting sides can cause bunions and corns. Not only are these foot conditions unsightly and difficult to reverse, but they can seriously impact your performance on the tennis court.
Tennis Shoes for Different Types of Foot and Leg Pain
If you suffer from foot or leg pain, it is particularly important that you find a pair of shoes that will prevent farther discomfort and injuries. We've got the rundown on the best tennis shoes for plantar fasciitis, heel pain, bunions, and Achilles tendonitis.
Plantar Fasciitis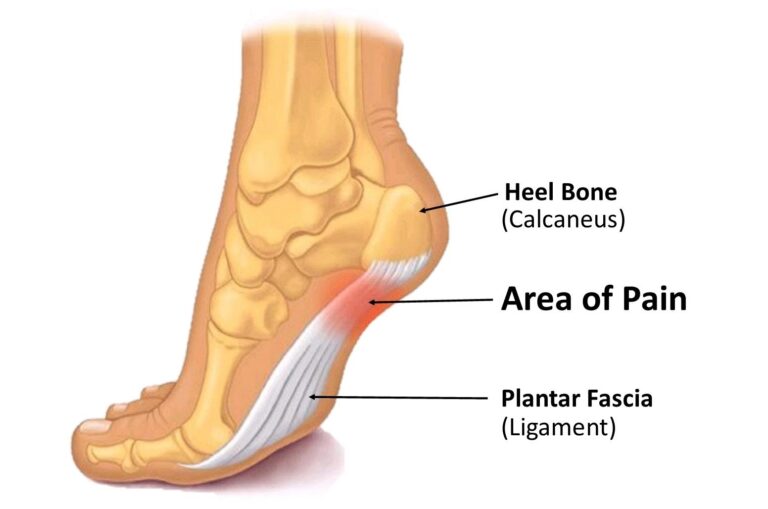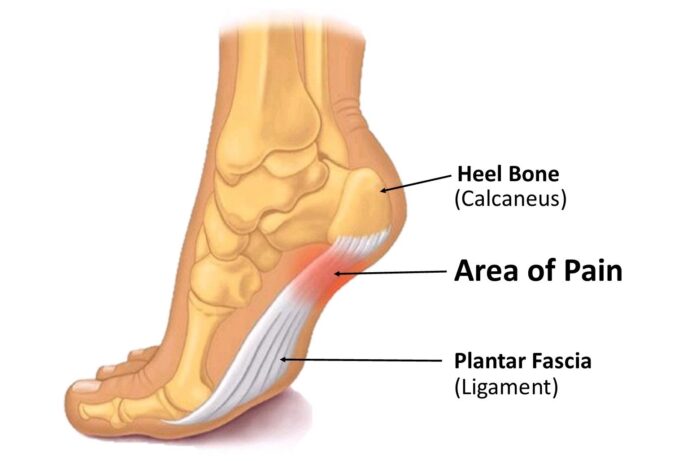 Plantar Fasciitis is a condition marked by intense heel pain. It is caused by the inflammation of the plantar fascia, which is a muscle that runs from the heel to the toes. It can be particularly intense for athletes, including tennis players, who repeatedly land their feet on the ground, often with great intensity. Fortunately, many manufacturers have developed innovative shoe designs that help counter out some of the intensity of plantar fasciitis.
Shoes designed to weather the effects of plantar fasciitis should have supportive arches, flexible midsoles, and a cushioned toe box. A soft foam or gel insole will help to buffer the intense and often painful shock of repeated impacts.
While the heels of a plantar fasciitis tennis shoe should boast thick supports, they should also be considerably lower than the arch in the middle. Many people with plantar fasciitis choose to use custom orthotics in their tennis shoes. However, well-designed supportive sneakers often eliminate the need for these corrective devices. Keep in mind that shoes designed for plantar fasciitis cannot correct the issue, although they do make it more bearable to live with.
Heel pain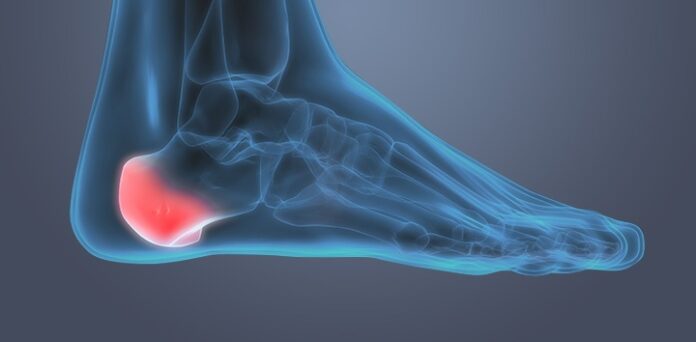 Not all heel pain is caused by plantar fasciitis. Many athletes experience painful heel spurs, which are essentially calcium deposits located on the bottom of the heel bone. Heel spurs are actually a very common injury experienced by tennis players, as they are often brought on by high impact activities like running and leaping.
The best tennis shoes for heel pain feature shock-absorbing midsoles. These shoes often have extremely cushioned heel cups that help reduce the shock of repeated impacts. Tennis shoes engineered to counter out heel pain should also provide consistent heel to toe support. After all, conditions such as heel spurs and plantar fasciitis can often cause instability.
Bunions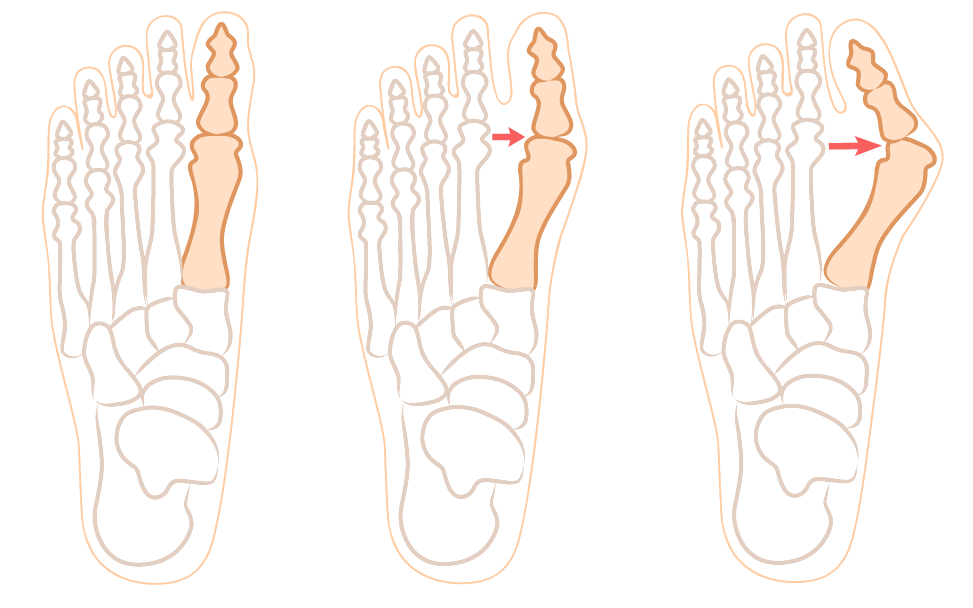 Bunions are yet another crippling foot condition that keeps many tennis players off the court. Bunions are a condition in which the bone that is located below the big toe shifts outward, causing the big toe to slant inward and a bony protrusion to appear on the outside of the foot.
Keep in mind that shoes cannot be used to correct bunions, but they can provide adequate support and comfort. As such, when purchasing tennis shoes for bunions, you should look for a model with a wide toe box. This will provide enough room to fit your bunions without constricting them. Wide, roomy shoes are not available from all tennis shoe manufacturers, but they aren't impossible to find.
Athletes with bunions should also look for tennis shoes with flexible yet supportive midsoles. With noticeable heel to toe cushioning and support, bunions are less likely to act up.
If your tennis shoes are still too tight, you may also want to consider stretching them out. There are several simple at-home methods you can use to increase the size of your shoe's foot cavity. However, you can also send your shoes to a professional cobbler to have this done.
Achilles Tendonitis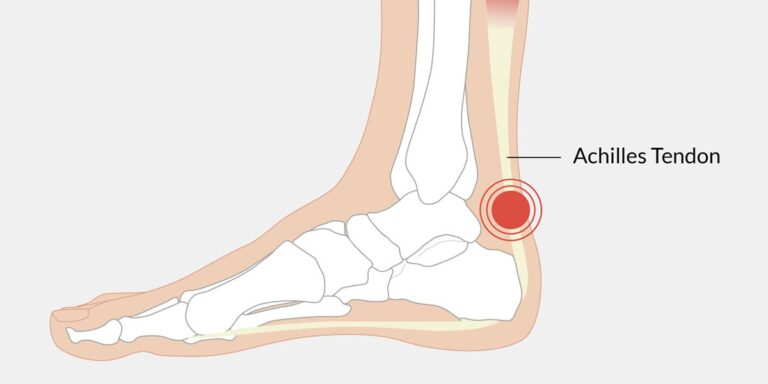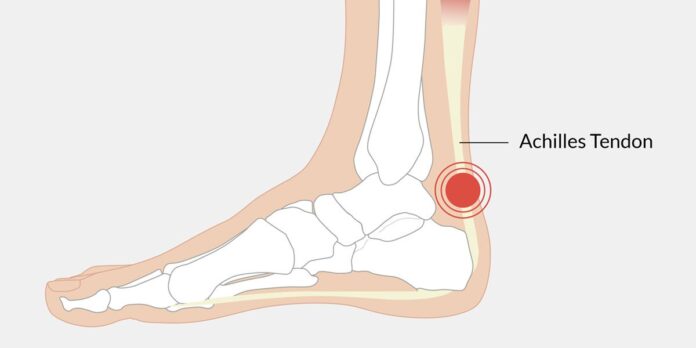 Achilles tendinitis is caused by injury or strain of the Achilles tendon, which is the muscle located in the back of the ankle. It is a medical condition that is often experienced by athletes, including tennis players. Not surprisingly, Achilles tendonitis is often caused by a poor choice of footwear, which is yet another reason why finding a reliable pair of tennis shoes is so important.
When looking for tennis shoes to relieve your Achilles tendonitis, look for a model with plenty of heel support. However, keep in mind that the heel should not be specially raised nor lowered. What's more, look for a shoe with a thick supportive midsole. Properly fitted tennis shoes should enable natural foot movement while absorbing the shock of impact.
Shoes for Achilles tendonitis should also have strong arch support. Keep in mind that you should always find a shoe that support's your personal pronation. However, a moderately pronounced arch with a solid cushion should prevent on-court flair ups.
Different Types of Tennis Shoe Structures
Manufacturers have developed different tennis shoe structures in order to combat common on-court issues. Read along to learn more about high-top, steel toe, and overpronation tennis shoe options to see if any of them are right for you.
High-Top
While high-top sneakers were made popular by basketball players, they are also often seen on the tennis court. Some tennis players prefer high-tops because they provide additional ankle support. Ankle sprains, a common athletic injury, are commonly caused by the inversion of ankle muscles. Since tennis requires swift movements and sudden turns, high-top sneakers offer enhanced protection against an easily incurred injury.
Of course, many athletes choose high-tops just to boost their on-court style. Yet, it's rather rare to see high-top tennis shoes during professional rallies. After all, most athletes opt for medical-grade ankle braces over the questionable support of high-top sneakers. Of course, world-renowned tennis player, Serena Williams, is no stranger to stylish mid-tops (a preferable middle ground). Of course, we can only guess if it was a style-guided or medically endorsed footwear decision.
Steel Toe
Believe it or not, many manufacturers have begun making steel-toe athletic shoes. The rise in popularity of steel-toe tennis shoes is brought on by the increase of professional steel-toe footwear requirements. The toe box of these shoes features a concealed steel panel that is designed to protect your toes from harsh workplace impacts. While this type of footwear isn't actually approved for tennis matches, they provide the same comfort and aesthetics of competitive sporting footwear.
If you're someone looking for a casual athletic footwear option for your construction or manufacturing job, it's good to know that work boots may not be your only option. Of course, always crossreference your workplace footwear guidelines to ensure they fit the bill.
Over-Pronation
Overpronation is a condition where you have an over-pronated, or accentuated, arch. Feet with over-pronation tend to lean inward, with a dip in the outer ankle. When looking for a tennis shoe designed to support this condition, it is important to pinpoint supportive arches as well as stable and supportive insoles. What's more, look for a shoe that hugs and supports your foot from the heel to toe. Your shoes should support your high arches and prevent them from rolling further inward.
On the other hand, supination, or under-pronation, is yet another serious foot condition that can affect your on-court performance. This is when the foot rolls outward during normal movement. When looking for shoes to support your supinated feet, make sure that they are lightweight and stabilizing. You may also wish to use custom orthotics that help reverse this common foot issue. Make sure to visit Pedorthic to learn more.
Different Color Tennis Shoes
The color of a person's tennis shoe is often determined by their aesthetic preference. However, there's more to color-choice than a matching outfit. Read along to learn about the benefits of white vs. black tennis shoes.
White
White tennis shoes have long-dominated the sneaker game. While this easily stained colorway may not seem like an obvious choice for tennis courts, it's a clearly athletic look that's here to stay. Since white has a way of complimenting nearly any color, it is an interchangeable mainstay that most athletes can't live without. While white tennis shoes may not look pristine for long, they provide a fresh and sporty look that works well on and off the court.
Black
With that said, black tennis shoes are also incredibly sporty and increasingly popular. What's more, a look at most modern tennis shoe lines reveals that dark, inky colorways are ever increasing in popularity. If you are looking for a shoe exterior that will conceal some of the scratches and scuffs that result from hard landings and falls, then black is the way to go.
Tennis Shoes by Price
Tennis shoes range in price from less than $20 to several hundred or even thousand dollars. If you're shopping on a budget, be sure to check out our tips and tricks for finding inexpensive tennis shoes.
Cheap Tennis Shoes Under $20
Buyer, be warned; it is not easy to find a decent pair of tennis shoes for less than $20. If your budget doesn't exceed two ten-dollar bills, be on the lookout for promotional sales, older models, and clearance shoes.
No matter your personal budget, be sure to choose a pair of shoes that will provide adequate support and protection. Keep in mind that branding and athlete endorsements can dramatically increase the price of a pair of shoes, but don't translate to increased comfort and support. With that said, shoes under $20 are usually made with inferior or fast-wearing materials. As such, they typically need to be replaced more frequently than more expensive shoes.
Tennis Shoes Under 30 Dollars
If your tennis shoe budget is set at $30, you may find it difficult to find a named brand model to buy. Still, there are plenty of generic or past-year models that come in under the 30-dollar mark. To find a solid pair of budget kicks, use the same guidelines you would if you were buying an extensive pair of shoes. Make sure that the shoes you buy are designed for the type of court you plan to play on. What's more, ensure that they have thick, durable midsoles that can withstand the constant and repeated impact of tennis moves. Keep in mind that you should always opt to try a pair of shoes on in person. After all, this is the only way to ensure that they are a good fit.
Tennis Shoes Under $50
Many of the top tennis shoe manufacturers produce basic court models for around $50. While shoes in this price bracket don't typically boast orthotic elements, they provide superior heel to toe support and extensive use.
If you are someone with specific foot issues, you may not be satisfied with budget-rate shoes. However, $50 shoes will provide most players with several days of reliable on-court support and protection. The materials used in most $50 shoes tend to be more durable and resistant too. As such, these shoes can usually hold up to the harsh impact of aggressive plays.
Maintaining Your Tennis Shoes
Whether you're playing on grass, clay, or hard court, your tennis shoes need to be fitted and cleaned regularly. Fortunately, there are a few simple steps you can take to clean and dry your tennis kicks. Read along to learn some simple maintenance tricks and discover how to stretch and lace your shoes for improved comfort and superior performances.
How to Wash Tennis Shoes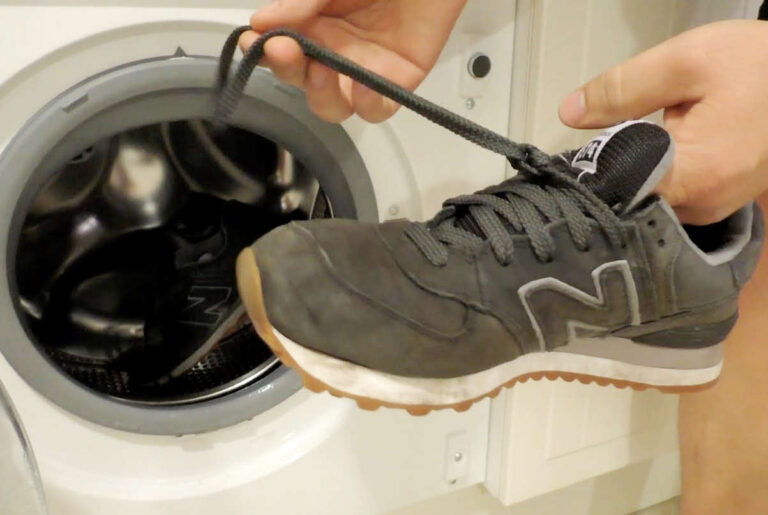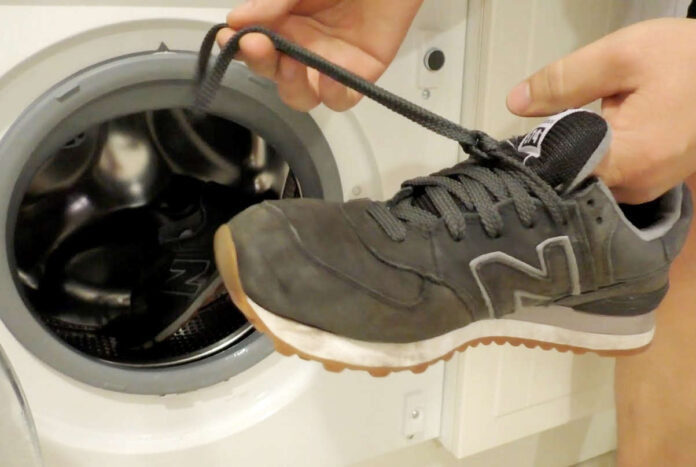 If you aren't in the habit of regularly washing your tennis shoes, know this: Unwashed tennis shoes are a serious source of bacteria and fungus. Not to mention, unwashed tennis shoes last a fraction of the time of those that are regularly cared for. Not to mention, unwashed tennis shoes typically smell and look bad. Gross, right!?
With that said, many athletes don't realize that their tennis shoes can be washed directly in a washing machine. This small gesture can dramatically increase the quality and life of your shoes. With that said, when washing a personal pair of tennis shoes, be sure to follow the manufacturer's washing instructions to avoid damaging your footwear.
Before placing your tennis shoes in your washing machine, take the time to remove any caked on dirt and debris. Use an old toothbrush or nylon scrub brush to remove loose dirt. You may also use cold water and a bit of detergent to remove stuck-on or stubborn dirt. After that untie and remove the laces. Then, if possible, remove the insoles.
Place your dirty tennis shoes in a wash of their own or pair them with similarly colored towels (tennis shoes create quite a commotion when washed alone).
For the best possible results, follow the manufacturer's laundering tips. For the most part, we recommend using warm water and regular old laundry detergent to remove stuck-on dirt and stains. You may also wish to add a small amount of white vinegar to help remove any stubborn odors, fungus, and/or bacteria. However, stay away from chlorinated bleach, which can strip color away from and weaken outsoles.
How to Clean Tennis Shoes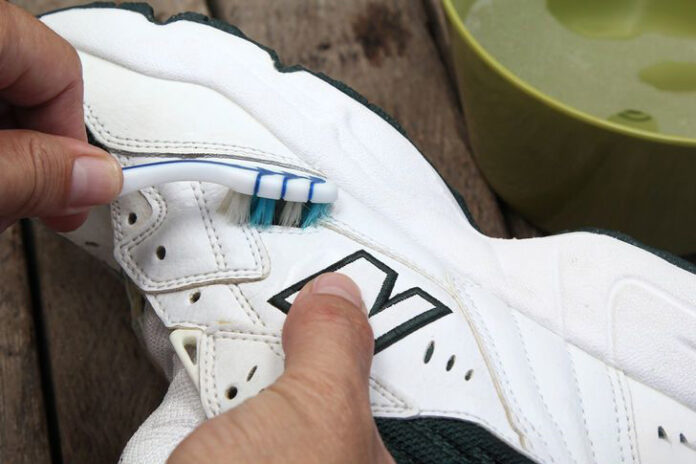 Chances are that a few trips to the local court will leave you new tennis shoes looking less than desirable. If this is the case and machine washing is out of the question, consider handwashing your sneakers to bring back their out-the-box luster.
Before you begin handwashing your tennis shoes, you need to gather a few supplies. First, gather a small bowl or container that you don't mind getting dirty. Fill the bowl with warm water and mild detergent. Next, grab a small non-abrasive scrub brush. We recommend using a cheap toothbrush. Finally, grab a clean, dry cotton rag or cloth.
Before you begin cleaning your tennis shoes, check the manufacturer's cleaning recommendations. You may need to use cold water or a different cleaning solution to avoid damaging the shoes' outers. Always err on the side of caution to better preserve your personal footwear.
Once you're ready to start the cleaning process, take your dry scrub brush and gently dislodge any stuck-on dirt and debris. Be sure to pay close attention to tight corners and seams, as dirt and grime accumulate in these places.
Then, wet the brush with your cleaning solution and gently scrub the entire surface of your shoe. Rinse the brush in between applications to dislodge dirt. Repeat this process until you have removed all of the stains and scuffs. If your shoe is particularly dirty or smelly, consider adding a small amount of distilled white vinegar or baking soda to your cleaning solution.
Once you're satisfied with your cleaning job, use your cotton cloth or rag to remove any excess moisture. Then, set your shoes aside so that they can dry. Keep in mind that this may take several hours or even days. Don't rush the drying process, as wet shoes are highly susceptible to mold, fungus, and odor.
How to Dry Tennis Shoes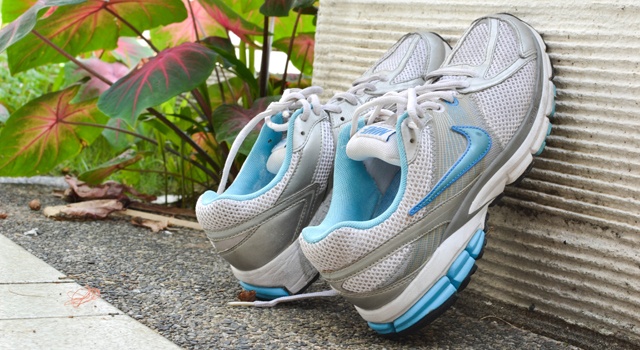 Whether you've just finished cleaning your tennis shoes or you got caught in the rain, it's important to know the proper way to dry them off.
If your shoes are unusually soaked, use a clean, dry cloth to remove as must moisture as possible. When doing this, be sure to pad both the inside and outside of the shoes. Remember, moisture left to fester often gives way to mold and odor. Whereas, shoes with leather, gel, and waterproofing cannot.
Once you've removed the excess moisture, you can move on to the next step in the drying process. Before you do this, check the manufacturer's cleaning recommendations to see if your shoes should be machine or hand dried. Typically, canvas or synthetic shoes with hard soles can be put in the dryer.
If you plan to dry your tennis shoes in a dryer, remove the laces and insoles and set them aside. These elements are easily warped and/or shrunk by heat. If they are wet, place them on top of a dry cloth or paper towel. Then, place the shoes in the dryer alongside a few like-colored towels. Keep in mind that a load consisting of only a single pair of shoes will cause quite a commotion.
Be sure to set the dryer on air dry. High heat will warp the soles and cause the uppers to shrink. As such, it's best not to rush the process. Do not put your tennis shoes in the dryer for longer than one complete cycle.
Alternatively, you may wish to keep the laces on the shoes and use them to hand the shoes over the inside of the dryer door. This will prevent the shoes from banging up against the sides of the dryer as it turns.
If you aren't strapped for time, consider air drying your tennis shoes. You can do this by hanging them on a clothesline or placing them in front of a fan or heater. Or else, stuff your shoes with crumpled paper, place them in a well-ventilated area, and wait it out. With all that said, keep in mind that high heat and direct sunlight can fade or bleach certain colors.
If your shoes are soaked all the way through, you will need to intermittently replace the newspaper. What's more, the amount of water in your shoes will directly impact their drying time. On top of that, the humidity in your home will also affect the drying speed.
How to Stretch Tennis Shoes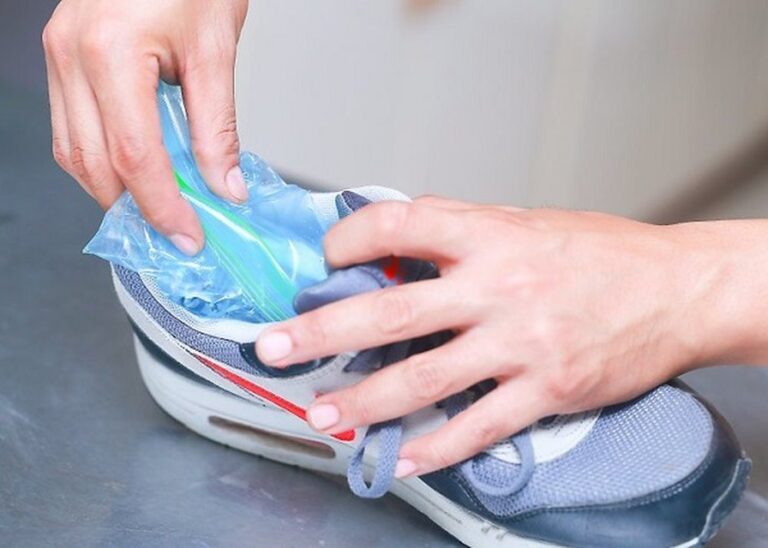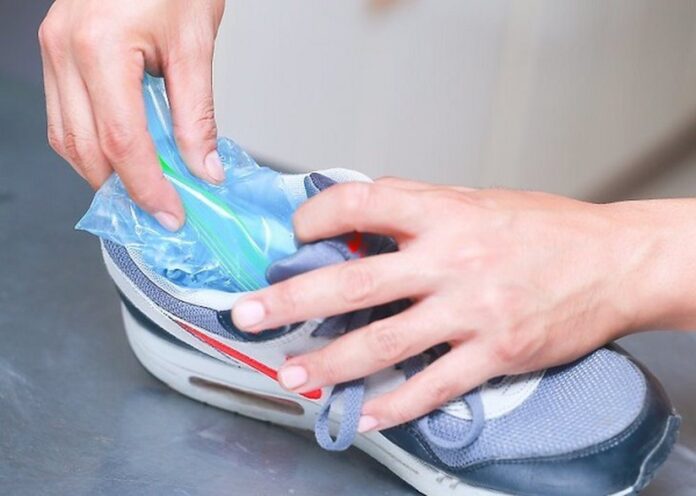 There are a number of reasons you may be looking to expand the width of your tennis shoes. Whether you have unusually wide feet or suffer from plantar fasciitis, there are several ways you stretch out your shoes and make them more comfortable.
Keep in mind that many shoes are designed to stretch out with wear. If it's tolerable, you may just need to break in your shoes by walking around in them. If this doesn't work for you, there are a few simple at-home methods you can use to stretch out a new pair of tennis shoes. Of course, if all else fails, you may also consider visiting a professional shoe repair person to have your shoes stretched out.
One of the most popular at-home shoe stretching method utilizes the expanding power of water, or rather, ice. To do this, place a large gallon-sized Ziplock back in your shoe. Use your hand to push the base of bag deep into the shoe's foot pocket. Use it to line the entire interior surface of the inside of the shoe.
The Ziplock bag's opening should be just above the shoe's opening. Unzip the Ziplock and fill it with water until the entire shoe is filled. Then, securely close the Ziplock seal and place the shoe, as is, into the freezer. Repeated these steps with the second shoe. You may wish to also place your shoes into a larger plastic bag to preserve the quality of any food inside of your freezer.
Wait until the water inside the bag is fully frozen and then remove the shoe from the freezer. The ice will expand the foot crevice, making the shoe roomier and, hopefully, more comfortable.
Alternatively, you can spray the inside of your shoes with rubbing alcohol and then walk around in them. You may need to do this repeatedly in order to achieve a suitable fit. Keep in mind that alcohol has the potential to dry out or even damage leather outers. As such, it should be used with caution. Nevertheless, this is a simple method that can be done inexpensively at home.
How to Lace Tennis Shoes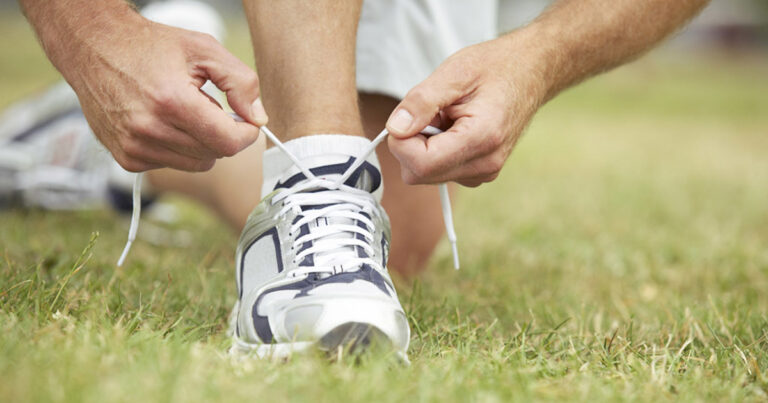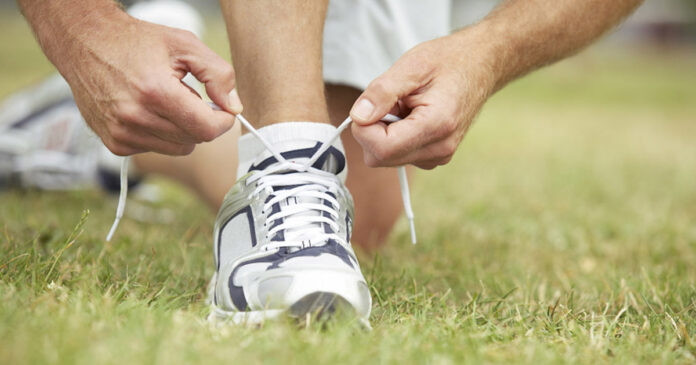 Confused about how to properly tie up your tennis shoes? Read along for helpful tips and tricks!
First, place your tennis shoe on your foot. Notice that there are two side-by-side lines of eyelets. Take your shoelace and run it through the bottom two eyelets. Be sure to insert each end of the lace from the top of the shoe rather than looping it underneath. Pull each end of the lace to ensure that the lace material is evenly distributed on both sides. Correct as need be.
Next, take the lace from one side and run it diagonally across the shoe to the second eyelet from the bottom on the opposite side. Feed it through the top of the eyelet and pull it out the other end. Repeat this step on the opposite side, running one side of the lace over the other. The laces should form an "x."
Repeat this pattern until you've threaded the lace through all but the top two eyelets. Once you've done this, thread each side of the lace through the top of the top eyelet on the same side. Then pull the laces back toward you to remove any slack.
Then, take each end of the lace and pull it to the opposite side of the shoe. In doing this, run the ends of the lace through the loops that you created in the previous step. Finally, loop the ends of each lace and cross them over each other before pulling them taut to create a bow. Repeated this one more time for added security and comfort.
Voila! You have securely laced up your tennis shoes and are set for a match!
Final Thoughts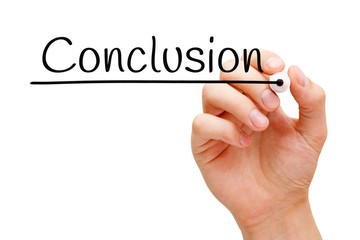 Tennis shoes are tremendously comfortable and supportive footwear options for on and off the court. With a wide variety of courts and playing styles, there are countless styles for you to choose from. Think about what type of foot you have, your playing style, and your personal preferences before settling on a pair. Get yourself professionally fitted to ensure that you're comfortable match after match. When you finally settle on the right pair, take the time to properly lace and care for them so that your feet are up for countless game-winning volleys and serves.