If you're giving your best to become a good football player, you should start from your feet because having the right footwear will significantly improve your performance on the field.
Best Choice
Good Choice
Don't Miss
Best Value
Under Armour mens Spotlight Franchise Rm Football Shoe, Black (001 Black, 11.5 Wide US
Under Armour Men's Harper 4 Mid RM Baseball Shoe, Royal (400)/White, 7.5
adidas Adizero 5-Star 7.0 SK Cleat - Men's Football 10.5 Gold/Black/White
Nike Vapor Edge Pro 360 Mens Football Cleat (White/Black, Numeric_7)
Best Choice
Under Armour mens Spotlight Franchise Rm Football Shoe, Black (001 Black, 11.5 Wide US
Good Choice
Under Armour Men's Harper 4 Mid RM Baseball Shoe, Royal (400)/White, 7.5
Don't Miss
adidas Adizero 5-Star 7.0 SK Cleat - Men's Football 10.5 Gold/Black/White
Best Value
Nike Vapor Edge Pro 360 Mens Football Cleat (White/Black, Numeric_7)
However, if your feet are slightly wider, finding proper football cleats might quickly become challenging as most cleats on the market are designed for narrow feet.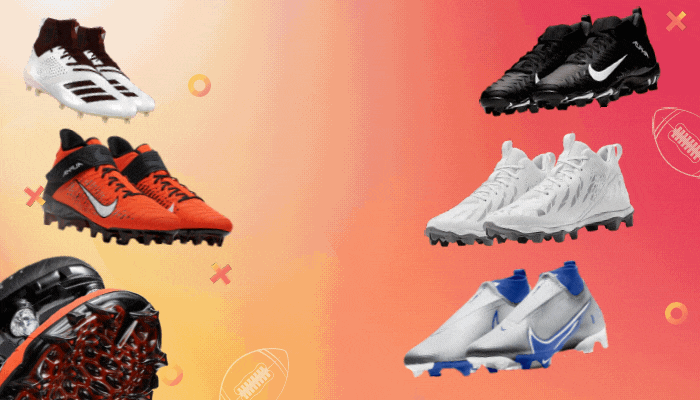 But, the news is not all that bad – you can still find cleats that best suit your feet, and we're here to help you with that endeavor. With our top picks, we're certain you'll find a pair that best fit your needs, budget, and style.
Our Top Picks in 2023
In this article, we've hand-picked the best-rated football cleats for wide feet in 2023 and created a detailed and comprehensive buyer's guide to help you make an informed buying decision.
1. Nike Men's Alpha Menace 2 Shark Football Cleat – Editor's Pick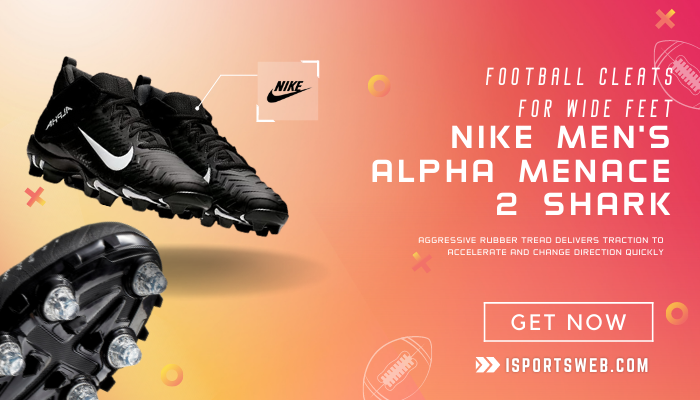 If you're a professional football player, you might want to not miss out on the Men's Alpha Menace 2 Shark Football Cleats by Nike. These cleats are very stylish with the classic athletic appeal, coming in black and white.
The Alpha Menace 2 Shark has a medium-top, which means it will give you nice support around your ankles without being too restrictive, as it might be the case with players who don't like cleats with higher tops.
These cleats have a midsole made of phylon, giving you enough comfort and support and allowing you to move more confidently.
The phylon midsole combined with the Shark outsole of the shoe will provide you with some extra traction, allowing you to stop and start running more easily and quickly.
The Fast Flex technology by Nike is there for some added comfort and flexibility. The Shark football cleats also come in a variety of sizes and widths, so you can find the right ones for your wider feet.
2. Nike Men's Alpha Menace Pro 2 Mid Football Cleat – Lightweight, but durable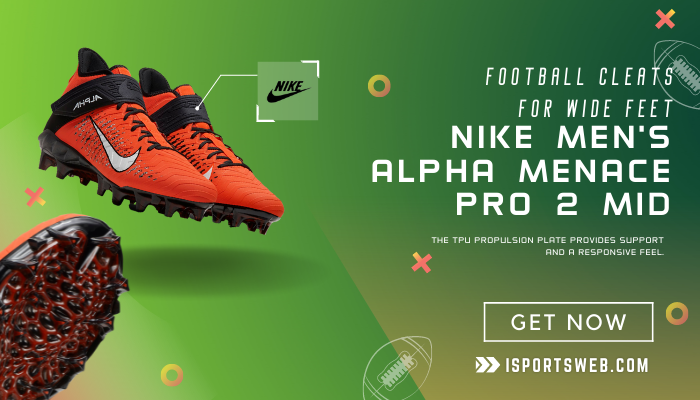 Another great model by the trusted Nike. The Men's Alpha Menace Pro 2 Mid Football Cleats also come in a variety of colors to suit everybody's style and taste, including white and black, neon yellow and black, white and royal blue, orange and white, and yellow and black.
This is a lightweight but durable shoe with great traction, allowing you to move freely and stop quickly and easily. These cleats will allow you to easily stick once you plant, as well as quickly spring out of that position.
It's a great shoe that will make your feet feel light and fast, and you can use them to play on real grass as well as synthetic fields.
These cleats feature a synthetic upper for premium support, the hook and loop strap, and lace-up to ensure your feet are always nicely secured. Thanks to their breathable mesh lining and Nike Fast Flex technology for a more natural foot motion and feel and exceptional flexibility.
When it comes to soles, these shoes have a phylon foam midsole providing you with much-needed cushion support, and with the added TPU propulsion plate, you'll have some extra support as well as a responsive feel while playing.
On the bottom, they have quite an aggressive rubber tread, delivering you excellent traction, which will allow you to change directions fast and easily.
For your ankles support, these cleats have a medium-high padded collar nicely embracing and snugging around the ankle, making you feel comfortable but secure at the same time.
3. Under Armour Men's Spotlight Franchise Rm Football Shoe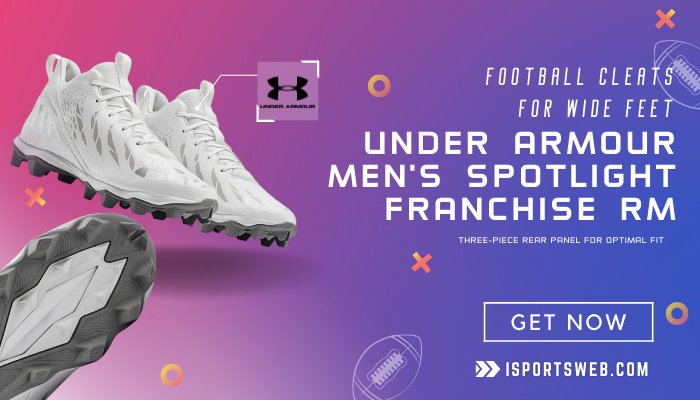 The Men's Spotlight Franchise RM Football Shoe by Under Armour is a fantastic cleat for wide feet, coming in a variety of colors and color combinations, such as black, black and white, red and white, blue and white, and gray and white.
This shoe has an engineered synthetic upper with a unique flame design and an overlay for added structure and durability. With its full traditional lace-up, you can adjust the fit easily for wider feet.
Thanks to its three-panel rear, you will have an optimal fit as well as the perfect blend of support and speed.
For underfoot cushioning and support, these cleats feature a full-length EVA midsole combined with the inner breathable textile lining and the bottom cushion insole as well.
The collar of the Men's Spotlight is medium-high, and it has additional cushioning and a pull tab on both the heel and the tongue to get the shoe on effortlessly and fast.
The rubber molded treads on the bottom allow for better traction on all surfaces with a comfortable and lightweight feel.
Read Also: Top Rated Youth Soccer Goalie Gloves
4. Men's Adizero 5-Star 7.0 Football Shoe by Adidas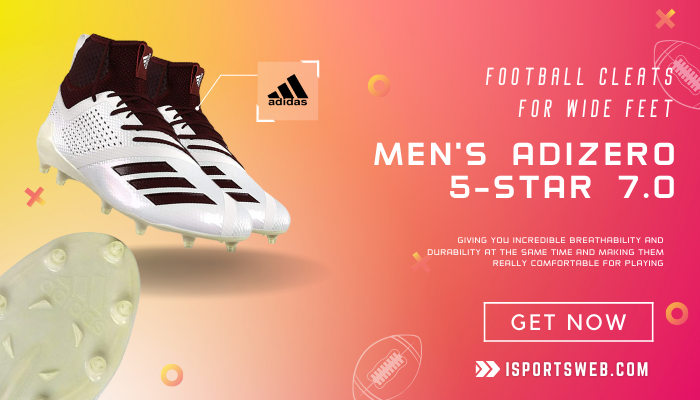 The Adizero 5-Star 7.0 Football Shoe by Adidas is a beautifully designed and lightweight cleat that is available in various colors, such as black, white, black and white, blue and white, red and white, and other interesting color combinations.
These football shoes feature that popular Adidas sprint skin upper, giving you incredible breathability and durability at the same time and making them really comfortable for playing.
They feature an extremely comfortable sock-like construction to the collar, hugging your angle like a sock and providing you with a lightweight and comfy feel as well as great stability. To keep everything nicely locked into place, they have a long lace-up at the front.
The Adidas cleats also have an anatomical lace structure on the sides, helping you relieve pressure and adjust to your feet' width. For some extra cushioning, they have padding close to the collar, giving your ankles great support as well as comfort.
As far as soles go, these cleats feature an EVA insole on the bottom with very pronounced cleats to give you better traction and control.
5. Nike Vapor Edge Pro 360 Men's Football Cleat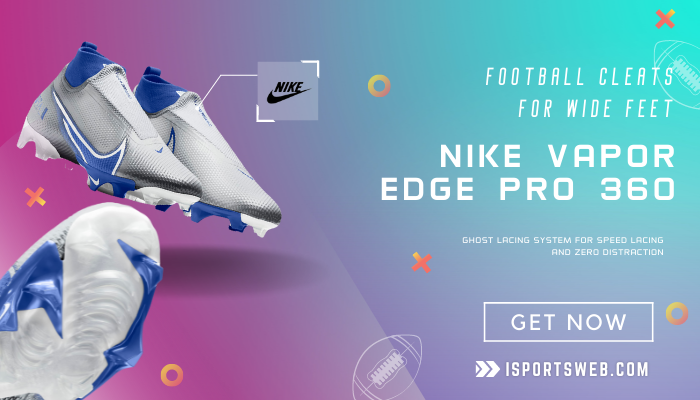 With the Nike Vapor Edge Pro 360 Cleats, you will have perfect agility, traction, and speed, and above all, great comfort for wider feet.
Thanks to their full-foot internal plate as well as wide stud placements, you will have great flexibility and the ability to make exceptionally quick cuts. The internal chassis of these football shoes will provide you with the support and flexibility of the traditional plates.
Their lightweight upper is covered with an additional overlay, giving you that much-desired comfort and durability.
The elastic cuff combined with a ghost lacing system makes these shoes breathable and comfortable, allowing you to speed lace them and to put them on quickly and effortlessly without any distractions.
On the bottom, they feature external pods that are perfect for ultimate traction and control over your cuts.
Buyer's Guide to Help You Make the Right Choice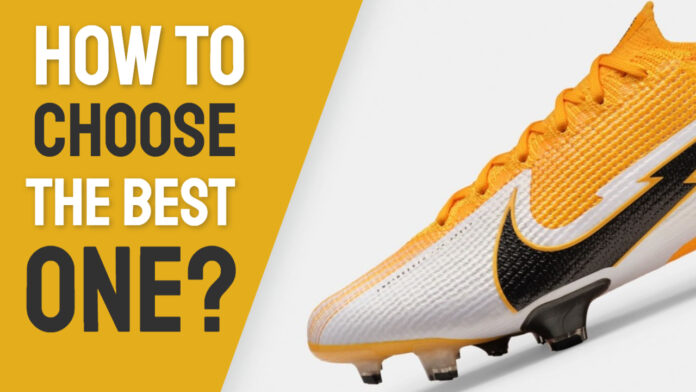 When shopping for your new football cleats for wide feet, there are several factors you need to consider. In this guide, we will go through some of the most important ones, showing you what to look for and everything you need to know before placing an order.
Factor #1. Different cleat cuts
When it comes to football cleats, there are three main types of cuts: low-cut, medium-cut, and high-cut. There are certain pros and cons to each of them.
Lower-cut cleats are perhaps the most common cleat type among football players. These have a collar that's a bit below the ankle. While minimalist in design and quite comfortable, these types of cleats don't provide enough protection for your ankles.
They simply don't have enough ankle coverage, which might lead to injuries if ankles are your weak spot. Don't miss our review of the best soccer shin guards.
Mid-cut football cleats have collars that are just covering the ankles and lock around them, creating a tighter feel but more support. These cleat cuts offer a perfect blend of balance, speed, maneuverability, and stability and are probably the best choice for wider feet.
Since they offer more protection, these cleats are suitable for quarterbacks, defensive backs, and running backs.
High-cuts extend long above the ankles, providing ultimate protection and stability. Cleats with higher collars, however, are usually a bit tighter and narrower, and therefore, not the best choice for wide feet, even though there are some models on the market that are well-suited for players with wide feet as well.
These are most popular for linemen since they provide the players with ultimate protection.
Factor #2. Material
Football cleats can be made of leather, synthetic materials, or a combination of leather and synthetics. Cleats made of pure leather are the most expensive option of the three, but they are also the most durable.
Additionally, leather can drastically expand over time with wear and get the appropriate width that will perfectly accommodate your wider feet.
Cleats made of synthetic materials are far more affordable and can also be suitable for wide feet as long as you choose those made of flexible and elastic fabrics and other materials.
However, these are not as durable as the leather ones and are, therefore, the best option for kids that quickly outgrow a shoe or for hobby players that don't need a high-quality cleat.
And finally, we have cleats made of a combination of leather and synthetic materials. These are probably the most popular option among football players, offering a perfect balance between affordability and durability.
These types of cleats are also the most available on the market, and you can choose from a wide array of options.
Factor #3. Size
This is probably the most important factor to consider when shopping for cleats for wide feet. You need to find a shoe that fits perfectly, providing you premium stability but also pain-free playing and practicing.
This means that the cleat shouldn't be too small or tight, nor too wide. If you wear cleats that are too narrow and tight, you will experience pain and other side effects that go along with it.
Likewise, if they are too wide, your foot will constantly slide sideways as well as back and forth, hurting your feet and ankles even more.
Therefore, pay good attention to size when shopping for new cleats and try to shop from reputable brands. You should also bear in mind that different brands have sizes that aren't the same as standard shoe sizes.
For this reason, it's best if you chose retailers with a hassle-free return policy so that you can exchange cleats if necessary and get the perfect fit.
Factor #4. Midsole and outsole
When it comes to the sole of your cleats, you need to pay special attention to their midsole and outsole. The midsole, also known as a footbed, should have plenty of padding, provide enough cushioning and comfort for your feet, and absorb impact and shock.
The outsole, or soleplate, is the outer part of your cleats' soles, and they are also the hardest element on a football shoe. Usually, cleats have narrow sole plates, allowing for ultimate speed.
If you're a player with wider feet, you should look for those that have a bit broader outsole, otherwise pain while playing will be inevitable.
They should also feature a good treading pattern and an excellent grip for better traction, control, and stability.
To Wrap Up
At the end of the day, to be the best football player you can be, picking the absolute perfect fit cleats is the most important step. Your overall performance, as well as your health, will greatly depend on it.
So, invest some time in research, and if you have wider feet, pay good attention to all the factors from our Buyer's Guide.
We have also gathered the five best-rated and loved football cleats for wide feet in 2023 from reputable brands such as Nike, Adidas, and Under Armour. We're confident that one of these models will be the best-fit cleats you were looking for.
FAQs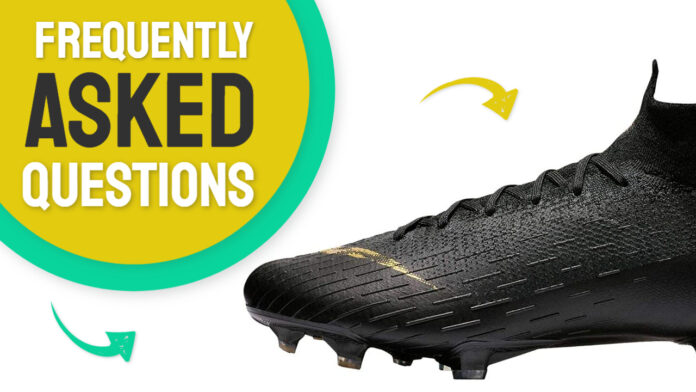 Q: Are Adidas wider than Nike?
A: Generally, Adidas shoes run a bit bigger than Nike; on average, they run bigger up to five millimeters. For example, a Nike shoe of the size 6.5 translates to the length of 9.12, while an Adidas shoe of the same size translates to 9.2 inches.
Q: How do I choose the right size cleats?
A: You need to make sure that the end of the shoe doesn't touch your toes. We would recommend getting cleats that have a quarter or even half an inch gap between your toes and the tip of the shoe for best comfort and performance. Also, you should walk around indoors in your new cleats first to test how well they fit you. That way, you will be able to exchange them for a different size if they are too narrow or tight.
Q: How can you make your cleats feel more comfortable?
A: The most important step is to get the right size. Having flexible and cushioned insoles and the lining is also important. And finally, the collar height is another factor to consider for the best support and stability of your ankles. For further information, check out our Buyer's Guide.
Before you go, take a look at some other models available on Amazon:
adidas Men's Adizero Primeknit Sneaker, Grey Six/core Black/Night Met, 6.5 M US
American football ftw adidas
The adidas brand has a long history and deep-rooted Connection with sport. Everything we do is rooted in sport
Driven by a relentless pursuit of innovation as well as decades of accumulating sports science expertise, we cater for all, from elite professional athletes and teams to any individual who wants to able sport part of their lives
Qzzsmy Men's Cleats Soccer Unisex's Ag Cleats Outdoor Training Ag CD1808-M1-40
TPU STUDS-Transparent stud arrangement supports explosive acceleration and high-speed turns
Synthetic leather upper - Polyurethanes PU + Rubber - Breathable athletic footwear for men
The rubber sole has high grip on the grass to maintain good performance.Transparent stud arrangement supports explosive acceleration and high-speed turns
Fly-Knit Mesh-Designed with a sock mouth, it is easy to put on and take off, giving you a different experience.
Professional working team with good finishing technology of production procedure to guarantee the high quality
Related Reviews:
Nike Soccer Balls Overview
Best Adidas Soccer Balls – Sport Equipment