When preparing to play a sport, it is necessary to ensure that you have the proper equipment. More often, this consideration is focused around a ball, puck, or some other item that is moved.
Name
ASICS Women's Gel-Rocket 9 Volleyball Shoes, 5.5, Black/White
Wilson RUSH PRO 2.5 2019 Pickleball Shoes
New Balance Men's 623 V3 Casual Comfort Cross Trainer
HEAD Men's Grid 2.0 Low Racquetball/Squash Indoor Court Shoes (Non-Marking) (Black/White) 7.5 (D) US
Moving the item often involves a racquet, club, or stick of some sort. However, often people forget about their footwear.
In a Hurry? The test winner after 5 hrs of research
When playing racquetball, it is vital to make sure that you have the best racquetball shoes available. Of course, that means different things to different people and heavily depends on your physical abilities as well as your playing style.
Best Shoes for Racquetball in 2023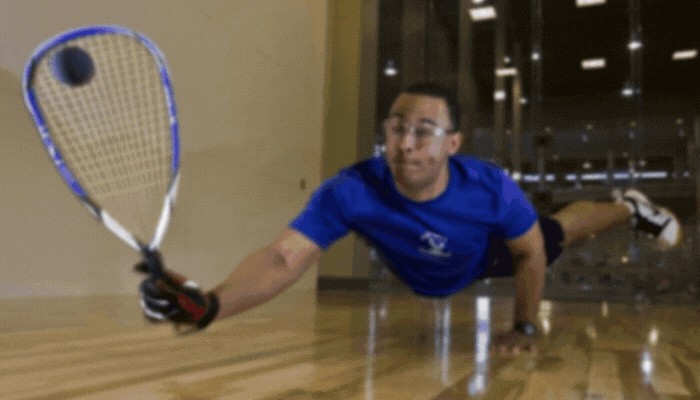 Figuring out which pair of racquetball shoes best suit your abilities and playing style can be confusing.
That is why we have put together a list of the best racquetball shoes and highlighted what each one does best. Then we provide a helpful buyer's guide, so you can find the best racquetball shoes for you.
1.

ASICS Gel Rocket 9

– Best Racquetball Shoes (Editor's Choice)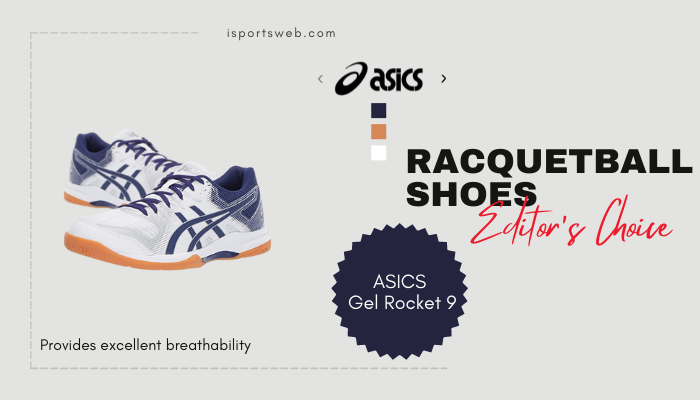 After the success of ASICS Gel Rocket 7 and 8, they went back to the drawing board to see how they eke out just a bit more performance from arguably one of the better indoor court shoes on the market.
After examining what some of the more specialized brands did in terms of design, they slightly changed an already winning formula and came out with the Gel Rocket 9.
While the Gel Rocket 8 and the Gel Rocket 9 share a great number of features in common, the 9 sport just enough improvements to make them the most popular racquetball shoes on our list.
Mobility
Much like the Gel Rocket 8, the Gel Rocket 9 seek to offer the player exceptional mobility. While they do so through traction, in similar the improved ways as the Gel Rocket 8, the Gel Rocket 9's traction is in another class on their own.
That said, they still provide the additional mobility features that come with the Gel Rocket 8. For example, this is one of the lighter racquetball pair of shoes we saw.
On top of that, the Trusstic system allows the sole to remain durable even while giving up additional weight.
Traction
That said, easily the biggest improvement from the Rocket Gel 8 to the Rocket Gel 9 has to be the traction. However, it will take a well-trained eye to understand why this is the case.
This is because the Gel Rocket 8 and the Gel Rocket 9 actually use the same NC Gum Rubber.
While the rubber is not the stickiest, it still offers more than enough grip for most players. Still, it is the traction style featuring the mixture of herringbone tread on the lateral outer sole and a suction cup design coupled with a pivot on the medial outer sole that makes the Gel Rocket 9 better for traction than the Gel Rocket 8.
Racquetball is fun when played outside but both the weather and water can have destructive effects on your shoes so it is better if you waterproof them first with waterproofing sprays, which you can check on this website.
Pros
One of the lighter racquetball shoes
Forefoot gel makes landing smoother
The Trusstic system helps keep the shoes stable
NC gum rubber toe provides decent traction
Excellent traction style
A less expensive pair of racquetball shoes
Provides excellent breathability
Cons
Not the best ankle support
A tad looser tying than some
Not the most durable
2.

ASICS Gel Rocket 7

 – Best Racquetball Shoes for Women


While the Gel Rocket 7's may not strictly be the best pair of racquetball shoes on our list and are not even the best pair of ASICS that we reviewed you can still get an amazing value from last year's model at a greatly reduced price compared to most of the other products that we reviewed.
On top of that, these shoes are solid for players who find themselves leaping around the court and making regular smashes.
Mobility
One of the best aspects of the Gel Rocket 7s is the fact that they are intended to offer excellent mobility. This may be in part due to their design as volleyball shoes, but they perform just as well for racquetball.
This mobility actually begins with traction. While NC gum rubber may not strictly be the "stickiest" traction we saw, it still offers a decent grip. When you combine that with a well-rounded traction style that can handle medial and sagittal movements equally with a toe pivot for rotational movements, you get an outer sole that can do it all.
Comfort
Just as important as mobility is, comfort should weigh heavily as well especially if you are an amateur. In this instance, you will want a shoe that offers an excellent response to the conditions of hard play.
For the Gel Rocket 7s, this begins with a Forefoot gel that offers some of the better cushioning we came across. While the heel may not be as reinforced, the mesh and synthetic upper provide some of the better breathability on our list as well.
Altogether, they make the Gel Rocket 7s a pleasure to play in.
Pros
Forefoot gel makes landing smoother
The least expensive product reviewed
The Trusstic system helps keep the shoes stable
One of the lighter racquetball shoes
NC gum rubber toe provides decent traction
Provides excellent breathability
Solid traction style
Cons
Not the best ankle support
Fit tends to run a bit small
Stiff and not as durable
3.

Adidas

– Best Racquetball Shoes (Editor's Choice)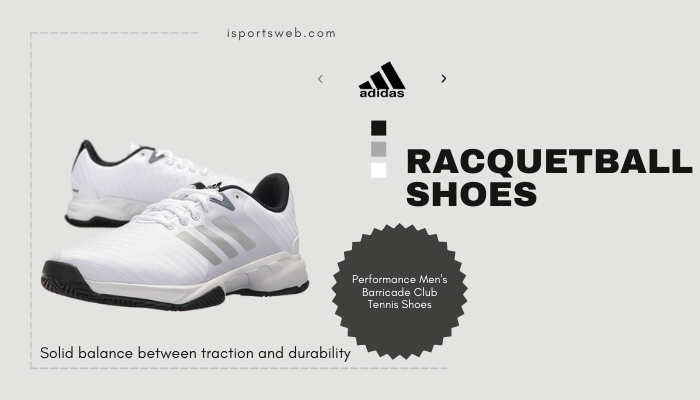 The adidas Performance Men's Barricade Club Tennis Shoes may seem a bit odd to appear on this list, but tennis and racquetball actually have a great deal in common with one another.
On top of that, Adidas has made a name for itself, primarily as a manufacturer of high-end athletic shoes which are suitable for professionals, enthusiasts, and casual players alike.
With the Barricade Club, Adidas sought to provide an all-around excellent pair of shoes that did pretty much everything well without focusing too much on any single approach.
Cushion
Adidas is apparently well-aware that many racquetball players are extremely enthusiastic. Whether you play competitively or just for fun, you will definitely be able to push these shoes to the limit without having to worry about being sore the next day.
This is because adidas provides a solid cushioning that is different depending on the part of your foot. The forefoot is protected by adidas' ADIPRENE+ cushion, which offers some additional bounce in place of pure shock absorption.
However, the heel uses the standard ADIPRENE cushion, which focuses exclusively on absorbing the shock from a leaping landing.
Mobility
Anyone who jumps a lot will invariably need to be able to control their motions better than those who remain firmly planted on the ground. To this end, Adidas offers a number of features, which provide a good mix of mobility and control.
The TORSION midfoot shank is a prime example of this being stiff enough to brace against but flexible enough to give on the go. On top of that, the ADIWEAR 6 rubber outer sole provides decent traction but will not stop you short and roll your ankle.
Pros
ADIWEAR 6 offers solid balance between traction and durability
ADIPRENE heel cushion offers good cushion
ADIPRENE+ forefoot support provides solid bounce
ADITUFF toes are durable
TORSION midfoot balances support and mobility
TPU and mesh upper offers great mobility
Solid traction style
Cons
A slightly more expensive pair of racquetball shoe
Not the best ankle support
One of the heavier racquetball shoes
4.

Wilson

– Mens Rush Pro 2.5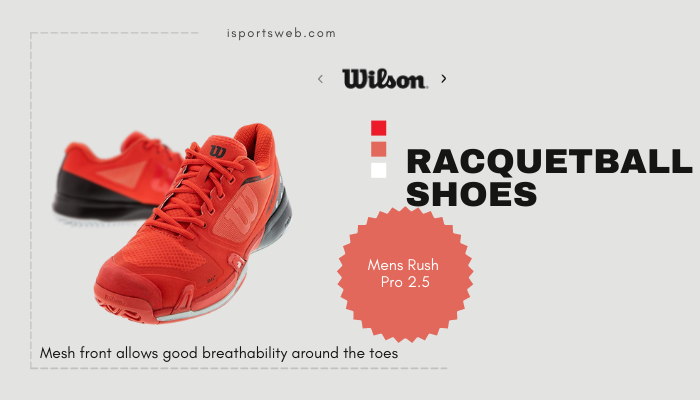 A shoe that keeps your Feet in Control
The Wilson Mens Rush Pro 2.5 is a great shoe that might be for men but could find a use for some women as well, if need be.
Anyhow, the materials that make up its face are well designed; this isn't the typical shoe that's made cheaply but retails and a higher expense than what it cost to create it.
You will be getting breathability and comfort. Your movement won't be blocked from the tight feeling that's associated with other street shoes, making it a good product for all-around wear, jogging, playing sports, or going for an afternoon walk.
Cooling Down
The main negative is how hot your feet will become inside. Granted, there is lots of breathing room, but the padding alone increases the inside temperature a lot, especially when worn in warm environments.
Of course, not all people have this problem. But if your shoes take on odor from heat quickly, you may want to look for a different brand or loosen of the laces when you acquire this pair.
It's still a great shoe and does a good job at taking away stiffness. Breaking shoes in will become a thing of the past with the Rush Pro 2.5.
Pros
Mesh front allows good breathability around the toes
Included a shank inside the sole to allow for more natural movement of the foot prior to break in
The pattern along the rubber outsole helps to provide better traction along the pavement
Cons
The padding is hot inside and will cause the feet to sweat
Inside the shoes, seams along the toes may cause irritation, especially around tip
5.

New Balance

– Best Racquetball Shoes New Balance
New Balance is far more well-known for making cross trainers and general running shoes than they are for competitive sports.
That said, New Balance has definitely been making a push to produce shoes that are suited for professional play with a special focus on shoes that are used for sports with a court.
In that vein, New Balance has made the WC806s, which are a great value tennis shoe, though they may not suit the most competitive of players.
Durability
The biggest value aspect coming from these shoes has to be their durability. Unless you are okay purchasing a new pair of racquetball shoes every few months or so, you might be better off spending a little bit more and getting a pair of shoes that will be able to take a beating for an extended period of time.
With full grain leather uppers, the WC806s are by far the most durable pair of racquetball shoes that we came across. Still, New Balance is not willing to rest on that quality alone and offer an outer sole made of their proprietary N-Durance rubber.
Comfort
Another primary issue for casual players or those who are simply enthusiasts is comfort. Unless you expect your body to take a regular beating as you train, there is no reason your feet should be sore the next day regardless of how hard you play.
To accommodate their target demographic, New Balance offers a few features to make their shoes more comfortable. First, the C-Cap midsole will provide good cushion to your forefoot while the ABZORB heel cushion will prevent hard landings from jarring your foot.
Second, the TPU RollBar keeps your foot stable to prevent overextension.
Pros
Upper made of full grain leather
Excellent traction style
ABZORB cushion for landing softly
TPU RollBar stabilizes rearfoot
C-Cap midsole balances cushion and flexibility
Provides excellent breathability
Can be used outdoors
Cons
Not the best traction
One of the heavier racquetball shoes
Most expensive racquetball shoes reviewed
6.

Ektelon

 – Best Type of Shoes for Racquetball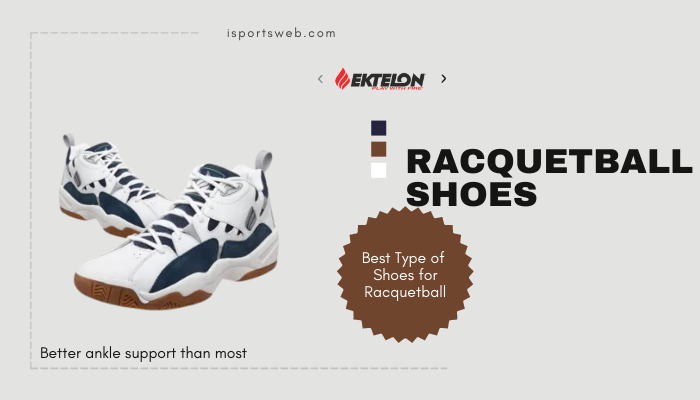 Ektelon is the first and only brand on our list that specializes exclusively in making and selling products for racquetball.
While there are other excellent brands that we reviewed and even a few that tend to focus on sports played on courts Ektelon is the only brand that stays within the Racquetball market to the exclusion of all others.
For an enthusiast, this allows Ektelon to provide one of the better all-around performing racquetball shoes that we saw.
Stability
One of the often-overlooked aspects of racquetball shoes is stability. Because racquetball requires the player to dart around the court for oddly angled shots, mobility is generally stressed over stability.
While this may work well for professionals or even highly competitive amateurs, it leaves casual players and enthusiasts at risk of ankle injuries.
To alleviate this issue, Ektelon has come out with a mid-top cut racquetball shoe that offers far more ankle support than any other that we reviewed.
This is also one of the few racquetball shoes that we saw which uses the classic gum rubber for top-tier traction though the traction style leaves a bit to be desired, but that is expected for a shoe focusing on stability.
Stability (Again)
Ektelon has sold out completely when it comes to stability, which may be exactly what you need depending on your physical condition and your play style.
To go along with the mid-top cut, the T-22 Mid also offers a TPU forefoot strap design. This prevents the front of your foot from overextending and will help further prevent the dreaded rolled ankle injury.
To provide further stability for medial movement, Ektelon uses a TPU shank called the wYshbone. The best part about this shank is it is rigid enough to brace against but flexible enough to offer some wiggle room.
Pros
Better ankle support than most
Provides reasonable breathability
TPU forefoot straps offer additional stability
wYshbone shank increases medial stability
Gum rubber offers great traction
ShockEraser midsole for landing softly
PU inner for fit and cushioning
Cons
Not the most mobile
The heaviest racquetball shoes reviewed
A more expensive pair of racquetball shoes
7.

HEAD 

– Best Racquetball Shoes HEAD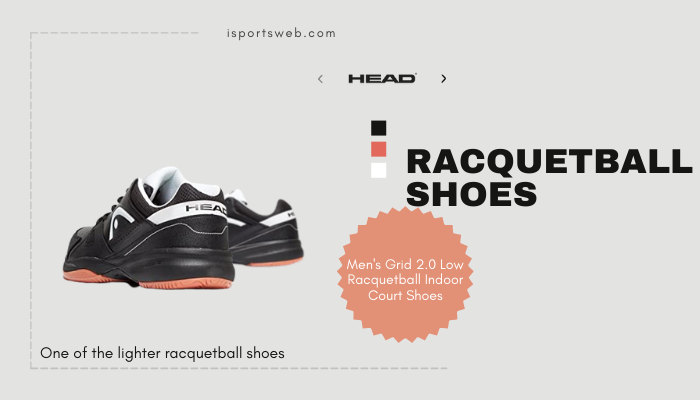 When it comes to sports played on a court, few brands have the prestige and reputation of HEAD. Whether you play tennis, squash, pickleball, or racquetball, Head offers a wide array of professional quality equipment.
Interestingly enough, the Grid 2.0 is technically intended to be used as a squash shoe, but the similarity between the two sports lend it just as well to racquetball. That said, you should likely be competitive if you want to use this racquetball shoe.
Traction
Part of this is because the HEAD Grid 2.0 offers by far the best all-around traction that we saw. While the outer sole is ultimately composed of a soft, tacky gum rubber, the compound has been altered a bit.
This Hybrasion gum rubber provides the best of both worlds where your outer sole provides high-end traction, but it will not wear away quickly either though it is still definitely too soft to take outside.
Beyond the outer sole's material, the tread style of the HEAD Grid 2.0 is also one of the best we saw. While we would have preferred there to be a forefoot pivot, the medial outer sole design of herringbone with a lateral outer sole design of softer waves ensure that your foot will stick wherever you put it.
Mobility
The traction of the HEAD Grid 2.0 actually goes towards improving its mobility as well. With the stickier grip, a player who has excellent footwork will find that they can respond at the drop of a hat and be across court in a flash.
Beyond the traction, this is also one of the lighter pairs of racquetball shoes that we saw and by far the highest performing pair at this weight.
This will further increase your foot speed, especially for the nuances of technical footwork. Finally, the nylon anti-torsion shank will bend and flex just enough to not impede your movement, but it will still offer a stiff enough brace to pivot off.
Pros
One of the lighter racquetball shoes
A reasonably priced pair of racquetball shoes
Gum rubber offers great traction
Decent traction style
Provides good breathability
HyBrasion compound is durable
Solid nylon anti-torsion shank
Cons
Not the best ankle support
Fit runs a bit small
Not the best cushioning
How to Choose Racquetball Shoes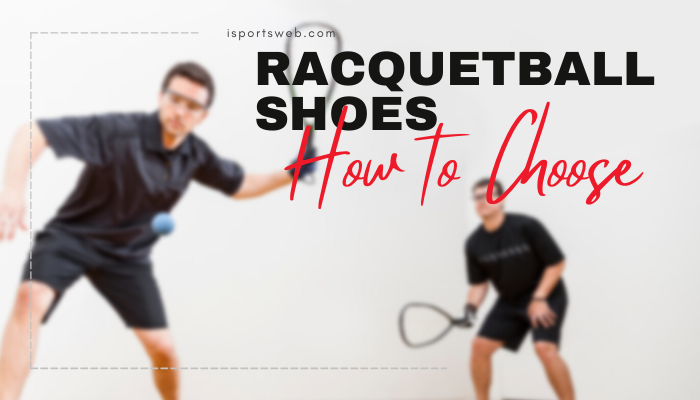 Racquetball is a sport that requires lots of lateral movements and quick stops and starts. As such, you should choose a pair of shoes that offer a strong grip, lots of stability, plenty of shock resistance, ample flexibility, and some ankle support.
While it may be tempting to wear your street gear on the racquetball court, it's never a good idea.
Outer Soles
Racquetball shoes must provide substantial traction.
Gum rubber is the predominant material choice for the outer soles of racquetball shoes. This sticky yellow material provides players with an excellent grip.
On the downside, gum rubber wears out faster than polyurethane and other synthetic sole materials.
Tread patterns also have a tremendous impact on the movements and traction of racquetball shoes. Since racquetball movements are quick and random, we recommend soles with traditional herringbone tread and circular accents.
Midsoles
Players who are caught up in a shoe's performance factors may overlook their comfort. Cushioned midsoles respond excellently to hard landings and abrupt shifts. Keep an eye out for sneakers with proprietary gel and foam forefoot coverage.
A good buffer is going to give you smoother landings, quicker recoveries, and a little bit of bounce.
Uppers
Racquetball requires lots of lateral movements. As such, your uppers need to be capable of withstanding non-stop pushes and pulls. We see a lot of mesh uppers with hard synthetic overlays. These dynamic support systems provide balanced support and flexibility. They also offer excellent breathability and temperature regulation.
Cut
Racquetball players need lots of ankle support. However, a reliable pair of shoes will not restrict an athlete's ability to make lateral and medial moves.
Rolled ankles
are some of the most common racquetball injuries. Mid- or high-top racquetball shoes provide players with adequate ankle support.
What Type of Shoes for Racquetball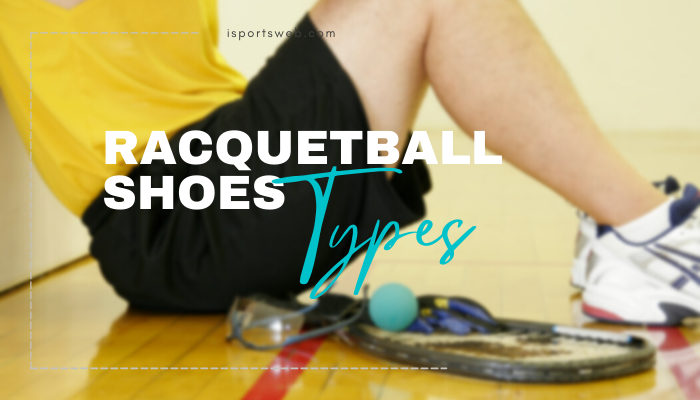 Many shoe manufacturers produce racquetball-specific shoes. Popular brands include Asics, Adidas, Wilson, New Balance, Ekelton, and Head. Resist the urge to wear conventional sneakers or other athletic footwear on a racquetball court.
Racquetball shoes have very specific purposes. They are designed to be worn on a specific surface and to perform a specific task.
Many racquetball courts also have strict footwear requirements. Still, newbie players often improvise their footwear, opting for tennis, volleyball, basketball, or even running shoes.
While there are some obvious similarities between these sports, it doesn't make up for the fact that none of these shoes aren't made for racquetball courts. When you opt for a sneaker that is made for an entirely different surface or movement, you jeopardize your performance and safety.
Racquetball shoes should always be lightweight, flexible, and snug. Racquetball requires quick bursts of movement in all directions. Since racquetball is always played on a glossy indoor court, players are required to have gum rubber soles. You don't want to be the player that unknowingly marks up a court with your street shoes.
You also don't want to be the athlete that tracks in dirt and grime from the outside. Behaviors like this could get you blacklisted. As such, it is important to have a dedicated pair of racquetball-specific sneakers.
How to Wash Racquetball Shoes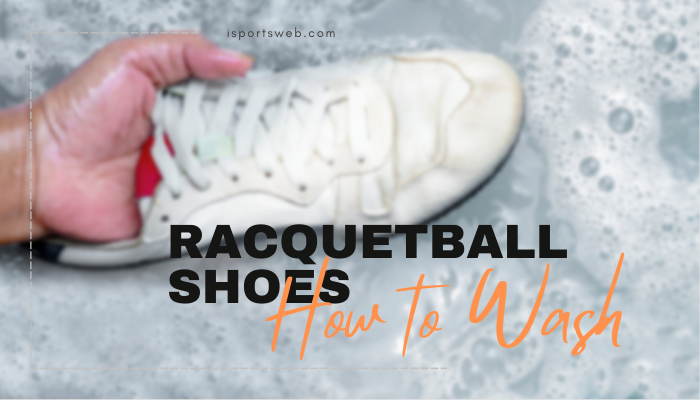 We do not recommend wearing racquetball shoes outside of the court. However, even properly used racquetball shoes can become soiled or smelly. If you need to remove excess dirt, consider dropping your racquetball shoes in your washing machine. Just be sure to remove the laces and insoles before starting the wash.
Use a regular wash setting, warm water, and a deep-cleaning detergent. Remove your shoes from the washer as soon as the cleaning cycle is complete. Put them in the dryer with a few clean towels.
Then set the dryer to air-dry. If your sneakers are still moist after the drying cycle, allow them to air-dry overnight.
If your racquetball shoes smell, sprinkle a small amount of baking soda inside the foot cavities. You can vacuum the baking soda up before wearing the shoes again. Baking soda is a cheap and effective odor remover. It can be used repeatedly, and it will not damage footwear.
You can also use a small brush and soapy water to remove dirt and scuffs from the exterior of your shoes. Just be sure to rinse off any soap residues before drying your shoes. If your shoes are wet, use a towel to absorb any excess moisture.
Best Racquetball Shoes – Buyer's Guide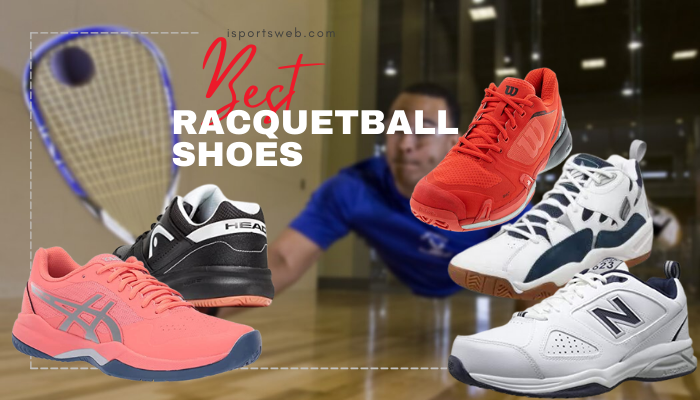 Outer Sole
This is by far the most important quality for most people when choosing a pair of racquetball shoes. The outer sole will ultimately determine how much traction you have which will be important both for mobility and for stability.
That said, your physical ability would probably lend you to one type of traction over another. This is because too much traction can actually be a bad thing if your body is not able to handle the G-forces when you stop. This can even lead to injuries especially ankle injuries.
Material
All racquetball shoe outer soles will be made out of rubber. That said, some types of rubber are harder than others.
The harder the rubber, the less traction the outer sole will provide. The softest type of rubber used for outer soles is gum rubber.
This rubber is exceptionally soft and will provide incredible traction. Of course, this is material that can stop you so suddenly you roll your ankle if you are not careful.
One of the ways that racquetball shoe manufacturers account for this is by adding polyurethane to the rubber. This will ultimately make the outer sole harder, less sticky, and reduce the traction.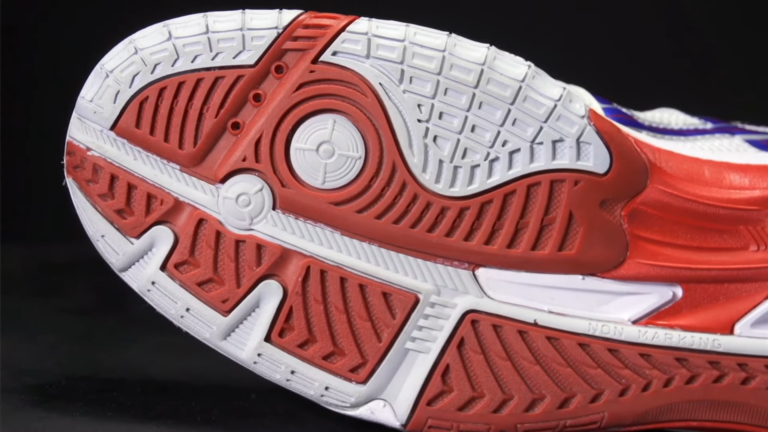 On the plus side, it will also allow the outer sole to slide a bit which will help prevent ankle injuries. On top of that, rubber with polyurethane added to it is also significantly more durable than pure gum rubber.
Design
While the material of the outer sole is by far the most influential in terms of traction and durability, the design of the tread will also play an important role in how well the outer sole sticks.
In this regard, you will want to avoid any shoes that have deep or thicker treads without a good reason. This is because the more surface of the outer sole that makes contact with the court, the better traction it will provide.
For indoor courts, like the ones on which racquetball is played, you will want either hexagonal or herringbone tread designs. Herringbone offers more all-around traction, but hexagonal tread will provide better lateral traction.
Another feature to look for is a forefoot pivot. This is a circular design that sits right under the first joint of the big toe. This feature provides an excellent point for jumping and sprinting.
Midsole
After the outer sole, the next most important part of a racquetball shoe is the midsole. This is the part of the shoe that your foot directly rests on.
Depending on the design, features, and materials of the midsole, you will play better with one style or another. For instance, if you have a tendency to play hardstyle with a lot of leaping smashes, you will want to make sure that the midsole offers plenty of heel cushioning.
Conversely, if you play a quicker style that involves sprinting in a chase and recover strategy, you will definitely want to invest in some racquetball shoes with responsive forefoot cushion.
Though, a cushion for the forefoot is generally designed to provide a bit of recoil to help you sprint and change direction quickly rather than offer protection from hard leaps.
Shank
An overlooked factor in racquetball shoes is the shank. This is the part of the shoe at and around the arch of the foot.
Depending on whether you are looking for more mobility or more stability, the shank will need to be firmer or more flexible in response. That said, all good quality racquetball shoe shanks should offer a good mix of both.
If you are looking for a more stable racquetball shoe, then a firmer shank will be preferred. However, a firm shank can also work well for a player who shifts laterally quite often so long as they have a tendency to play on their toes. That said, a firm shank could also leave the sole of the footsore if you do not use the proper footwork.
Flexible shanks are generally preferred by most players, as they are more forgiving than firm shanks and are far less likely to leave the sole of your footsore after play.
The main issue with more flexible shanks is that they will not stabilize your foot quite so much. Sprinters often prefer this arrangement as it prevents the shank from impeding on their movements.
Conclusion
In the end, the best racquetball shoes will not mean the same thing to all players. That said, there are a number of qualities that can help you identify the best racquetball shoes for your needs.
Since few of us are professional athletes, chances are the best racquetball shoes will be the ones that balance the different qualities out better than the others.
In this regard, the best racquetball shoes will actually turn out to be a pair of tennis shoes.
If you are looking for something a bit more budget-friendly, ASICS offers a great option with both their Gel Rocket 7s and their Gel Rocket 9s.
While both of these shoes are similar, the Gel Rocket 9s definitely win in the price department, while the Gel Rocket 9s some slight improvements over the previous model.
The Adidas Barricade Club aims to provide the best of all worlds without selling out too much in any direction. Whether you consider durability, traction, or mobility the most Important qualities when playing racquetball, the Adidas Barricade Clubs offer an excellent balance.
Check out some other picks from Amazon also:
Bestseller No. 1
Bestseller No. 2
Python Wide (EE) Width Indoor Mid Racquetball (Squash, Indoor Pickleball, Badminton, Volleyball)...
You've finally found the perfect EE Wide Width Indoor Gummy Sole for use in Racquetball, Squash, Badminton, & Indoor Pickleball
Extremely High Quality Synthetic Leather Upper with Open Mesh Inserts for Ultra Light Weight and Breathability
Non-Marking Gum Rubber/Lightweight EVA Insole for Comfort and Cushioning
Shoe Weight: 11.6 oz (Size 10.5)
Die-cut Artholite insoles provide superior shock absorption and deodorization as well as breathable comfort
Sale
Bestseller No. 3
Bestseller No. 4
Bestseller No. 5
Sale
Bestseller No. 6