When getting ready to play a game of squash, by far the most popular and obvious piece of equipment necessary is the racquet, though it is easily not the simplest in terms of figuring out which are the best squash racquets for your style of game and skill level.
Best Choice
Good Choice
Don't Miss
Premium Pick
Tecnifibre Carboflex (S) Squash Racquet Series (125, 130, 135g Weights Available)
HEAD Nano Ti 110 Squash Racquet (Various Options)
Tecnifibre Carboflex Squash Racquet Series (125, 130, 140g Weights Available)
HEAD Micro Gel 145 Squash Racquet (Strung)
Best Choice
Tecnifibre Carboflex (S) Squash Racquet Series (125, 130, 135g Weights Available)
Good Choice
HEAD Nano Ti 110 Squash Racquet (Various Options)
Don't Miss
Tecnifibre Carboflex Squash Racquet Series (125, 130, 140g Weights Available)
Premium Pick
HEAD Micro Gel 145 Squash Racquet (Strung)
In fact, the sheer number of options and approaches can be incredibly daunting if you are not intimately familiar with what each of the individual qualities means.
In a Hurry? The test winner after 5 hrs of research
The subtle differences between how graphite and titanium racquets play are small potatoes compared to the larger issues of racquet weight, how it is balanced, and what other features have been geared more or less in favor of one of two qualities: touch and power. That said, the number of ways that a manufacturer can tinker with and adjust a squash racquet allow everyone to find something.
Best Squash Racquets in 2023
Still, figuring out which is the best squash racquet for your needs can be a difficult and confusing task. That is why we have put together a list of the 9 best squash racquets, highlighting what each one does best. Then we provide a helpful buyer's guide, so you can find the best squash racquet for you.
1.

TECNIFIBRE Carboflex S

– Best Squash Racquets (Editor's Choice)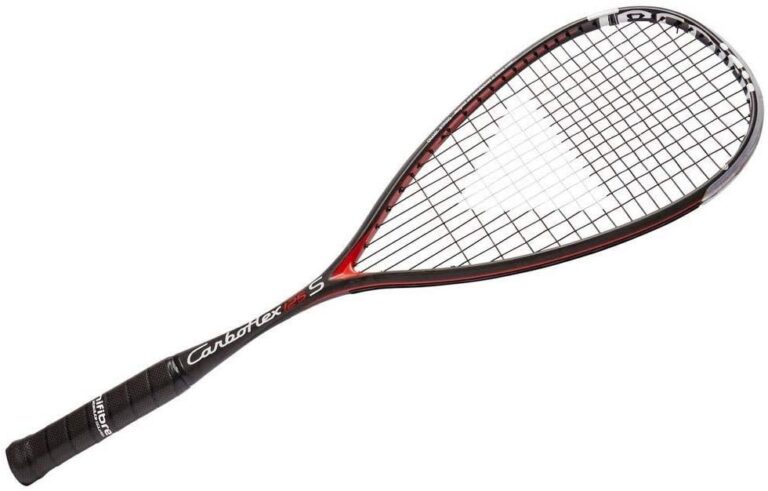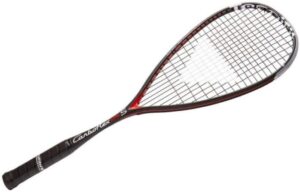 When it comes to squash equipment, TECNIFIBRE may not have the longest or most storied history, but they have been in existence for about 6 decades which is apparently plenty of time to be able to figure out what it takes to make a high-end squash racquet.
In fact, if you are already a skilled squash player, then there is no other squash racquet on our list that can truly compare to the TECNIFIBRE Carboflex S though your skill level should be advanced before you try playing with the Carboflex S or else you are likely to have difficulty controlling the ball.
Pros
Weighs only 125 g
Has a 500 sq cm head
Is slightly head heavy
Made of graphite
Made of basaltex
Features a 14 x 18 string pattern
Has basaltex transmitters
Is stiffer than most
Designed for light tension
Cons
Does not provide additional touch
Is the most expensive squash racquet reviewed
Uses Superior Materials
When looking at high-end squash racquets, it is always important to ensure that the racquets are made out of suitably impressive materials. The best performing squash racquet in the world is worthless if it can only handle a couple months of intensely competitive play before it starts to fall apart.
That is why TECNIFIBRE's decision to include both graphite and basaltex as constituents of the racquet's material is so reassuring. For one, both of these materials are incredibly lightweight, making it easy to add further design features to enhance the performance of the Carboflex S. Even better, the basaltex is used strategically, rather than generally, so only certain points are reinforced rather than using the material for the entire racquet.
Produces Great Power
It is important to note that the TECNIFIBRE Carboflex S expects you to be at a point in your skill development where you have figured out how to properly use a squash racquet for all of the general types of shots and plays.
As such, the focus of the Carboflex S is almost entirely geared towards generating more power in a lighter frame. In fact, virtually every quality of the TECNIFIBRE Carboflex S is designed to increase the power of your shot at the expense of your ability to control the shot or apply touch.
In fact, only the weight would betray the fact that this is a power racket, plain and simple. From the stiffness to the balance, to the string pattern and tension, all of the features outside of its slim 125 g will help generate more power and demand your touch skill are already adequately developed.
2.

HEAD Nano Ti

– Best Squash Racquets for Intermediate (People's Choice)



As a company, HEAD might not be as specialized as some of the other brands we reviewed, not specializing in squash racquets specifically or even racquet-based sports more generally.
In fact, this brand has its origins in various skiing and alpine sports instead of anything played with a ball on a court. That said, HEAD has quickly come to be known for producing some of the best squash racquets around, which is why it should come as no surprise that they took the People's Choice Most Popular squash racquet on our list.
Pros
Only weighs 110 g
Has a 500 sq cm head
Is slightly head heavy
Features a 14 x 18 string pattern
Made of titanium
Has carbon fiber weave
Has an open throat
Uses Powerfan stringing system
Is a somewhat stiff squash racquet
Cons
Only comes in a single size
Does not provide an additional touch
A Unique Composition
One of the more interesting qualities about the HEAD Nano Ti is given away in its name: the Ti. Essentially, this is the only squash racquet made out of titanium that we reviewed, which carries with it some distinct characteristics and is the only such squash racquet reviewed on our list.
For one, the titanium composition of the HEAD Nano Ti means that this is actually the most durable squash racquet we reviewed and will be able to handle colder weather conditions without becoming brittle. On top of that, the inclusion of woven carbon fiber to further reinforce the HEAD Nano Ti while simultaneously allowing for flexibility only cements its great construction.
Very Power Focused
If all you are looking for is power without consideration to other qualities used to define a style of game, then the HEAD Nano Ti has everything you need. Keep in mind, at 110 g, this also happens to be the lightest squash racquet we reviewed as well.
This means that the HEAD Nano Ti is generating its power from additional features as opposed to weight instead, it finds ways of transferring swing speed into hitting power.
The Powerfan 14 x 18 string pattern with an open throat is one way of doing this without unduly shrinking the size of the sweet spot. The HEAD Nano Ti also makes sure that the titanium shaft and head are a bit stiffer than most and have a tendency to lean a little head heavy with the balance.
3.

Dunlop Blaze Pro

– Best Squash Racquets for Beginners (Best Price)




Sometimes you are not necessarily in the market for a high-end squash racquet and simply need something to stand in and make due. In this case, you are likely in the market for a squash racquet that can still be used competently but takes as small of a bite out of your wallet as possible.
For this scenario, your best bet is likely to go for an entry-level squash racquet that comes with other goodies to get you from the sidelines onto the court with little delay. That is why the fact that the Blaze Pro, the least expensive squash racquet reviewed, is only enhanced by the complete pack of equipment.
Pros
Weighs a heavy 175 g
Has a 500 sq cm head
Made of graphite alloy
Is balanced head light
Features a 14 x 20 string pattern
Has an open throat
The least expensive squash racquet reviewed
Not as stiff as some
Comes with a complete court pack
Cons
Not the most touch
Not the best materials
Provides a Value
Beyond the fact that the Dunlop Blaze Pro is a decent squash racquet for a beginner or anyone looking to play immediately, this product actually comes as a complete kit with pretty much all of the equipment necessary to play the second you open it. Aside from the Dunlop Blaze Pro squash racquet, you will also receive a shoulder strap carrying case.
The Dunlop Blaze Pro does come pre-strung, so you will not have to worry about doing that later though it might not be a bad idea should you use the Dunlop Blaze Pro for any length of time. Of course, the Dunlop Blaze Pro also comes with protective eye gear as well as 2 different balls one for competitive play and one for friendly games.
Provides a Balance
When it comes to the type of squash racquet that the Dunlop Blaze Pro is, it is best to understand its market.
As an entry-level squash racquet, which includes all of the basic equipment necessary to begin playing squash right away, the Dunlop Blaze Pro is definitively geared more towards the beginner than it is the advanced player.
With a weight of 175 g, the Dunlop Blaze Pro is by far the heaviest squash racquet on our list, but many other qualities aim to balance this fact out. For instance, the actual balance of the Dunlop Blaze Pro is head light, which serves to provide a bit of touch lost with the increased weight of the racquet.
4.

Black Knight Bandit 3

– Best Squash Racket for Power



Black Knight is definitely an unusual company on our list but for all of the right reasons. In fact, Black Knight is the company we reviewed, which specializes exclusively in squash equipment.
To take that a step further, Black Knight is also a company in part headed by a decorated professional squash player who has won numerous titles including 2 World squash titles. Though it may have only been formed less than half a decade ago, Black Knight has quickly become known as a brand to provide decent squash equipment at reasonable prices.
Pros
Weighs a moderate 140 g
Has a 500 sq cm head
Has medium stiffness
Made of graphite
Made of beryllium
Is head heavy
Has a 14 x 19 string pattern
Has an open throat
Is a less expensive squash racquet
Cons
Has a smaller sweet spot
Not ideal for touch
Has Solid Materials
When it comes to Black Knight squash racquets, they have to do something different to break into a market that already has fairly clear leaders. One of the ways that the Black Knight Bandit 3 attempts to do this is by varying the chemical composition of their materials a bit so as to provide additional benefits to their squash racquet. This begins with the use of high-quality graphite that is then formed into a lattice or weave-like form.
This graphite is then reinforced with a second woven layer of beryllium, which provides the best flexibility to weight ratio out of any of the commonly used materials for squash racquets. Combined, these materials give the Black Knight Bandit 3 a good balance of features.
Geared Towards Power
That said, there is no getting around the fact that the Black Knight Bandit 3 is definitely designed to provide power. For one, this is actually one of the heavier squash racquets that we reviewed, though it definitely still comes in near the mid-size racquet categories at only 140 g.
On top of that, the combination of the beryllium weave added to the general graphite composite shaft and head of the Black Knight Bandit 3 ensure that the stiffness remains moderate.
Still, this squash racquet is designed to be head heavy in balance and features an open throat design all qualities, which ultimately help the Black Knight Bandit 3 generate more power.
5.

Tecnifibre CarboFlex

– Best Squash Racquets for Advanced Players



The racquets that were once at the top of all the lists will inevitably, eventually be one day overtaken by the newest models with the most innovative and revolutionary features. Of course, those older models of squash racquet do not simply lose the benefits that they initially provided which are responsible for catapulting them to the top of best squash racquet reviews.
As such, those older models have a tendency to become devalued, which is precisely when their price to value ratio hit a sweet spot and is also, why the original Tecnifibre CarboFlex is our best all-around value squash racquet.
Pros
Weighs only 125 g
Has a 500 sq cm head
Is slightly head heavy
Features a 14 x 18 string pattern
Has an open throat
Made of graphite
Made of Basaltex
Has an isomorph shaft
Is a stiffer squash racquet
Cons
Is a more expensive squash racquet
Does not provide additional touch
Uses Superior Materials
Much like the newer model, the Tecnifibre CarboFlex distinguishes itself from many of its competitors by simply using better materials than them. For instance, most high-end squash racquets use graphite as their primary composition materials, but there are numerous ways of forming graphite so it is more or less stronger.
For the Tecnifibre CarboFlex, the graphite is first threaded and then woven around a frame to provide one of the most durable constructions we saw — especially considering the Tecnifibre is still more than capable of bending as needed to play at a high level.
Produces Great Power
Much like the other models in the CarboFlex line, the original is all about generating more power per swing than it is in affording any other quality and feature.
That said, the way that this squash racquet generates power is far more about the various other qualities than it is the standard approach of adding more weight.
In fact, this is actually a somewhat lightweight squash racquet at roughly 5 g lighter than the general weight range. On top of that, the Tecnifibre CarboFlex makes use of a head heavy balance and a stiff shaft and head to ensure that the 14 x 18 string pattern will be able to generate as much controlled power as you are capable of delivering.
6.

Head Micro Gel

– Best Squash Racquet Under 100



Head makes another appearance on our list, but this time it is in an attempt to capture the beginner market. While this racquet is not at all priced for what you would expect from a beginner's racquet, its design and features are definitely geared towards providing a well-balanced experience that does not too terribly favor power or touch, instead offering a solid suite of features designed to increase both qualities.
Pros
Weights a moderate 145 g
Has a 500 sq cm head
Is lightly head light
Features an 18 x 20 string pattern
Made of graphite
Made of Microgel
Has an open throat
Has balanced stiffness
Has a high tension
Cons
Is a more expensive squash racquet
Does not provide additional power
Provides the Best Touch
Though the HEAD Micro Gel is designed to balance the qualities of a squash racquet, the company understands that beginners are very likely still learning how to properly hold and swing their squash racquet. As such, it is important to ensure that the beginners can effectively control the ball as they learn how to play squash and develop their fundamental skill sets.
One of the many ways that the HEAD Micro Gel accomplishes this is by providing the densest string pattern that we saw a full 18 x 20. On top of the pattern itself, this squash racquet also employs a high tension to better brace against a hard shot. Finally, the head light balance will inherently provide beginning squash players with a bit more control as they return a shot without being set up to deliver too much power.
Is Fairly Durable
When it comes to durability, there are actually few squash racquets, which can compete with the HEAD Micro Gel providing another great quality to justify the HEAD Micro Gel as a beginner's squash racquet despite its somewhat inflated price.
For example, this squash racquet is made from strong and flexible graphite, but its construction has been reinforced beyond that. The HEAD Micro Gel, as the name suggests, makes use of a micro gel lattice that is woven around the graphite in strategic points to provide better durability without sacrificing the HEAD Micro Gel's balanced stiffness.
7.

Prince

– Sovereign Prestrung Squash Racquet



The No-Nonsense Squash Racquet
The Prince TT Sovereign Prestrung Squash Racquet will give you everything you would expect to see in a purchase of this type. There's the racquet itself, a carrying case, and pre-strung strings that can be used right when the product is unboxed.
Speaking of strings, they are very well built and should keep you playing dozens of games without showing obvious signs of wear or a replacement too early in its use.
Pros
Strings are very durable with all hold up after multiple games without tearing
Feels agile during play; provides momentum and more power when in contact with the squash ball
Ships to every user pre-strung
Sold with a zip cover for protection when not in use
Cons
The frame can be broken easily or warped if dropped or stepped on
Warping and Fragility
Try not to step on the frame though. It's very easy to warp it out of shape. Additionally, dropping it, even from a few feet, will likely cause this piece to break.
The carrying case mentioned could help prevent this from happening, but try not to store it anywhere you think the racquet could become broken. So long as you're careful with this, all other aspects of the Squash accessory are top notch.
You will have lots of quick movements in your swings and get better placement on the ball (when you want it to go to your opponent, and not in your direction).
How to Choose Squash Racquet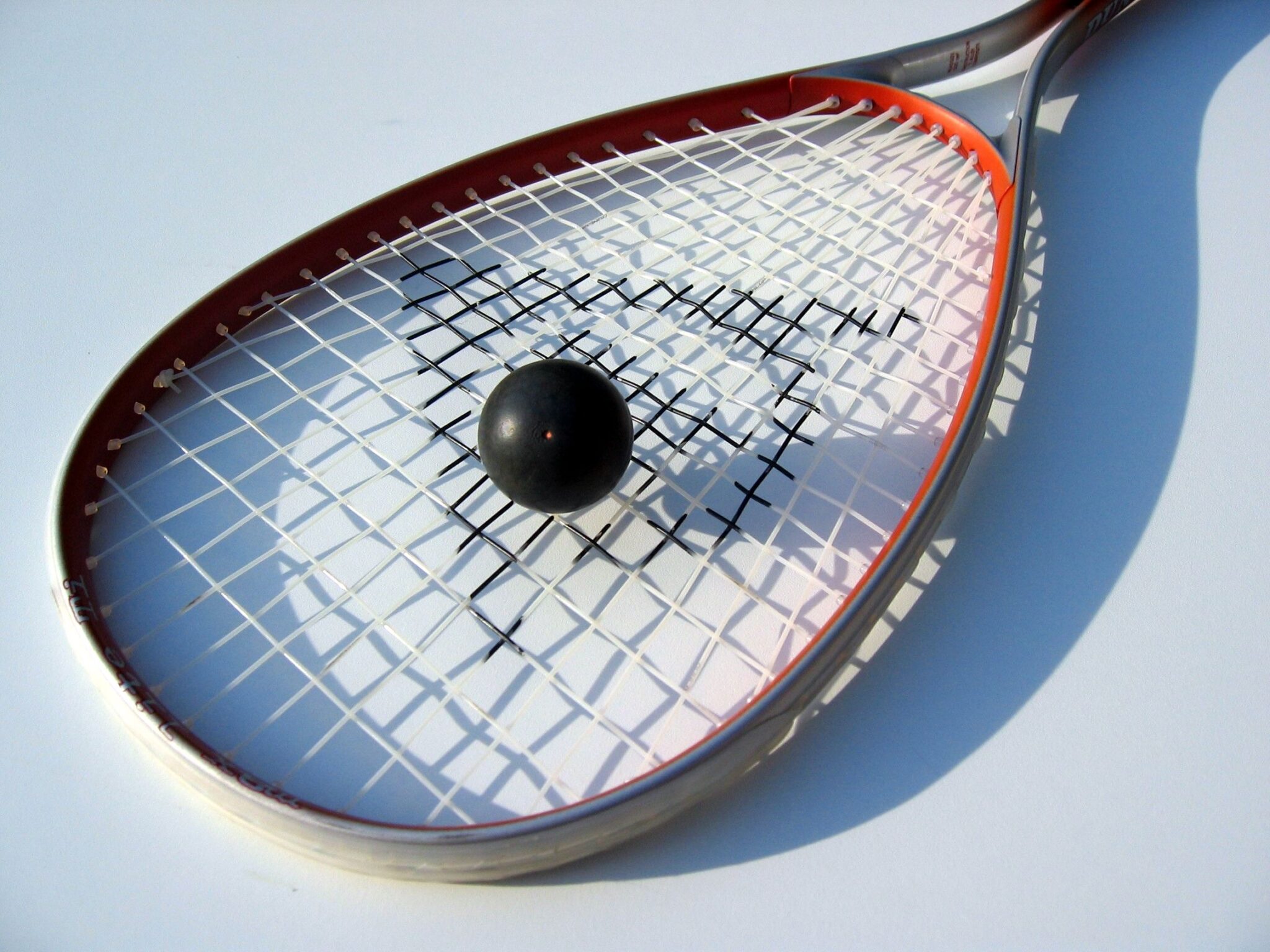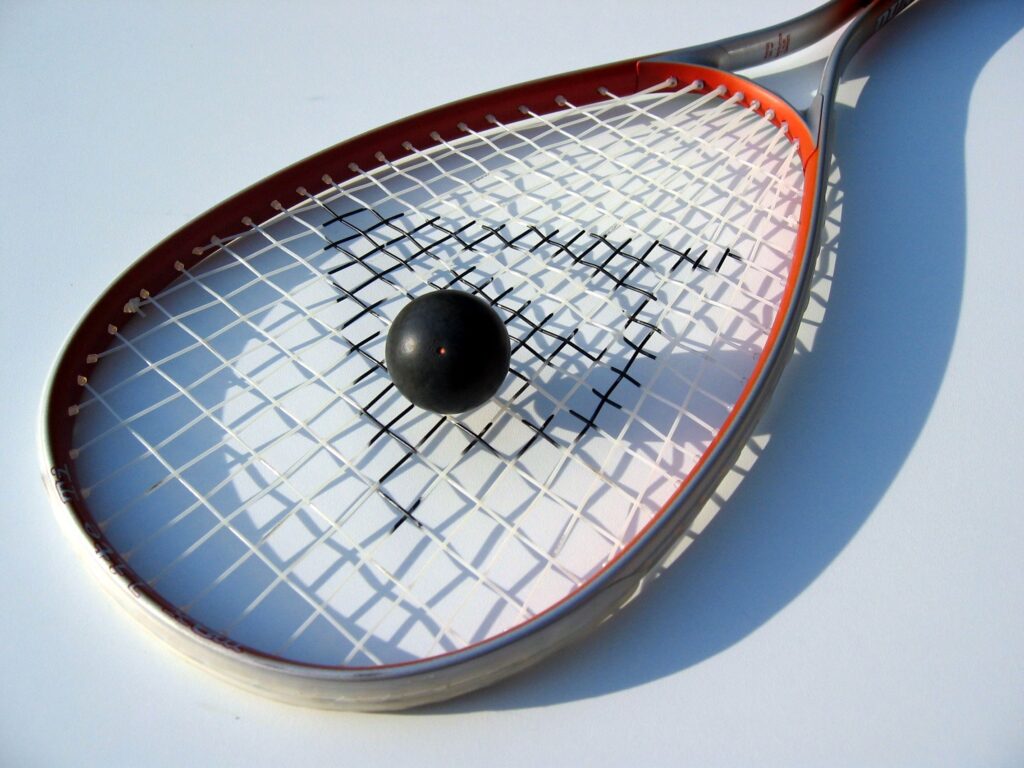 There are a lot of elements that players need to consider when choosing a squash racquet. The right racquets give players a significant advantage on the court. It improves a player's comfort and confidence.
The first thing you should consider is the weight of your racquet. Experts tend to group squash racquets into three categories: light, mid-weight, and heavy. Lighter racquets offer more maneuverability. Since light racquets are not very heavy, players need to have a lot of strength and endurance to reap to the benefits of them.
On the other end of the spectrum, heavy racquets improve players' power. The girth of these racquets makes them harder to swing. For these reasons, average players tend to choose mid-weight racquets. These racquets are easy to handle. What's more, they offer exceptional maneuverability and power.
Players should also consider the strings when making a racquet purchase. After all, the string face is the only component that comes in contact with balls. Check your racquet's string gauge and tension to ensure that it offers maximum durability and power.
Racquets also come with a variety of throat shapes. You may opt for an open, teardrop, or hybrid racquet throat. The throat is the area located just below the strings. Teardrop throats are covered in vertical bars. These bars increase a racquet's sweet spot.
As such, players have an easier time hitting this type of racquet. Open throats are hollow. They provide skilled players with power and accuracy. Since the sweet spot is so small on these racquets, they're not a popular choice with unskilled players.
Players should also take a racquet's grip size, material composition, and balance into consideration. Squash racquets may be head-light, head-heavy, or even. Head-light racquets give skilled players more precision. Meanwhile, head-heavy racquets give weaker players more power.
Of course, players can only reap benefits based on their skill levels.
How to Hold a Squash Racquet
For most players, the key to succeeding at squash starts with a firm racquet grip. Players should always hold their racquet with their dominant hand. Players should place their hand with their palm and fingers facing up. The racquet handle should rest somewhere in the middle of their palm, with the topside angled at the area between the thumb and pointer finger.
After that, players should wrap their thumb and fingers around the racquet's handle. The index finger should not be squished together with the rest of the fingers. It should be slightly higher on the shaft, providing a backbone for the upper portion of the racquet.
Players should create a snug grip around the racquet handle. Keep in mind that the handle should still be able to move around. Players will alternate the angle of their racquet to strike or serve the ball. This action requires fast sweeping movements in virtually all directions. Players may also rotate their racquet handle so that the strings are faced downward. This type of hold is called a backhand grip.
Why Is Graphite Used in Making Shafts for Squash Racquet
Experts typically choose graphite squash racquets. After all, graphite absorbs the shock of hard hits. It's also an incredibly resilient material. Unlike metal or wood, graphite doesn't warp under the pressure of sudden impacts. When a rubber squash ball hits a graphite racquet.
The vibrations are absorbed by the graphite frame and handle. Graphite gives players lots of control over the distance and direction of their balls. In essence, a skilled player has a keen advantage over players using racquets made of inferior materials.
Graphite is also an extremely light material. As such, it gives players the ability to move freely on the squash court. For this reason, newbie squash players often prefer graphite. Still, graphite gives players an unmatched on-court advantage. It's lightness, accuracy, and power potential can not be challenged.
Best Squash Racquets – Buyer's Guide
Weight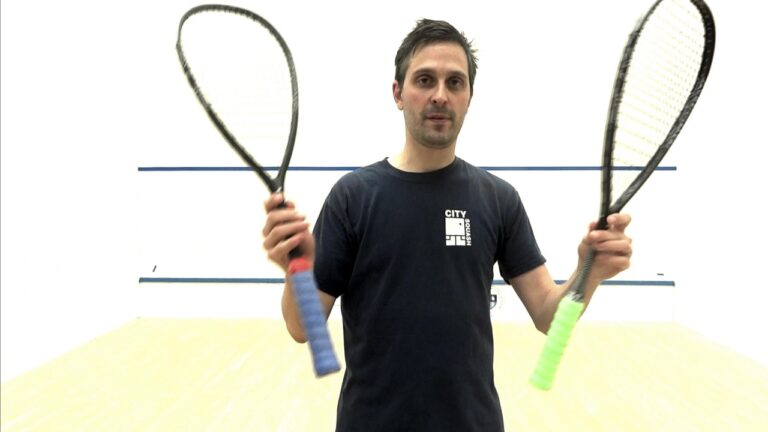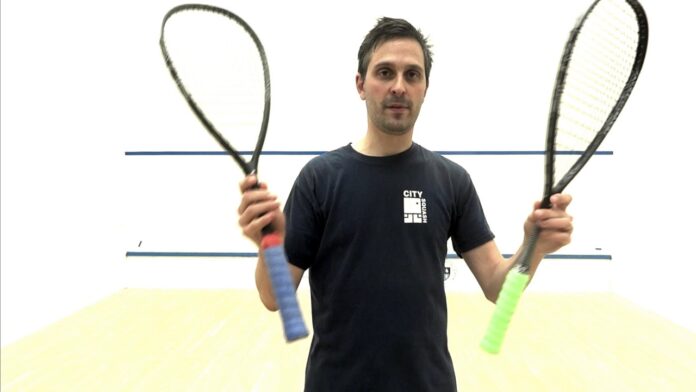 Squash racquets are rated primarily in grams for competitive purposes. This is probably the most important quality to consider when choosing a squash racquet primarily because there is a consistent trend where new players have a tendency to select heavier racquets that, while offering less touch, are paradoxically naturally easier to wield when you are not proficient with a racquet.
That said, the weight use projection generally starts heavy, and then dips to light before the player, who are developing their skills, slowly begins to favor heavier and heavier racquets until they find the right weight that provides them the best mix of power and touch. That said, the player's style would often affect this consideration, which can disrupt the natural flow of this median process.
Less Than 130 g
These are considered to be squash racquets designed and geared more towards touch than power. This is in a large part because the lighter you racquet the more you have to put into your swing to generate the same power as a heavier racquet.
That said, there are a number of lightweight squash racquets, which are designed to capitalize on the faster swinging speeds possible, but those racquets generally have to focus so many other aspects of the racquet towards generating that power that these lightweight racquets sacrifice a great deal of the trademark touch that makes them an attractive option in the first place though these lightweight racquets do at least have the exceptional recovery that all lightweight racquets offer.
130 g – 150 g
This is by far the most common weight range of squash racquets, and you will likely have to make it somewhat of a point to select a size outside of this range though the 125 g and 110 g weight categories are actually fairly common on the light end while 155 and 165 g are still fairly common on the heavier side.
That said, most players generally end up using a racquet within this weight range once they have been playing long enough. This is because this weight range was explicitly designed to provide a great balance between touch and control, able to provide plenty of both depending on how the other features are aligned.
It is interesting to note that beginners are best advised to skip this weight category as intermediate players specifically because that stage of skill development is explicitly intended to foster the development of touch skills.
More than 150 g
This weight category generally encompasses two types of players: absolute, and neophytes and power masters.
For the former group, the heavier weight provides a better counterbalance as they align their muscles with the various movements that they will need to master just too competently wield as squash racquet.
Of course, the heavier weight of this category will also slow down the beginner's swing to prevent over-swinging. On the other end of the spectrum, a player who is incredibly skilled and plays with an overt dominance in favor of power play will often use a heavier squash racquet.
This is because, in the hands of an advanced player, a heavier racquet will ultimately be able to generate more power than a lighter one can.
That said, this weight racquet generally favors a larger player who already generates significant power and is not as well acclimated to a touch-heavy style of play.
Material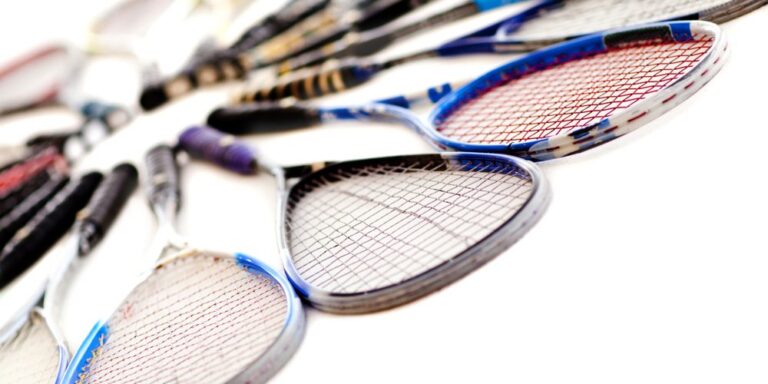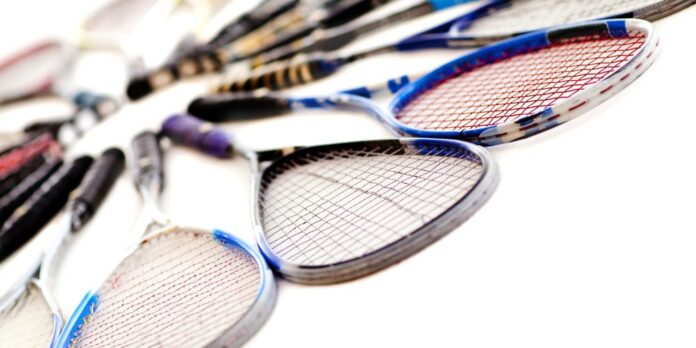 Though it may seem fairly straightforward from a durability perspective, the materials used for the racquet will often be the next most important consideration as they will also ultimately impact how the racquet feels in your hands regardless the style of your play.
This is because the material will generally affect the weight of the racquet, its stiffness, and even the string tension.
While each player will prefer different string patterns, balances, and other qualities, the desire for quality materials extends across every playing style and every player.
Graphite
When it comes to choosing a high-end material for even friendly, competitive play, graphite is by far one of the best options available. It is an incredibly versatile material that provides a wealth of benefits to numerous qualities with few flaws.
For instance, this is easily one of the lightest materials used for squash racquets, but it is by far one of the strongest as well. In fact, the only potential durability issues you could face would be were you to use the graphite squash racquet after it had been exposed to cold-weather conditions in which case it could become brittle and more susceptible to cracking.
Regardless, graphite also has the advantage of being more easily processed with additives or interwoven with other construction designs. Even better, it is getting more common to find mid-tier squash racquets made of graphite at a reasonable price.
Titanium
If you are looking for a high-end squash racquet that can potentially surpass graphite as the best material, then titanium may very be a better option for you. That said, you should already be somewhat familiar with the different qualities that squash racquets use to fine-tune your game before you worry about whether a titanium squash racquet may improve your game.
Still, titanium does bring a lot to the table by being one of the few materials commonly used that can compare to graphite in terms of its versatility. For example, titanium provides an excellent strength to weight ratio while also being able to somewhat fine-tune the flexibility to suit your game.
That said, titanium tends to run a bit stiffer and feel somewhat heavier than graphite and is better suited for power players whether traditional or smaller.
Aluminum Alloys
This can be a somewhat difficult one to pick out as a number of brands and models will advertise being alloys, but an aluminum alloy will generally identify as such to avoid confusion. That said, aluminum alloy is generally considered a lesser material when compared to graphite or titanium and does, in fact, have less strength or durability in comparison to the superior materials.
Keep in mind, this is not to suggest that aluminum alloy squash racquets are poorly performing, but they are generally restricted to mid-tier level at best and even then are alloyed with another metal that provides reinforcement or additional qualities.
On the other hand, if you are looking for a less expensive squash racquet that can provide serviceable play or provide a more appropriate entry into the sport as a beginner, then aluminum alloy can satisfy that need and provide an adequate stand in as you develop your skills.
Conclusion
As we can see, there is not going to be a single squash racquet, which is the best squash racquet for all players. Players who are just beginning will be looking for a different type of squash racquet than more experienced players will, and even within the different degrees of proficiency player, the different types of play styles will heavily influence what kind of squash racquet will best suit your needs.
If you are a advanced player and are simply looking for the squash racquet that will help boost your game more than most, then we recommend the Tecnifibre Carboflex S. This squash racket is made out of strong and flexible graphite that has been strategically reinforced with basaltex. On top of that, this squash racquet has been designed with power in mind.
Of course, not everyone is ready for a squash racquet that demands that your skill level is sufficiently advanced to get the most out of it. In this instance, we would recommend the HEAD Micro Gel as the best beginner's squash racquet.
Keep in mind this should only be the choice if you know that you are interested in seriously getting into squash, as it can be a bit pricey for fair-weather players.
Don't miss these products:
Pro Impact Graphite Squash Racket - Full Size with Carry On Cover and Durable Strings - Made of Pure...
BEST IN ITS CLASS. Expertly crafted out of pure graphite, this Pro Impact Graphite Squash Racket will provide long-term strength for years to come. Graphite is stronger and more reliable than aluminium, yet is lightweight to offer more control and maneuverability.
ALL SKILL LEVELS. Whether you're a beginner, intermediate or skilled player, you can get your game on with Pro Impact. Designed to improve your game, this racket allows for fast, accurate and flexible play to accommodate all skills levels.
GENERATES MORE POWER. The tear drop shape features longer strings, providing a bigger trampoline effect and packing an additional punch. Combined with the open throat style, this racket will generate more power no matter what your skill level is.
IMPROVE YOUR GAME. Offering a perfect combination of power and control, this squash racket will deliver consistent performance on the court. The quality construction combined with the teardrop shape adds extra crispness to your shots so you can improve your game and squash your opponent.
INCLUDED COVER. For added convenience, the racket comes with an included cover with zipper closure to keep it fully protected. This cover is also outfitted with a shoulder strap so you can easily carry it from one location to the next.
Read Also: