A game that has relatively few pieces of equipment, the items required to play racquetball become that much more important., None of these pieces of equipment are more important than the racquet itself.
Editor's Choice
People's Choice
Best Price
Best Budget
Python Intro 5000 Racquetball Racquet Series (Beginner Frame, Amazing Value, Real Racquetball Brand)
HEAD Intelligence i.165 Racquet
Wilson Striker Racquetball Racquet
Ektelon Toron Pro 180 ESP Racquetball Racquet-SS
Editor's Choice
Python Intro 5000 Racquetball Racquet Series (Beginner Frame, Amazing Value, Real Racquetball Brand)
People's Choice
HEAD Intelligence i.165 Racquet
Best Price
Wilson Striker Racquetball Racquet
Best Budget
Ektelon Toron Pro 180 ESP Racquetball Racquet-SS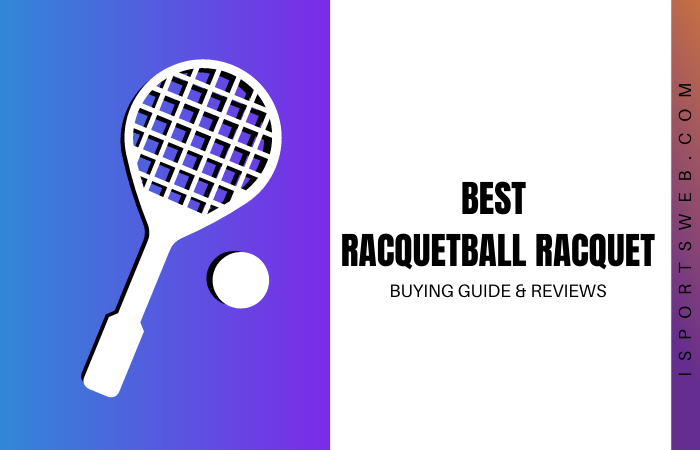 In a Hurry? The test winner after 5 hrs of research
But, the skill level and style of play make one racquet more suited to a player than another. Unfortunately, there is a litany of different features that each combine to create the best racquetball racquets that favor power or finesse. It can be difficult to figure out.
Best Racquetball Racquet in 2022
That is why we have put together a list of the top best racquetball racquets and identified what each is suited for. We provide a helpful buyer's guide, so you can navigate different features and find the racquet that is right for you.
1.

Python Racquetball

– Best Racquetball Racquet (Editor's Choice)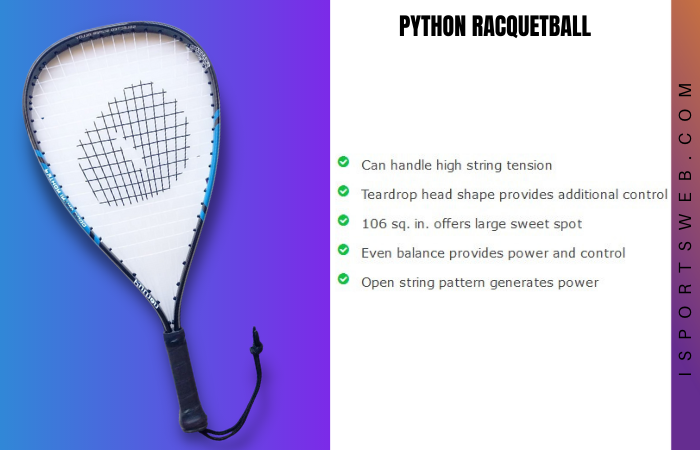 For those who may be a bit new to the game of racquetball or are perhaps jumping back in the game after an extended hiatus, researching and buying all of the different types of equipment can be time-consuming and tedious. Looking for a racquet and poring through the various pieces of relevant information and numerous qualities that distinguish one from another is already trying.
In this case, it would be nice if there were a complete set of racquetball equipment that was both inexpensive and still high enough quality that you do not kick yourself for not investing more. Thankfully, this deluxe racquetball starter kit has everything you need to begin play and all at an incredibly reasonable price.
For one, everything except provided eye guards are Ektelon, which provides you a sense of comfort receiving from quality equipment. But, the actual racquet provided in this bundle is a surprisingly good one as well. In fact, the racquet alone is worth more than the bundle if purchased separately from a different distributor.
This kit comes with an Ektelon Thunder Longbody. While the racquet is designed for more intermediate players, it can still serve admirably as either an early adopter racquet or as a stepping stone.
So long as you are not a full novice and can competently swing the racquet with some control, the Thunder Longbody is an excellent choice.
Advantages
This racquet follows the Ektelon tradition of erring a bit on the side of control for finesse players. However, this racquet is actually in the middleweight category at 170g. This will provide you enough control to refine your skills or get back into the swing of things while still giving a bit more weight for some power.
This edge to power is further enhanced by the most open string pattern we saw. At 12 x 16, the Thunder Longbody can more make up any lost power from control-focused features.
Still, the bulk of these racquets features definitely favor control. For one, the head uses the modified teardrop shape. When you combine this with a 106 sq. in. string surface, you get additional control.
For second, the even balance seeks to further smooth out any differences between control and power.
Pros
Can handle high string tension
Teardrop head shape provides additional control
106 sq. in. offers large sweet spot
Even balance provides power and control
Open string pattern generates power
Medium weight balances control and power
Graphite material is stiff
Cons
Only comes in a single grip size
Not as durable as titanium or aluminum
2.

Head

 – Best Power (People's Choice)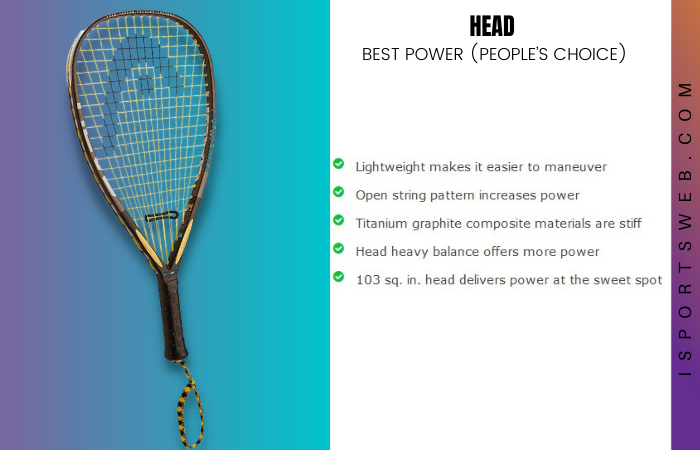 About brand and company
While Head may not have the same specialization in racquetball that E-Force of Ektelon, the brand has been manufacturing products for more niche sports since the 1950s.
While the brand's original lineup focused on winter sports, the brand would move on to tennis in only a short decade and other racquet-based sports with it.
Recently, Head fully moved into the racquetball market after the acquisition of the Penn Racquet Sports company, responsible for the iconic Penn tennis balls.
With that, the company brought the decades of experience they honed manufacturing top-of-the-line tennis racquets to bear fully, positioning them as an immediate contender for a premier manufacturer.
The most power-focused racquet
The Head i.165 comes in as the most power-focused racquet on our list. That may seem a bit odd considering it is a fairly light racquet in the 165g category, but virtually all other features have been geared towards pumping this racquet with power at the expense of control.
The only real control design is the teardrop head shape which can feel too little. If your swing technique is not already as good as required, you may do better seeking a more well-rounded racquet.
If your game is on point and you could do with some additional power, the i.165 has you covered. For one, this racquet features an open string pattern, though it is not nearly as open as some of the other racquets we looked at. When you add the significantly head-heavy balance into the equation, it is not difficult to see how the i.165 can still generate impressive power.
In fact, the 7 point head heavy balance is not only the heaviest one on our list, but it is also one of the heavier available.
Head doubled down on that shift to power with the frame. For example, the string surface area of 103 sq. in. is on the lower end of the spectrum. This shrinks your sweet spot, requiring you to strike the ball truer to maintain control. Instead, this smaller string surface also increases the power of a truly struck ball.
The frame itself is made out of titanium and graphite alloy. This is done to both provide a lightweight material as well as reinforce the strength of the frame. Eventually, this combination makes the i.165 one of the stiffer frames to play with which translates more power. Also, the frame features Intellifiber technology that uses a reverse piezoelectric effect to stiffen on impact.
Pros
Lightweight makes it easier to maneuver
Open string pattern increases power
Titanium graphite composite materials are stiff
Head heavy balance offers more power
103 sq. in. head delivers power at the sweet spot
Intellifiber frame stiffens on impact
Teardrop drop head shape provides some control
Cons
The grip is not the most durable
Does not provide much control
Included strings are terrible
3.

Wilson

 – Striker Racquetball Racquet (Best Price)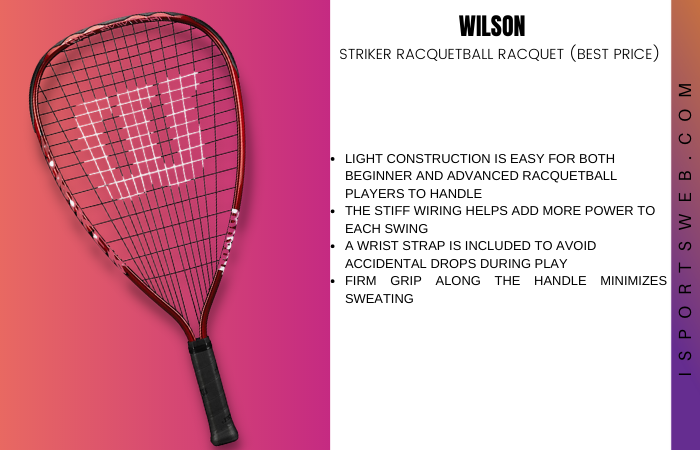 Wilson is known for producing lots of high-quality sports accessories. The Striker Racquetball, as the name suggests, is for the indoor game. It's built to last, having good wiring on the net area that feeds more energy into the ball itself when hit.
You'll notice your accuracy improving and better counter swing. And there's no need to purchase a wrist strap.
One comes included with the piece, so you can start playing as soon as it arrives at your location. Unless you already have one, find a good cover for the racquet.
No packaging or bag is included but the product should be able to fit into any that are sold separately. Regardless, it's still a good racquet and will have you playing at a better level than what's possible with those made from less quality.
Pros
Light construction is easy for both beginner and advanced racquetball players to handle
The stiff wiring helps add more power to each swing
A wrist strap is included to avoid accidental drops during play
Firm grip along the handle minimizes sweating
Cons
Not sold with a cover, must be purchased separately
Some strings may break, even during play that is not strenuous
4.

Prince/Ektelon Sports, Inc.

 – Best Budget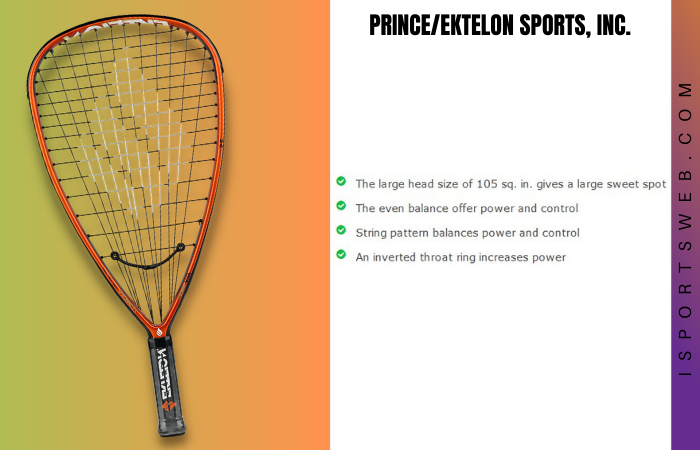 When you are as specialized and storied in the sport of racquetball as Ektelon is, you eventually realize that there is reason to cover every corner of the racquet market. This means that you must cater to beginning players or those who are not interested in spending significant amounts of money just to play a game for fun.
Ektelon has produced the PowerRing Freak. This is not strictly the best or most advanced racquet you can buy, but if you are an absolute novice who is still learning how to properly swing the racquet, the PowerRing Freak is designed to provide features that cater specifically to this.
Racquet's weight
Everything begins with the racquet's weight. The PowerRing Freak is a whopping 195g. That is heavy and any manufacturer that makes a racquet will ultimately force you to play a certain way.
That additional weight will prevent you from swinging quite as fast as you otherwise and will severely penalize you with poor control if you do.
Advantages
But, that does not suggest that the PowerRing Freak has poor control. On the contrary, if you swing the racquet properly, most of the other features are designed to provide a high degree of control. For example, the 105 sq. in. string surface area is more facile than a smaller framed racquet.
Other string-based control elements include its pattern. While 16 x 18 may have been considered an open pattern, these days it is closer to the 18 x 20 than the 12 x 16 in terms of effect.
Disadvantages
The even balance of the racquet is also designed to help instill strong fundamental technique, though the inverted throat ring will goose the power a bit when you are ready. Really, there are only two major issues with this racquet.
The first is that it comes in a single grip size, which will limit its usefulness for some players. The other is that it is made out of an aluminum alloy that will flex more than others though this will actually provide more control as well and is more durable than pure graphite.
Pros
The large head size of 105 sq. in. gives a large sweet spot
The even balance offer power and control
String pattern balances power and control
An inverted throat ring increases power
Cons
The heavyweight will reduce control
Only comes in a single grip size
The aluminum alloy material is not good enough
5.

E-Force

 160/170/175/190 Gram Series – 3 5/8″ Grip Best Advanced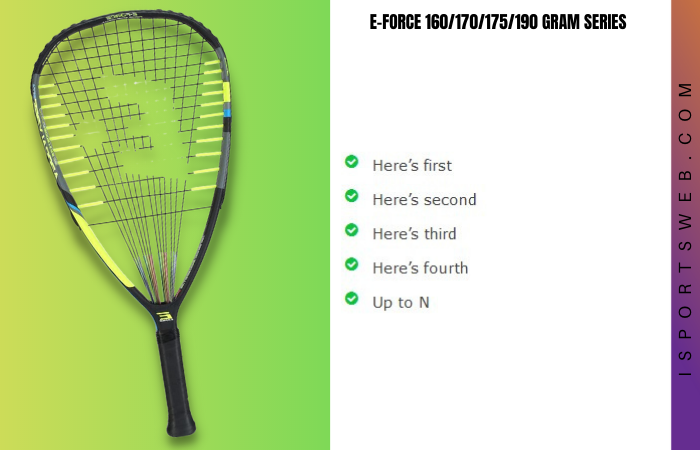 E-Force is quickly becoming known as one of the premier manufacturers of top end racquets, and the Apocalypse line is one of their flagships. It is no surprise that we rated this as the best racquet for advanced players.
In fact, the Apocalypse is arguably designed for professional players, which might actually make it a little bit hard racquet for less experienced players.
If you choose to go with the Apocalypse, you can rest assured that you will be getting the best of both worlds. Part of this is because this racquet model comes in almost every conceivable form. Whether of head shape, grip, or weight, the Apocalypse can accommodate whatever you may need to have.
Advantages
This allows the player to selectively choose the type of racquet they want to best fit their playing style. Even better, all of the Apocalypse racquets, regardless of the styles, come with the numerous technologies that E-Force provides to give an amazing product.
For example, this racquet features the largest stringed surface area we saw. At 108 sq. in., the Apocalypse provides that absolute largest sweet spot on the market.
Material reliability
Yet, the biggest advancements have arguably been made to the head frame. For one, it is made out of 100 percent graphite. This ensures that the racquet remains stiff throughout the swing, so you do not have to worry about losing power. Keep in mind though, that a graphite racquet is more sensitive to shifts in temperature, so be sure to warm it up before engaging in highly competitive play.
For other head-focused advances, the By-Pass system, tri-carbon frame, G2 Power Boosters, high compression wings, and dual cylinder frame all combine to create a head that was made to eek as much possible power out of your swing as possible.
When combined with the 22" long string main design and the oversized head, you can swing for the fences without having to worry too much about off-center strikes.
To be fair, the Apocalypse is definitely a racquet that is geared far more towards power than it is controlled. Though, at the advanced and professional stages of play, the player's technique is generally so well refined that power becomes more important factor. The Apocalypse has featured an even balance to ensure that you are not overloaded in a single swing metric.
Pros
Sturdy
Not too heavy
Suitable for advanced players
Pinpoint accuracy
Cons
Not suitable for beginners
6.

Ektelon

 – Best Control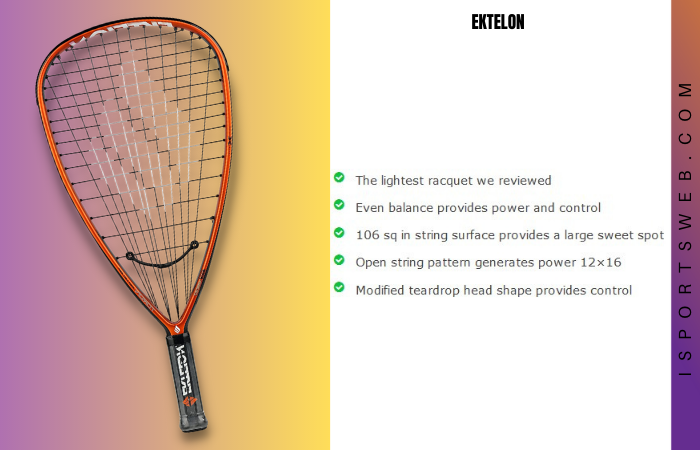 If E-Force is beginning its ascent as a premier brand of racquetball racquets, Ektelon has sat atop that mountain for a long time. Ektelon is one of the few brands at this list that specializes in the sport of racquetball to exclusivity. While other brands may manufacture excellent pieces or racquetball equipment, few have the single-minded dedication to the sport that Ektelon does.
Back in history
In fact, Ektelon can trace its racquetball lineage all the back to the 1960s when the sport was a poor man's version of tennis in the public eye. Of course, the game of racquetball was played far differently in that time which may go a bit of the way towards informing Ektelon's philosophy as a manufacturer of racquetball equipment.
Specifically, this brand seems to consistently strike a harder balance between power and control than many other brands might.
Even at the higher end of Ektelon products, their racquets rarely stray too far towards power and almost always carry a few qualities geared to provide additional control harkening back to the days when the game was far more about finesse and less about raw power.
The '12 EXO3 RG Toron Lite is definitely a control-minded racquet. Though, Ektelon has actually inverted their normal philosophy and instead included some interesting features not often seen to provide a bump in power.
For example, this racquet feature is one of the most open string patterns available. The 14×17 pattern may not favor control as well, but it delivers an incredible amount of power.
Lightest racquet at 160g
Of course, you will not miss any of the control lost from the wide-open string pattern, because nearly every other quality is control-oriented. For one, this is the lightest racquet we reviewed at 160g.
While it is not strictly the lightest racquet available, it is definitely one of the lightest racquets designed for use by advanced players.
The modified teardrop head shape combined with 106 sq. in. of string surface act as a double team to not only ensure that you hit the sweet spot as often as possible, but that you can control even off-center shots better than most other racquets. The even balance further reinforces this control without edging too closely into the underpowered realm.
Pros
The lightest racquet we reviewed
Even balance provides power and control
106 sq in string surface provides a large sweet spot
Open string pattern generates power 12×16
Modified teardrop head shape provides control
The graphene head is stiff
Comes in three grip sizes
Cons
Is a fairly expensive racquet
Not as durable as titanium or aluminum
Best Racquetball Racquet Review– Buyer's Guide
With so many excellent racquetball racquets to choose from, it's important to find one that fits your personal playing style. Read along to find out how to choose a racquetball racquet.
How to Choose a Racquetball Racquet?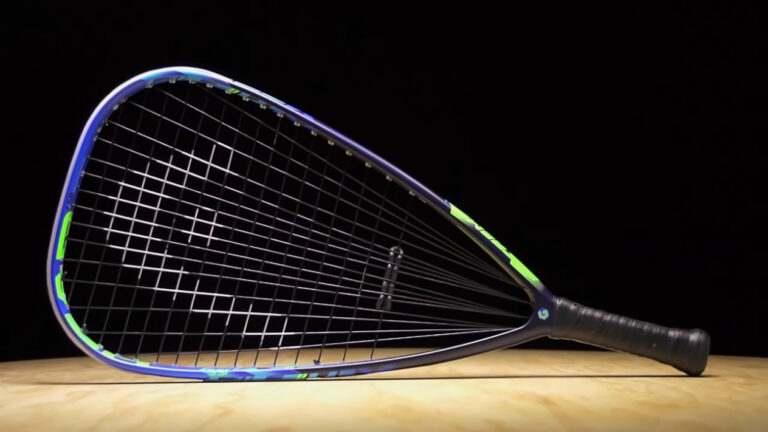 With so many excellent racquetball racquets to choose from, it's important to find one that fits your personal playing style. Read along to find out how to choose a racquetball racquet.
What to Consider When Purchasing a Racquetball Racquet
Regardless of your brand loyalty and your spending budget, your racquet choice should be determined by your level of skill and playing style. Read along for detailed information on what to consider when purchasing your very own racquetball racquet.
Racquet Weight
The number one consideration when buying a racquetball racquet is weight. In fact, racquetball players must take a racquet's overall weight as well as its weight distribution into consideration when making a purchase.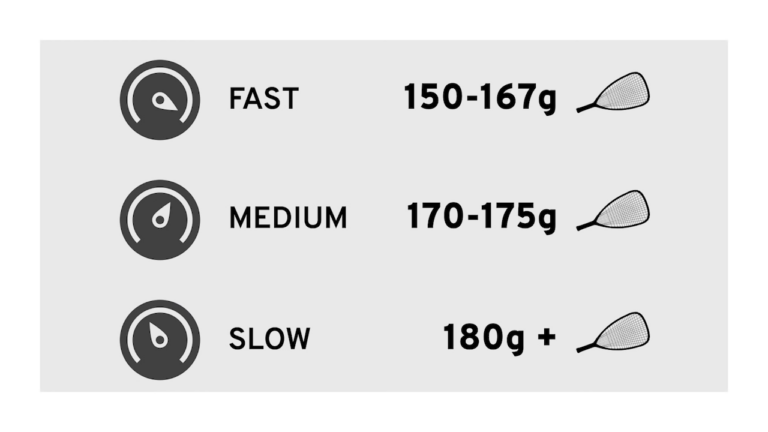 Racquets that weigh less than 164 grams are labeled "light." Lightweight racquets are ideal for experienced players with fast swings. When used properly, lightweight racquets provide exceptional control and maneuverability.
Midsized racquets typically weigh between 165 and 174 grams. Midsized models are perfect for middle-of-the-road players with moderately fast swings. Their versatility has made them the most popular type of racquet on the market.
Racquets that weigh more than 155 grams are considered to be "heavy." Heavy racquets are ideal for beginner and intermediate players with slow swings. Heavy racquets are known or their durability. What's more, heavy racquets are also ideal for players with arm or shoulder injuries, as they absorb more shock than lighter models.
While the weight of the racquet is definitely important, it is often given a little bit outsized importance. If you are not an advanced player, then this is definitely the top priority. But, for those with some skill, their style will inform this choice making it a bit of a push-pull category.
>165g
This is the lightest category and favors finesse players. The lighter the racquet, the quicker you can move it into position. You should not necessarily discount this weight for generating power especially if you can supply plenty of that on your own.
Still, a lighter racquet needs a significant feature focus on power to be able to generate the same power as heavier racquets.
165-185g
This is the most common weight group for racquets and is also the most used weight group. Few people feel comfortable enough with their own swing strength to trust the lighter racquets.
As such, unless they are a finesse style player, they are liable to view the middleweight racquets more favorably. The 170g and 175g are the most used weight categories for their balance between control and power.
185+g
These racquets are generally considered practice racquets or beginner racquets. Their additional weight limits your mobility and reaction time, which is also ultimately limit your control. That being said, some of the best players are fans of heavier racquets, because they are skilled enough to account for the weight as well as use the additional boost to power.
Balance Point
Every racquetball racquet has a precise point of balance. Manufacturers typically label racquets head light, head heavy, and even balance. With that said, heavy racquets tend to be headlights, while light racquets are head-heavy.
Head heavy racquets are often selected by pros because they are easier to maneuver. Meanwhile, head-heavy racquets are often preferred by beginner players with less power and control.
Equally, it is as important as weight but also just as prone to be dependent more on skill level and style of play. The balance of the racquet should seriously inform your decision. The balance refers to where the weight feels like it is distributed.
Eventually, the balance will waver between providing more control or providing additional power. But, professionals generally have a tendency to have to head heavy racquets.
Head Heavy
With this balance, the racquet feels like the weight hangs of the end of the racquet's head. This is given either in points or in mm. Regardless, the ahead heavy racquet swings a tad slower but produces more power than a headlight racquet. This racquet balance is ideal for smashing.
Head Light
A headlight racquet places the weight not at the tip of the head but at the top of the shaft, generally where the shaft and the head meet.
This racquet feels amazingly smooth and easy to maneuver and finesse style players favor it. It allows you to position the ball anywhere.
Unfortunately, you have to swing significantly harder with a headlight racquet to get similar power as from a head heavy.
Even
Evenly balanced racquets function just as their name describes. While each evenly balanced racquet is a bit different from one brand to another, they have a generalized tendency to feel as though the weight is distributed close to the sweet spot.
This kind of racquet balance generates decent power and provides solid control, but it does not wow you in either regard. This is the balance favored by most amateur players with an intermediate skill level.
Grip Size
Don't underestimate the importance of a racquet's grip size. Racquetball racquets boast three different grip sizes, including ones that measure 3 5/8 inches, 3 7/8 inches, and 3 15/16 inches. It's worth noting that grip size refers to the circumference of the grip rather than its length.
Racquetball players tend to choose their grip size based on their personal playing style. Large grips provide more control but tend to offer less power. Meanwhile, small grips provide more speed but tend to reduce a player's control.
We recommend giving a racquet a few test swings before you purchase it. When you do so, pay close attention to the comfort of your hand. With that said, many athletes prefer to purchase their racquetball racquets online. If you're one of them, use your racquetball glove as a reference point when selecting a grip size.
Head Shape
Racquets can be broken down into two head shape categories. These consist of triangular and quadra-form heads. The shape of a racquet determines its sweet spot and other performance factors. The two main types of racquet heads include:
Triangular racquet heads are shaped like an upside-down teardrop. The top is wider, while the bottom is narrow with a "V" just above the handle. Triangular racquets boast smaller sweet spots but offer greater power.
As such, they are preferred by skilled or professional players. The Gearbox GBX1 is a solid example of a racquet with a triangle-shaped head.
Comparatively, Quadra-form racquet heads have a more even width from the top to the bottom. In fact, the frame closely resembles the shape of a rounded parallelogram. Comparatively, quadra-form racquets have a larger sweet spot but boast less power. As such, they are preferred by beginner players.
The head shape is one of the last features that plays a bit of an outsized impact on the game. Unlike the prior two qualities, the head size can be broken down into two different categories: the modified teardrop and the quadriform.
Each of these categories focuses on either control or power, but there is no "middle ground" like with the other features.
Modified Teardrop (Control)
A modified teardrop has an arguably triangular shape. This head shape features a broad end with a sloping frame to the shaft of the racquet. This design increases the size of the racquet's sweet spot making it easier to hit a true shot and maintain control. But, this head shape is not able to generate quite as much power.
Quadraform (Power)
The quadriform head is a bit more like a square than a triangle. While the frame ultimately bends towards the shaft, it will provide roughly straight lines before angling more sharply than does the modified teardrop.
This shape allows a more regular distribution of the strings, which in turn generates more power. Though, this comes at the expense of control and a larger sweet spot.
Brand
Many racquetball players are brand loyal. As such, companies like E-Force, Ektelon, and Gearbox have long dominated the racquetball market. Proprietary designs are often the motivating factor in a player's purchase.
Most manufacturers are focused on creating more responsive string suspension systems and durable frames. Always keep an eye out for specialized racquet technologies that are proven to boost your performance.
Budget
Establish a racquet budget before shopping. Professional-grade racquetball racquets can be rather pricey. Beginner and intermediate players may opt to purchase a midrange racquet or last year's model to cut down on costs. Don't hesitate to turn down a deluxe model if you're just getting introduced to the sport.
String Type
Don't forget to consider what type of strings you will use with your racquet. While often ignored, your choice of strings can have a direct impact on your performance. Strings come in either mono- or multifilament.
They also boast varying gauges, including 16, 17, and 18. A larger gauge usually translates to more pliability but less durability. So, if you're looking to get good run out of your strings without losing too much power, we recommend you stick to a 17-gauge string.
How to Hold a Racquetball Racquet?
Have you been struggling to hold your racquet correctly? There are just two basic racquetball grips you need to master before you hit the court. These include the forehand grip and backhand grip.
If you're not holding the racquet correctly, you'll struggle to make accurate shots. Common string types include monofilament and multifilament. As the names imply, the monofilament is made up of a large single filament, while the multifilament is made up of several small filaments.
Types of Grips
To master the forehand grip, start by placing the grip of the racquet between your pointer finger and thumb.
Allow the racquet to rest on your pointer finger. With the racquet resting between your fingers, your pointer finger and thumb should form the shape of a "V" over the right-hand ridge.
In a forehand grip, the strings should be straight up and down, or, in other words, parallel to the wall.
Almost everything remains the same for a backhand grip. However, you need to adjust the grip ever so slightly. Use your thumb to twist your grip so that the "V" formed between your pointer finger and thumb is now on the left-hand ridge.
Racquet Grip Tips and Tricks
Practice
If you don't develop a solid racquetball grip, it's almost guaranteed that you're going to make a whole lot of inaccurate shots. Attempt to establish muscle memory by switching back and forth between a backhand grip and a forehand grip.
Start by watching a video of a player switching back and forth between the two motions. Mimic their movement until you get the hang it.
Wear a Glove
Always wear a racquetball glove when holding a racquet. A glove dramatically improves your racquet grip, giving you more control over your shots.
You may also want to cover your racquetball handle with grip tape. This will go a long way to reduce hand slippage caused by sweat.
Important Reminders
Keep your thumb on the top end of the racquet handle.
Snap your wrist forward or backward to engage in a shot.
Remind yourself that holding a racquet should feel like a handshake.
How to Restring a Racquetball Racquet?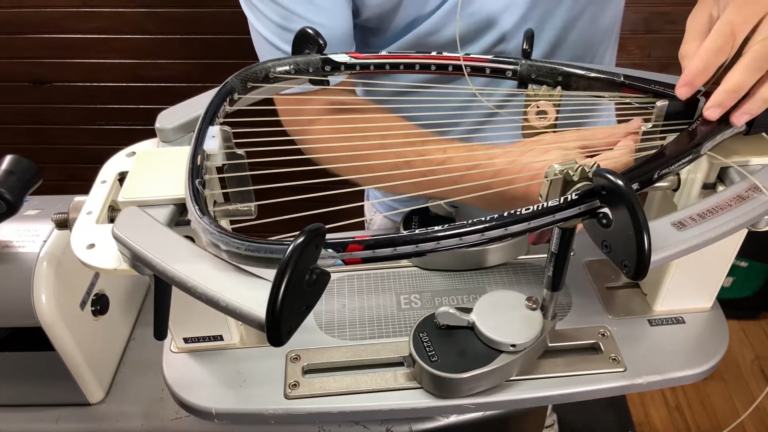 Eventually, you'll need to restring your racquetball racquet. Racquet strings are made from plastic that becomes dry, brittle, loose, and notched. The number of times a player needs to restring their racquet generally correlates with the number of times they play.
Most players pay professional racquet stringers to do the job. But if you are determined to finish the job yourself, you can use these helpful instructions to guide you.
Grab a pair of wire clippers. Start in the center of the racquet and clip the strings in a counterclockwise direction until all of them are clipped. Then, remove the strings by pulling them from the outside of the frame.
After that, you'll want to set up your racquet stringing machine and choose a string of your liking. You'll need around 40 feet of string to string an adult-sized racquet.
Mount the racquet on your stringer machine. Double-check to make sure the correct side is facing down. Most manufacturers use colors or symbols to indicate which side is supposed to face down during the stringing process. Tighten the racquet in the mount according to the string machine's instructions.
Before you begin restringing your racquet, you'll have to familiarize yourself with your racquet's string pattern. Most racquets are strung from the top right to the bottom right of the frame to a corresponding hole on the bottom right of the handle.
Then, loop the string up through the bottom left of the handle into the corresponding hole in the top left of the racquet.
Continue weaving the string down and up, changing directions and maintaining the tension between each motion. Do this until all of the vertical strings have been strung. After which, tie off the top end of the string.
After this, you will need to string the horizontal strings. These are typically strung from left to right. The string must be woven over and under each vertical string until all of the holes have been filled.
The end result is a grid of taut strings that covers the entire area within the frame. The spaces between the strings should be uniform, and the strings should be pulled tight.
How to Interpret Stringing Instructions?
Manufacturers provide racquet-specific stringing instructions. Stringing instructions typically specify:
How many pieces of string do you need
Recommended string type
String pattern
Recommended tension
Skip holes
Presence of double-barrel grommets
Left/right up/down movements
Each stringer coordinate is labeled with a combination of letters and numbers. They typically include an "L" for the left, "R" for the right, "H" for the head, and/or "L" for the lower portion of the frame. Stringing instructions are separated into "mains" and "crosses." Detailed instructions also tell you when to clamp, add tension, or tie of a string.
What Weight Racquetball Racquet Should I Use?
Are you still confused about what racquet weight to use? We recommend choosing a racquet weight based on your swinging speed. Meanwhile, stringing services charge for materials (string) and labor.
Manufacturers recommend that players replace their strings as many times as they play per week. For example, if you play racquetball twice a week, you should replace your strings twice a year. With that said, it's up to you to determine whether a stringing machine is worth the investment.
If you plan on stringing your own racquets, you'll also need to invest in a series of stringing tools and supplies. These include but are not limited to cutters, string savers, awls, guides, grommet grinders, and tension calibrators.
While it may seem like a big undertaking, many players opt to string their racquets themselves. Kits like the Gamma Progression 200 Stringing Machine, which sells for less than $250, making it possible at a recreational level. In fact, the Gamma kit comes with all of the tools needed to get started.
Installing your own strings is a deeply liberating process. It allows you to experiment with different string types and tensions. Not to mention, the machine pays for itself over the course of time. On top of that, it's a failsafe way to win over your fellow racquetball players.
Slow Swing
Individuals with slow swings should utilize heavy racquets that weigh 185 grams or more. Heavy racquets are typically used by newbie players. As you develop more control and skill, you will most likely graduate to a lighter racquet.
Moderate Swing
Medium-weight racquets typically weigh between 170 to 185 grams. They are are commonly used by moderately skilled players, as they offer a good balance between power and control.
Fast Swing
If you have a really fast swing, it's best to stick to a lightweight racquet. Light racquets weigh between 150 and 165 grams. They offer expert-level control.

Conclusion

In the end, your style of play will likely weigh heavier in your decision for a racquet than anything. For those of you who are not yet skilled enough to have truly honed a style, that level of experience will be more relevant.
For the most experienced players, the combination of power and control provided by the E-Force is likely your best bet. Novices would be wise to stick with a practice racquet like the Ektelon Powering Freak.
If you are an experienced player that favors power, the HEad i.165 is a solid choice that overcomes its generally lightweight with a bevy of power-focused features. Finesse players instead favor the EXO3 RG Toron Lite whose, lightweight, even balance, and teardrop head is juxtaposed with one of the most available open string patterns.
If these weren't enough, check out some other picks from Amazon also:
Sale
Wilson Racquetball All Gear Set
Wilson is the racquet of USA racquetball
The all gear set offers everything a new player needs to begin racquetball
Power full heat treated aluminum alloy frame
2 long lasting blue bullet balls and impact resistant
Lynx protective eye guards. Keep your eyes safe, play hard
DUNLOP Biomimetic Ultimate (170) Racquetball Racquet (3-5/8)
Premium graphite construction; Biomimetic engineering takes its cues from nature for a better performance
Aeroskin CX technology inspired by the micro surface texturing of shark skin reduces drag by 36% for more head speed, power and spin; BioFibre material on the frame extracted from the stem skin of plants lessens shock on ball impact by 18%
MoS2 grommets inspired by self-lubricating snake skin cuts string friction by 27% for 40% more abrasion resistance; Power-Ridge technology reinforces the throat area to increase the stiffness and generate extra power
Headsize: Head Size: 684 sq cm
Weight: Frame Weight: 170 g
Sale
Sale
Tennis Racket 27 inch Tennis Racquet 2 Pack for Adults Student Women and Men Beginner OPPUM...
Special Design: The tennis racket for adult is equipped with vibration dampe and adopts integrated structure, it has the feature of high intensity and durability. The racket frame is made of carbon fiber and aluminum metal mixed material. The men tennis racket handle is made of wooden which make it easy to control and it can reduce racket vibration protect your hands from injury. Well-designed patterns are more popular among young people.
Super High Tension String: The strings of the tennis racket adult for women are properly tight and not easy to lost the tension. The strings tension allows you to execute good drops and lobs.
Large Sweet Spot: This tennis rackets for adults 2 pack features a 105 sq inch larger heads generate more power and have a larger sweet spot thus making it easier to hit the ball well.The professional adult tennis racket for men is lightweight but durable and strong. It's lightweight enough that won't tired you out over a long period. It is suitable for adult, students, lovers, the elderly, junior or intermediate tennis racquet players.
Adult Tennis Racket Specifications: Length: 27 inches. Head size: mid+ (105 inch2). Grip size: Size 2 (4-1/4 inch).String tensions: 50 lbs. Unstring weight: 280 g
Package Include: 2x Tennis Racquets, 1x Premium Quality Tennis Bag, 2x Overgrips(random color). If you have any problems after the purchase, you can feel free to email us in any time.