Though it might seem like somewhat of a niche sport, racquetball is a fairly popular game that is played all over the world.
Even better, it generally does not require too much equipment to play. While it is not necessarily a required piece of equipment to play, the best racquetball gloves can offer some distinct advantages to help elevate your game to the next level.
Racquetball gloves are generally worn for a few purposes. If you are a player whose hand sweat, some gloves can absorb the moisture and provide breathability. Likewise, if you find yourself regularly diving for low rebounds, you will want a glove with extra padding for protection.
What is the Best Racquetball Gloves in 2023?
Regardless, figuring out which glove provides the right balance of features can be difficult. That is why we have put together a list of the 7 racquetball gloves, highlighting what each does best. Then we provide a helpful buyer's guide, so you can find the best racquetball glove to suit your needs.
1.

Bionic 

– Best Racquetball Gloves (Editor's Choice)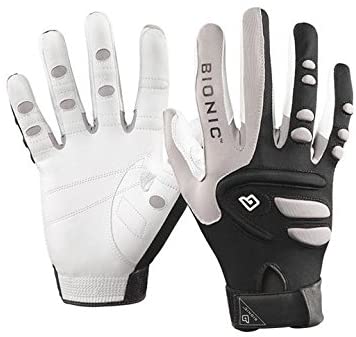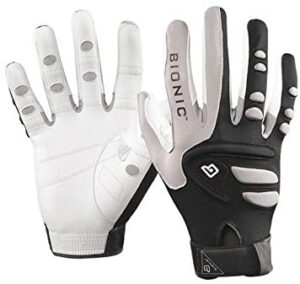 Bionic is the only brand on our list that specializes almost exclusively in manufacturing and selling gloves. While they may not specialize in racquetball gloves, they offer the best performing racquetball glove that we reviewed and earned the Editor's Choice award on our list.
Keep in mind, this is a company that has snagged major endorsements from performance-focused professional athletes like NFL running back Marshawn Lynch and employs orthopedic hand surgeons as consultants for their designs.
Orthopedic Design
Likely one of the reasons that this racquetball glove stands out above the rest is that it was designed to fit well, like a glove. There are numerous minor details that all add up to the best fitting and most comfortable glove that we encountered.
For instance, this glove is designed to close the same way your hand closes. This means it will provide a more secure fit and overall grip compared to their competitors. This is also the only pair of gloves we reviewed which uses foam padding going so far as to offer mini pads at each joint of the fingers.
Moisture Control
While this glove is made of goatskin and is not inherently that breathable, it provides a number of qualities to prevent sweat from ruining its otherwise amazing fit. First, the closure is made of a terry cloth wristband that prevents sweat from dripping into the glove.
On top of that, these gloves also feature 11 terry cloth pads placed strategically around the hound to absorb even more sweat. To prevent the absorbed sweat from becoming an issue, this glove is also the only one we saw that can be machine washed though that is more of a necessity than a suggestion.
Downsides
Since this glove was designed more to protect the hand than anything else, it has its drawbacks. One of its major missteps comes in the grip department. This is actually the least tacky glove that we reviewed, and while the orthopedic design does help increase the strength grip some, it does not help increase the actual grip of the glove itself.
On top of the grip, all of the attention to detail paid to this glove also means that it is fairly pricey and actually comes in as not only our most expensive racquetball glove reviewed but one that costs twice as much as the next closest competitor.
Pros
Made of goatskin
Has numerous pads
Designed by orthopedic hand surgeon
Terry cloth absorbs sweat
More durable than most
Can be washed
Best wrist support
Best fit and comfort
Cons
Most expensive glove reviewed
Not the best grip
Requires consistent care
2.

Python Racquetball 

– Perforated Cabretta Leather with Grip Strip Tackified Palm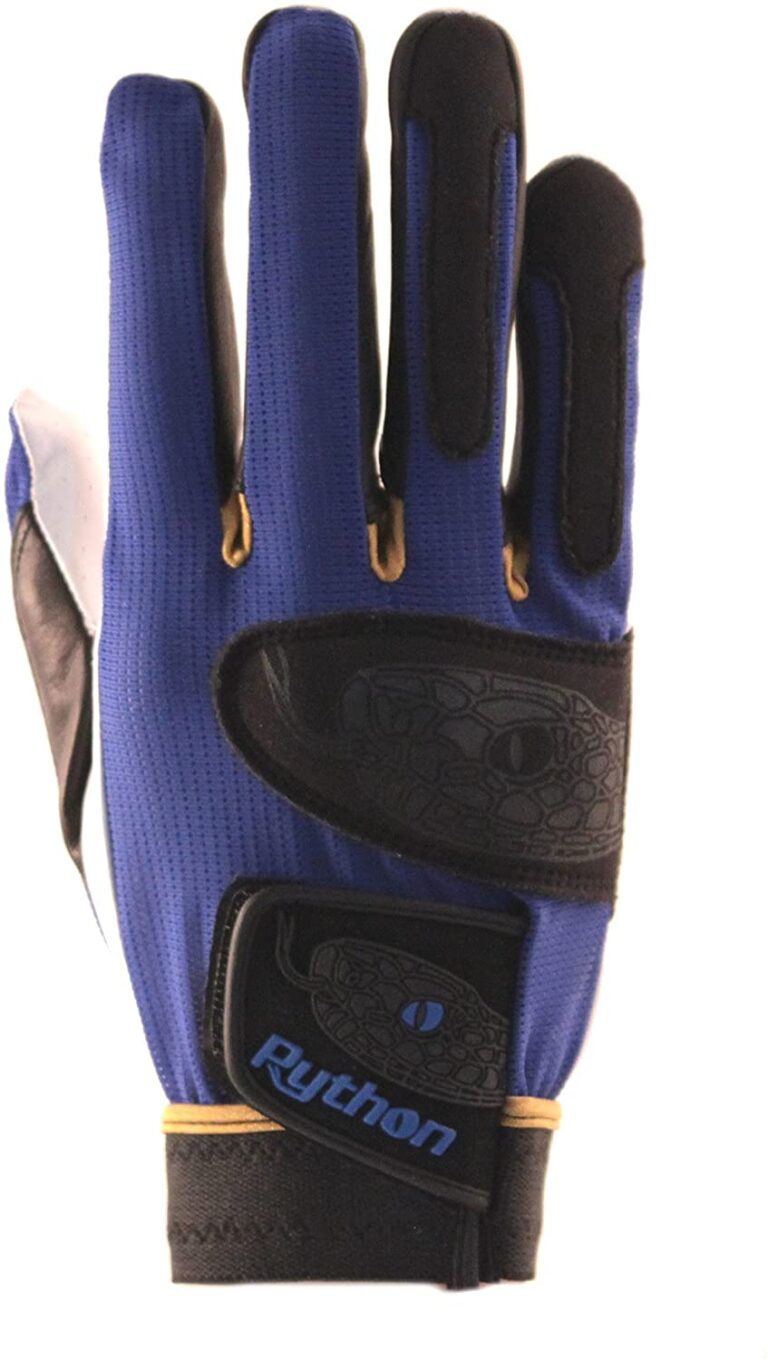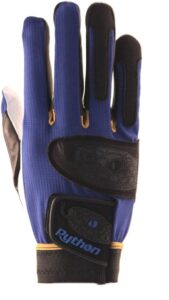 While not a maker of gloves exclusively, the Python brand at least has the distinction of specializing explicitly in racquetball sporting equipment.
This laser-sharp focus allows them to produce a quality product at a reasonable price that tailors its design and features to racquetball players specifically. As such, it should come as little surprise that the Python racquetball glove earns the best all-around value spot on our list.
Breathability
Unless you are going to fill your glove with mobility reducing pads, the only way to prevent the glove from getting slick with sweat is to make it breathable. Thankfully, Python knows how to accomplish this feat in a multitude of ways and provides arguably the most breathable racquetball glove for sweaty hands that we encountered.
This process first begins with the backing of the glove. The back of the python is made from a combination of nylon and spandex. This is important because spandex will help keep the glove tight and prevent slippage while the nylon will allow it to breathe.
Design
That said, the Python is not only breathable due to the materials used on the back but also because of the design of the palm of the glove. The palm of the Python racquetball glove features perforation, which will help prevent your palms from becoming sweaty as well, forming a double-sided approach to reducing sweat.
This is even more impressive considering the palm is made out of tackified sheepskin leather, providing both breathability and a solid grip. Beyond that, the Python glove also features some modest sweat absorbing materials inside the glove, though it is not nearly as good as terry cloth in this regard.
Downsides
The actual downsides for this type of glove are not truly that troubling nor unexpected, though you should be aware of them. First, this is not the most durable glove on our list. However, that is generally the case for racquetball gloves that feature a mesh or spandex backing. Second, this is also one of the more expensive gloves on our list, though it is still reasonably priced when compared to other gloves.
Pros
Made of sheepskin
Has dive pads
Nylon and spandex backing is breathable
Comes in left and right hand
Tackified leather grip
Is fairly comfortable
Perforated palms are breathable
Absorbs sweat well
Cons
A somewhat expensive glove
Not the most durable
Runs a bit large
3.

Head Web 

– High Performance COOLTECH Spandex Backing for Maximum Circulation (People's Choice)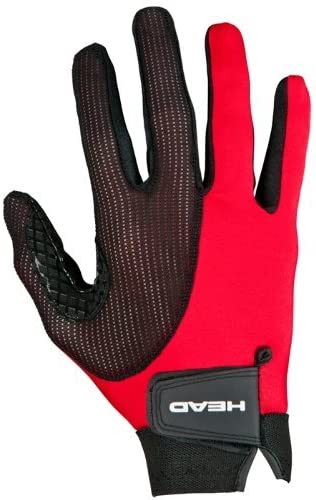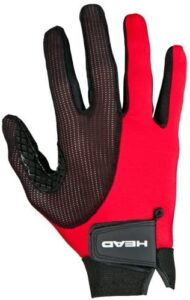 Though clearly focused on sports in general, and more niche sports in particular, HEAD is not a brand that specializes in either gloves or racquetball equipment in any measure.
That said, HEAD is still known for producing some of the best sports equipment for sports that involve racquets whether that be tennis, squash, or racquetball. That is likely why so many people prefer this product which ultimately makes it the people's choice of racquetball glove on our list.
Breathability
Like some of the other gloves we reviewed, HEAD makes it a point to focus heavily on the breathability of their product. This makes sense as the more breathable a racquetball glove, the better it will be able to perform over a longer period of time.
This first starts, as it generally does, with the backing of the glove. The HEAD glove features a spandex backing that is able to successfully balance the tight fit needed for a high level of play with the breathability to prevent sweat accumulation. This trend is furthered by the palm of the clove, which features a microfiber COOLMESH material providing a one-two punch towards combating sweat.
Protection
Beyond providing solid breathability, this glove is also designed to help protect your hands from a variety of situations that can injure them or simply cause fatigue. For example, these gloves feature dive pads for those of you who play hard every time and constantly find yourselves on the ground going after a low rebound.
Still, these gloves protect more than just your palms as they also feature pads on your knuckles. This provides protection on all points of your hands that might end up rubbing against the court.
Materials
This quality of the HEAD racquetball gloves is a bit hit-or-miss. More accurately, the materials used for these gloves carry with them benefits and disadvantages.
For instance, the body of the glove is made out of synthetic leather. This has a tendency to make the HEAD racquetball glove a bit less durable than some of the other gloves we reviewed.
That said, it also makes these gloves more resistant to sweat and moisture. Going further, this is the only pair of gloves we reviewed, which features a silicone grip. While this is excellent if you use an extra tacky tape around the shaft of your racquet, it leaves a bit to be desired if your racquet's shaft is left bare.
Pros
A less expensive glove
Knuckle pads add protection
Spandex backing is breathable
Microfiber COOLMESH is breathable
Comes in left and right hand
Has dive pads
Uses silicone grip
Provides a solid fit
Cons
Made of synthetic leather
Not the most comfortable
Grip is only okay
4.

Optima Max Grip 

– Reinforced Double Layer Palm (Best Price)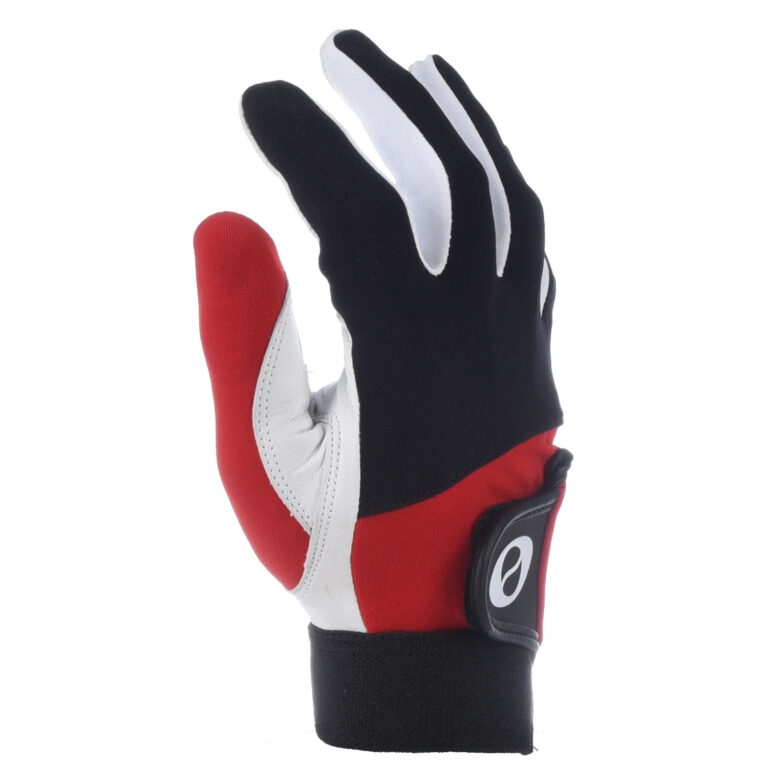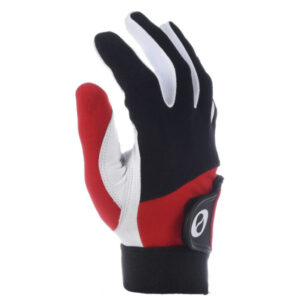 Optima is a bit unique as a company on our list. Not only does this company not specialize in gloves or racquetball equipment, it does not even specialize in sporting equipment more broadly.
Instead, this brand focuses on providing a wide variety of products for numerous markets. It is also one of the only companies we saw, which focuses most of its efforts on selling through online outlets which is part of the reason it can offer a decent product at rock bottom prices.
Leather
The fact that this is the least expensive product on our list is only made the most surprising when you consider the material that this glove is made out of. Like some of the highest quality gloves on the market, Optima uses Cabretta sheepskin leather.
This means that the leather is taken from sheep that grow hair instead of wool that allows the leather to be more durable than sheepskin taken from more traditional sources. Though, Optima does itself a bit of a disservice by taking that strength and using it as justification for making the glove thinner than most.
Treatment
Beyond the type of leather that is used for the Optima racquetball glove, it is also pretreated a couple of ways to provide an even better playing experience.
Primary, the palms of these gloves are made in a way that they are naturally tacky.
This provides the Optima gloves a bit of extra grip, though you should still use grip tape on your racquet if you use these gloves. Optima also uses a tanning process that keeps the gloves soft, which they will remain even after repeated use.
Balance
One of the better qualities about these gloves is that it manages to strike a fine balance between breathability and protection. It accomplishes this task by specializing the different sides of the glove for each purpose.
For example, the back of the glove is made out of mesh, which is the best material for breathability used for the backing of racquetball gloves though it carries with it some durability issues. On the other side, the palm of the glove is double padded, which provides plenty of protection when attempting a dive.
Pros
Made of sheepskin leather
Uses tackified leather
Reinforced double palm
Treated stay-soft leather
Mesh offers excellent breathability
Comes in left and right hand
Least expensive glove reviewed
Surprisingly thick padding
Cons
Runs a bit large
Not the most durable
Grip is only okay
5.

E-Force Weapon 

– Full Leather Ring Finger & Little Finger Provide Extra Protection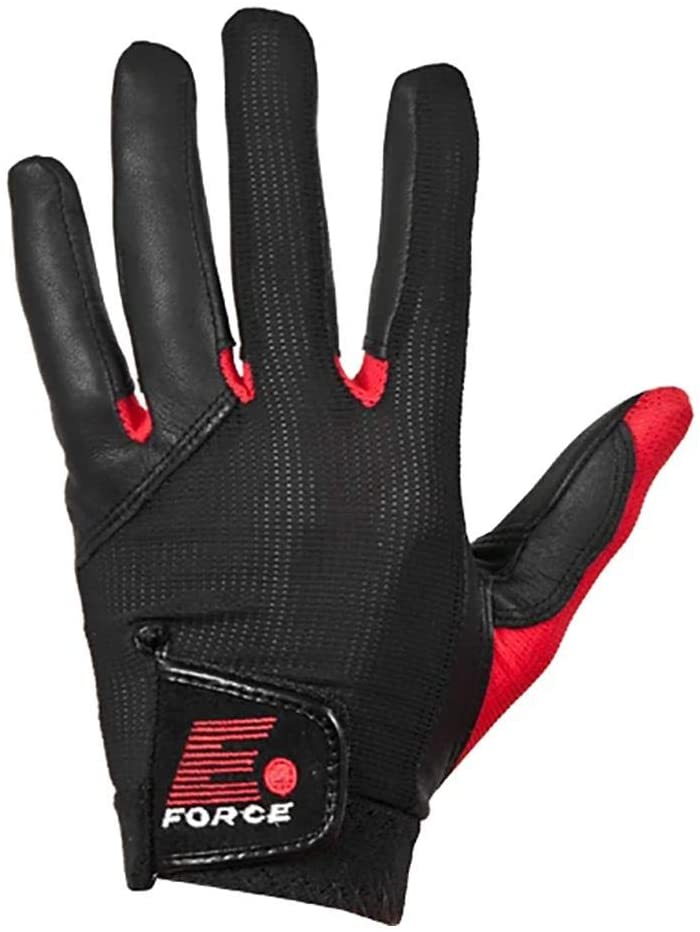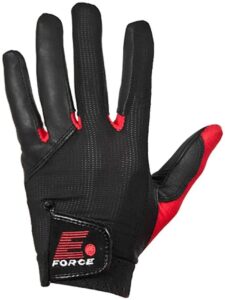 E-Force features a return to the norm when it comes to the companies of products reviewed on our list. While they do not specialize in gloves explicitly, they do focus exclusively on racquetball sporting equipment.
This provides them a unique insight into what it takes to manufacture the best racquetball gloves, though their Weapon lineup is definitely designed for a specific type of player in mind.
Stability
The E-Force Weapon is a bit odd in that it is designed for players who are exceptionally rough on their equipment, but it is not truly designed to withstand the roughest of play. For example, this glove offers additional leather panel supports on the 4th and 5th fingers.
This provides additional stability during your swing and will help prevent injury during dives. On top of that, this glove also has a Set-In thumb design to help firmly hold the racquet and prevent injury from that side as well.
Mobility
Still, despite the attention paid to the stabilizing factors of the Weapon racquetball glove, it also makes it a point to offer plenty of mobility as well. That said, this is where the type of player you are will matter most.
With a textured leather grip, this is by far the smoothest grip we saw. Of course, while this will not help to keep the racquet in place, it will go a long way in terms of allowing you to switch from your backhand to your forehand quickly.
Materials
The materials used in the construction of the E-Force Weapon have fairly high quality. The body and palm of the glove are made out of sheepskin, which has further been treated with a stay-soft tanning process.
The backing of the glove features a mesh and spandex combination that provides both excellent breathability as well as a decent fit. That said, as a rough play glove, the mesh backing reduces the durability of the E-Force Weapon.
Pros
Made of sheepskin leather
Provides additional leather panel supports
Full leather fingers
Reinforced thumb construction
Provides decent breathability
Closure is solid
Comes in 6 sizes
A reasonably priced glove
Cons
Not that durable
Not great grip
Runs a bit small
Best Racquetball Gloves – Buyer's Guide:
Materials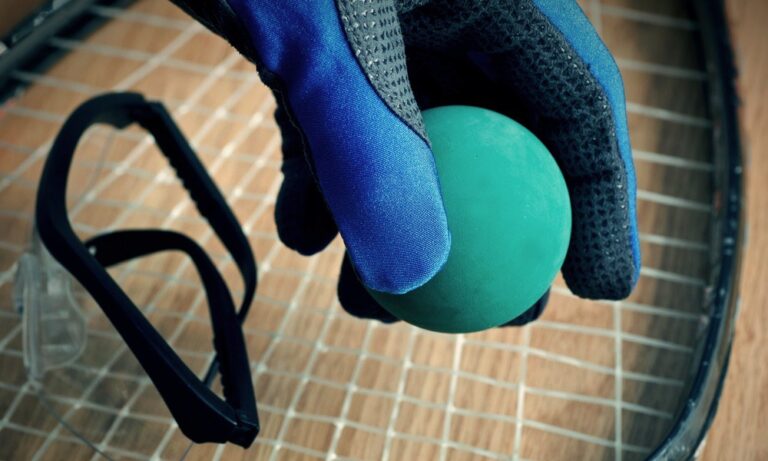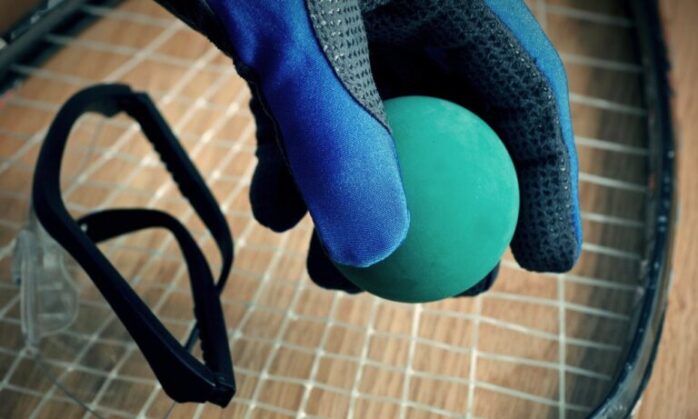 The materials used in the construction of the racquetball glove will go a long way in determining the durability, fit, and grip of the glove. That said, plenty of gloves focus on these different areas with other approaches, but the overall quality will depend on the body's general material.
Sheepskin
This is considered the best material to use for racquetball gloves.
The leather itself is durable, while the source will leave it softer and suppler than other materials. This allows sheepskin to provide a good balance between durability and mobility.
Goatskin
This is the second-best material to use, though it might actually suit some needs better.
It is just as durable and soft as sheepskin when new, though it will require maintenance that is more regular. That said, it could actually take a tougher beating over time.
Synthetic
This is the lowest grade of material used for racquetball gloves, though it is not without its advantages.
For one, synthetic leather is far less expensive than sheepskin or goatskin and handle moisture much better. That said, it is inherently less durable.
Grip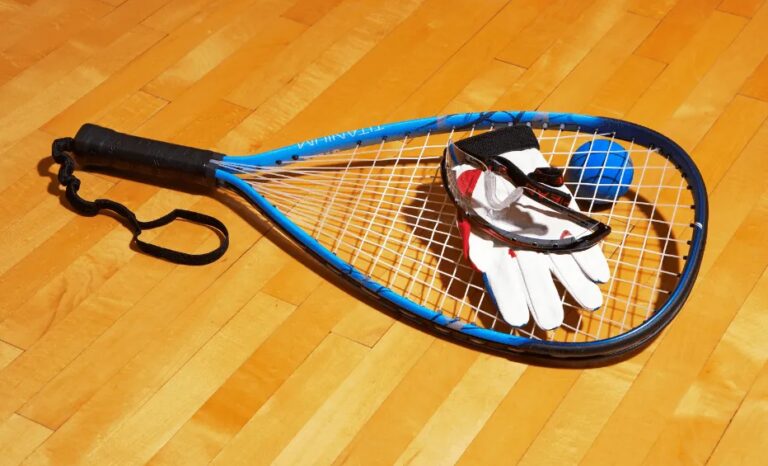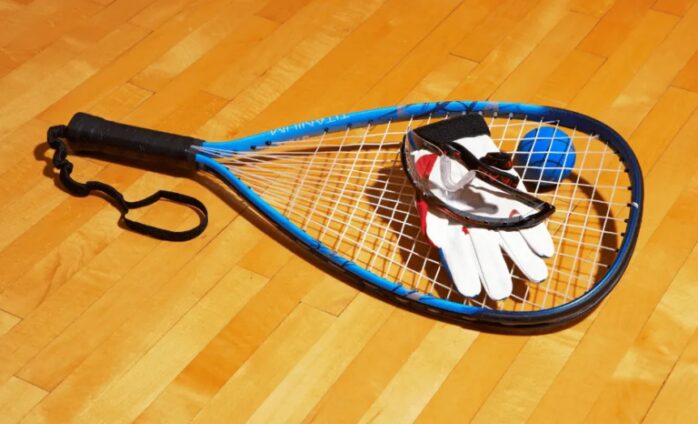 Depending on your play style and the shaft of your racquet, this may be an exceptionally important factor or it might not mean much at all. If your racquet is taped with highly tacky tape, then the glove's grip may not matter as much. Conversely, if you switch forehand and backhand often, you may actually prefer less grip.
Tackified Leather
This is the tackiest grip used for racquetball gloves. Essentially, the leather of the palm is tanned in such a way that it is naturally a bit tacky, to begin with. Because it relies on the leather, the grip is more resilient and less likely to fade over time.
Synthetic
Synthetic grip will generally be applied on top of the palm rather than be part of it. In this case, it can be tackier or less tacky than palm-based grip, but it often also carries the consequence of interacting differently with racquet tape than other types of grip.
Textured
This is the least tacky type of grip used with gloves and should only be preferred if you are a player that regularly switches from forehand to backhand. This grip will feel smooth and allow the racquet to slide easily within your hand, but you need a strong grip to prevent mishits.
Backing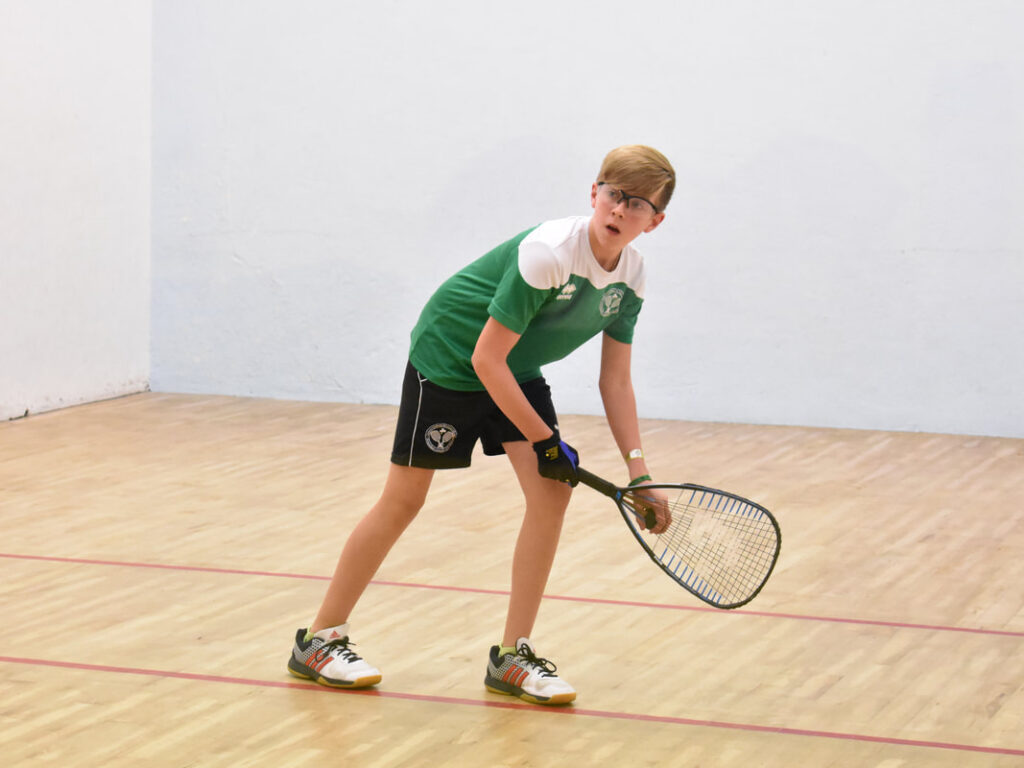 The backing of your racquetball glove will generally err either on the side of stability and fit or on the side of breathability. By mixing the materials used, some brands have been able to provide both of these qualities, though they are understandably reduced in equal measure.
Neoprene
This is considered the least breathable material used for the backing of a racquetball glove, but it will also provide the most protection when diving.
On top of that, neoprene is also an excellent material when it comes to providing a solid fit and moisture absorption.
Mesh
This is by far the most breathable material used for racquetball glove backings.
That said, this is also the least durable material and will often not stand up to hard play over the course of months. On top of that, a mesh is one of the least absorbent materials used.
Spandex
Spandex is rarely used exclusively on its own. More often than not, spandex is combined with some other type of fiber. Essentially, the combination of spandex with other fibers helps serve a balance between fit, moisture absorption, and breathability. It also adds a small measure of durability.
Lycra
Lycra is the "middle child" of backing materials. It offers more airflow than neoprene but not as much as spandex or mesh.
That said, lycra can be textured to provide additional grip for between the fingers so that you can hold the racquet tighter.
Conclusion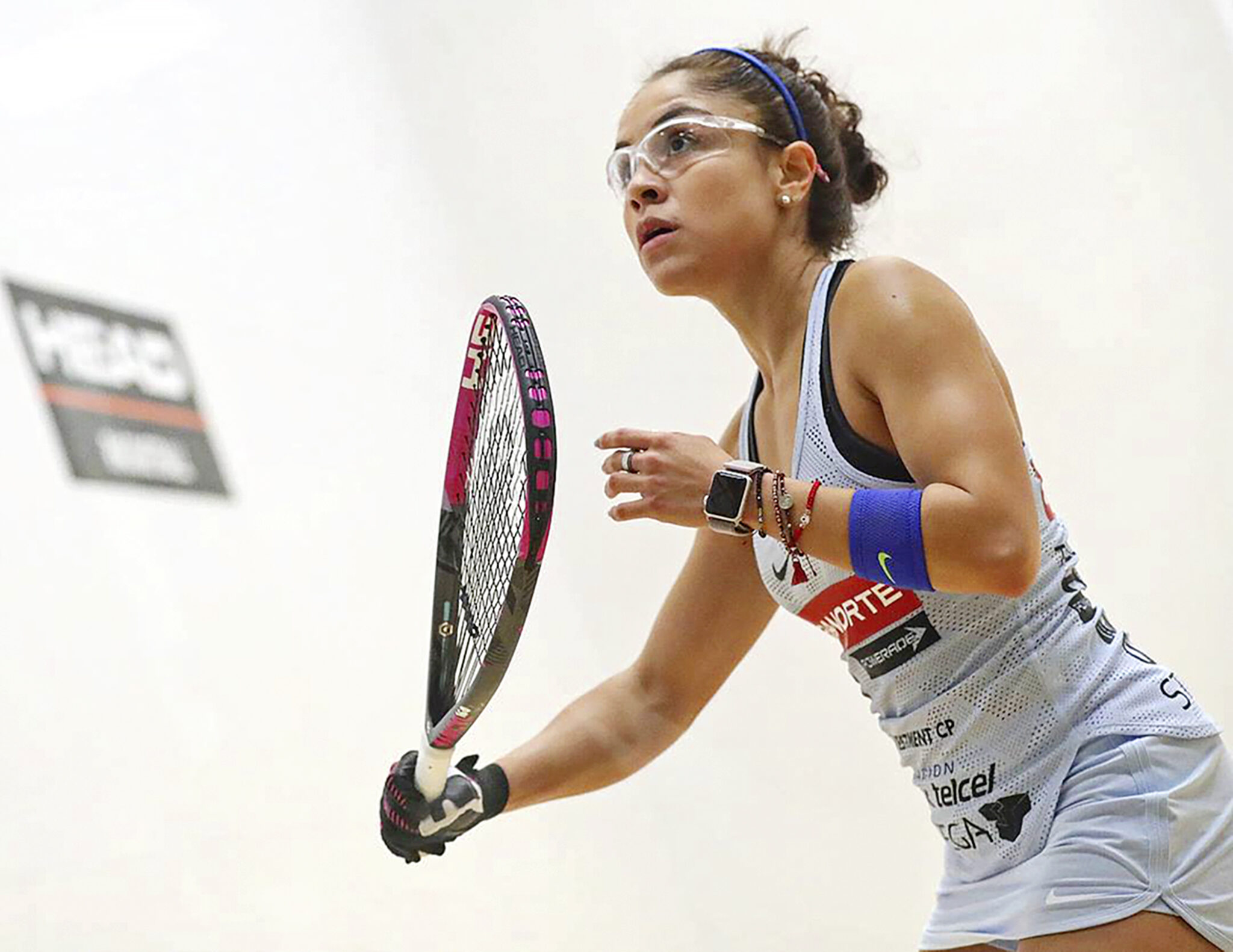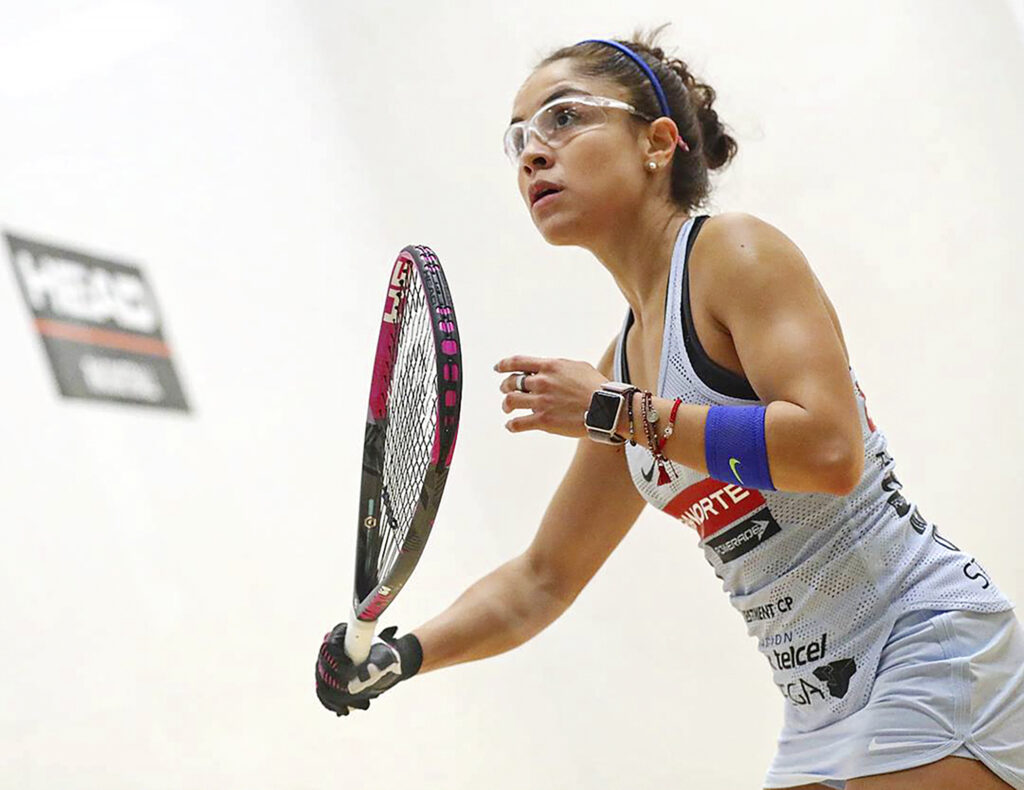 Unless you are a professional player, chances are the two things you should look for in racquetball gloves are durability and protection.

Durability will help prevent you from having to spend your money repeatedly, while protection will keep you playing on the court without issue.
In this regard, we strongly recommend the Bionic racquetball glove.
This glove was designed by orthopedic surgeons specifically to not only help protect your hand but fold with it.
On top of that, it provides some of the best moisture-absorbing quality that we saw and can be washed in a washing machine.
If you are looking for a racquetball glove designed more for performance, we recommend the Python. While it does not necessarily offer the best performance in any single category, it meets or exceeds all standards you expect in a highly competitive racquetball glove. It is also exceptionally good for hard play.
If these weren't enough, check out some other picks from Amazon also:
Python Vintage Synthetic Racquetball Glove
Elasticized network back for a snug fit and cool comfort
Supported 1 inch wide wrist elastic to prevent riding up
Durable synthetic leather for a long lasting grip
Lock stitched throughout for long wear
Nothing Grips Like A Python!
HEAD Airflow Tour Racquetball Glove
Premium Perforated Cabretta leather palm allows air to flow through the glove keeping your hand cool and dry for excellent grip and feel
Airprene is used for increased knuckle protection and ventilation
Nylon mesh Lycra backing creates maximum air flow through the glove
Gearbox Movement Gloves (X-Small, Right)
Suade Leather fingers for added Comfort
Extra Neoprene backing to retain a Snug Fit
Extra Length on wrist Prevents Binding
Super-Soft treated Pittard English leather
Micro-Pore design helps keep Grip Dry
Wilson Clutch Racquetball Glove - Right Hand, Large
Designed With Sticky Skin Technology That Will Provide A Lock Tight Grip
Premium Microfiber Suede Leather Is Thin And Durable
Strategically Placed Dive Padding Protects You And Your Glove
Set In "No-Stress" Thumb Design Prevents Bunching
CG Football Gloves (Black, Large)
PREMIUM QUALITY & DURABLE: The Football Glove is made from odorless durable Silicone and high-quality breathable lycra. The microfiber between the fingers provide added ventilation in all weather conditions. Effective moisture-wicking and ventilation prevent chafing and reduce distraction. Can be cleaned withstand a gentle cycle wash.
SUPER STICKY GRIP & CONTROL: These sticky football gloves adult feature the highest quality sticky material. Unique palm design with advanced suspended polymerization technology achieves perfect sticky grip and keep control with precision. Offer optimal function that is fit for the pros and every player.
COMFORTABLE & PERFECT FIT: Precision stitching and lightweight and breathable material ensures a tight fit to your hands for maximum comfort and performance. The Football Gloves men were made to be a second skin for your hand to support and protect, all while enhance your mobility.
VARIETY SIZES & WIDE APPLICATION: We have M,L and XL sizes. Our adult football gloves collection are meant to fit tight. Please measure hand length (from bottom of the palm, to top of middle finger) to ensure the best fit.
30-Day NO HASSLE RETURNS & 100% CUSTOMER SATISFACTION GUARANTEE: We want everyone to have the perfect experience with this Mens Football Gloves. If you have any problems, please contact us by emails and we will refund you and try our best to solve your problem and make you satisfied.
FINGER TEN Men's Golf Glove Rain Grip Pair Both Hand or 2 Pack Left Right Hand, Hot Wet Weather No...
DEVELOP YOUR PERFORM IN RAIN, HOT, WET CONDITIONS: A Best Choice for Rain Hot Wet Weather Daily Practice. Unbeatable Wet Weather Grip and Quick- Drying Comfort. Get Ready for Rain Play;
QUALITY MATERIAL TO SOVLE YOUR SWEAT AND MOISTRE PROBLEM: THE High Quality 3D Performance Mesh, Provides Perfect Fit and Solve Your Moisture Wicking& Breathable. Very Lightweight and Flexible. For GOLFERS WHO HAVE MORE SWEAT IN HOT WEATHER, TRY THIS ONE. It will Develop Your Performance in More Sweat and No slip at All;
GLOVE WORN ON LEFT HAND OR RIGHT HAND OR A PAIR IN SIZE S M ML L XL AVAILABLE: Please Check the Attached Picture for Hand Orientation. It is NOT ONLY FOR RAIN DAY BUT ALSO FOR YOUR ALL WEATHER DAILY PRACTICE. Worn on Your Left Hand for Right-Handed Golfer, Worn on Your Right Hand for Left-Handed Golfer. The Sizes Conform with USA Regular Sizes. No Misunderstanding, Happy Purchase;
WELL PACKAGED AND SAVE $1.99 ON ONE 2-PACK: You Will Receive the Product Packaged Well in Good Condition. Each Glove Will be Put in a Small Bag at First and Then put Into the Paper Package. Double Protection. The 2-Pack One Cost $1.99 Less than Two Individual Gloves. About $6.5 for Each;
NO RISK AND BUY WITH CONFIDENCE: ALL Finger Ten Products Are Eligible For Amazon 30 Days Return And Change Policy. Finger Ten Aims To Make All Our Customers 100% Satisfied.
Sale
Atercel Workout Gloves for Men and Women, Exercise Gloves for Weight Lifting, Cycling, Gym,...
Innovative Palm Design Maximizes Your Grip: We researched how hundreds of people use workout gloves to enhance our ergonomic design, leverage the muscle direction and placement and optimize grip functionality all to bring you a better glove. The result protects your hands from calluses, reduces friction discomfort all while still maintaining a strong grip on what you are holding onto.
Unrivaled Comfort: Atercel workout gloves is made of lightweight, breathable and stretchy material, to increases flexibility, comfort and fit. Ideal for general workout, weight lifting, exercise, gym training and cycling.
Size for Success: This exercise gloves is snug-fit design. We offer 5 different sizes for you to maximize effectiveness (XSmall: 6.3 to 6.9 inches; Small: 6.9 to 7.5 inches; Medium: 7.5 to 8.1 inches; Large: 8.1 to 8.9 inches; XLarge: 8.9 to 9.6 inches), great choice for both men and women. Slip your hands into the gloves and adjust the wraps for a personalized fit.
Humanized Design: Atercel workout gloves are designed with a pull loop system for easy removal. A towelling panel on the back of the glove for wiping away sweat, and the soft mesh fabric inside fit the front of hand to keep your palm cool and dry all workout long.
Your Satisfaction is Our Top Priority: We believe you'll love our workout gloves. If you have any problem with your purchase, we'll be happy to solve it for you. So purchase now to bring your game to the next level.
ProKennex Pure 1 Racquetball Glove (Right hand)
Premium Quartz Cabretta Leather
Ultrathin sheepskin with quartz surface texturing provides superior racquet feel.
WR-100x: tanning process wicks away moisture to ensure a firm grip
Dries soft, Never stiff