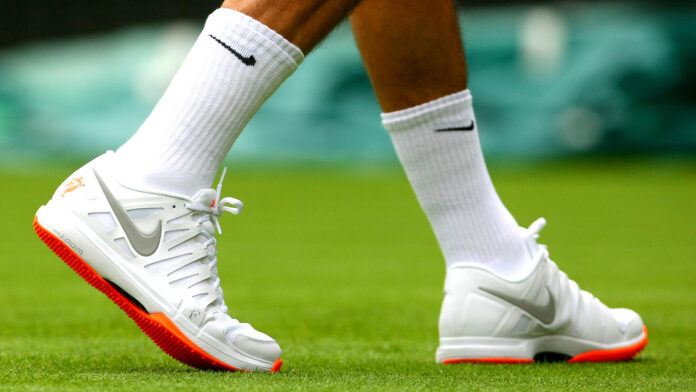 If you play tennis on a grass court, it's important to find a supportive and grippy pair of tennis shoes that will boost your on-field performance. In fact, with potentially moist conditions and jam-packed action, a solid shoe is essential to maintaining safety and stability.
If you've ever played grass court tennis in regular sneakers, you probably already know how sore and miserable your feet can feel after wearing the wrong footwear. If you want to avoid a trip to the podiatrist, consider investing in a quality pair of grass court shoes.
Not only will quality kicks help you achieve new heights as an athlete, but they'll have you looking fresh on and off the court.
Best Grass Tennis Shoes in 2020
We've compiled a list of the top three grass court tennis shoes so that you finally show the competition how real serves and volleys are done!
1. ASICS Men's Gel-Resolution 7 – Most Supportive Grass Tennis Shoes (Editor's Choice)
What's more, these shoes are backed by gender-specific midsoles, offering some of the most tailor-made ergonomics on the market.Yet another mainstay for grass court players, Asics Gel-Resolution 7 Tennis Shoes boast low-cut ankles with snug-fitting Flexion uppers. The shoe hugs the foot at every angle, offering unrelenting support and comfort without compromising flexibility.
Outdoor Ready
An external heel counter and proprietary PGuard Toe Protector fight back against abrasions. Meanwhile, chunky rubber soles with cross sections of herringbone tread give players added stability with every step.
While grass courts are somewhat forgiving, rear and front Gel cushions help eliminate the shock of harsh landings and repetitive motions.
Pros:
Gel cushioning system
Toe and heel reinforcement
Tight yet nonrestrictive fit
Synthetic uppers
Shallow herringbone tread
Flexible and supportive
2. Nike Men's Court Lite – Top Grass Court Tennis Shoes (People's Choice)
Nike's Court Lite Tennis Shoes are one of the company's top-selling grass court footwear options. These low-cut sneaks boast thick ergonomic soles with reinforced yet flexible synthetic uppers.
Meanwhile, a breathable layer of mesh ensures that moisture can work its way out during even the most intensive outdoor sessions.
Comfort and Durability
The Nike grass court tennis shoe is reinforced in all the right places. It has an added layer of abrasion-resistant material in both the toe area and heel.
What's more, heel-to-toe phylon midsoles make for cushiony shock absorption during hard serves and volleys. On top of that, the shoes water-resistant exterior is super easy to clean.
Pros:
Low price point
Reinforced toe box
Abrasion-resistant synthetic uppers
Mesh liner
Cushiony phylon midsoles
Shallow herringbone rubber sole
3. Adidas Men's Approach – Best Tennis Shoes for Grass Court
Of course, Adidas's signature padded heel patch and triple striped uppers make them super popular as street shoes too.These low-cut Adidas sneakers were originally released in 2018. Yet, they've continuously won over the hearts of grass court players thanks to their thick non-slip herringbone rubber soles and padded synthetic uppers.
Performance Boosters
Inside the Approach, a dense Adiprene cushion helps prop up a player's forefoot, while a thick EVA midsole provides heel-to-toe cushioning.
The uppers are padded and thick, though they provide a tight fit for enhanced stability. Meanwhile, the flat, shallow herringbone rubber soles provide a generous lockdown without collecting clumps of grass and dirt. What's more, the toes area is reinforced with abrasion-resistant Adituff, one of Adidas's proprietary hard-wear athletic material.
Pros:
Adituff toe reinforcement
EVA midsoles
Breathable mesh and synthetic uppers
Adiwear outsole
Shallow herringbone tread
Signature heel cuff and stripes
How to Choose Grass Court Tennis Shoes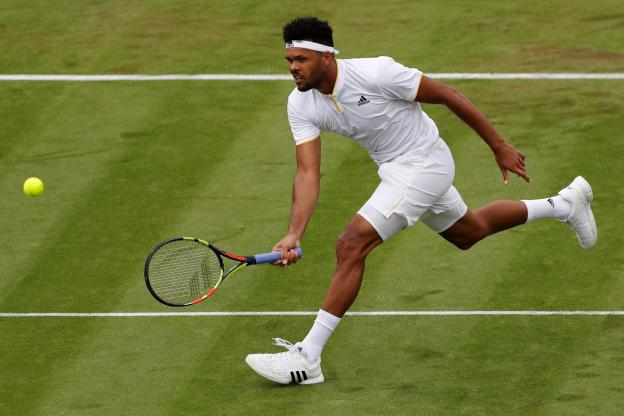 It's important to choose your tennis shoes based on the type of court you play on. When it comes to grass courts, a serve-and-volley style of playing requires rapid foot movements and hard landings.
When this is combined with moderately moist and sometimes unpredictable outdoor conditions, a grippy yet flat shoe with flexible wear-resistant uppers is exactly what a player needs. Curious as to what exactly that means? Read along to discover the elements that go into making the perfect grass court tennis shoes!
Outsoles
A grass court tennis shoe needs to be grippy enough to prevent a player from slipping, yet flat enough that it won't tear up the court.
Anything remotely cleat-like is out of the question, leaving shallow herringbone and cross-directional treads as the leaders in this category.
Finally, when it comes to quality outdoor outsoles, rubber is the number one material.
Midsoles
Competitive serve-and-volley players make fast moves, abrupt turns, and hard landings. For all this, a thickly cushioned midsole is an absolute necessity.
As always, we recommend dense EVA or gel padding that provides exceptional coverage in the heel and toe areas.
Uppers
Outdoor shoes need plenty of fortification. Yet, grass court players also need to maintain their flexibility for fast angled plays. As such, we recommend thick synthetic uppers that are similar to the ones on most basketball or running shoes.
Of course, be on the lookout for mesh panels and circulation holes that can successfully channel out moisture and heat.
Conclusion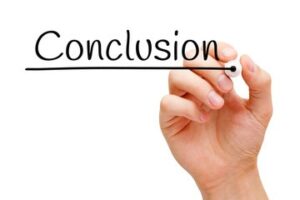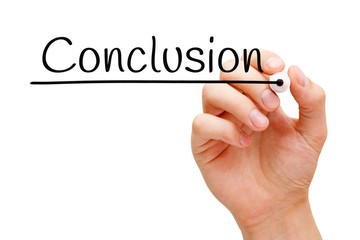 If you're torn between a few different pairs of grass court tennis choose, we suggest you go with the Adidas Approach.
While these were initially released in 2020, they have continuously won fans over with their durable synthetic uppers and cushioned soles.
Their stylish exterior has even earned them a place as street wear. Though, in our option, pavement fails to bring out their incredible athletic prowess!