Longboarding is known as a world-famous sport, for amateurs as well as for professionals. It s also a convenient way of transportation used by not only teenagers but also adults. It is cheap, fast, eco-friendly and with a little practice, you can get really good at it. All you need is a good long-board to get you started.
Best Choice
Good Choice
Don't Miss
Premium Pick
Also Consider
Magneto Mini Cruiser Longboard | Complete Skateboard Cruiser Board | Short Board | Canadian Maple...
MINORITY Downhill Maple Longboard Skateboard | 40-inch Drop Trough Deck | Made for Cruising Ride
Quest Rorshack 34" Complete Longboard Skateboard
Landshark Island Style Longboard
Playshion Drop Through Freestyle Longboard Skateboard Cruiser
Best Choice
Magneto Mini Cruiser Longboard | Complete Skateboard Cruiser Board | Short Board | Canadian Maple...
Good Choice
MINORITY Downhill Maple Longboard Skateboard | 40-inch Drop Trough Deck | Made for Cruising Ride
Don't Miss
Quest Rorshack 34" Complete Longboard Skateboard
Premium Pick
Landshark Island Style Longboard
Also Consider
Playshion Drop Through Freestyle Longboard Skateboard Cruiser
Top Picks for 2023
If you are a pro, you probably already know everything there is to know about skateboards, but if you are just beginning to explore the fantastic world of longboarding, reading this article might help you.
1. Magneto Mini Cruiser Skateboard Cruiser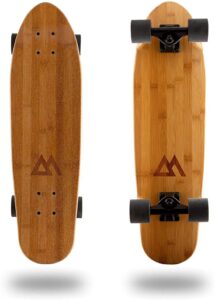 Suitable for performing many tricks like mannies, ollies, flips, Magneto Mini Cruiser comes with double kick tails that allow you to express your creativity when it comes to longboarding. This board features asymmetric front and back kick tails that allow you to surf smoothly and direct your board as you like with no trouble.
With a length of 27.5 inches, this board is easy to carry around and ride almost everywhere. The deck is made from bamboo material combined with Canadian maple, making it incredibly strong and durable. Sand grit finish on the top of the board ensures stability and also features a unique design. The kingpin trucks on this board are made from gravity cast aluminum with an angle of 55 degrees and a 5" hanger. The wheels and bushings built from SHR polyurethane ensuring a reliable ride.
If you prefer shorter boards that give you more stability, this budget-friendly model is for you.
2. Minority Downhill Maple Longboard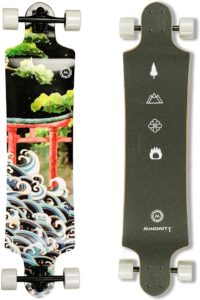 Here we have a classic downhill drop model. Minority Downhill Maple Longboard is great for riding fast or downhill, as the name itself states. This is a 40-inch longboard with a low gravity construction that weighs 7.5 pounds. It features a unique symmetrical shape ideal for maneuvering without the concern of wheel bite at any angle.
The material used for this longboard is 100% Maple wood. It is made from 8-ply maple that is cold-pressed to ensure endurance and a weight capacity of 220 pounds. While the 10″ deck may be too wide for some riders, you can rest assured it is incredibly stable, and to support that fact, this board comes with a 37-inch wheelbase.
This model is equipped with reverse kingpin trucks that are cast with aluminum and adjustable as 45 or 50 degrees and also feature carbon steel axle – all with the goal of flexible riding style. Achieving a very high speed with this board is easy due to ABEC-9 precision bearings while also enjoying a smooth ride with soft 78A high rebound wheels that absorb shakiness caused by uneven roads.
Another cool thing about this model is that it is designed by multiple artists, so it can look really vintage or you can choose a more avant-garde look.
3. VOLADOR 40inch Maple Longboard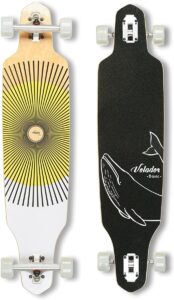 Volador brand is known for its high-quality world-famous boards and this 40″ longboard is no exception. Coming in a variety of color choices, this model accommodates most users' styles. It is highly recommended for beginners that like to separate themselves from the crowd.
Ensuring durability and flexibility, the deck of this model is made from 8-ply hardwood maple combined with epoxy glue and can endure up to 250 pounds. 7-inch reverse kingpin truck adjustable as 50 or 45 degrees and strong 70mm wheels with ABEC-7 precision bearing allows you effortless maneuvers, supported by 85A bushing. This board also comes with carbon steed bolts that are resistant to rust.
You can rest assured that Volador manufactured all parts from genuine materials with one goal in mind – to provide a smooth and enjoyable ride for its customers.
4. Atom Pin-Tail Longboard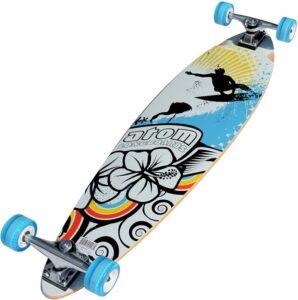 Atom Pin-Tail Longboard is a great 39-inch longboard created for low-riding. It is a drop-through board perfect for downhill carving, but also suitable for cruising through the streets. It has a classic pintail-shaped deck, made from maple, with a colorful design that makes this board attractive to younger riders.
Here is a quick overview of this company's models:
The 70mm wheels guarantee a smooth ride, and 8.5" aluminum trucks and ABEC 5 bearings support that fact. The wheels are made from urethane and have a 78A durometer feature, so you can be sure they allow a comfortable ride even on bumpy roads.
Customers have reported using this board for many years and still feel it is their favorite model. If you choose to purchase this board, your wallet will be thankful, since it comes at a very affordable price.
5. Quest Rorshack 34″ Complete Longboard


This 34-inch longboard is suitable for both kids and adults due to the length that is easy to maneuver no matter what size your feet are, all for a very affordable price.
The weight capacity of this board is 220 pounds. This is possible because Quest made this model using a 7-ply hardwood maple combined with highly flexible bamboo, providing customers with a strong and durable deck that will have a long life span no matter how much you use it.
This board features a kicktail design allowing you to easily learn tricks. The wheels are 65mm, with 6-inch aluminum trucks providing you with a smooth ride and high performance. It is a very stable and reliable board that is guaranteed to satisfy your needs whether you enjoy a simple city cruising or you prefer showing off your skills.
6. Playshion 39 inch Freestyle Longboard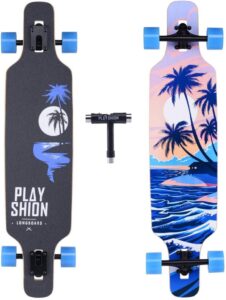 Playshion 39 inch Freestyle Longboard is perfect for kids or adults who are just getting into longboarding since it features drop–through mount style, making the board closer to the ground thus easier to control. This 39-inches longboard is suitable for freestylers but also sliding, downhill, cruising, and curving – all in all, a multifunctional board. 7″ RKP aluminum trucks make this model easy to handle.
Check out this quick preview:
Made from 8-ply maple, this board has a very strong and enduring deck that can hold up to 250 pounds. It features a symmetrical design that is slightly concave in the middle allowing you easier turn and more stability for your feet. It comes with 70x50mm SHR 78A Polyurethane wheels that are 50mm wide that allow you enough control for any stunt you have in your mind. The bearings are ABEC-7 made from amazingly tough steel, providing you with rigid steering but a soft ride.
This board measures 39×9.1×4 inches and it weighs about 7 pounds, so it is very transportable and you can carry it all across the city when you don't feel like riding (although that is rarely the case).
7. Landshark Island Style Longboard


Measuring 35" x 9.25", the Landshark Island Style Longboard is a great choice for carving and cruising and simply enjoying the ride. It is also a great board for beginners with its classic shape. It allows you to have absolute control due to the concave deck that keeps your feet stable and provides great traction. The deck is made from 8-ply maple wood and features cutouts that prevent wheel bites; stable 61mm x 54mm wheels with ABEC-7 precision carbon steel bearings provide you with a steady and comfortable ride and let you accelerate easily. As for the trucks, this board comes with lightweight 7-inch aluminum models that give you the feeling of amazing balance.
If you are a fan of budget-friendly boards and retro design, this just might be the one for you.
Buyer's Guide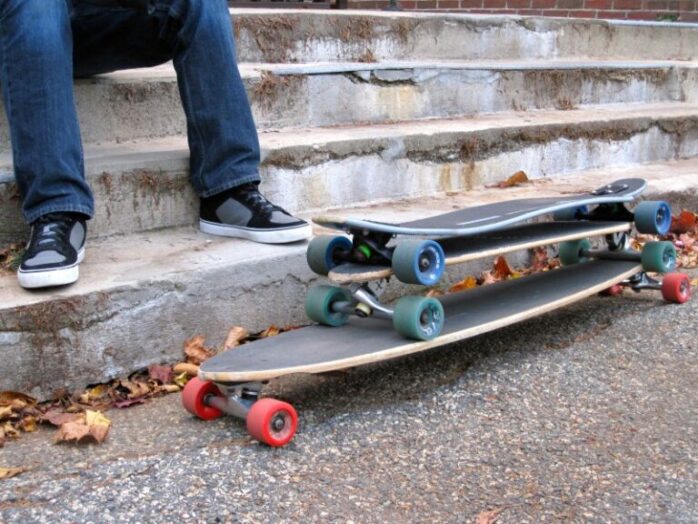 Decks
Choosing a perfect deck for you is the most important thing when buying a longboard. There are a lot of factors to consider.
Let's start with the length. Choosing a longer board will give you more stability at high speeds, but if you are a beginner, you might want to consider shorter boards. They are easier to control and maneuver and you can always switch to a longer one, once you've mastered the skill of skateboarding. Also keep in mind the size of your feet, because there really is such a thing as a board too small.
There are several different deck shapes to choose from. Cruiser decks look like surfboards and have a wide tail and a narrow nose. They are usually less than 35" long. Symmetrical boards have no front and back end, and you can ride them in both directions. The opposite of this type is a directional board that is asymmetrical in shape and has many different looks like the shape of a bullet or custom-carved-shape. A pintail board comes in narrow and tapered shapes designed for smooth cruising.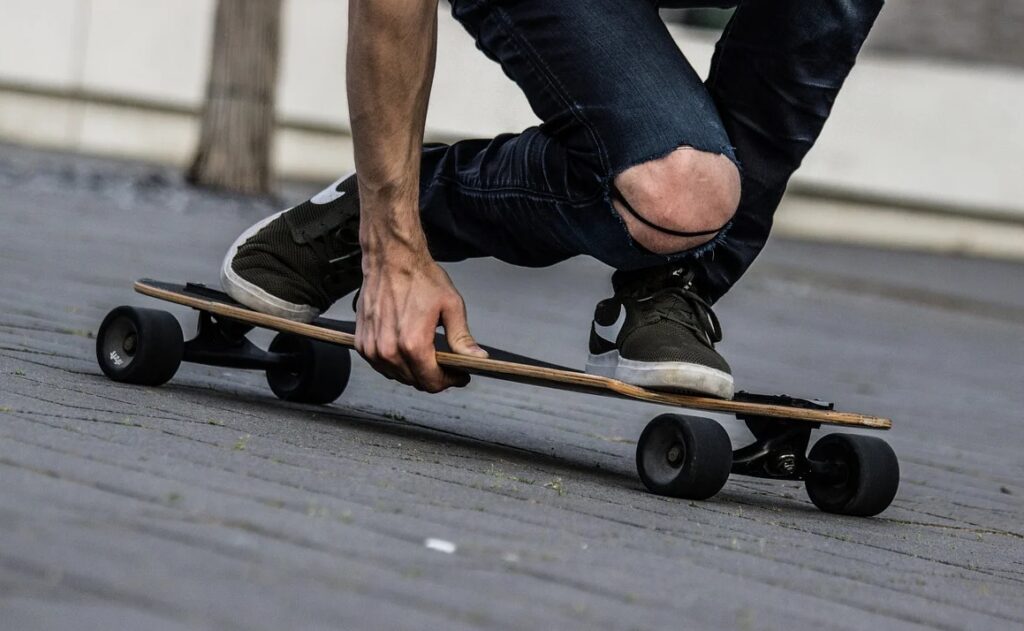 Deck mount style and drop are important features to pay attention to. Deck mount tells you how the trucks are mounted onto the deck and deck drop describes the lowered foot platform between the truck mounts. You can choose between the drop through where trucks are mounted across the deck, drop deck where the deck is lower than mount points, the top mount where the tricks are installed underneath the deck, and a double drop where you get a dropped platform and a drop-through mount.
All of these styles have certain advantages. For example, drop-through longboards are closer to the ground and are easier to manage at higher speed, but are harder to turn. Top mounts are more responsive, while dropped and double-drop boards are maybe the most comfortable and most stable of all, but least responsive.
Trucks
Trucks are the second most important thing to consider when buying a longboard. They are a part of the longboard that connects the decks and the wheels. Two main kinds of trucks are traditional kingpin (TKP) and reverse kingpin trucks (RKP). Reverse kingpin trucks are generally more in use these days and are recommended for beginners since they provide more stability at high speeds than traditional kingpin trucks. TKP's are more suitable for performing tricks with your board.
Truck bushing provides rebound and cushioning, so adjusting it according to your weight gives you a more enjoyable ride.
Wheels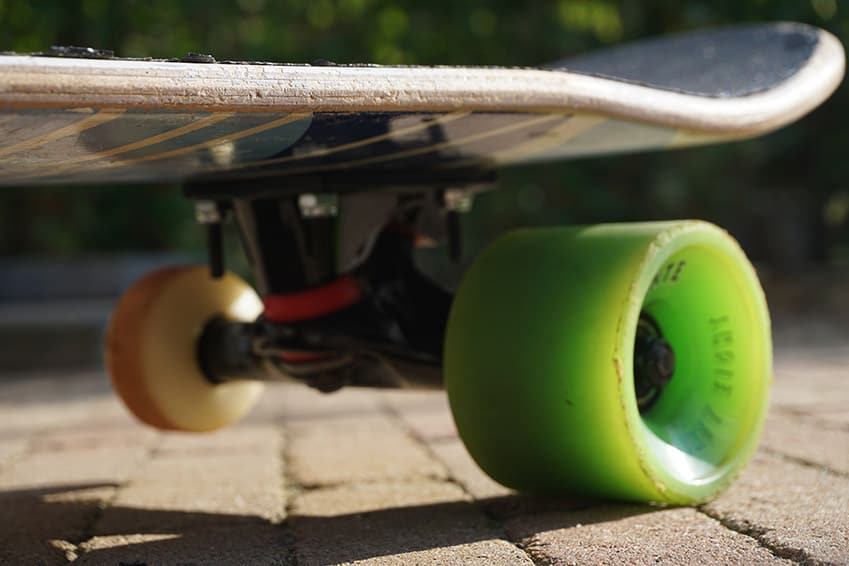 Since the wheels are literally the part of the board that keeps you going, you should pick the ones that are best for you. Wheels that are larger in diameter are faster than smaller wheels, but if you like doing tricks and flips, smaller wheels will suit you better. Also, softer wheels are better at softening the impact of riding across uneven surfaces, so take wheel hardness (durometer) into consideration. There is a difference between narrow and wide wheels too. While wider wheels have more traction, narrower wheels allow you to slide smoother.
Read Also: Best Roller Skates under $100
Weight Capacity and Material
All longboards come with weight capacity limitations. If you don't want to break your longboard, try choosing the one that suits your size. Stronger decks made from eight-ply material can accommodate more weight and are suitable for riders over 250 pounds, while decks that are made from fiberglass and bamboo are more suitable for riders that weigh less.
FAQ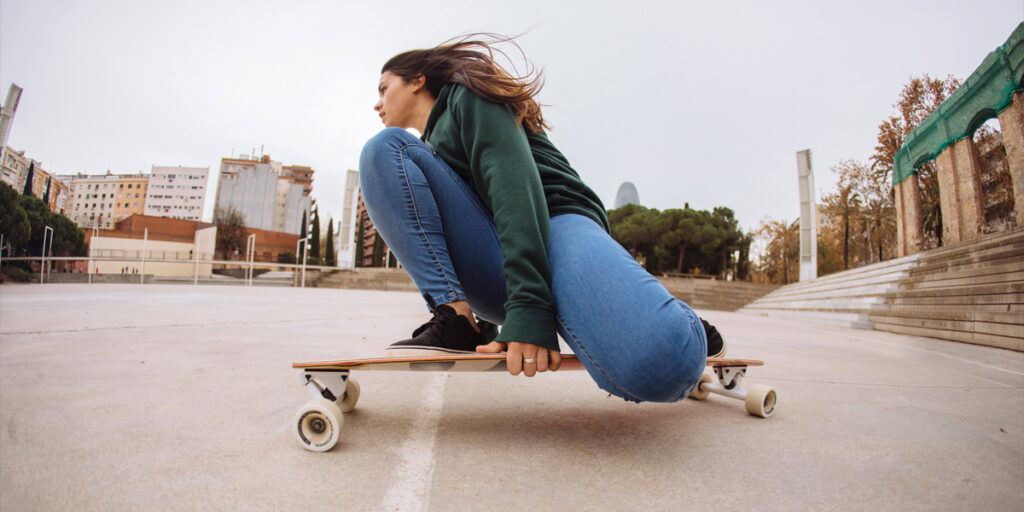 How long is too long for a longboard?
The length of your board depends on your preferences, but if you choose to get one that is anywhere from 28 to 46 inches long, it should be enough.
Is skateboarding better than longboarding?
This is also a matter of personal preference. Longboarding provides you faster and smoother rides, while skateboarding is more suitable for riders that like shred rails. Either way, our advice is to try both styles before settling for just one.
How much should I pay for a longboard?
Cheaper longboards can be purchased for $60-$250. If you are a beginner, we strongly recommend you go with the cheaper option and then upgrade your gear as your boarding skills progress. Longboards that are higher in quality require a budget of $150 to $450.
Is it cheaper to build or buy a longboard?
Store-bought longboards are cheaper, and again, if you are just beginning to take interest in this sport, buying a board may be a better option, since you won't feel any difference until you get that feeling and sense only experience rides have.
Conclusion
Before making a final decision on the kind of longboard you will purchase, consider all these factors. What works best for someone else doesn't necessarily have to work for you. Think about things you expect from your board and what do you want to use it for. It might be a good idea to try some models before buying one. Surely, your friends that are also into longboarding will let you take their boards for a ride, and make the choice easier for you. If not, we hope reading this was helpful.
Here are some other interesting choices for you to check out:
Related Reviews:
Best Roller Skates for Kids Review