If you're a newcomer to the sports and fitness world, it can become overwhelming to choose the correct activewear. There's a large abundance of clothing items and accessories to consider, and each has a specific function to aid and enhance your workouts. Fortunately, there are several perspectives you can use to focus on when you eventually go shopping for athletics wear. Additionally, don't be afraid to integrate your own style and clothing taste into your choices.
Here are the top three tips on how you can find the proper fitness outfits for you when you shop:
1. Fitting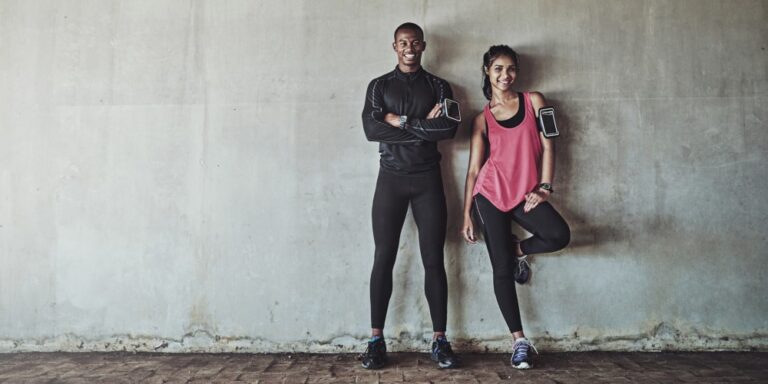 According to G-Form, it's essential that you prioritize looking for items with the right kind of fit for you. The fit is how the clothing will sit against your body and can either be loose to make way for staying cool and comfortable or it can be right up against your skin for muscle support and injury prevention. When it comes to the fit, choose according to the impact your training will have on the muscles of your torso, arms, lower body, and hips.
Use this to guide your decision of what situation is ideal for which type of fit:
You can opt to shop for loose-fitting clothing if your workouts are more low effect and contain slower movements. This is often the case of home fitness training where most exercises consist of lying down on a mat or light standing exercises. In relation to this, loose activewear can be worn as casual daytime wear that overlays your gym clothes. These can be cotton shirts, hanging crop tops, and tank tops, as well as breathable yoga pants.
Tight athletic wear is the most necessary type of fit if you're doing any high-intensity exercises. These are the workouts that are calorie-burning, fast, require extreme effort, and raise your heart rate, soaring for a short to intermediate period of time. In this case, tight clothing that fits snugly onto your body works like a band-aid—it protects your muscles from straining and overstretching while you move to help prevent pain and injury.
2. Fabric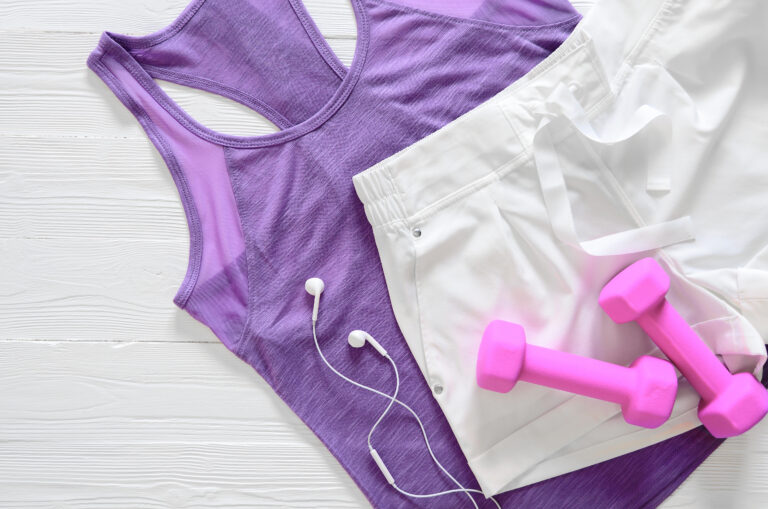 The material that your activewear is made of plays an important role in supporting your movement. You should aim for frequently used fabrics that allow for breathability, stretch, and even protection from the dangerous elements of the equipment you could use.
A key tip is to try to find clothing made from fabrics that have moisture-wicking abilities. These materials are known to keep sweat off your body and ease evaporation so your clothing won't feel drenched while you work out or play sport.
Here's what fabrics you should look out for when buying sportswear:
This is the eco-friendly option if you want to choose activewear that's made from a natural and sustainable fabric. Bamboo fiber comes from the actual bamboo plant after it's been teased into yarn strands. It's a favored material in activewear especially among beginner runners because it's light, durable, moisture-wicking, and has natural sun protection properties. You'll most likely find bamboo fiber in sweatpants and leggings.
While nylon might not have the same moisture management rates as other fabrics, it's very useful in activewear as a stretch fabric. If you participate in an exercise that involves stretching and flexibility like yoga and Pilates, then nylon could be your go-to. You can find this elastic material in most gym clothing such as pants, shorts, and crop sports bra tops.
One of the most popular materials in training clothing is undoubtedly the durable and tightly fitted spandex. This fabric can be found in activewear and performance garments that fit tightly to the skin such as bodysuits and leggings. It's the preferred material for sports and training that require optimal maneuverability and comfort such as gymnastics and swimming.
3. Seasons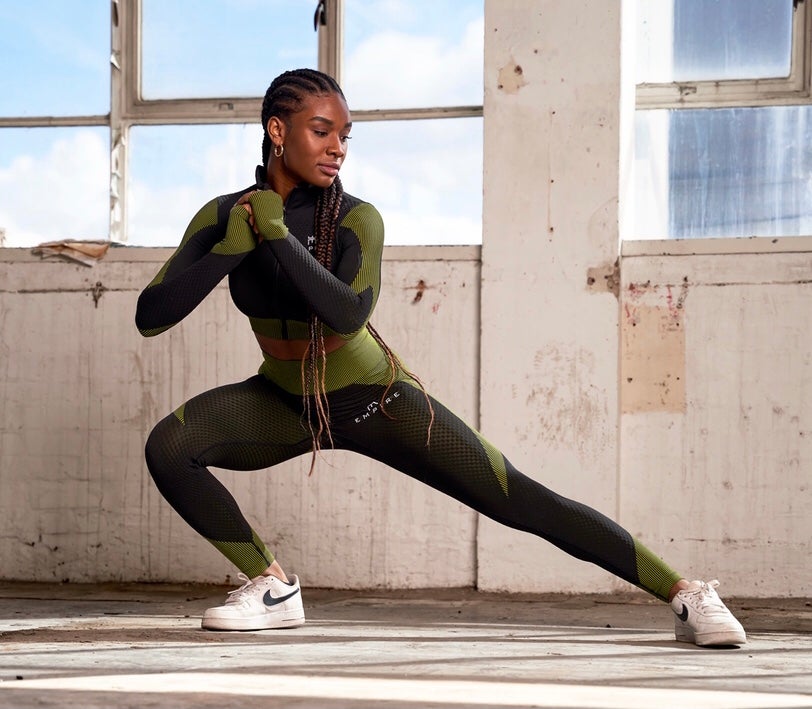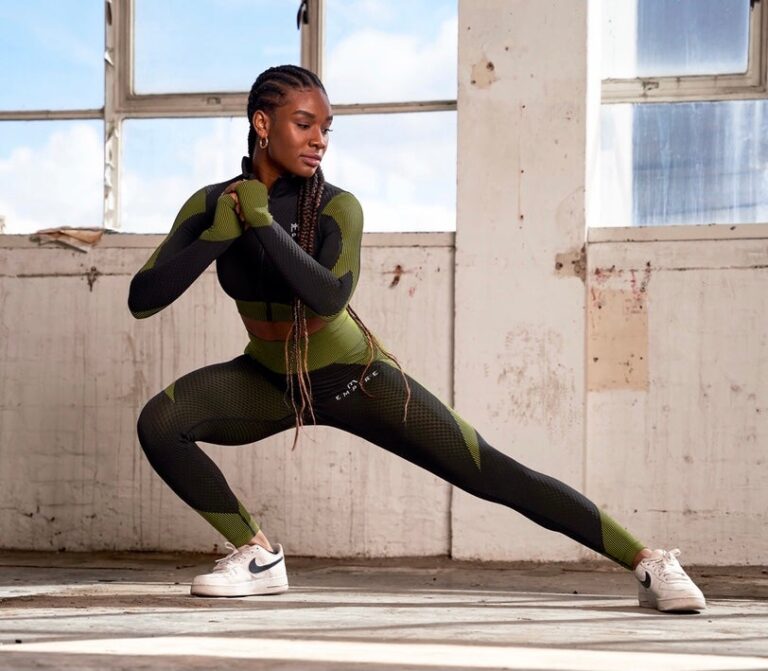 The weather is also a fundamental component to consider when you shop for activewear. This is in the same way that you have clothing set aside for warmer and colder months, the same principle should apply for fitness outfits, especially if you train outside.
A tip you can make use of is to buy individual or specific items of clothing designed to shield you from the elements rather than looking for entire outfits. Purchasing add-ons to existing outfits is a practical and budget-friendly approach to seasonal shopping.
Here's how you can get it done:
During summer, you're going to want to select items of clothing that have the highest sweat management levels or have as little material touching your skin as possible. These can be low-waisted gym shorts, cycle shorts, and crop top bras. Sweatbands for your head and wrist, vizor caps, and tinted sports sunglasses are additions you can get for extra sun and sweat control.
When the weather becomes more permissible and varied during spring and fall, this is where your choices are the most diverse. You can opt for medium to long pants that reach your knees or ankles and short sleeve t-shirts or tank tops. It's a good idea to get a versatile windbreaker jacket made from mesh or Velcro for this season as an addition that you can throw on as temperatures rise and fall.
As cold conditions start to set in, your athletic wear needs to execute a double duty—preventing the cold from affecting your muscles while giving you room to train at your best. In this instance, look out for thermal workout apparel made to keep you warm but is lightweight and still provides easy motion. They're most often found in long sleeve shirts, knee-length socks, and leggings you can wear under track pants. High collar puffer jackets and zip-up hoodies are other options you can consider for winter training.
Conclusion
Shopping for sportswear that's most suitable for you can be approached in three aspects—the fit, fabric, and what you can add on as the seasons change. This should help guide your buying decision so you know what to look out for. The main point to keep in mind is to consider the kind of training you'll be attempting as a newbie and incorporate your unique style into the clothes made for that sport. All the elements of your athletics wear should come together to assist you in optimizing your performance.