Defense of our frontline goalie is crucial. Out of all the best brand for goalkeeper gloves available Adidas goalkeeper gloves are the ones that cushion the hand, protect the fingers and ultimately support to enhance the grip over the ball.
Our Pick
Good Choice
Don't Miss
adidas Classic Pro Goalkeeper Gloves FS White/Yellow
adidas Predator GL PRO Goalkeeper Gloves Size
adidas Predator Competition Goalie Gloves
Our Pick
adidas Classic Pro Goalkeeper Gloves FS White/Yellow
Good Choice
adidas Predator GL PRO Goalkeeper Gloves Size
Don't Miss
adidas Predator Competition Goalie Gloves
Here, I will review a few of the best Adidas goalkeeper gloves available in the market to ease your selection process.
Best Adidas Goalkeeper Gloves – Top Picks
1. Adidas Predator Ultimate Gloves Men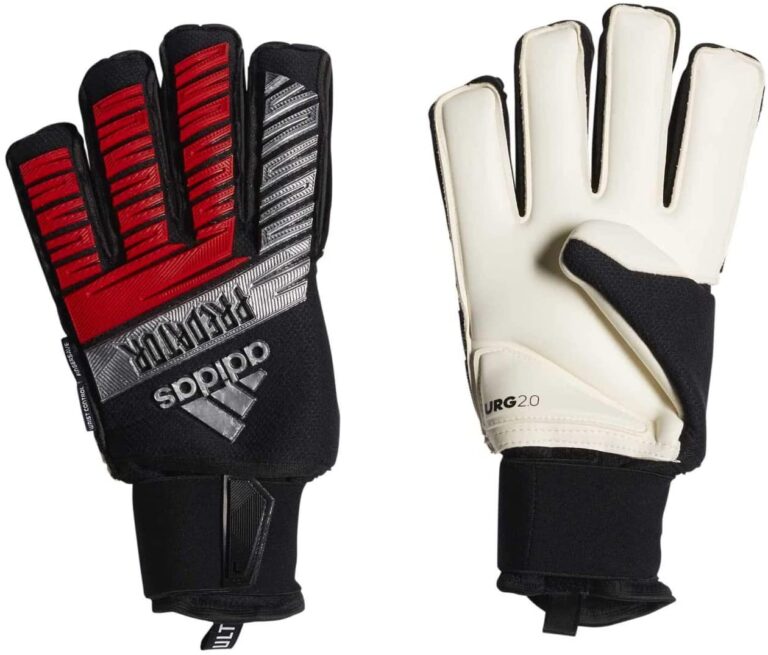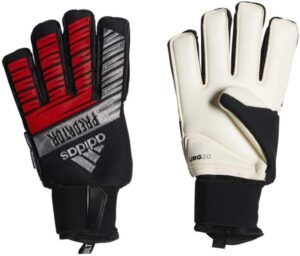 The Adidas predator gloves are the ultimate soccer goalie gloves from the best goalkeeper glove brand; Adidas. These gloves provide exceptional grip to their wearer and are assembled to offer unparalleled grip during a game. However, it comes well equipped with Adidas's 4mm URG 2.0 Latex and comes with a full negative cut.
Moreover, it has a bit of an extended palm as well as a wrap that covers the thumb. Subsequently, the body of these Adidas goalkeeper gloves is made up of Adidas's Meccano material.
Apart from the Meccano body, the backhand of this glove features Adidas's iconic demon skin punch zone. Furthermore, these gloves also contain four detachable finger saves along with a removable wrist support system.
Similarly, like the rest of the glove, its entry system is unique and it consists of an asymmetric mechano material wrist cuff as well as a single stretch wrist strap. Likewise, these gloves have a lot of new design features; it starts immediately from the wrist cuff.
Similarly, these gloves now have an asymmetric wrist cuff instead of a standard wrist cuff which extends a little bit on the outside of the wrist.
But that's not all, although the wrist cuff is build with the same mechano material as the previous versions it has a much wider cut which makes the wrist puff a lot lose and easy to wear. Especially, the best part of these Adidas goalkeeper gloves, black, is the perfect fit they give their wearer.
With its new negative cut, it offers the wearer exceptional grip and ball control. Lastly, the finger saves protects the goalie's finger from any injury during the game. Even without the finger saves these gloves have enough cushioning to resist the impact of any shot.
Pros
The demon skin on the backhand gives confident punching.
Have removable wrist support and finger saves.
Negative cut in these gloves makes them fit perfectly on the wearer's hand.
The exceptional cushioning in these gloves helps in providing support for stopping any shot.
Cons
These gloves are only available in red and black color.
Relatively Expensive.
The wrist strap of these gloves isn't removable.
---
2. Adidas Classic PRO FINGERSAVE Goalkeeper Gloves 7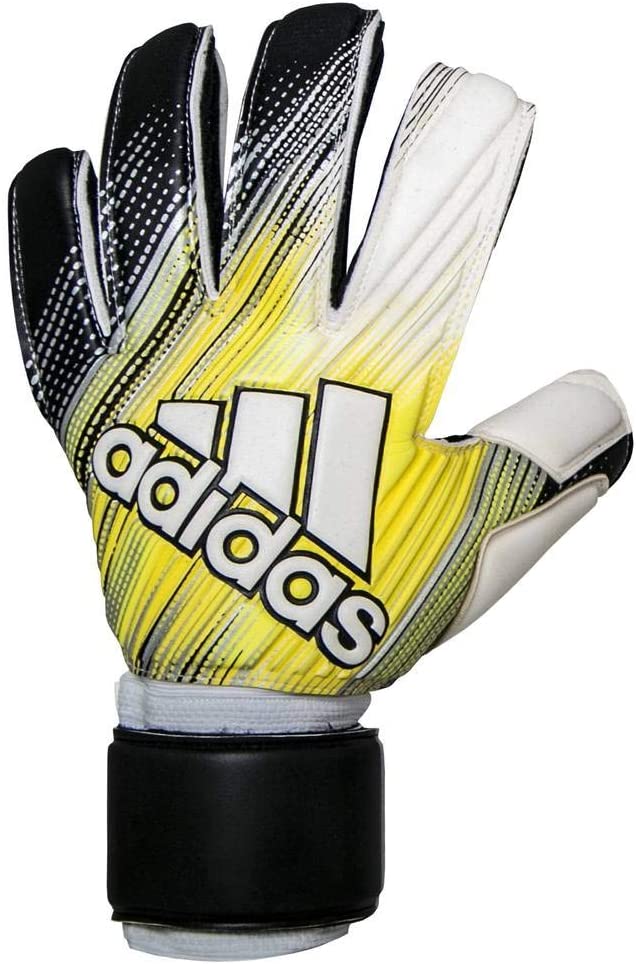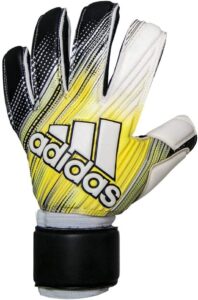 The Adidas Classic Pro finger save goalkeeper gloves are a reincarnation of Adidas's first gloves that held European football's top internationally recognized trophy. These gloves are a celebration of 20 years of European soccer legends. The classic pro finger save gloves comes with reinforcement in their fingers and have an exceptional grippy palm that gives confident punching and catching.
Build for exceptional performances during the match, the classic pro gloves are made to stop the toughest of shots. Moreover, the 3.5 mm cushioning in the palm helps to provide extraordinary protection from impact by absorbing the shock. Additionally, the URG 2.0 latex in these gloves gives the wearer super grip and cling to the ball under all weather conditions.
Similarly, the negative cut of these gloves gives the wearer snug and natural fit that makes them super comfortable to wear during long games. Furthermore, the finger spines present in these gloves add support in parrying, throwing, and catching. The finger saves in these gloves are exchangeable and they stiffen for resisting pressure whenever pushed backward for deflecting the ball more efficiently.
Likewise, the body of these Adidas fingersave Allround goalkeeper gloves is built with polyester, cotton, and polyurethane. Whereas, the palm using rubber, URG 2.0 latex, and polyurethane. Subsequently, these gloves give the wearer seamless and close-fitting due to the bandage around the wrist. Lastly, the backhand designing of these gloves takes inspiration from the gloves that Real Madrid's greatest goalie who debuted in 1999 wore.
---
3. Adidas ACE Zones Fingersave All-round Goalkeeper Gloves 10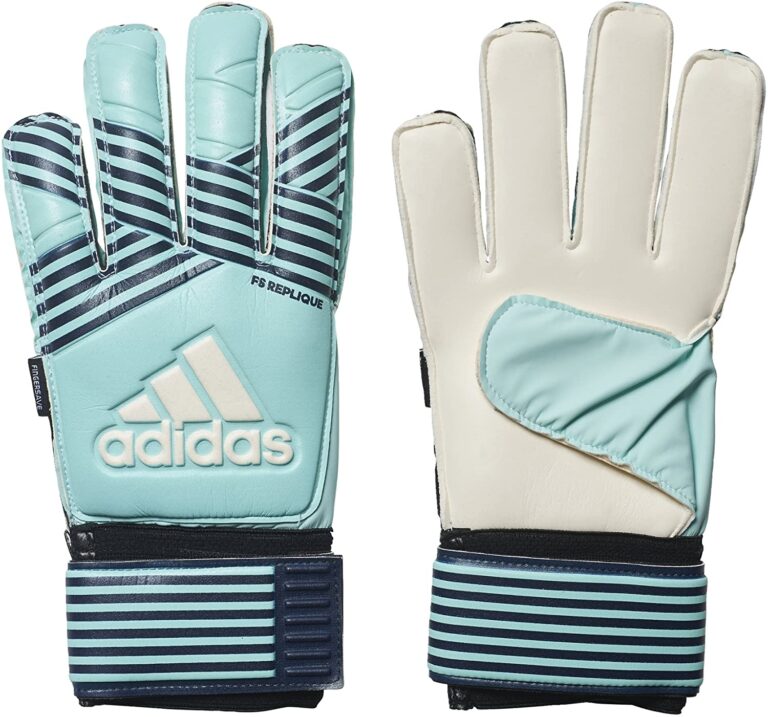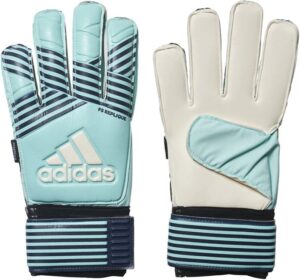 You must be aware that Adidas is the best goalkeeper gloves brand with plenty of experience in producing world-class sporting goods. And with the Adidas Ace Zones Pro Gloves, they have clearly shown versatility in their minds. That being said, using these gloves proves it. These Adidas zones goalkeeper gloves are quite light in weight which makes them easy to wear during the game.
Likewise, these gloves have an outstanding scratch-resistant Evo Zone that offers excellent grip at your fingertips by combining 2 different engineered foams that provide the grip.
Like all other Adidas gloves, the traditional negative cut along with a contact maximizer is used that increases the contact area for the catching motion. Similarly, the backhand of these gloves has lightweight silicone in it that gives the wearer excellent grip and ball control.
Likewise, the punching zone of these Adidas ace league goalkeepers is quite wide and when you need to clear the ball, the versatility offered by the glove gives the wearer a lot of freedom of movement. To begin with, these gloves provide the wearer with extraordinary finger support that gives them enhanced performances.
However, if you need to play on various surfaces under varying weather conditions, I would suggest that you use these gloves as they have splendid grip.
Besides, Adidas commonly uses materials such as rubber, leather, latex, plastic, polyurethane, and different types of fabric in the making of these gloves.
Pros
The Wrap-around wrist closure of these gloves gives the wearer a snug fit.
Protection on the backhand gives these gloves excellent impact protection.
These gloves are super comfy to wear during long games.
Aesthetically appealing.
Cons
These gloves can get quite slippery when wet therefore you should be careful if you tend to have Butterfinger.
The Palm zone could be wider.
---
4. Adidas Predator GL Pro Hybrid 11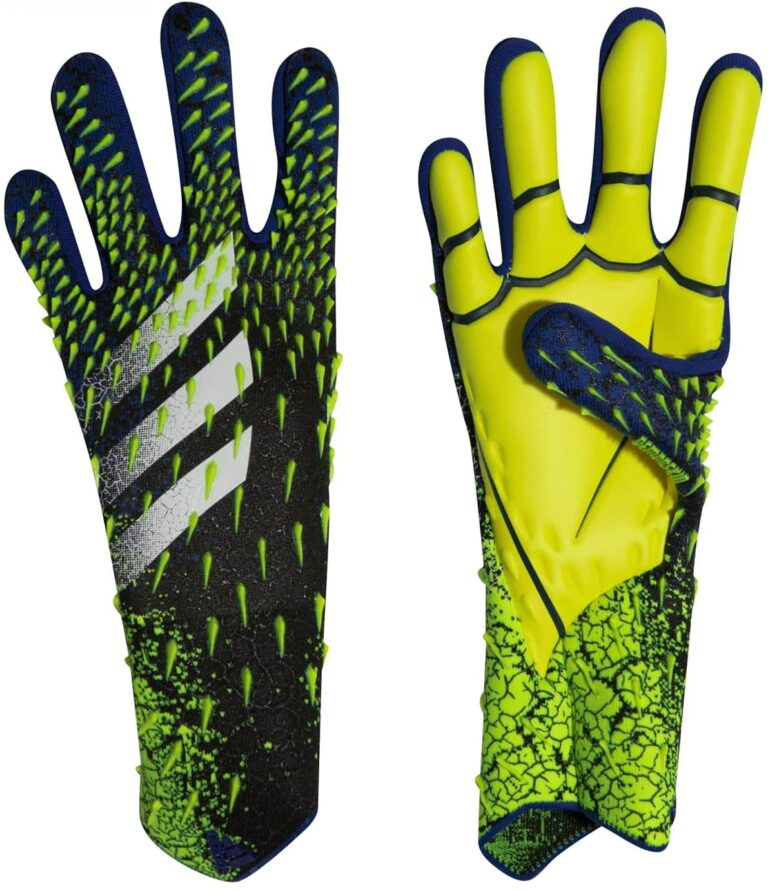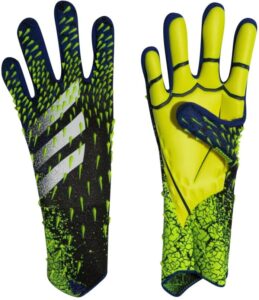 The Predator GL Pro Hybrid gloves are the ultimate goalie gloves that every goalie dream of having. The hybrid construction of these gloves ensures maximum comfort of the hand and catching surface area. Moreover, the extended latex on the fingertips of these Adidas fingertip goalkeeper gloves is great for increasing the grip and ball feel under the hand. It is indeed one of the best releases from the Adidas in flight line and the latest addition to the predator pro range.
Additionally, it features the ultimate URG 2.0 all-weather game latex that offers more durability than the older 1.0 URG in all weather conditions. Besides, it is suitable for all club, high school, and college gamekeepers. Likewise, the strategic position of the flex zones across the fingers and the palm area naturally facilitates the hand movement making them comfortable to wear as well as giving increased flexibility.
Similarly, this also enhances the latex to ball contact to the wrapped over fingertips, patent to Adidas. This not only gives added ball contact but also fits perfectly when you slide your fingers in the little pockets of latex in the wrapped-over fingertips.
Although, there's no finger protection system in these Adidas soccer goalkeeper gloves or any sort of wrist support present. However, these gloves have a very secure nicely knitted backhand one-piece system that provides a snug and secure feel on the hand from the fingertips to the wrist closure.
Additionally, Adidas's iconic demon skin raises the control element that distributes across the knuckles and backhand to give texture and grip along with more control while you are punching the ball.
Furthermore, these gloves are aesthetically quite appealing with their fight pack white, gold, and black colors that stand out boldly with the gold design on the sides. This makes them the best Adidas youth soccer goalie gloves. Moreover, the flex zones also have gold material that pops out regardless of what jersey you're wearing.
Pros
Perfect for advanced-level professional games.
These gloves come with a negative hybrid cut which offers maximum latex to ball contact exposure.
Moreover, with the strapless entry system, these gloves are quite easy to put on and take off.
The URG 2.0 latex in these gloves gives the wearer extraordinary grip and cushioning.
Cons
There is no finger protection system present in these gloves.
Available in limited sizes.
---
5. Adidas Predator Pro Fingersave GK Gloves 7.5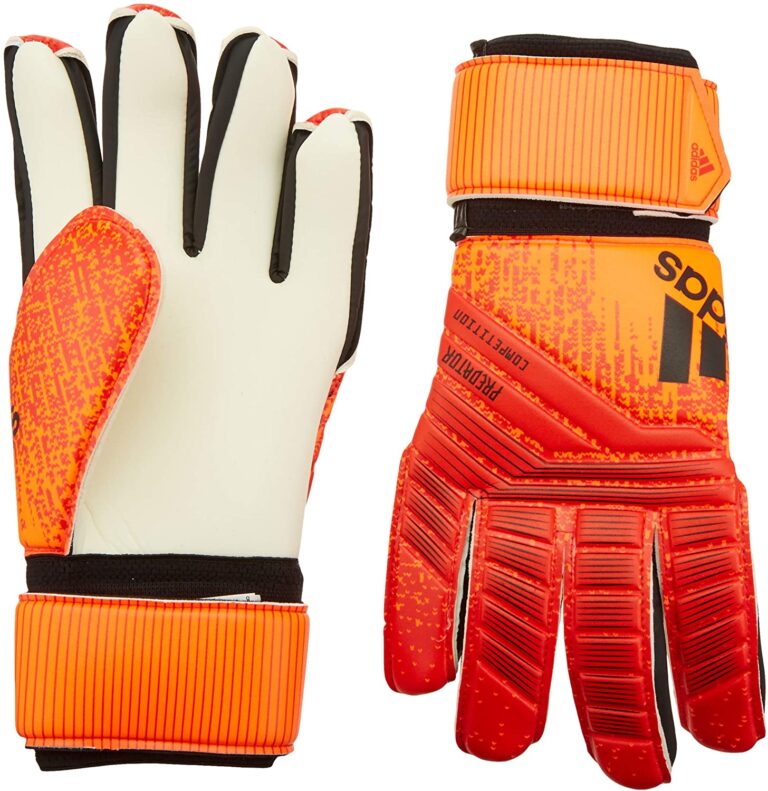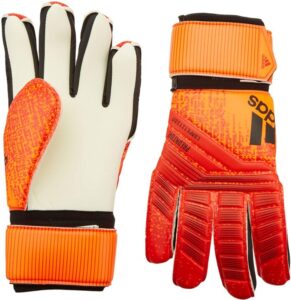 The best gloves for protecting your territory, the Predator Pro GK are excellent gloves from Adidas's Predator range. The best part of these gloves is the Finger saves that come with them. The goalkeeper of the Polish national team uses these gloves. However, the build of these Adidas fingersave goalie gloves is entirely different than the negative cut ones, as a mesh using knitted stitch.
Moreover, on the backhand of these gloves, large silicone is present that provides strength and support to the fist. Even though the thumb of these gloves has a negative cut that is wrapped around the tip, the overall cut of these gloves is a classic flat cut. Whereas, the palm of these soccer goalie gloves Adidas is made with Evo Zone Tech 2 latex, which performs phenomenally under all weather conditions.
Additionally, at the bottom of the palm, Adidas introduced a reinforcement that gives better resistance against abrasion. And the cut between the thumb and index finger helps in avoiding tension and tearing of the glove. Nevertheless, the best part of these gloves is the presence of finger save protections in all four fingers excluding the thumb as it's already quite stiff.
Likewise, the use of fabric inside along with the mesh-like structure in the wrist of these gloves makes them super comfortable. Additionally, the glove has an elastic wrist strap with two Velcro attachment points which gives the wearer freedom of adjusting the glove as per their size. Besides, after using these gloves we found that their grip is perfect and you can feel the ball perfectly in your hands and it sticks to your hand because of the latex. Similarly, the fingers are quite wide so they offer good ball contact when you're playing a match.
Pros
The silicone area of these gloves provides good cushioning when you're touching the ball.
These gloves are quite durable and work perfectly under all ground conditions.
The Evo Zone Tech 2 latex of these gloves is suitable for all weather conditions.
These gloves give exceptional performances during any match.
Cons
The finger saves in these gloves are very stiff so you have to use strength to close your fist.
Moreover, for people with small wrists, the strap is too long.
Although the elastic strap of these gloves provides a perfect fit, as you tighten it, you'll realize it's too soft to offer any wrist support.
---
6. Adidas Predator GL Pro Hybrid Goalkeeper Gloves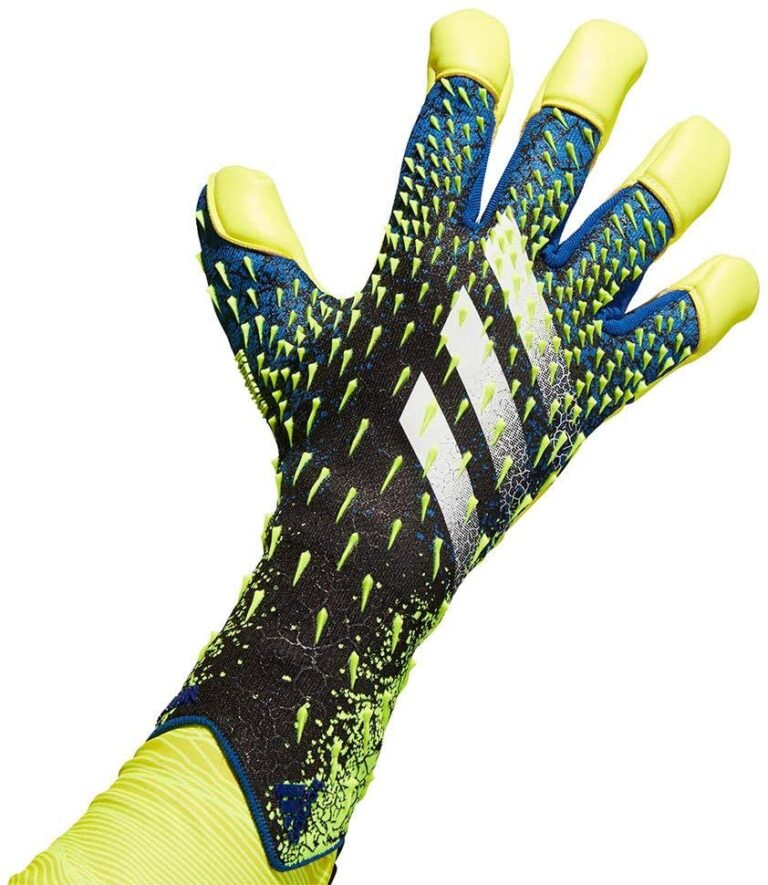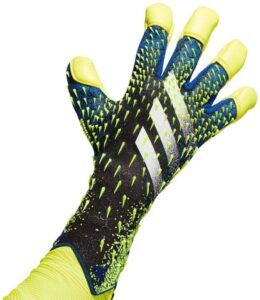 These stunning gloves from Adidas offer unrivaled grip, impact protection, and ultimate comfort to the wearer. Additionally, the use of Adidas's patent top of the line, URG 2.0 latex for creating these gloves gives the wearer excellent grip and high-level impact protection. Moreover, these Adidas keeper gloves have Adidas' true negative cut with flex zones in the palm region which prevents latex bunching. The cut also provides the wearer a snug fit that makes these Adidas predator gloves behave like a second skin.
Furthermore, the use of one-piece knitting for making the backhand area of these gloves gives them a perfect fit. And this structure offers excellent fitting and breathability to the goalie's hands. Similarly, the iconic demon skin present on the backhand provides added support when you're punching the ball.
Likewise, these Adidas soccer gloves have a comfortable strapless entry system with a one-piece body design that makes them easy to wear. Also, this entry system gives the Adidas soccer goalie gloves a secure fit on the wearer's hand that eliminates the need for a wrist strap.
The use of URG 2.0 latex in the making of these Adidas soccer goalie gloves fingersave makes them suitable for all weather conditions, therefore, these gloves are suitable for both wet and dry weather conditions. Besides, the high quality and build of these gloves make them perfect for advanced-level and professional games. Nevertheless, these gloves are eye-catchy and look stunning in their neon pink and black design.
Pros
The URG 2.0 latex in these gloves gives the wearer extraordinary grip and cushioning.
These gloves are super comfy to wear during long games.
The demon skin on the backhand of these gloves helps in giving extra support while punching the ball.
The knit backhand design gives the wearer enough breathability that they need during a game to keep their hands cool.
Cons
They aren't available in sizes less than 7
There is no finger protection system present in these gloves.
These gloves are quite difficult to put on and off due to their super tight and perfectly fitting design.
---
Buyers Guide: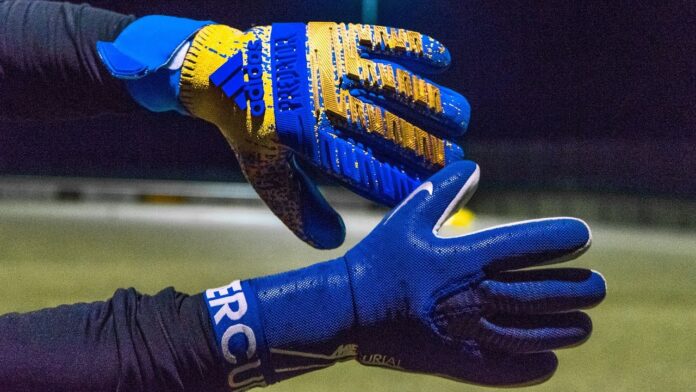 Selecting the best pair of Adidas soccer goalie gloves that well suits one's requirements needs some knowledge and research. Hence, every brand has its specifications, here I will assist you to select the Best Adidas Goalkeeper gloves via Goalkeeper Glove Guide.
We need to consider the following factors while selecting the Best Goalkeeper Gloves available by Adidas.
Palm
Finger Protection
Cut
Backhand
Closure System
Palm
The importance of the Palm can be analyzed as it plays a major role in catching the ball. The palm can be textured, a single smooth layer, or any incorporated hard ground elements. Hard ground elements are incorporated to enhance the goalie performance on turfs. These Hard Ground Elements are added to make gloves stickier.
Furthermore, the textured pattern allows gloves to perform exceptionally in wet conditions as the pattern disperses the water from the surface. The smooth surface Palm is the most commonly used Palm and is highest in performance as the palm to ball contact area is highest here. This type of Palm enjoys supremacy in quality.
But, for a match day, a glove should have a palm with a grip and possess a fine quality material. It might compromise durability. On contrary, the training gloves use more synthetic material to enhance the durability but compromise the quality of the palm which is directly proportional to its performance outcome.
Finger Protection:
The Finger Protection feature is inculcated by different brands in different ranges available. It's comprised of a plastic spine that supports the fingers and prevents any unnatural movement that might cause an injury to the goalkeeper's hands. This feature is essential for infield gloves because goalie's fingers often get a certain muscular or skeletal injury during games when their hand has to deal with the high pressure of the fast-moving ball.
In some goalkeeper gloves, these finger spines are either removable or sewn within the gloves along with separate thumb protection. Rest, the choice depends upon one's personal preference and past injury experience.
Cut:
Cut selection is solely dependent upon your hand structure. Before selecting the type of Cut that suits you best, you must understand if your fingers are long or short, your palm is wide or narrow, your level of comfortability, and foremost your skin type: is it allergic to certain synthetic materials or not? Cut can be, Positive, Negative, Hybrid, Flat, or Roll Cut. For more information kindly read Types of Cut.
In addition to this Cut design, there is another form known as ERGONOMIC GLOVE design form. In this design, the glove is intended to follow the natural shape of the hand. It is designed so to provide maximum comfort and control over the ball. For Example, Reusch Pure Contact 3 R3 has an Ergonomic Support system that allows the best catching position to your hands.
Backhand:
Often goalkeepers have to punch the ball with all the capacity they own. This may outcome dangerously. To avoid any hassle the backhand must be padded or possess any hard ground materials that can absorb the pressure of the ball. Furthermore, the backhand can affect the cushioning and breathability of the glove too.
ADIDAS has a range of goalkeeper gloves whose backhand use knitted material like Adidas Predator Pro. It is to increase the breathability of the glove. Nowadays, backhands are designed by using embossed Latex in addition to silicon elements. Moreover, Mesh Body materials and air vent systems are used to keep them airy too.
Closure:
Choice of closure is a dependent factor. It depends upon the goalie's age and his personal preference. Closure can be a Velcro Strap or it might be an elastic entry system with a separate pull over the strap. Moreover, the strap can be half, full or double wrap. Out of these straps, although double wrap gives maximum coverage the glove becomes too tight that affect the goalkeeper's performance. Before selecting any goalkeeper glove for yourself, you must go to the ULTIMATE Buyers Guide of Goalkeeper Gloves, to land at the best option available.
Frequently Asked Questions: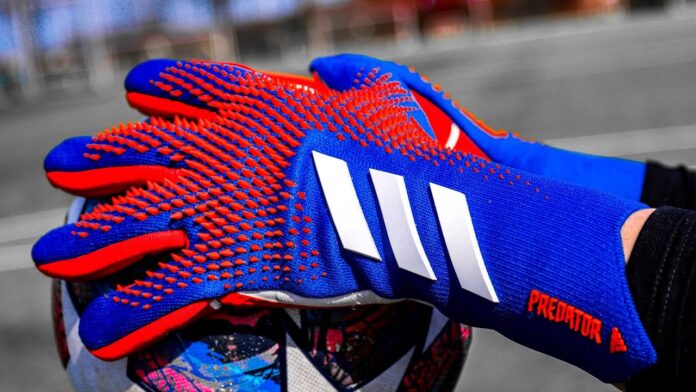 Why do soccer goalkeepers often chew gums?
Goalkeeper's job is designed in a way that they need to perform and react most quickly, say in a blink of an eye. It is studied that chewing gums help athletes to jump higher, run faster, and respond relatively quickly.
Do professional goalkeepers prefer Fingersave?
Not authentic, but most of the pro goalies avoid wearing Fingersave Goalkeeper Gloves because they don't want to compromise upon flexibility and comfort. With Fingersave, gloves become less flexible and in turn, the control over the ball decreases.
What goalkeeper gloves are used by pro keepers?
Renegade GK Talon is best in 20-21, which is worn by many professional goalkeepers in NPSL and WPSL. Renegade is the most trusted goalkeeper glove brand by Goalkeepers and is being officially mentioned in the league. Around 240 Soccer teams use these gloves in the USA.
Which goalkeeper glove does David de Gea wear?
The most renowned names of Manchester United, David De Gea, and Arsenal's Petr Cech use Adidas Goalkeeper Gloves in their latest series.
---
Conclusion:
All in all, the Adidas soccer goalie gloves from Adidas are above any other present in the market. From the models that we have reviewed, we can confidently say that they performed better than any other goalkeeper gloves brand. Therefore, if you're willing to invest in some good quality goalkeeper gloves then you should go for Adidas.
Take a look at these Adidas gloves from Amazon also:
adidas Unisex-Adult Tiro Pro Goalie Gloves White/Black 7
Match gloves with thick cushioning for men or women
Negative cut for tight and snug fit; Stretch wrist strap for adjustable comfort
To size gloves, measure the width of the part of your palm just below the knuckles, excluding the thumb
Most goalkeepers prefer gloves a little larger than they need, giving them a larger surface area to stop the ball without sacrificing control
adidas Unisex-Child X Training Glove, Solar Red/Black/Red/White, 3
Juniors' lightweight, negative-cut soccer gloves for zero-distraction keeping
BREATHABLE AND FLEXIBLE: Mesh backhand ensures every movement feels natural
EXTENDED PALM GRIP: Soft Grip latex keeps you ahead of the game
PICK THE RIGHT GLOVE: To size gloves, measure the width of the part of your palm just below the knuckles, excluding the thumb
PICK THE RIGHT GLOVE: Most goalkeepers prefer gloves a little larger than they need, giving them a larger surface area to stop the ball without sacrificing control
Sale
Adizero 9.0 Receiver's Gloves Navy, Small
9. 0 engineered PrimeKnit mesh delivers optimal structure, support, and performance for the elite athlete.
adidas exclusively TECHFIT multi-dimensional fabric perfectly adapts to the unique characteristics of every hand.
adidas exclusive CLIMACOOL technology keeps you cool and dry when it counts.
adidas exclusive GRIPTACK palm technology provides unparalleled performance in all weather conditions.
Contoured injection molded rubber tab for a secure lockdown with no snag or slip hook and loop closure for a secure fit.
adidas Freak 3.0 Padded Receiver's Gloves, Red, Small
High Density Strategic Molded Padding on back hand and IRONSKIN for Maximum Impact Absorption
Grip Tack palm material provides maximum durability unparalleled grip technology in all weather conditions
4 way back of hand compression fit for ultimate fit
Wicking material keeps hands drier in hot humid conditions
Injection molded customizable tab provides secure fit and additional wrist support
Sale
adidas Scorch Destroy 2 Full Finger Football Lineman Glove, Black/White, Small
Strategically padded back of hand promotes full impact absorption and complete unrestricted range of motion
adidas exclusive GripTack palm technology for unparalleled grip
High Density injection molded jam pad palm for ultimate durability, impact absorption and comfort
Wide band, injection molded rubber tab with low profile, smooth fit closure assures a custom, non-binding, secure fit
Techfit back of hand base layer provides custom fit
adidas Adult Field Player Fleece Glove Black/White Size 4
Soccer gloves for field players
Negative cut for tight and snug fit
Vented cuff with hook-and-loop closure for easy entry
To size gloves, measure the width of the part of your palm just below the knuckles, excluding the thumb
Tighter fit.
adidas Real Madrid Goalkeeper Gloves Young Pro Logo Football Soccer CW5620 New (4)
HALF WRAP WRIST STRAP: Light weight wrist strap construction.
POSITIVE CUT: Provides a good and comfortable fit with a great contact area to the ball.
SOFT GRIP: Latex palm which offers good grip and durability in all weather conditions.
VENTED CUFF: Slit-wrist closure for expanded freedom of movement and easy entry.
Product Code: CW5620