UHLSport is a German brand that is renowned for the production of the most durable goalkeeper gloves available in the market. For years Uhlsport soccer gloves are categorized as the best grip goalkeeper gloves.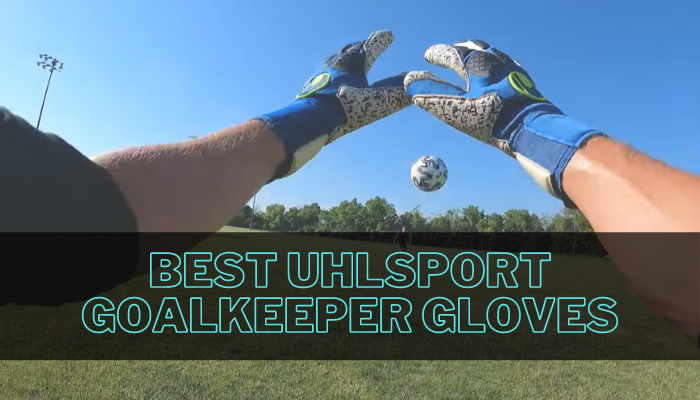 Our Pick
Good Choice
Also Consider
uhlsport Next Level Supergrip Finger Surround (Navy/Fluo Red, 7)
uhlsport Supergrip Flex Frame Carbon Goalkeeper Gloves Size 9.5
uhlsport Dynamic Impulse SUPERGRIP HN Goalkeeper Gloves Size 8
Our Pick
uhlsport Next Level Supergrip Finger Surround (Navy/Fluo Red, 7)
Good Choice
uhlsport Supergrip Flex Frame Carbon Goalkeeper Gloves Size 9.5
Also Consider
uhlsport Dynamic Impulse SUPERGRIP HN Goalkeeper Gloves Size 8
Top UHLSport Gloves for Goalkeepers
Let's have a look at a few of its best goalkeeper gloves available in the market.
1. Uhlsport Dynamic Impulse Supergrip HN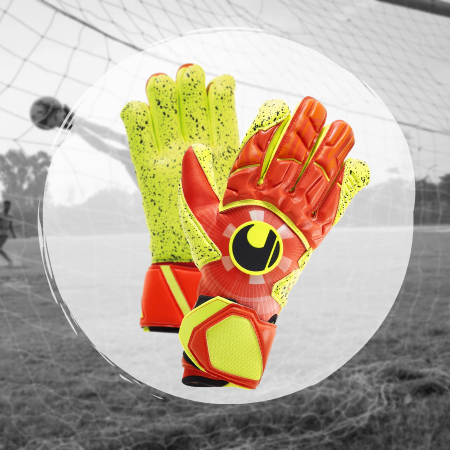 Another amazing pair of goalie gloves from the German goalkeeper glove brand Uhlsport. The Dynamic Uhlsport Impulse Supergrip is the ultimate gloves that every goalie dreams of owning.
Firstly, the palm of these gloves has Uhlsuport's super-grip foam in the yellow shade with black high grip elements. Both of them combine to give the goalkeeper the grip that makes them superior over other gloves.
Moreover, the body of these uhlsport soccer gloves has a full neoprene body that gives the wearer comfort and breathability they need during long games.
Furthermore, the backhand of these gloves contains a 3D embossed Shock Zone element that gives them a high rebound.
The rebound foam in this zone enhances the punching performance of these goalkeeper gloves and also gives them additional cushioning.
Likewise, these keeper gloves have a half negative cut with a 360 wrist wrap and wrapped thumb to give a tighter fit.
Similarly, the middle and ring fingers have a full negative cut whereas the pinky and index fingers have a half negative cut along with a half roll cut. These variations in cuts give these gloves a perfectly snug fit on the goalie's hand with the maximum ball to latex contact.
Additionally, these UHLSport keeper gloves are ergonomically shaped to provide the wearer with the best characteristics and ball feel. Besides, the semi-elastic closure straps of these gloves give the soccer goalie's a custom fit.
Also, the neoprene body of these gloves comes with Uhlsport's easy entry system that makes it super easy to put these gloves on and off. Nevertheless, the wrist strap with supersoft German latex gives the wearer extra security.
Pros
These gloves are super cheap and affordable for anyone who's looking to buy some top-quality goalie gloves.
The Uhlsport's super grip foam gives these gloves exceptional ball grip.
The 3D Schock Zone on the backhand provides the goalkeeper with excellent flexibility and comfort.
The innovative half negative cut in these gloves makes fit perfectly on the goalie's hand.
Cons
There's no finger protection system present in these gloves.
There's no mesh present on these gloves to allow air ventilation.
2. UHLSport Next Level Supergrip Finger Surround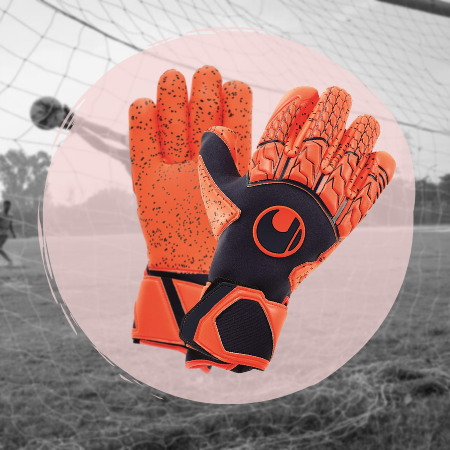 Unlike other gloves from Uhlsport, these precision goalkeeper gloves are made of a single panel and the material used isn't neoprene. Rather the composition of these gloves is of milli neoprene which acts as a windbreaker keeping the hand dry and warm.
Moreover, the palm of these soccer gloves has uhlsport super-grip foam in fluo red with integrated gip elements.
Additionally, the backhand of these pro goalie gloves has 3D embossing and a Schock Zone that has a composition of latex and neoprene to give the best flexibility and wearing comfort.
Besides, these gloves contain the newly developed Fingersurround cut that gives the goalkeeper a tight and perfect fit.
Furthermore, the Absolutgrip in the palm of these gloves gives the pro goalie enhanced cushioning and exceptional grip in all weathers.
Similarly, the body design of these gloves is quite functional with unique Fingersurround cuts and a functional textile body that gives excellent breathability. Likewise, the fastening is of a wraparound latex strap with a full neoprene bandage.
Apart from this, the gloves are unisex so both male and female goalies can wear them during the game. Other than this, these gloves come from Uhlsport's easy entry system so putting them on and taking them off is a piece of cake.
Importantly, the backside of the gloves is very flexible and provides excellent protection to the keeper from the ball's impact.
3. UHLSport Absolut grip Hn Pro #294 Blackout Goalkeeper Gloves Size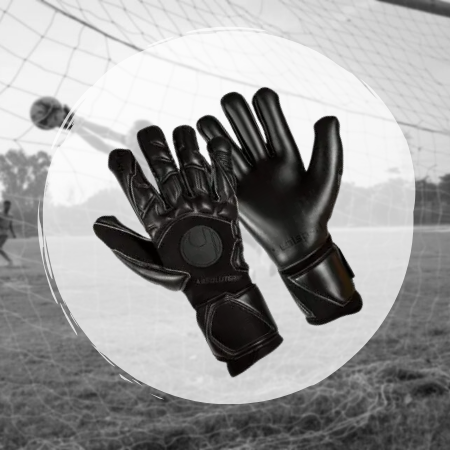 If you're looking for the best Uhlsport goalkeeper gloves then look no further as Uhlsport's 294 special Limited edition is perfect for you.
However, you must be wondering what makes these gloves so special? Firstly, these gloves are well equipped Absolutgrip the patent latex of uhlsport.
Secondly, the 80% of 4mm absolute grip found in these uhlsport soccer gloves makes them the best ones to perform exceptionally well under dry conditions. Additionally, the cut of these gloves is half negative in which the inner seam construction is a tight fit that gives maximum ball control.
Moreover, the innovative half negative cut makes the backhand area of these gloves wider and gives a little extra negative space at the end of the palm. Likewise, the backhand of these best gk gloves is made of super-soft latex along with a 3D Schock Zone that gives extraordinary punching.
However, the best feature of these uhlsport keeper gloves is undoubtedly its super latex grip that doesn't let the ball fall.
Nevertheless, the gloves are extremely durable that even after three weeks of rough training on the harsh conditions of natural grass the latex of these gloves was brand new.
All in all, these durable goalkeeper gloves are perfect if you're looking for a great pair of goalie gloves that would last a season. And the best part of the Absolut grip Hn Pro 294 special edition gloves is their price. The price of these gloves is unbelievably low, which makes cheap soccer gloves available.
Pros
These gloves have the ultimate grip and ball control that every goalie desires.
They perform exceptionally well in all weather conditions.
The latex layers on the backhand of these gloves give the wearer extra safety, comfort and, confidence that they need to give their best during a game.
Cons
The Only drawback of these splendid gloves is the extra space on the backhand along with the latex bubbles on the backhand and palm.
4. UHLSport Supergrip Flex Frame Carbon Goalkeeper Gloves Size 9.5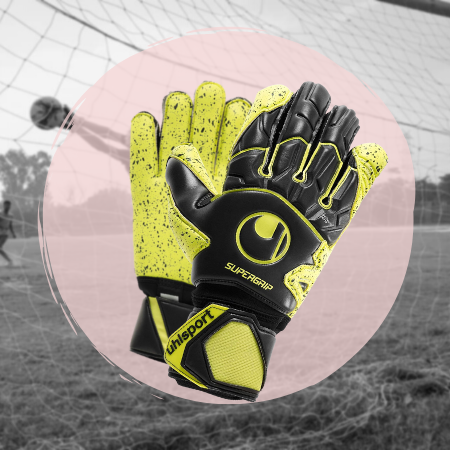 Yet another amazing pair of gloves from Uhlsport. The Super grip Flex Frame Carbon goalkeeper gloves are undoubtedly a top tier for the best uhlsport goalkeeper gloves.
Over the last couple of years, Uhlsport has been considered a top name for producing some excellent and innovative pieces of goalkeeper gloves.
Making use of the latest technology to produce the best of goalie gloves is a forte of Uhlsport. These gloves too are made with Uhlsport's ultimate super-grip foam in fluo yellow with integrated high grip elements.
All in all, this complete combo gives these best gripping gloves the exceptional ball grip they have.
Similarly, the backhand of the gloves has latex with 3D embossing and Schock Zone. The Schock Zone of these best grip goalkeeper gloves provides the wearer optimized punching and cushioning that they need for a great game.
Likewise, the body of the gloves has a composition of neoprene and latex whereas the frame is of new Flex Frame Carbon technology that gives these UHLSport keeper gloves optimized stabilization of fingers and catching agility.
Moreover, the fastening in these gloves consists of a semi-elastic latex strap. Even the elastic strap has the name field on it.
Additionally, these gloves come with a classic cut in which the exterior seam's design maximizes the inner surface of the hand. This further increases the grip zone and the ball contact surface area of the glove.
Besides, the thumb of these gloves has a thumb wrap that gives flexibility and freedom of movement during any game.
Furthermore, these pro gk gloves have orange latex which is popular for its ultra-strong grip and exceptional performance. Also, the use of new foam technology gives high grip elements to these gloves and the result is the ultimate grip that won't let you miss any shot.
5. UHLSport AQUASOFT HN Negative Cut Wet Weather Grip Windbreaker Goalkeeper Gloves for Soccer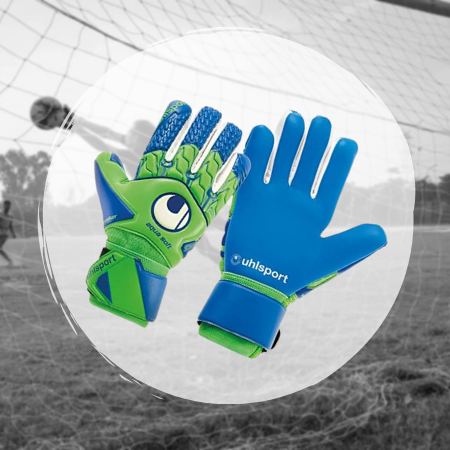 The ultimate UHLSport soccer gloves for extreme wet conditions, Uhlsport Aqua soft HN windbreaker gloves give the keeper a grip they need under extreme wet and cold weather conditions.
Firstly, the Aqua soft HN Windbreaker will enable a goalie to save any shot under extreme wet conditions. With its Fluo green/pacific blue/white foam it is bound to provide high-quality ball grip and control. Secondly, the half-negative hybrid cut of this goalkeeper glove comes with a standard latex wrist strap and 3D embossing latex backhand.
Moreover, the palm of the glove is made of 4 mm of aqua soft latex, which as per experts is engineered to excel in wet weather.
Similarly, like its brother Absolutgrip latex the aqua soft latex is also extremely dependable and surprisingly sticky when it comes to ball grip even stickier than the Absolutgrip.
Likewise, the performance and handling of these best grip goalkeeper gloves are out of this world that leaves the strikers stunned as the goalies can save every shot.
Additionally, these gloves have a thumb wrap that along with the negative cut provides enough breathability that one needs during a game. Also, the half negative cut makes these gloves snug fit on the wearer's hand. Furthermore, the special windbreaker membrane in these UHLSport goalkeeper gloves makes them perfect for extreme winter conditions.
Besides, the wrap-around latex wrist strap of the glove makes it quite convenient to put on and take off. Nevertheless, the best part of these best affordable goalkeeper gloves is undoubtedly their price which is extremely low.
You can get these gloves for quite cheap and with the features they've, they can surely be categorized as best value goalkeeper gloves. Lastly, the 3D embossed latex with Shock Zone gives the goalie added power and accuracy to overcome any hurdles.
Pros
The supersoft aqua latex gives these gloves outstanding ball control and grip.
The special windbreaker membrane makes them perfect for extreme and harsh winter conditions.
The best part of these gloves is it's excellent latex grip that gives exceptional performance under all weather conditions.
Cons
The only drawback of this glove is its bubbling on the palm.
6. Uhlsport Pure Alliance Plus 10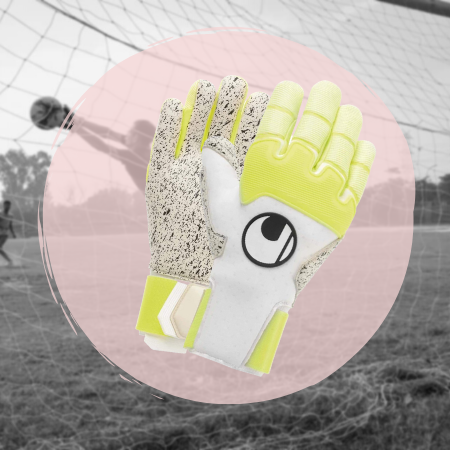 The ultimate goalkeeper gloves from Uhlsport that give the goalie super grip are the Uhlsport Pure Alliance goalie gloves. Just get them on and catch, hold and never let go of any shot ever again.
Initially, these gloves come with a newer type of grip compound i.e., natural latex that gives an even enhanced ball grip.
Furthermore, these gloves have a dual-fix system. Because of this tight, simple yet good system, these gloves are super easy to put on without any awkward pulling.
Additionally, these best goalie gloves for soccer are equipped with the latest latex i.e., super grip from Uhlsport that gives extraordinary performance under all weather conditions.
Similarly, the grip of these Pure Alliance gloves is extraordinary. As the latex of these gloves wrap around the edges of the hand and fingers so the ball contact area increases significantly.
Nevertheless, these best gk gloves come with a rebound zone that consists of flexible pads that increases the contact while you punch the ball.
Likewise, the composition of the backhand of the gloves is breathable compressed neoprene material, which gives the wearer breathability and comfort.
Moreover, these gloves are super easy to wear thanks to their elastic opening and wrap-around wrist straps. These straps give the goalkeeper flexibility of use and give the pro-keeper a perfect fit.
Besides, the use of modified neoprene i.e., airprene latex makes this UHLSport keeper gloves light, comfy, and flexible to use. However, with the new innovative backhand design of the gloves, they're stitched in one piece across the backhand into the wrist.
Pros
Best roll-cut gloves in the market.
The backhand neoprene material is quite durable and shines brightly even after excessive use.
The super grip in these gloves gives them exceptional ball control and grip during a game.
Cons
The super grip gets dirty quickly which affects its performance so you need to wash it quite often.
Related Post: "How To Measure Goalie Glove Sizing"
Frequently Asked Questions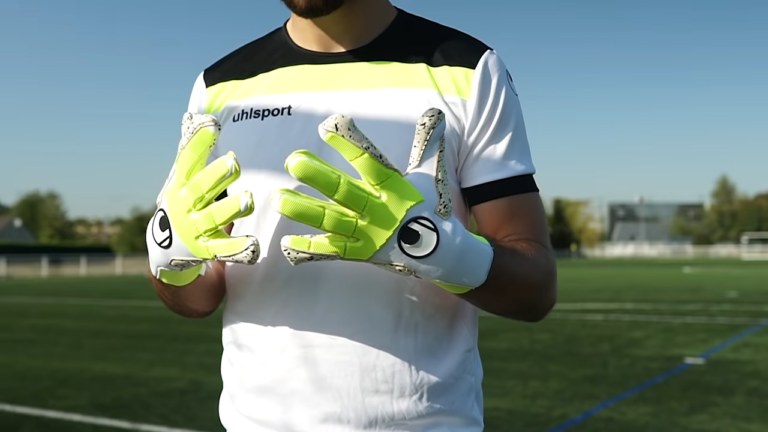 Are Uhlsport gloves good?
If you are looking for longevity in a pair of your goalie gloves then surely UHLSport could be your choice. It is reported that a single pair of UHL can play up to 35 games with its super durable functionality.
Is recommended to buy a tight-fit goalie glove?
Well, the glove and hand should be compatible with each other to secure perfect saves. It should not be too roomy that a hand juggles inside nor too tight that it prevents the natural positioning of a goalkeeper's hand during catches.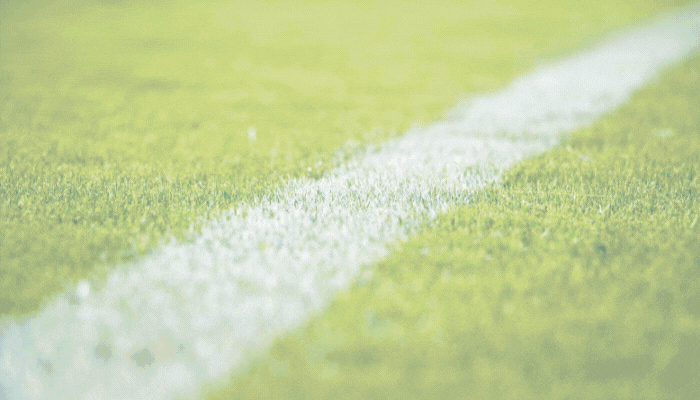 Moreover, if the gloves come out to be tight the goalkeeper glove will rip at the palm, in the seam or the wrist closure will tear apart.
Why do goalkeepers in Futsal do not wear goalkeeper gloves?
As Futsal is a football game of lesser members so the precision required to throw the ball is higher. That is why most goalies in Futsal avoid wearing goalkeeper gloves.
If these weren't enough, check out some other picks from Amazon also:
uhlsport Supersoft Bionik Soccer Goalie Gloves
Palm Uhlsport s Supersoft Plus Latex which offers the goalkeeper good grip but does not sacrifice too much durability This is a perfect glove choice for the goalie that needs the best of both worlds
Finger Protection Patented BIONIK FRAME protection technology for advanced stabilization of the 4 fingers and outstanding distribution of the impact forces without limiting the flexibility Inspired by the best structural engineer of all time Mother Nature the BIONIKFRAME is designed to mimic and enhance the natural arrangement and operation of the musculature of the human hand The result Stable Flexible Lightweight Bionik frame technology is a close imitation of the human hand and finger tendons
Backhand Special embossed abrasion resistant backhand parts for better durability This Uhlsport goalkeeper glove has a soft latex backhand with an embossed latex shockzone area for punching Breathable textile base material for outstanding wearing comfort
Cut Ergonomically precurved classic cut with updated design elements to offer a comfortable fitting Uhlsport goalkeeper glove The classic cut resembles a flat palm which is a cut for goalkeepers with a wider hand Great fitting goalie glove for male or female goalkeepers providing the largest catching surface area for all goalkeepers
Closure Uhlsport soccer goalie glove with a long wrap around YCAP TR latex strap Easy to pull on and off
Uhlsport Hyperact Supergrip+ HN Goalkeeper Gloves Size 7
Palm The best Supergrip foam with additional black High Grip Elements featured in the latex to provide the goalkeeper with supreme grip on the soccer ball
Finger Protection No finger spines in the 101123201
Backhand Breathable Airprene backhand material to promote effective air flow keeping the hands cooler and dryer than other gloves The knuckles and lower fingers feature the embossed Rebound Zone for protection when punching the ball
Cut Half negative cut with Ultimate Contact wrap This side wrap around the thumb outer index and pinky improves fit finish and latex to ball contact The middle and ring fingers feature a full negative cut whilst the pinky and index finger have a half negative half roll cut to allow for a tighter fit Uhlsport goalie gloves are ergonomically preshaped for best wearing characteristics and ball feel
Closure Uhlsport s new 2 strap wrist closure called the Dual Fix System This new closure has 2 shorter wrist straps that overlap one another to give a very secure fit The wrist entry come with Flex Entry components to help the keeper get the gloves on and off with ease