Are you wondering what makes Spalding basketball hoops so great? Check out basketball hoops to see their top products and read below to learn more about them.
Spalding is one of the top hoop manufacturers in the United States. They make adjustable in-ground, portable, and wall-mounted hoops. As the official ball maker of the NBA, their quality is above many other hoop system manufacturers.
By pairing durable materials, innovative technologies, and modern designs, Spalding has remained a leader in hoop system manufacturing for several decades.
History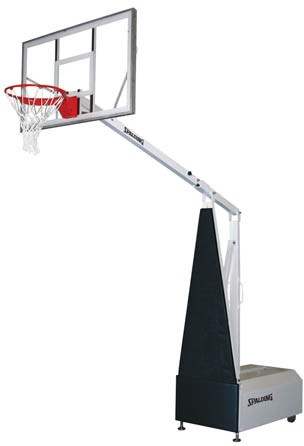 The Spalding sports goods company was established in 1876, years before basketball was even invented. It was started by A.G. Spalding, a Massachusetts native and Boston Red Stockings pitcher.
In addition to developing the first major league baseball glove and the American football, Spalding developed the very first basketball. In fact, A.G. Spalding was asked by Dr. James Naismith, the inventor of basketball, to create a ball for the game.
Prior to Spalding's creation, Naismith had been using a soccer ball to play basketball. When Spalding presented him with the signature basketball in 1894, he probably didn't know it was going to be the signature game ball. In 1972, he continued to forge ahead with innovation by creating the first synthetic basketball. Then, in 1983, Spalding's full-grain leather basketball became the official ball of the National Basketball Association (NBA).
After years of producing basketballs, Spalding began producing hoops. In 2007, they made an NBA-quality 60-inch portable basketball system for residential use. Today, they make in-ground hoops, portable hoops, wall-mounted backboards, mini wall-mounted backboards, and more.
Quality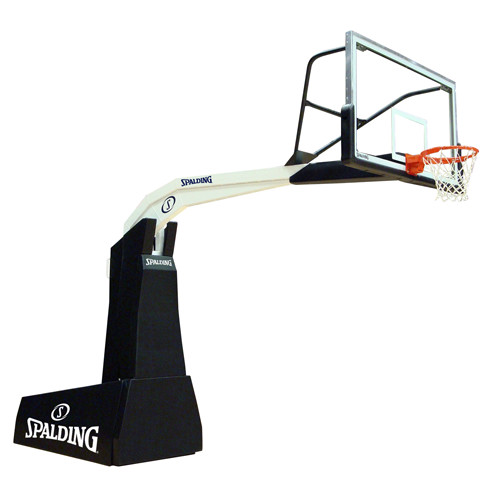 While Spalding offers many budget-friendly hoop systems, they happen to be some of the best-rated products on the market. First off, Spalding hoops boast NBA licenses.
What's more, Spalding backboards are made from durable materials such as shatterproof acrylic, Eco-composite, tempered GI, and polycarbonate.
The Spalding backboards closely resemble NBA-regulation backboards, making them especially suitable for making layups, dunks, and angled shots. Not to mention, Spalding's portable hoops have one of the heaviest bases on the market.
Portable Hoops
Spalding offers an extensive line of portable hoops. These include a youth model, a budget-friendly telescoping portable hoop system, and several variations of their signature portable hoop system.
Backboards
Spalding has developed several different backboards. They have a Pro Glide polycarbonate backboard, an acrylic backboard with arena-style padding, a budget-friendly Eco-composite backboard, and a glass backboard with arena-style padding.
Their backboards also come in varying sizes, with the largest measuring in at 60 inches. With that in mind, their youth hoop system boasts a 24-inch backboard. Regardless of the material, Spalding backboards tend to offer good rebounds and outstanding durability.
Portability
Spalding's portable hoop systems are equipped with wheels that enable less cumbersome relocation. With that being said, is important to note that the full-sized hoops hold between 35 and 55 gallons of water and/or sand in the base.
As such, some Spalding hoop systems prove to be more portable than others. For example, if you will need to move the hoop after each use, the Hercules Pro Glide Advanced is worth considering because of its moderately heavy 37-gallon base, large wheels, and optional ground stake.
Supports
The Spalding hoops boast a variety of supports that are suitable for different playing styles. For example, the Spalding Hercules Pro Glide Advanced Portable Basketball Hoop System has an angled 3.5-inch steel support pole with vinyl padding. As Spalding puts it, this gives you "room to work the paint."
Meanwhile, the standard Pro Glide system boasts a vertical 3-inch steel pole. If you watch an NBA player in action, you'll notice they often play under the goal. While straight vertical supports are suitable for beginners, slanted poles prevent the support from becoming an obstruction.
Rims
Spalding utilizes several different name brand rims, including the Slam Jam breakaway rim, the Pro Slam breakaway rim, the Arena Slam breakaway rim, and more. For the most part, Spalding rims are designed to handle powerful dunks and enable solid rebounds.
Base
As we mentioned before, Spalding hoops have extremely weighty bases. The 60-inch Spalding Beast, for example, has a 50-gallon capacity dual ballast base. It also has a 4-strut base mount for enhanced rigidity.
Like many other Spalding hoop systems, the Beast also has a rebound panel at its base. Even Spalding's Youth All-in-one portable hoop system, which has a mere 24-inch backboard, has a 1-gallon base capacity.
Height Adjustability
Spalding's portable hoops boast screw jack lift systems that allow users to make a 7.5 to 10-foot height adjustment. It is an easy to use height adjustment system that enables players big and small to utilize the same hoop.
Other Spalding hoops utilize the Pro Glide system, which allows users to adjust between 7.5 and 10-feet heights in 6-inch increments.
Warranty
The Spalding Limited Warranty covers all steel-framed acrylic, aluminum-framed acrylic, portable glass backboards, and steel-framed polycarbonate backboards for 5 years. It also covered Eco-composite backboards for 3 years. Meanwhile, all poles, bases, and rims are covered for 1 year.
Finally, youth hoops are covered for 90 days. In comparison, Spalding's warranty is one of the more competitive ones offered among hoop manufacturers. Not to mention, the company has a good reputation with its customers.
Price Range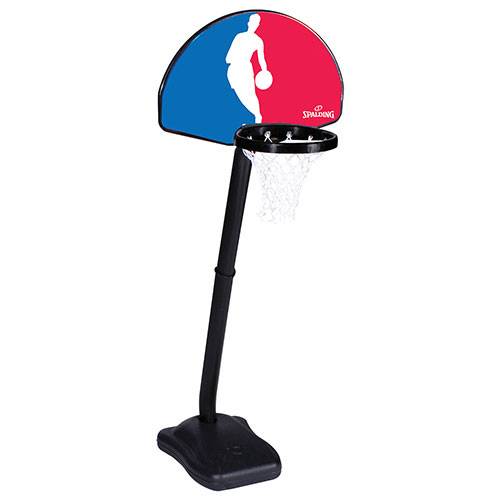 Spalding basketball hoops come in a wide range of prices. In fact, portable hoops systems can cost anywhere from $60 to several hundred dollars depending on the quality of materials, size, and amenities.
Meanwhile, in-ground Spalding Hoop systems cost thousands of dollars and require in-depth installation. To give you an example, their budget-rate portable hoop system, which is made with Eco-composite and has a 44-inch backboard, costs around $200. Meanwhile, their portable hybrid system, with 60-inch glass backboard, costs around $800.
Top Products
One of Spalding's top-selling hoop systems is the Spalding Beast. This portable hoop boasts a 60-inch glass or acrylic backboard and has arena-style padding. It has an adjustable height system and 16-inch offset. It also happens to be extremely easy to assemble thanks to its Ultimate Hybrid base.
Overall, a system like this gives players a feel that is comparable to professional courts. Still, Spalding's more budget-friendly options, like the Hercules Exactaheight Portable Basketball Hoop System, offer similar perks. This system boasts a 50-inch clear acrylic backboard with a 16-inch offset, a Pro Slam breakaway rim, and adjustable lift.
In Conclusion
Spalding is a sports equipment manufacturer that couldn't be more deeply ingrained in the history of basketball, so it comes as no surprise that their hoop systems blow the competition out of the water. Check out review to see just how well Spalding hoops fared against the competition. We don't think you'll be surprised by the results!