Are you thinking about purchasing a portable hoop system? See how Silverback hoops fared against the competition in our top portable basketball hoops.
What's more, read along to learn more about the Silverback legacy. Silverback basketball hoops are produced by Escalade Sports. They make in-ground and portable hoops for residential use. They are just one of Silverback's 45 different sports equipment brands.
History
Escalade Sports, which owns the brand Silverback, was started in Ohio in 1922. At the time, they were a manufacturer of women and children's footwear. In 1983, they introduced a line of basketball boards, goals, and poles.
They acquired Zue Corporation, a high-quality basketball system manufacturer, in 2001. Then, they acquired Goalsetter Systems, another basketball system manufacturer, in 2015.
While Silverback is just one of Escalade Inc.'s many offshoots, it is clear that the company plans to expand its basketball system manufacturing. Although Silverback does not have the rich historical background of companies such as Spalding, it has a well-documented report of quality sports equipment manufacturing.
Quality
The Silverback hoops boast reliable steel frames with metal on metal connections, such as the Stability frame. As such, they tend to be extremely reliable.
Some models even boast Infinity Edge backgrounds that nix the traditional metal or plastic edge for one continuous material. This helps to increase the rebound potential of the backboard.
Installation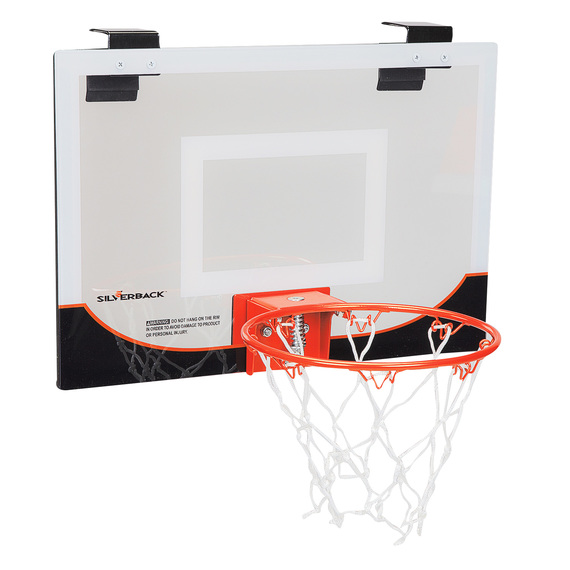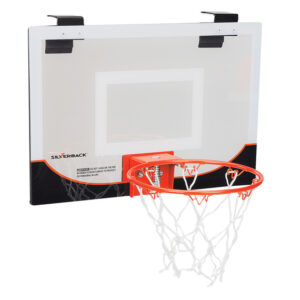 The Silverback hoops are some of the easiest hoop systems to assemble and install. Many of the parts come preassembled, which helps to shorten the installation period.
In fact, Silverback boasts that the total assembly time is less than 90 minutes for most of their products. It is also extremely easy to move or adjust a Silverback hoop thanks to the ErgoMove system. Not to mention, it comes with easy-to-read detailed instructions.
Portability
In fact, Silverback makes some of the best portable basketball hoops on the market. While most portable hoop systems are set on wheels, they are typically awkward and difficult to move.
The Silverback's signature wheel system, called the ErgoMove, boasts large plastic wheels that are easy to manipulate. It also includes easy to grasp side handles. As such, it is extremely easy to lift and roll using a wheelbarrow-like motion.
Backboard
Few recreational hoop systems have backboards that can compare to professional setups. Still, Silverback's products use acrylics and other synthetics that are both durable and enable vibrant rebounds.
Some Silverback hoops, including the Silverback NXT, boast Infinity Edge technology, which consists of one continuous piece of acrylic that is notably stiffer than the standard backboard.
Finally, the Silverback backboards come in a variety of sizes, up to 54 inches in width. While this isn't comparable to a professional backboard, it's just about as good as it gets with portable hoops.
Supports
Silverback supports are made from durable steel tubing. They boast metal on metal connections for added stability. What's more, the Silverback's proprietary Stabili-Frame is well-balanced and stable. The base is weighted, with around 35 gallons of support.
Offsets
The backboard offset is the distance between the backboard and support pole. If you're focused on making layups and dunks, it is an important factor to consider.
Silverback hoops boast a generous overhang. For example, the NXT54 portable basketball hoop boasts an overhang of 30 inches. Meanwhile, the less-expensive NXT50 boasts an overhang of 26 inches.
Height Adjustability
If you plan on sharing your hoop among children and adults, an adjustable lift is imperative. The portable Silverback hoops allow you to adjust the hoop in 6-inch increments, between 7.5 and 10 inches.
Their in-ground models even boast all-steel adjustable height actuators for even easier modifications.
Warranty
The in-ground Silverback hoops come with a 5-year limited warranty. There is no warranty for portable models.
Price Range
Silverback is a mid-range basketball hoop manufacturer. The portable hoops range in price from around $400 to $600. Meanwhile, the in-ground hoop coasts around $1,050. Prices increase depending on the materials used, size, and more.
Top Products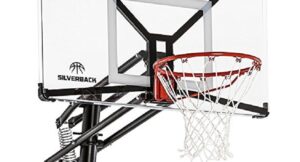 Silverback has a condensed line of hoops. They currently sell two portable hoops, including the NXT50 and NXT54. Of the two, the NXT54 offers more advanced features and, therefore, costs more.
They also sell a couple in-ground hoops, including the SB60, the SB54, and the SB54iFG. In addition, they sell a 54-inch acrylic wall-mount basketball hoop.
In Conclusion
Now that you've learned a bit about Silverback hoops, be sure to see how they fare against other popular options. These well-known mid-range hoop systems have a lot to offer and are easily some of the most portable options on the market.
Check out where the Silverback portable hoops stand in review.