Are you thinking about buying a portable basketball hoop for your home? Check out our best portable basketball hoops reviewed to see where the Lifetime hoops placed.
While Lifetime basketball hoops weren't around for the birth of basketball, they're one of the most popular and reliable basketball hoop manufacturers.
In fact, Lifetime broke onto the scene with a fresh new technology that changed the way we look at home hoop systems. Over the years, Lifetime has forged technology with hoop mainstays to create time-honored hoop systems that consumers continuously turn to.
History
We can thank Lifetime for developing adjustable height basketball hoops. While many of us take this standard hoop amenity for granted, it is a relatively new advancement in basketball goal systems. Height adjustment technologies allow players to raise and lower basketball hoops to fit their personal needs.
Lifetime patented the adjustable height hoop in 1986 when it first broke onto the hoop market. Today, it is the standard for both residential and professional hoop systems.
The idea for adjustable height hoops came to Larry Mower, the company's founder, while he was working in his home garage. The Utah-based business has since grown to produce a wide range of products, including basketball hoops, picnic tables, folding chairs, and more.
Quality
Lifetime makes portable, in-ground, and backboard-only hoops. Their portable hoop systems boast a convenient roller base that allows users to move it with ease. Naturally, their hoops all boast Lifetime's adjustable height technology.
Most of their hoops consist of impact-resistant polycarbonate and acrylic backboards. Backboards range in size from 42 to 50 inches. They also consist of slam dunk-approved rims and carry 5-year limited warranties.
Backboards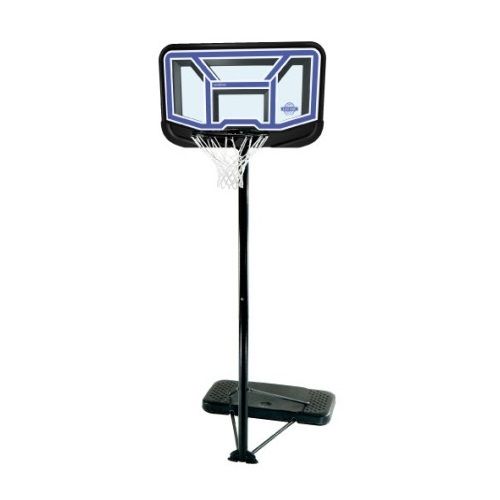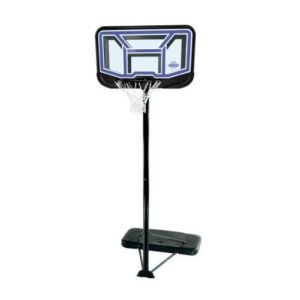 If you're in need of a backboard that can handle plenty of lay-ups and dunks, the Lifetime hoop system is worth a look. They offer several different models with varying types of backboards. Their standard budget-rate hoop has a 44-inch Acrylic Fusion Backboard. It is made from UV-protected polyethylene. It is also chip, crack, and peel-resistant.
Most of their backboards combine a steel frame and shatterproof acrylic surface. As such, Lifetime's portable hoops are weather resistant and durable enough to withstand years of abuse.
Rims
Lifetime uses a variety of rims in the production of their different hoop systems. The Slam-It rim, for example, boasts solid steel construction with welded steel connections. It also has compression springs for added spring during dunks.
Higher end models, such as the 54-inch Lifetime Adjustable Portable Basketball Hoop, boast the Slam-It Pro rims. These rims are far more valuable than the basic Slam-It rims, as they consist of an ultra-durable 5/8-inch steel rim.
Bases
Lifetime's portable hoop systems consist of Pro-Court, Courtside, and XL Lifetime weighted bases.
Offsets
Lifetime's offsets are pretty generous for residential hoop systems. For example, the 52-inch polycarbonate portable hoop system boasts a 22-inch offset. This is enough mood to enable under-the-net moves.
Supports
Lifetime hoops have a 34 to 35-gallon base weight for average stability. Meanwhile, they boast three-part 3-inch round steel support bars. Many of their hoop systems boast integrated height adjustment technologies.
For example, the 44-inch Adjustable Portable Basketball Hoop has an 8 to 10-foot adjustment range thanks to the Quick Adjust II system. Another height adjustment system used by Lifetime is the Speed Shift system which allows for 6-inch incremental adjustments.
Portability
All portable Lifetime hoop systems have a roller base. The bases consist of weighted polyethylene bases that can be filled with sand or water. They also have two wheels for easy lift and push mobility.
Price Range
The Lifetime portable hoop systems range in price from $100 to $700, making them one of the most affordable options on the market. They increase in price depending on their material makeup, size, and amenities.
Nets
Lifetime utilizes nylon fiber All-Weather 70-gram basketball nets.
Warranty
All Lifetime products come with a limited 5-year warranty that covers all parts and products. To make a warranty claim for a basketball system, you need to be able take at least three pictures and describe how the system was damaged.
Top Products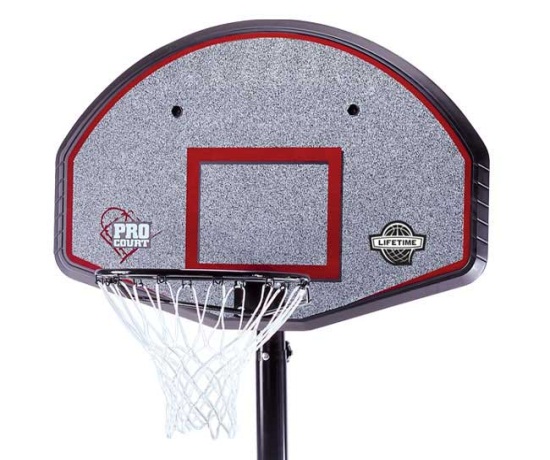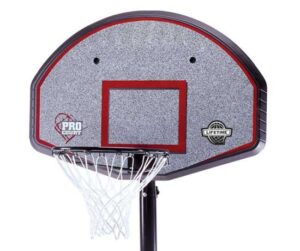 Lifetime's Pro Court system is by far one of their highest selling basketball systems. It has a 44-inch polyethylene backboard and 27-gallon base. It has an adjustable height, that ranges from 7.5 to 10 feet. It is their most budget-friendly option and is great for children and teenagers. While it's not the best for dunks, it is great for pick-up games and shooting practice. It's an ideal model for those looking for portability.
On the other hand, the Lifetime Front Court has a 50-inch polycarbonate backboard and 34-gallon base. Together, these make this hoop far more sustainable for adults. The clear backboard looks great and enables some really lively rebounds. What's more, it has an 8 to 10-feet height window, making it a great option for growing families. It's also one of Lifetime's most affordable options and, therefore, a super hot seller.
In Conclusion
As you can see, Lifetime offers an extensive lineup of hoops for residential use. Check out the review and see how they managed.