17px;">American multinational cooperation that becomes a status symbol in the streets for best goalkeeper gloves production is undoubted, NIKE!
Nike Goalkeeper Gloves by Nike was founded in January 1964 by Bill Bowerman and Phil Knight. The brand gains its recognition and soon emerged as NIKE, the renowned brand in designing, developing, and manufacturing sports equipment and gears. It covers three major industries, Sports Apparel, Sports Accessories, and Sports equipment.
Nike Mercurial Touch Elite Goal Keeper Gloves
Nike Goalkeeper Grip3 Gloves
Nike Goalkeeper Premier SGT Gloves - Blue-White 11
Nike Mercurial Touch Elite Goal Keeper Gloves
Nike Goalkeeper Grip3 Gloves
Nike Goalkeeper Premier SGT Gloves - Blue-White 11
Nike's headquarter is operational in Beaverton, Oregon, USA. Out of all the sports equipment that the company produces, Nike goalie gloves are worth investing in.
Here, I have mentioned a few of Nike's most popular, in-demand, and durable soccer goalie gloves. Indeed, these researched articles will assist in making an exact choice when buying Nike keeper gloves.
Nike Goalkeeper Gloves – Top Picks
1. Nike GK Phantom Elite Gloves Size 7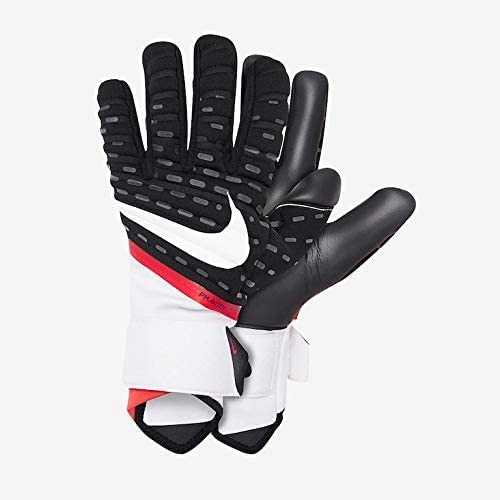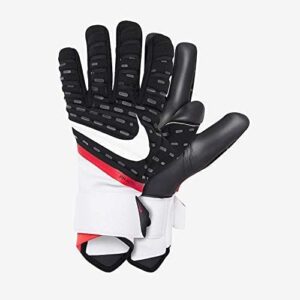 Highlights:
ACC Technology
Mesh Body
Wider Wrist Strap
Finger Protection
If you're looking for a goalie glove that some of the most prestigious goalkeepers trusted, then look no further because we have got one of the Best Nike Goalkeeper Gloves here. The Phantom Elite! It is a trustworthy name in the goalkeeping world. Out of all the Phantoms, the Phantom Elite is the bad boy that everyone desires to own. The top-of-the-line Nike Phantom Elite still has a wrist strap, unlike most of its competitors, and comes with a whole new backhand wrist entry and an overall cut style.
Nike's ACC tech on the palm provides exceptional control and ball grip under all weather conditions. Moreover, the back of these Nike soccer goalkeeper gloves consists of a raised cushion that is a mix of fabric and meshing going down most of the hand. Later on, this fabric and mesh mix transforms into a stretchy neoprene-style fabric material along the wrist. Likewise, the elastic cut along the wrist in these Nike youth goalie gloves provides exceptional customizable fit all together with a Velcro-style strap system.
These gloves are also aesthetically very appealing as they've got a lot of detailing work done on them. These gloves are an ultra-light and strapless fad for goalkeeper gloves that make it the perfect model that properly fits the hand's shape. Nevertheless, the ball grip, support provided by these gloves are just splendid. Not to mention the top-notch protection against abrasion and impact it offers to your hands.
Pros
Highly adjustable grip.
Mesh body for proper ventilation.
Provide maximum grip.
Use cushioned fabric for flexibility.
Cons
Best fit for large wrists.
---
2. Nike Mercurial Touch Elite Soccer Goalkeeper Gloves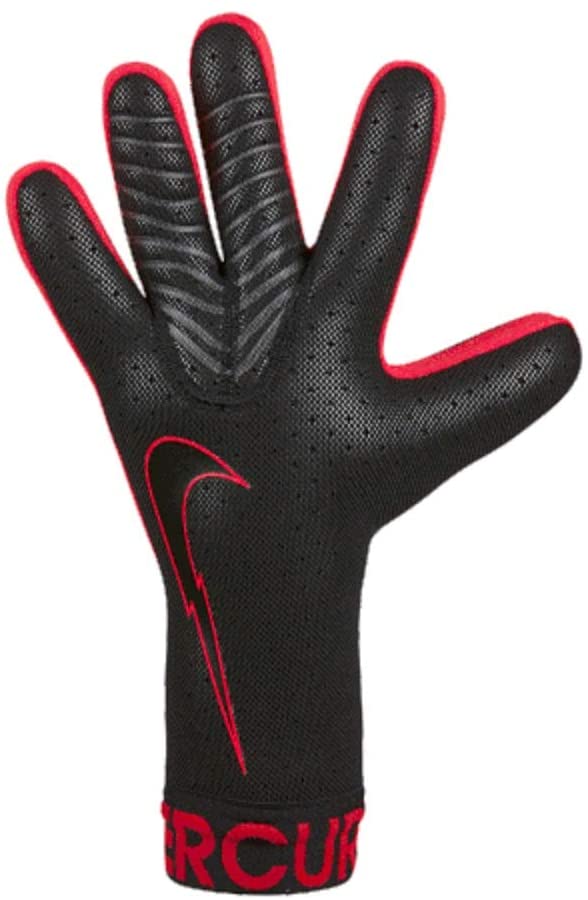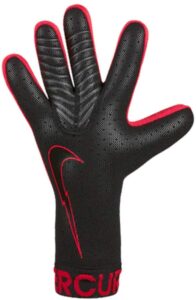 ACC Technology
Negative Cut Design
Available In Larger sizes too
Reverse Stitching
The brand new Mercurial Touch Elite Goalkeeper gloves are undoubtedly the best ones yet from the US sporting goods maker. The latest and innovative design of these gloves gives them an incredible grip. Moreover, with the ACC technology, the tight cut, and splendid palm support, these gloves are something that every goalkeeper dreams of owning.
The palm's premium design provides additional damping underneath, whereas they're ideal for use during all weather conditions because of the ACC. Whether you play in the rain or under the sun, the grip remains strong and provides you excellent ball catch. Additionally, these new Nike goalkeeper gloves are super easy to put on because of the innovative negative cut design, making them fit perfectly on the goalkeeper's hand.
Furthermore, the reverse stitching on the back of these gloves provides exceptional, secure, and snug-fitting to the hand. But that's not all; this Nike soccer glove's tight body gives it a perfect fit and provides the hand with full freedom of movement. Similarly, the flexible entry point of these gloves makes them easy to put on and off.
These gloves have 71% latex present in them, which makes them extremely flexible. The gloves' perforated backside provides excellent air ventilation and keeps the hands cool during long games. Lastly, these gloves are available in multiple options, and you can even find a glove of size as big as 11 that is well suited for adults.
Pros
Suitable for all weather conditions.
Perforated back for breathability.
Provide maximum grip.
Cons
No Fingersave Technology.
Limited shelf life.
---
3. Nike Vapor Grip 3 Goalkeeper Gloves – Crimson-Black 10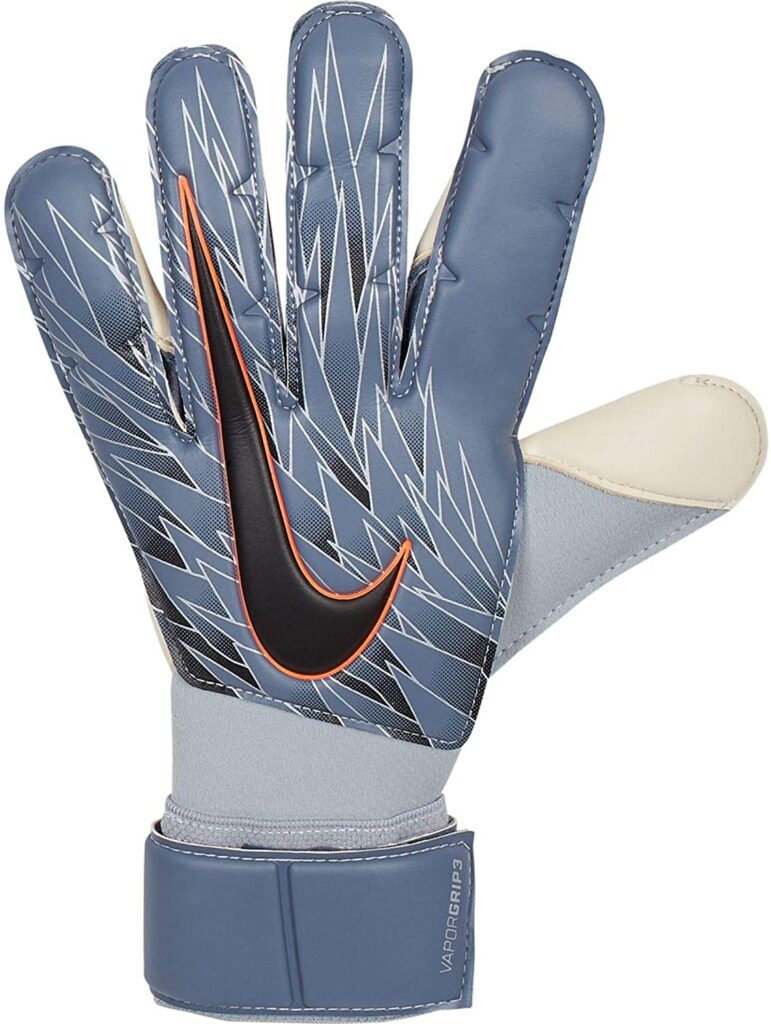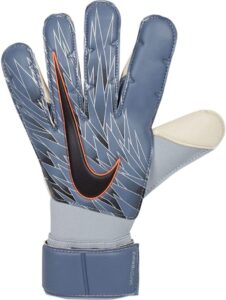 Extended Palm Wrap
Super Comfy Sponge Inside
Mesh Body At Finger Sides
Ample Padding
Like every other glove from Nike, the GK goalkeeper training gloves Nike also comes with ample padding. Additionally, the quality of these Nike keeper gloves is exceptional, the front grip is relatively stable, and the sponge inside of these gloves makes it super comfortable. However, the added grips on the outside of the fingers provide extra protection when you're punching the ball. The sponge layering inside will absorb any ball's impact so you won't hurt your hands while catching the ball.
Moreover, the foam on the palm provides padding as well as additional grip. The smooth surface of these gloves gives you advanced level grip in dry and wet weather conditions alike. Subsequently, the mesh on the fingers' sides provides a breathing space to the hand, which keeps the fingers cool during a game. The traditional cut along the fingers gives these Nike goalkeeper gloves a good grip and makes the hand movements easy and effortless.
These gloves are suitable for both male and female goalkeepers alike. The stylish Nike Swoosh logo at the back of the hand makes these gloves aesthetically appealing. Moreover, the color options available are quite funky and vibrant.
Pros
Exceptional impact absorption.
Suitable for long games.
Super comfy.
---
4. NIKE GK Premier Glove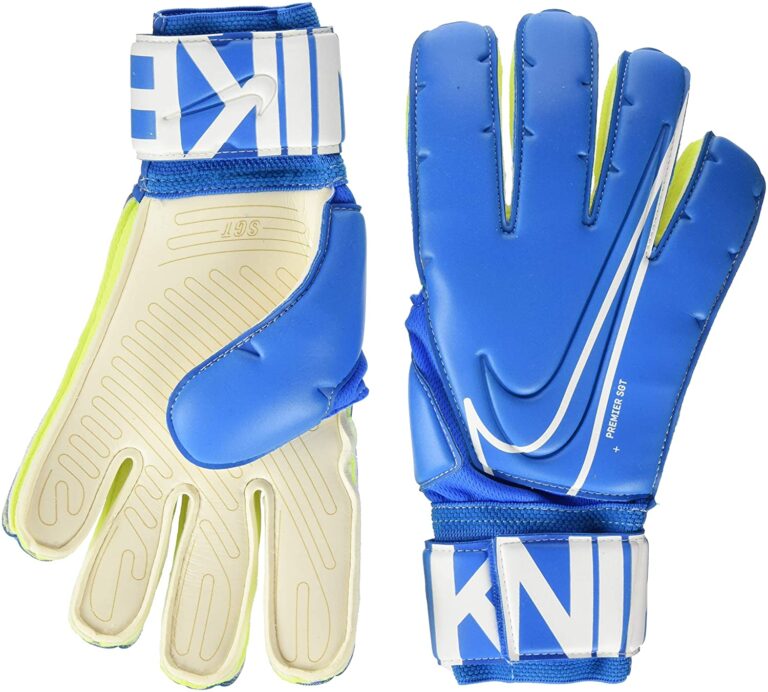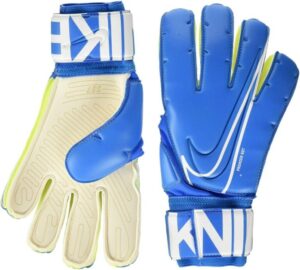 Hook And Loop Wrist Strap
Light Weight
Super Stylish
Super Latex Foam
The Nike Premier Goalkeeper gloves are perfect for anyone who wants goalie gloves fit for high-performance games. These Nike youth goalie gloves provide added backline support to the hand that gives the goalkeeper an extra dose of confidence. These soccer Nike gloves are made with the smoothest latex foam, which provides comfort and additional protection from the ball's impact. The latex foam in the palm area gives the goalie an enhanced grip suitable for all weathers.
Additionally, these gloves' fingers have perforation on their tips, which keep them cool during a long game. Moreover, these gloves' latex foam provides exceptional shock absorption that can lessen the impact of any shot. The strategic padding provides the hands' protection from the ball's impact.
Besides, these gloves have 38% smooth latex and polyurethane, making them super comfy and lightweight. Furthermore, the adjustable hook and loop wrist strap makes these Nike soccer goalkeeper gloves easy to wear and perfectly fit the wearer's hand. These gloves can snug and fit perfectly on any goalies' hand. Above all, these gloves are more stylish as they come with Nike's signature swoosh logo on both the hands and wrist straps.
Pros
Improved grip via reverse stitching style.
Relatively cheap.
Suitable for all weather conditions
Cons
Works perfectly in one season.
Limited sizes available
---
5. Nike Spyne Pro Goalkeeper Gloves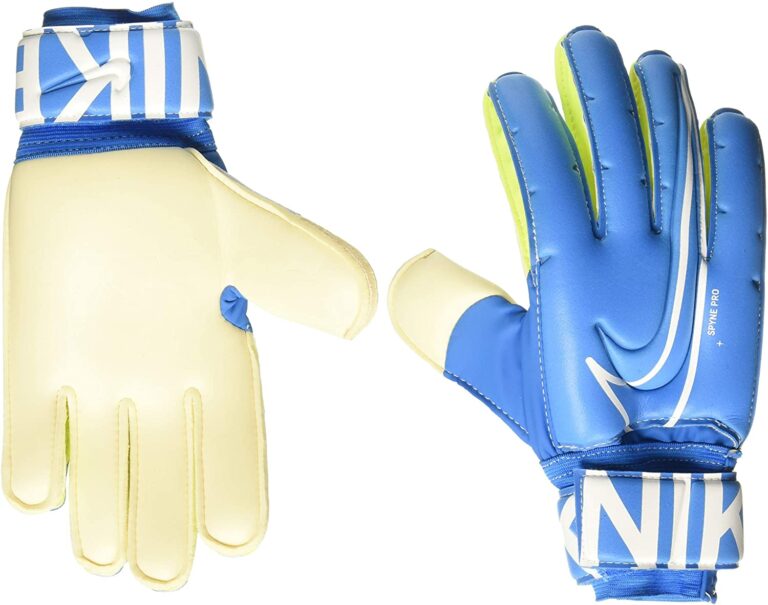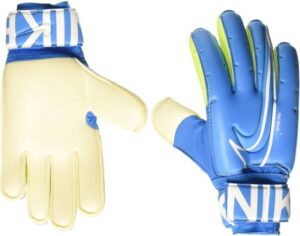 Highlights:
Bio Align Technology
Swoosh Logo
Vibrant Color
Finger Save
The Nike Spyne Pro gloves are the latest ones in Nike Soccer Goalie Gloves. However, these gloves come with the latest spine technology and a new stickier Latex foam that adds more depth to the glove. Nike's Spyne Pro is the gloves that Chelsea's and Manchester City's goalkeepers wear. 
Similarly, the Nike swoosh logo on these gloves is different. These new Nike goalkeeper gloves have added silver detailing and fingertips, which makes these gloves aesthetically appealing.
The adjustable wrist strap on these gloves makes them easy to put on, and they adjust perfectly on the goalie's hand, making them comfortable to wear. Additionally, the pre-curved Bio Align technology makes these gloves forever catch-ready. This, in turn, reduces the stress on the hands during the game.
Furthermore, the 3mm super soft foam of these new Nike gloves provides unbeatable shock protection that can absorb any shot's impact. The super-soft palm foam also gives these gloves an additional and enhanced grip that makes it easy to catch the ball.
But that's not all, with Nike Spyne Pro; you get to experience the latest Spyne technology from Nike that gives unbelievable finger support and advanced level stability. Moreover, the vibrant colors in which these Nike soccer goalie gloves are available make them perfectly fit with any flashy goalkeeper kit.
Related Post: "Finger Save Goalkeeper Gloves Review And Buyers Guide"
Pros
Hybrid Cut provides better control over the ball.
Improved strong grip.
Suitable for all weather conditions
Cons
The full latex Velcro closure wrist grip is too tight, making it difficult to dribble the ball.
---
6. Nike Junior Goalkeeper Gloves Black And White Size 6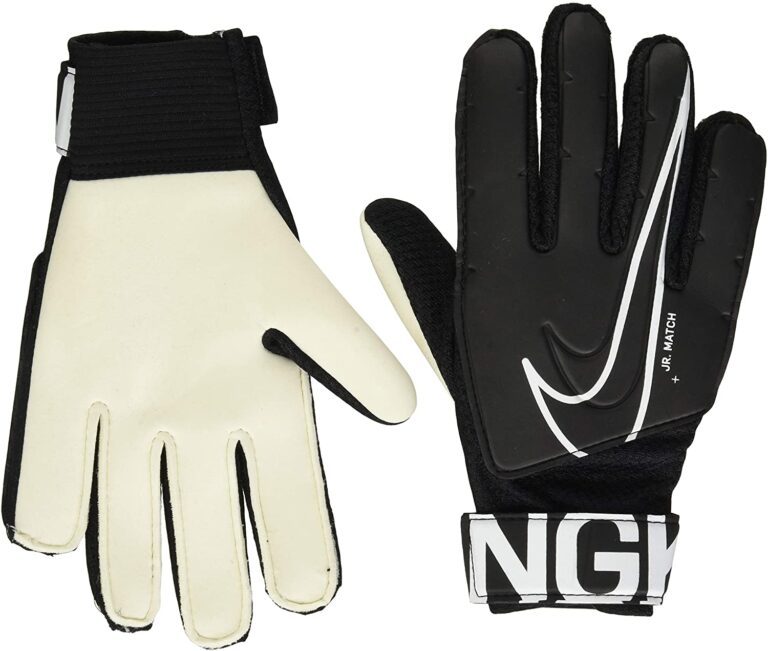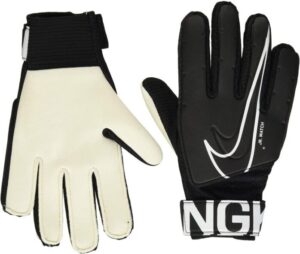 Perforated Finger Top
Hook And Loop Wrist Band
Affordable
The Nike Jr goalkeeper gloves are the perfect pick if you're looking for kids' Nike goalie gloves that are safe and comfy. With plush padding, these gloves provide exceptional grips and impact protection from fast-spinning balls. Besides, these gloves are well suited for all weather conditions. With their smooth latex palms, these gloves are just perfect for dry as well as wet conditions.
Additionally, the smooth latex foam on the palm provides added protection and impact absorption to your little one's hands during a game. Similarly, the perforated holes on the finger top in these gloves give much-needed air ventilation and breathability to the hands.
Furthermore, the hook and loop adjustable wrist bands give the junior soccer goalie's hand a snug fit and make it comfortable for wearing. These soccer Nike gloves are composed of 5% polyester and 25% latex, so they are quite cushiony and comfy for the hands.
Pros
Perforated body to ensure air flow..
Improved strong grip.
Cheap.
Suitable for all weather conditions
---
Conclusion
Nike has been a trustworthy name in the sporting world, and like every other article, these goalie gloves that we have reviewed today are extraordinary. They have exceptional latex protection and have a proper ball grip. However, some improvements are required in the durability and the quality, especially on the wrist straps.
All in all, in my opinion, if you're looking for good quality and reliable goalkeeper gloves in a reasonable budget range, then Nike soccer goalie gloves can be the right choice for you. Not only do these gloves have good ball grip, but they also provide splendid impact protection. So, Nike Goalkeeper Gloves can be perfect for you if you're looking for a pair of reliable goalie gloves.  
If these weren't enough, check out some other picks from Amazon also:
Nike JR Match Goalkeeper Gloves - Green-Black 4
Smooth foam on the palm for grip in varied conditions.
Hook-and-loop wristband adjusts for a snug, secure fit.
Strategic padding helps absorb ball impact.
Materials: 54% polyester/25% latex/16% EVA/5% nylon
This item is intended for Youth.
Nike Football Glove - Vapor Knit 2.0 (White/White/Black, Medium)
The Nike Vapor Knit 2.0 Football Gloves provide customizable comfort and improved grip to deliver confident ball control on the field.
Engineered knit provides lightweight ventilation
Extra-sticky Magnigrip palm offers incredible grip
Overlays at fingertips deliver a locked-down feel
Hook-and-loop wrist closure offers a personalized fit
Nike Grip3 Goalkeeper Soccer Gloves (8, Volt)
Stretchy material at the palm for a snug fit.
Hook-and-loop closure sits lower on the wrist for mobility.
Extended palm wrap for a close-to-the-skin fit.
Grip3 technology features foam that wraps inside the thumb, forefinger and pinkie finger for a tighter grip.
51% LATEX 39% POLYESTER 7% NYLON 3% POLYURETHANE
Nike Jr Goalkeeper Match Visual Yellow/Total Orange/White Gloves - 4
Synthetic
Traditional Cut
2mm smooth latex foam
Wraparound wristband, Perforations at fingers for ventilation.
Kids Glove Size Reference: Size 3: 3.1-3.3 IN/8-8.5CM Size 4: 3.3-3.5 IN/8.5-9 CM Size 5: 3.5-3.7 IN/9-9.5CM Size 6: 3.9-4.1 IN/10-10.5 CM Size 7: 4.3-4.5 IN/11-11.5 CM Size 8: 4.5-4.7 IN/11.5-12 CM
Men's Nike Vapor Jet 5.0 Football Gloves White/Chrome Size Medium
Breathable, stretch woven back hand releases heat.
Lightweight padding at the base of the thumb protects high-contact area.
Strategically placed pinky seams decrease twisting.
Magnigrip palm material gives the grip players always trust from Nike.
Stabilizing, flexible coating on fingers. Adjustable wrist cuff.
Nike Vapor Knit 2.0 Football Gloves
Engineered knit provides lightweight ventilation
Extra-sticky Magnigrip palm offers incredible grip
Overlays at fingertips deliver a locked-down feel
Hook-and-loop wrist closure offers a personalized fit
Fabric: 68% polyester/16% silicone/8% nylon/8% PU leather